By: Hai Wang
April 8, 2016
If you ask me which consumer electronics product has one the fastest market growth rate in recent years, my answer would be the drone. According to an article from the website Dronelife, DJI sold 416,000 units in 2014, while in 2015, the number became almost one million. This is an impressive 100% growth! All of a sudden, we see drones all over the place -- big box retail stores, random places in the sky, the news, and for the enthusiast among us, even in your room. Actually, this amazing little thing is also quite simple. The essentials you need for making a drone are DC motors, propellers (essentially fans), and a control unit. The interesting thing is, if you use a different blueprint, the aforementioned materials could also become a laptop cooler, just like the main character of today's review, the Cooler Master Storm SF-19 V2. It is hard to say which way is the best way of using these materials, since their purposes are really different. For one, the drone is designed to blow the air downward to generate lift force, while the laptop cooler is made to blow the air upward to cool your computer. We have reviewed the predecessor of this V2 version, which is the Cooler Master Storm SF-19 Strike Force, nearly six years ago. The question then becomes, has the product been improved since then? Let us find out!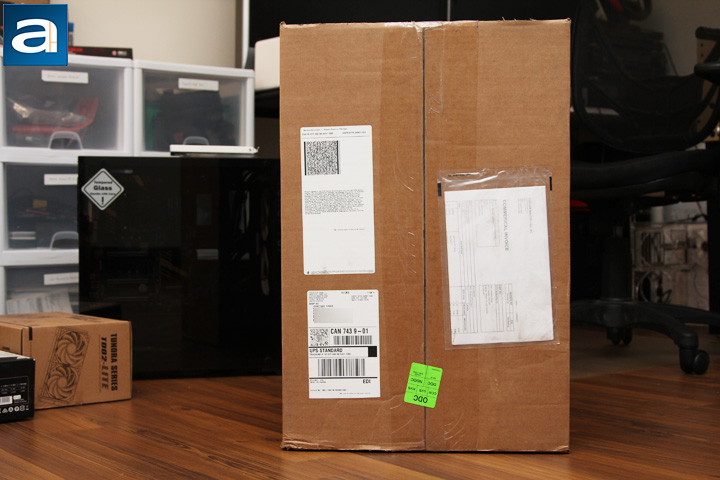 The Cooler Master Storm SF-19 V2 arrived via UPS Standard to us here in Calgary, Alberta, Canada. As you can see from the picture, the parcel is little bit big for just one product, because it is – a few other things were in the box as well. The package was shipped from Chino, California, where the headquarters of Cooler Master is located. I was not the person who received this parcel when it got to APH Networks in the first place, but the cardboard came with pretty good shape, and there were very few dents on the surface.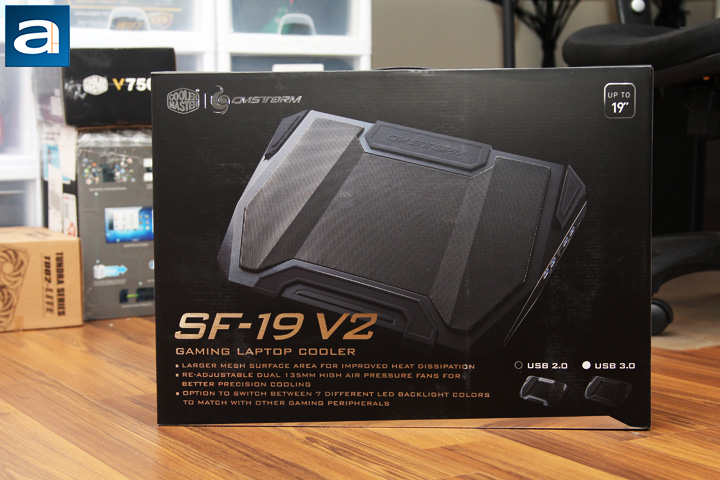 The CM Storm SF-19 V2 can support up to 19" laptops, therefore just by guessing we can say it will not be small. Take it out of the shipping package, I find the SF-19 V2's retail package is actually pretty big: almost like a case for a big laptop. The background color of the package is in accordance with the Cooler Master website's theme color. In the middle of the cover lies the top view of the cooler. The company logo is at the top left of the box, while a "CM Storm" symbol sits right beside it. The name of the product, "SF-19 V2", is proudly located below the picture of the cooler in gold color, and it follows with several sentences that indicate the key features of this product. The overall design of the package is simple, compact, and precise. Comparing with the previous version of the SF-19, there is no red color used on the case, which is a better match of the product's actual nature -- to cool things down.
Before digging into details, let us take a look at the features and specifications of the SF-19 V2, as borrowed from the manufacturer's website:
Features:
- Mammoth Cooling Surfacing: SF-19 V2 is constructed with an enormous heat-dissipating surface plain, made capable to endure critical temperatures from all laptop sizes, it is the state-of-the-art laptop cooler for all 19'' gaming laptops and beyond.
- 4 ports of USB 3.0: 4 advanced UBS 3.0 ports - supports the next generation of gaming laptops.
- Swift Carrying Handle: Built for mobility, the SF-19 V2's swift-carrying handle is build with an intuitive design and sturdy construction, made for quick LAN-party relocation and fast mobilization - The SF-19 V2 is stealth and ambitious.
- Structurally enhanced mesh surfacing: Cold-forged polygon mesh surface plains allows maximum air flow from high rotating fans, structured to efficiently normalize thermal formations, effectively cooling and alleviating tough spot-thermal build ups.
- Anti-slip rubber cable slot: Reinforce with premium anti-slip rubbers, the SF-19 V2 safely secures all laptop in place even under rigorous gaming. The rubberized areas also protect the SF-19 V2 from damages, adding shock absorbing fortification to protect the hardware under transport. In addition to the anti-slip features it also act as a cable management system, assorting various types of cables for your laptop and peripherals.
- 2 Removable 135mm sickle shaped blade fans: SF-19 V2 is equipped considerably with 2 turbine fans, fully customizable and positioned to dissipate heat from the heat source directly. Sickle shaped blade facilitates and exhale more cold air, providing unprecedented airflow.
Specifications:
- Model Number: R9-NBC-SF93U-GP
- Dimensions: L x W x H: 489.6 x 351.5 x 74.1 mm (19.3" x 13.8" x 2.9")
- Weight: 1.97 kg / 4.3 lbs
- Device Compatibility: Up to 19" laptops
- Color: Black
- Material: Reinforced Anti-slip Rubber / ABS Plastic / Enhanced Mesh Structure
- Power Connector: DC 5V / 4 A adapter
- Special Features: Dual 135mm fans
- 4 Port USB 3.0 Hub
- Fan Dimensions: 135 x 135 x 25 mm / 5.3 x 5.3 x 1 inch
- Fan Speed: 600 - 1,300 RPM ± 15%
- Fan Bearing Type: Loop Dynamic Bearing (LDB)
- Fan Life Expectancy: 160,000 Hours
- Packaged Dimensions: 528 * 381 * 103 mm
- Packaged Weight: 3,890g / 8.58 lbs
- Multi-light Shader: Multi-light shader displays 7 changeable led colors, personalized with breathing effect. Formulating the ultimate customization and ambiences for your favorite gaming rig.
There are only three items in the box as it was with its predecessor. Unlike last time, this time everything comes in one color: Black. It is an improvement, since the last version had a blue USB cable that looked like it was taken from somewhere else. You will see the following items after opening the box:
- 1x SF-19 V2
- 1x DC 5V/4A adapter
- 1x USB 3.0/Micro-B cable
For this cooler, the adapter also has an interchangeable head to adapt to different plugins around the world. However, you need to buy the specific head for your destination, since other options of the adapter heads do not come with the package. The good news is, this time, the adapter does not just look like a piece of brick. It looks more modern, and it has two bulges on both sides so you can plug it in more easily without being slippery.
---
Page Index
1. Introduction, Packaging, Specifications
2.
A Closer Look, Usage
3.
Testing and Conclusion