By: Jeremy To
June 3, 2011
Taking a close look at a globe, where would you end up on the other side of the world if you dug a tunnel straight down into the earth? Well, if you are situated in North America, you would end up pretty close to Australia. If you followed the traditional North American stereotype, you would end up in China; but this is only true if you started out in South America. So if you were to ever think of digging straight through the earth's core from our APH Networks office located in Calgary, ending up in Australia would not be a big surprise. As mentioned in the G.SKILL Sniper F3-12800CL9D-8GBSR2 2x4GB reviewed by my colleague Jonathan just recently, everything done in North America is done the right way, whether it be driving on the right side of the road, getting names of our political parties correctly, and the constant of gravity being 9.81 meters per second squared. Why would I be bringing up this topic again? Well, recently, Cooler Master has sent us a very special case for us here at APH Networks to take a closer look at, and it is no other than the Elite 371 with an upside-down logo (The company assures us this is an isolated incident). Before you frantically scroll down, I must say that in Australia, where everything is done upside-down and backwards, the Elite 371 gives me a slight hunch that it came from Australia indeed. But having reviewed so many products from Cooler Master, we know that their products come from their main office down from the good ol' US of A. So this question now stands: Is Cooler Master trying to fool us with one of their cases from Australia California? Or have they come up with a perfect budget case for their money-wise consumers? Read on to find out!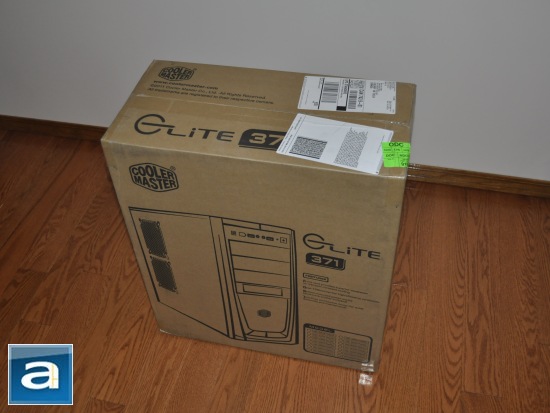 Today's unit was brought to our office unaccompanied with an exterior packaging box that is sometimes used by manufacturers when shipping chassis. This is not a problem, since the retail box usually does an adequate job of protecting the consumables inside. Because of this, you may need to live with a pretty beat up and bruised box. However, from the photo above, it is quite clear that the Elite 371 had quite a comfortable trip. Thanks to UPS Standard, the unit made its swift journey from the south -- more specifically from Chino, California -- before arriving to our office here in Calgary.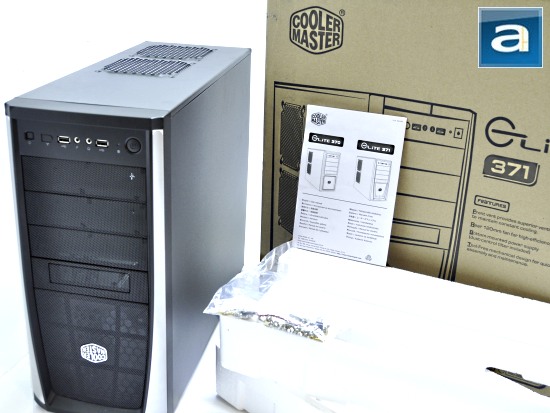 The retail box of the Cooler Master Elite 371 is as simple as it gets. The box itself looks nothing more than an ordinary corrugated shipping box. The unit itself is printed onto the box in black, which gives the buyer a general feel as to what is inside. Around the box is the usual set of features and specifications list.
Inside, the case is protected well with the usual Styrofoam blocks. The case also comes with a plastic packaging bag over the unit itself to avoid the most common possible scratches. Along with the case comes a small bag of screws, zip-ties, and other standard case accessories with the owner's manual in black and white.
Before we go on, let's briefly look at the features and specifications of the Cooler Master Elite 371, obtained from the manufacturer's website and the product packaging:
Features:
- Filtered intakes on bottom and top.
- Tool-Free mechanical design for quick assembly and maintenance.
- Side ventilation holes for better cooling performance.
- Easy access front I/O panel.
- Supports long graphics cards including HD Radeon 5970
Case Specifications:
Model: RC-371-KKN1
Available Color: Black
Material: Steel Body ; ABS plastic
Dimension: 190 x 424 x 490 mm / 7.5 x 16.7 x 19.3 inch
Weight: Net Weight: 4.7kg / 10.3 lb
M/B Type: ATX / Micro-ATX
5.25" Drive Bay: 3 Exposed
3.5" Drive Bay: 5 Hidden / 1 Exposed
I/O Panel: USB 2.0 x 2, Mic x 1, Audio x 1
Expansion Slots: 7
Power Supply: Standard ATX PS2 (optional)
Warranty: 2 years
UPC Code: 884102010903
Cooling Specifications:
Top: 120 mm fan x 2 (optional)
Front: 120/140 mm fan x 1 (optional)
Rear: 120 mm fan x 1
Side: 120 / 140 mm fan x 2 (optional)
Bottom: 80 / 90 /120 mm fan x 1 (optional)
---
Page Index
1. Introduction, Packaging, Specifications
2.
Physical Look - Outside
3.
Physical Look - Inside
4.
Installation and Conclusion