By: Devin Chollak
December 30, 2011
It is the time of year where everybody is in a buying frenzy at the malls, attempting to find a secret pathway through overflowing parking lots. Now, I'm quite certain many people have been having larger than necessary meals, and are probably looking towards some downtime. For many of us, that will involve a computer somewhere along these lines, and in today's world, you will probably be using a computer mouse. During the relaxing holiday period around Christmas, my mouse of choice was the Cooler Master Storm Xornet. While many people would consider the performance or the number of buttons on a mouse essential, I would consider comfort the most important aspect to any peripheral. It could just be me, but a mouse which happens to lack in comfort usually ends up going out the window after a few hours of regular usage. Having all of my jobs involving computers, an excellent mouse that is comfortable to use is an absolute requirement. Anyone using a computer for extended periods of time would easily object to being forced to work with a lousy mouse. The real question is if your mouse is really keeping up with today's newest hardware. So while you are contemplating what you want to get during the boxing week sales, let's take a look at a mouse I am thoroughly enjoying right now -- the Cooler Master Storm Xornet.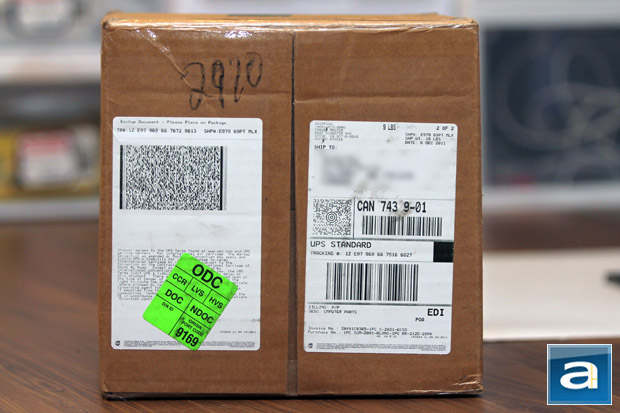 Although I'm sure many would hope that during the holidays, the postal service would automatically wrap all packages, this was not the case for the Cooler Master Storm Xornet. Arriving in your typical brown shipping box, the Xornet suffered almost no damage. It makes me wonder if the postal service is extra careful this time of the year, or I am just lucky. Traveling up north to our Calgary offices, the whole nine pounds of Cooler Master goodness was shipped by UPS Standard from California. Obviously, the Xornet is not nine pounds, but there are other stuff in the package, too. I totally would have liked to be enjoying some warmth down in California, but I found that a white Christmas is far more enjoyable than some warm weather -- personally speaking.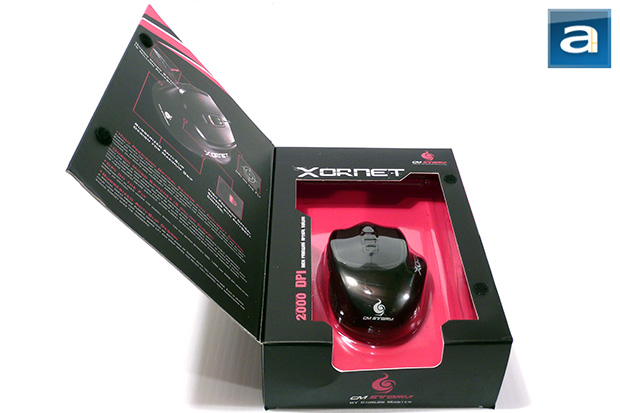 As I have mentioned in my previous review of the SteelSeries Sensei, a computer peripheral should be required to visually show the device in the retail packaging with either a clear panel or a clear plastic cover. The Cooler Master Storm Xornet was no exception to this. Using black, white, and red as high contrasting colors to sharpen the presentation, the mouse is very well presented on the front of the box. I quite enjoy the visual appeal of the image in front, with the mouse smashing through a glass panel. A couple of features are highlighted here as well, such as the 2000 dpi sensor, claw-grip style, and rubber grip design. However, the most important component of this retail box was the flap cover and clear plastic on the actual mouse itself in my opinion. This allows for consumers to not only see the mouse, but also put their hand up against it to get an idea of what it would be like to hold. As many probably are awkwardly holding the box trying to 'fit' a mouse, you can look over a very detailed inside panel, which highlights many of the notable features on the Cooler Master Storm Xornet. This includes the 5 million click capable mouse buttons, the rubberized anti-slip grip on the sides, sensitivity adjustment buttons on the mouse, and a high precision optical sensor with anti-drift control. All of these features include detail descriptions for those who aren't completely certain about the advantages of each point.
Popping off the top and sliding out the Xornet was a simple task, and I was very satisfied as to how easy it was to remove the mouse from the packaging. Some manufacturers like to tie or attach the cable to the box, making it more difficult that necessary to remove the product. Cooler Master was wise in removing this unneeded hassle for the consumer. At first glance, I was already impressed by the build quality of the mouse and its material choice. I knew very quickly this would be a mouse I would never have to worry about marking up; it will probably look great months down the road with next to no cleaning. Featuring a total of seven mouse buttons, which for me is more than enough, but some may prefer more, I was very happy to see they were excellently positioned for easy usage. This is a huge advantage when gaming, because nobody likes having to press awkwardly placed mouse buttons in a rush. Secondly, the buttons themselves are located in positions that eliminate the possibility of accidentally coming in contact during regular usage. But before I get too far into the details, let's look at what the manufacturer's website has to say about its features and specifications:
Features:
Precision Anti-Drift Control Sensor - Xornet utilizes the latest high performance optical engine ensuring extreme stability and reliability. Based on an anti-drift architecture, it delivers stable and precise tracking in mouse lift and drop scenarios. Angle snapping can be enabled or disabled for exact swift crosshair movements enabling amazing skill-shots and incredible aiming accuracy.
Omron Micro Switches (5 million clicks) - Only the best is good enough! Omrons patented ultra tactile micro switches enable unsurpassed tactile feedback and speed. You will be able to reach an incredible amount of clicks per second while still feeling and controlling every single click. Omron guarantees a minimum amount of 5 million clicks for these highest grade switches, giving Xornet an extended life-span even for hardcore gamers.
DPI On the Fly - Conveniently placed under the scroll wheel, you can switch the DPI resolution between 500, 1000 and 2000 within an instant.
Rubberized Anti-Slip Design - A Special sweat proof rubber compound on both sides of Xornet gives you maximum grip. Even in heated hour long matches and during quick lift and drop moves you retain full control while repositioning and racing Xornet over the mousepad.
Specifications:
Model Number: SGM-2001-BLON1
Available Color: Black
Material: Rubber Grip / ABS Plastic
Dimensions: (L) 107 X (W) 75 X (H) 35 mm / (L) 4.2 X (W) 4 X (H) 1.3 inch
Net Weight: 142 g / 0.313 lb
Sensor: 2000 DPI Storm Tactical Optical Sensor
Maximum Tracking Speed: 160 IPS
Maximum Acceleration: 23 g
Polling Time: 1.0 ms
Speed Measurement: 6700 FPS
Onboard Memory: 8 Kb
Form Factor: Right Hand Ergonomic
Button Assignment: 5 mouse buttons+ 2 fix function buttons
Weight System: No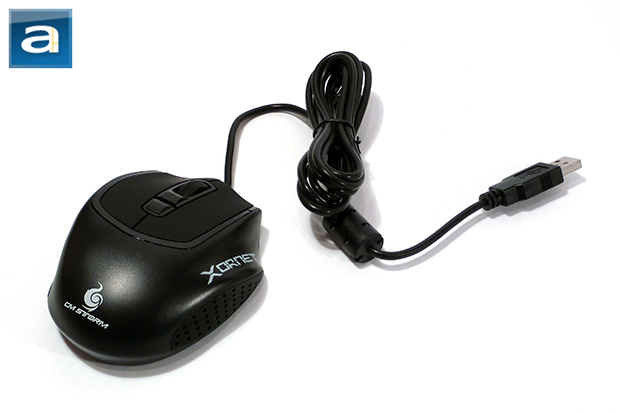 Unfortunately, the Cooler Master Storm Xornet doesn't sport the fashionable and functional braided USB cable. This leaves you with a standard plastic cable, which means that you will have to deal with extra friction caused by the plastic, and no assurance of the cable lasting a longer time from heavy usage. However, I typically do not consider this a deciding factor for a mouse, simply because the cable usually lasts longer than I'm willing to keep a mouse around anyway. Another notable feature is the basic metal USB plug. Other than aesthetic purposes for when the mouse is unplugged, this is almost irrelevant to any mouse, unless you have the urge to impress girls with a gold-plated USB connector. However, it would be somewhat amusing to see a guy trying to attract a girl by only showing off a USB plug, then maybe I'll consider it an actual feature. In reality, just keep in mind that gold-plated USB connectors do no good, unless the actual contacts are plated -- but even at that, it is arguable in a digital interface.
The CM Storm Xornet is an all-black mouse, with white only being used for the logos. Dark grey is the color of choice for the buttons. The fortunate part about this is that a black mouse typically fits in almost any environment, unless you have a white MacBook, which would make this mouse look completely out of place. I would also like to thank Cooler Master for not including any LED lights; it's nice to use a mouse that isn't trying to be a street racer all the time. Just a personal thing. On the down side, this also makes it impossible to tell visually which dpi setting is active when using the mouse. I guess you can never really get the best of both worlds. Maybe one day, the mouse can telepathically inform me I have it on the highest setting, and this is why my mouse is currently impossible to find, but alas, that day isn't likely to come any time in the near future. The Cooler Master Storm Xornet can be used on different surfaces; anything ranging from a mouse pad, to a marble countertop.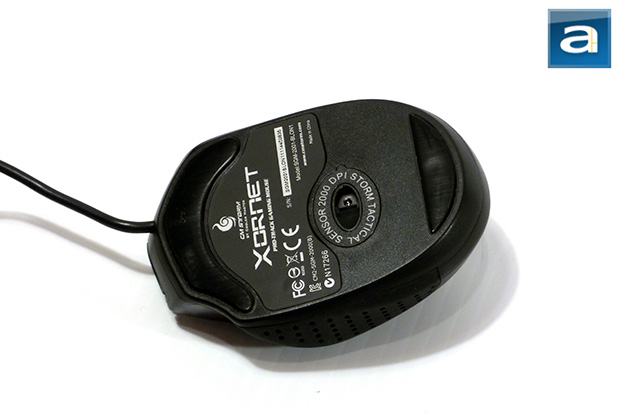 Rolling the mouse over onto its back side, and you will see two key components -- Teflon pads for smooth, low friction glides, and the 2000 dpi optical sensor. While these are not the most exciting features of the mouse, they are by far the most critical. The need for a smooth glide is an absolute requirement for any gaming mouse, and an accurate sensor is even more important. This is because without either of those, you will not be able to reliably get those headshots you wished for Christmas, or be able to select units faster than you are capable of clicking. Of course, another major factor in any gaming mouse is weight; the lack of ability to customize the mouse's weight is rather disappointing. Considering the consumer target for the mouse is a casual gamer, I do consider weight customization a non-requirement for anyone who isn't a professional gamer; however, it certainly is a nice feature to have.
I did quickly look over the CM Storm Xornet's FAQ page on the manufacturer's website and found a hidden feature -- the ability to adjust the polling rate of the mouse. The default is 1000Hz, and for any modern basic gaming computer, this is all you will ever need to have it set at, since there is no advantage to turning down the frequency of the polling speed. If you have an older computer, you might want to consider dropping it, as it will cause unnecessarily high CPU loads. On the other hand, I really have a hard time finding a valid reason for someone to use a gaming mouse on an old computer. On the software front, the mouse only has firmware updating software, which runs like a charm with minimal user interaction. This is wonderful for those who don't feel the need to enhance their pointer experience, but anyone who is used to extra features provided by mouse software are out of luck with the CM Storm Xornet.
-----------------------------------------
The Tests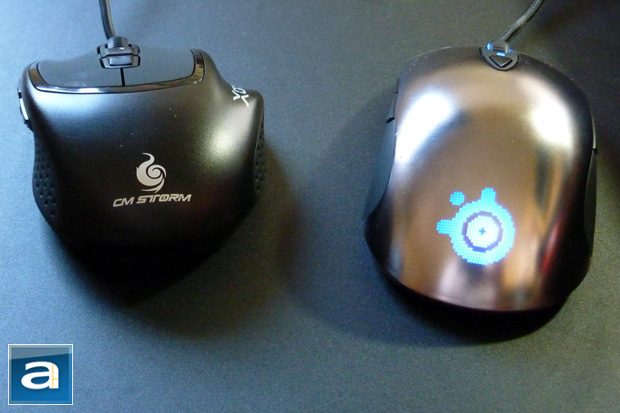 Tests are conducted on the computer with the following specifications:
CPU: Intel Core i7 920 @ 3.6GHz (Overclocked, Hyper-Threading enabled)
CPU Cooling: Thermaltake Frio OCK
Motherboard: Gigabyte GA-EX58-UD5
Graphics: ASUS Radeon HD 6950 2GB
Graphics Cooling: Arctic Cooling Accelero XTREME Plus II
Memory: Corsair XMS3 PC3-10666 6x2GB
Chassis: Cooler Master Storm Trooper
Power: Corsair HX1000W
Sound: Integrated (Motherboard)
Optical Drive: Samsung SH-S223Q 22X DVD Writer
Storage: Seagate Barracuda 7200.11 1TB; Samsung Spinpoint F1 1TB
Operating System: Microsoft Windows 7 Ultimate x64 SP1
During my testing, I have allocated about a week of solid time with the mouse to properly ensure I had a good feeling of its capabilities. I have tested it in Minecraft, The Elder Scrolls V: Skyrim, Civilization 5, and miscellaneous "office-type" work; for those unaware, the quotations are because my main activity is programming, and not the typical office work that most people would be doing (I am a software engineer).
It was only moments after I have started using the mouse that my hand found a new best friend. The CM Storm Xornet was unbelievably comfortable to use. I do realize some like to have their ring finger on the right mouse button. This will be a major issue for those users, because positioning my pinky finger on the side and ring finger on the right mouse button is extremely uncomfortable with the Xornet. However, this configuration is rather uncommon, so this is not a big worry for me. I do admit my larger-than-average hand means I always want the mouse to be slightly larger to accommodate me; it seems all mice are designed for the average person. I really can't blame them for this, as I guess I wasn't designed properly. Noting the similarity between this mouse and the CM Storm Spawn reviewed by my colleague Kenneth back in February, I do have to say that anyone who uses a non-claw grip will find this mouse way too small for their own comfort. However, since this mouse is featured for those leaning towards a claw-grip hold, it does work very well in my personal opinion, and I have no serious complaints about the size. Additionally, the mouse wheel is easy to reach, and the dpi adjustment buttons are located in the perfect spot below the mouse wheel. This allows for easy switching between settings in-game without having to play twister with your hand. The mouse wheel isn't completely silent, but nothing to get all up in arms over, as you would barely notice it, unless you are sitting in a completely silent room.
After hours of gaming and playing around with various types of work, I would have to say this mouse is just too comfy as a claw grip user. My hand felt very relaxed, and never got strained at any moment. Normally, after a few hours, my hand might start to get a bit tired with my reactions slowing down to a crawl. However, with the Xornet, this was not the case at all. I never felt the effects of fatigue, and the mouse was simply the most ergonomic device I have ever used. In comparison to the SteelSeries Sensei, a mouse triple the price, the Xornet compared impressively well. Of course, the Sensei performed better overall; however, it certainly lost to the Xornet on comfort and ergonomics. Oddly enough, I might even say the Xornet would be a wonderful office mouse for those who work on their computer all day long. While in game, I felt a very respectable level of reliability and accuracy -- this mouse gets the job done with ease. The side buttons on the mouse are absolutely wonderful, and they have been remapped in my IDE (Integrated Development Environment) for common tasks. In game, they are easy to press, without compromising on motion precision while aiming. I would like to see is that they be used as push-to-talk keys instead, but everyone has their own preferences.
-----------------------------------------
When I heard the price tag of $30 at press time, my jaw dropped. When I heard it was on sale for $20 at few weeks ago, well I almost had a heart attack at how unbelievable something so ergonomic and accurate could be priced that low. In fact, I would suggest anyone who needs a new mouse to pick up a Cooler Master Storm Xornet when you have a chance. While the mouse is marketed towards gamers, this mouse would be absolutely astonishing for even basic office tasks, because of the unprecedented level of comfort offered for people with claw-type grips. The simple black and non-LED design offers you a mouse that could be used in the office environment without looking out of place. More likely, it will be used at home, and it visually matches almost any typical gamer setup. The great part about the mouse is not having any software allows for quick swaps between computers. The ability to change the settings of the mouse on the fly with the buttons makes it a highly portable device. The only real problem here is that I have no idea what setting the mouse is on until I move it around, but that could be fixed with either a simple LED, or have included software. While the mouse clicks and scroll wheel movements are certainly audible, I personally thought it isn't a good enough reason to disregard this mouse as your next replacement. Overall, you are getting an astonishing level of quality at a nearly unbeatable price, and for any typical gamer, you will not regret choosing this mouse when you play.
Editor's Note: It is rather surprising how different of a conclusion was reached, compared to Kenneth's Cooler Master Storm Spawn review back in February, which Devin has referenced. The Spawn is very similar to the Xornet in shape; the Xornet just carries a lower profile. Both Devin and Kenneth have relatively large hands, but they have different grip preferences, as clearly noted in both articles. Be sure to go through both reviews, and see which perspective is closer to yours.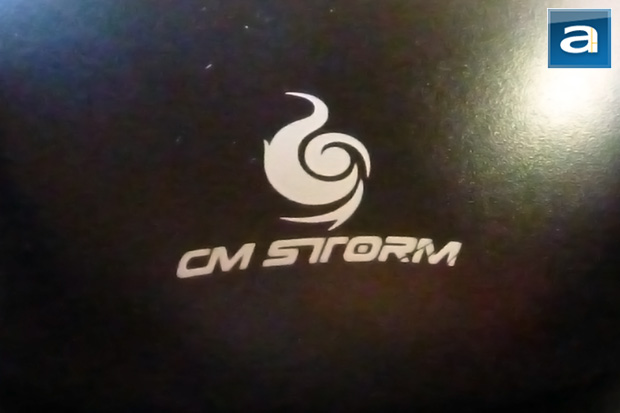 Cooler Master provided this product to APH Networks for the purpose of evaluation.

APH equal.balance Award | APH Review Focus Summary:
8/10 means Definitely a very good product with drawbacks that aren't likely going to matter to the end user.
7/10 means Great product with many advantages and certain insignificant drawbacks; but should be considered before purchasing.
-- Final APH Numeric Rating is 7.4/10
Please note that the APH Numeric Rating system is based off our proprietary guidelines in the Review Focus, and should not be compared to other sites.
If you are curious about the meaning of perfect comfort as a claw grip user, give the Cooler Master Storm Xornet a shot to find the definition.
Do you have any comments or questions about the Cooler Master Storm Xornet? Drop by our Forums. Registration is free, and it only takes a minute!