By: Kenneth Kwok
February 25, 2011
When I am in front of the computer, I sometimes wonder how many times I have clicked my mouse buttons, and how long they would last down the road. Although in reality, while I doubt it actually matters how many times a mouse has been clicked, it seems like a valid question to me. Okay, who am I kidding? I rarely think of things along this track of thought, but today's review unit has got me thinking about this quite a bit more. Our review unit today comes from Cooler Master, a company renowned for their power supplies, chassis, cooling products and many more. Some are even diehard fans about their spinoff brand CM Storm, the gaming division of Cooler Master, similar to that of Tt eSPORTS from Thermaltake (Really, they even abbreviated their name in the same manner). The product we will be taking a deeper look at today will be the Cooler Master Storm Spawn, which is the latest product from the CM Storm line of products. If most readers recall, the previous Cooler Master Storm Inferno did not perform exceptionally well. So today, let's see how much Cooler Master has stepped up their game for the latest rendition in the CM Storm series of mice. The Cooler Master Storm Spawn is advertised to have Omron Micro Switches for their buttons, and is said to last up to 5 million mouse clicks. We can't exactly test that right at this moment, but maybe later on, if we have a chance we can update the review to include how well the mouse fares after 5 million mouse clicks. The ETA for that would be after the Second Coming. Without further delay, let's dive right into today's review, and see how well the Cooler Master Storm Spawn performs.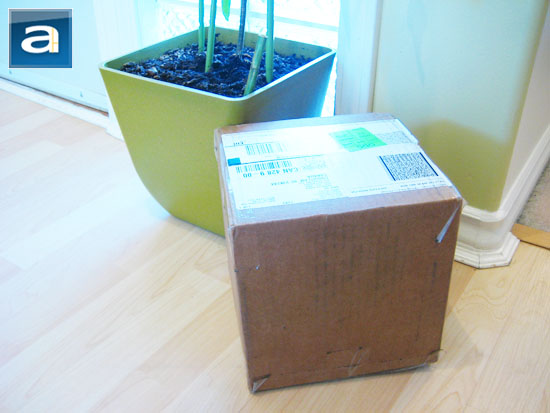 Our sample unit of the Cooler Master Storm Spawn was shipped in a brown cube shaped corrugated cardboard box form Cooler Master's office in California using UPS Standard as the shipping method. The box arrived here at our office in Vancouver, British Columbia in a fairly quick manner. Aside from the usual scraped corners and wear and tear on the cardboard, the box arrived in excellent condition. The product inside was kept in very good condition as well, thanks to the packaging paper used to prevent the product from moving about when enclosed.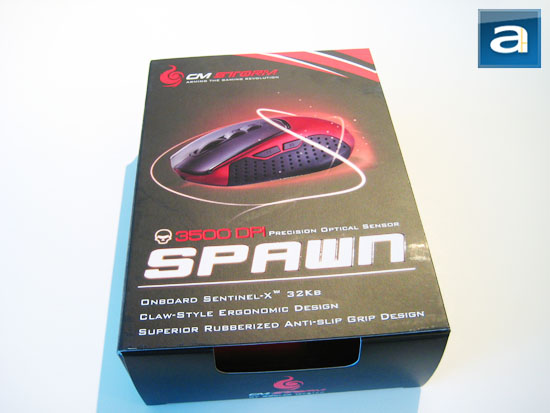 Unlike the last Cooler Master mice we have reviewed, which of course was the Cooler Master Storm Inferno by Yours Truly back in August 2010, the Cooler Master Storm Spawn came in retail packaging. In terms of design, the box is very standard when it comes to looks; it follows the usual CM Storm theme of using a black background with red and white text for excellent contrast. The box is designed quite well, with the usual things we would expect to find in the front, including the CM Storm logo, a picture of the Cooler Master Storm Spawn itself, the word "SPAWN" in gigantic letters under that, and finally at the bottom is a list of features. The front is also a flap held to the box by two pieces of Velcro. Opening it reveals the mouse itself; hidden beneath plastic to keep it from damage during transport. On the backside of this flap, more features are listed, as well as a detailed look at the Spawn. Box design wise, this is great for retail stores, as users have a chance to look at the product without opening the box -- and for most gamers this definitely has that 'gamer' feel to it.
Opening up the retail packaging and grabbing out the Cooler Master Storm Spawn, you will find just two items -- the instruction manual, and of course, the gaming mouse itself. Notably missing is the drivers CD, which has been removed from most retail packages ostensibly for the purpose of being green, but it is most likely a cost cutting measure. Either way, it helps the environment, and drivers are very accessible online nowadays. This is not to mention most mice are plug and play peripherals, and the drivers are only used to unlock the extra features. Since this is a gaming mouse, I am virtually 100% sure that any gamer will have internet access to download drivers from Cooler Master's website. In addition, this way allows for the user to have the most updated version of the Cooler Master Storm Spawn software, since most driver CDs provide outdated software as soon as a product is released anyway.
Before moving further along in the review, let's take a look at the specifications of the Cooler Master Storm Spawn, as obtained from the manufacturer's website:
Model: SGM-2000-MLON1
Available Color: Black + Red
Material: Rubber Grip / ABS Plastic
Dimension:
-(W) 75.5 X (H) 110 X (D) 35 mm
-(W) 3 X (H) 4.3 X (D) 1.3 inch
Weight: 142 g / 0.313 lb
Sensor: 3500 DPI Storm Tactical Optical Sensor
Maximum Tracking Speed: 60 IPS
Maximum Acceleration: 20g
Polling Time: 1.0ms
Speed Measurement: 6400 fps
Onboard Memory: 32Kb
Form Factor: Right Hand Ergonomic
Button Assignment: 7
Weight System: No
Warranty: 1 year
UPC Code: 884102010439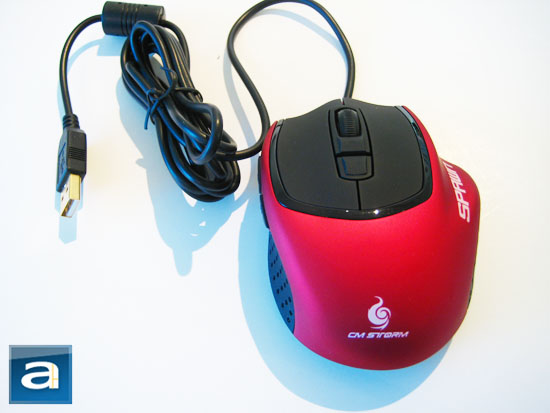 Surprisingly, the CM Storm Spawn, unlike its predecessor, the CM Storm Inferno, does not come with a braided cable. This is most likely due to this mouse being targeted more towards the casual gamer; being a budget to mid-end gaming mouse rather than the one sitting at the upper end of the spectrum. The amount of friction incurred by the wire should not be too big of an issue for most users, but a braided cable looks better and provides more class. The cable itself is still more than long enough for desktop users, as it measures in at 2 meters. On the other hand, the USB connector is gold plated, but keep in mind a gold plated connector doesn't actually do anything in real life.
When looking at the Cooler Master Storm Spawn from a design perspective, it certainly feels like a gaming mouse, starting with the slick red design on the body of the mouse in conjunction with a distinct contrast of black in various locations around it. If I had to compare this mouse in terms of design to other mice, this one definitely takes the case, thanks to its bold red and the dark black color scheme. With this in mind, let's take a deeper look into the construction of the mouse itself. The Cooler Master Storm Spawn is primarily made out of plastic, which is the main material used on almost every mouse since forever. The surface of the mouse is covered in a coated plastic that gives better grip similar to the coating found on the Mionix Naos 3200 and Mionix Naos 5000. Along the sides of the mouse are also two patches of rubber for maximum comfort. Not only does this mouse take from the good grip design of the Mionix Naos series of mice, but its form factor is also eerily similar. The mouse fits a right hand perfectly, as it is designed to accommodate the natural shape of your palm as were the Mionix series of mice. The only flaw with this palm grip design is that it makes the Spawn only usable by 'righties' by excluding all the 'lefties' from even attempting to use this mouse. On the other hand -- no pun intended -- most left handed people I know use their right hand to mouse anyway, so this should not be a significant issue. There is a curve on both the left and right sides of the mouse to rest the ring finger and thumb, respectively. Finally, the pinkie is rested on the rubber coated side grip on the right side of the CM Storm Spawn. This overall shape is very well thought out, and provides maximum comfort for the entire hand while using the Cooler Master Storm Spawn. This is all true, of course, if you ignore the length of this mouse. We will cover that in detail later in the Testing section of this review.
The most appealing thing aesthetically on this mouse in my opinion is the giant word 'SPAWN' printed on the right side of the mouse where the ring finger rests. This white colored word is very noticeable, and further adds on to the 'gaming' aura found around this mouse. To add on to this, the CM Storm logo can also be found centered near the bottom of the Spawn. Since the Cooler Master Storm Spawn is not exactly the most expensive piece of hardware, there are no LEDs that can be found aside from the optical sensor. This is really both a mixed bag; the good is it keeps the mouse clean looking and allows me to sleep well at night, without being annoyed by the over usage of LEDs on some other products. But this exclusion of even sensitivity indicator LEDs also detracts from that fact this is a gaming mouse. Of course, this aspect is very subjective and is really dependent on the user; personally I did not find this to be a too big of a deal in the end. This means that the DPI setting can only be checked by moving the mouse around the screen, and this can get annoying at times -- but since the Spawn only has three possible steppings, it shouldn't be too hard to keep track of it. There are only seven buttons on the Cooler Master Storm Spawn, which includes the two mouse buttons, the scroll wheel which is found between the two mouse buttons, the sensitivity up and down buttons found below the scroll wheel, and finally, two buttons on the left side. The last two buttons are normally set as the web browser forward and back buttons; but they can be reassigned using the driver software obtained from Cooler Master's website. All these buttons are "Japanese-made Omron micro-switches that are meant to endure up to five million clicks". (Maybe in the future, we can actually test the claim of five million clicks; it sure won't be anytime soon haha.) The scroll wheel is pretty standard fare, but the wheel encoder is also Japanese made claiming to provide better accuracy. Since I've been using the Logitech G500 for a while, the difference between the two are noticeable, however when I compare it to the Mionix Naos 5000, the scroll wheel accuracy are about the same between the two. In addition, the scroll wheel is also slightly grooved to give a better grip forthose more intense moments when gaming.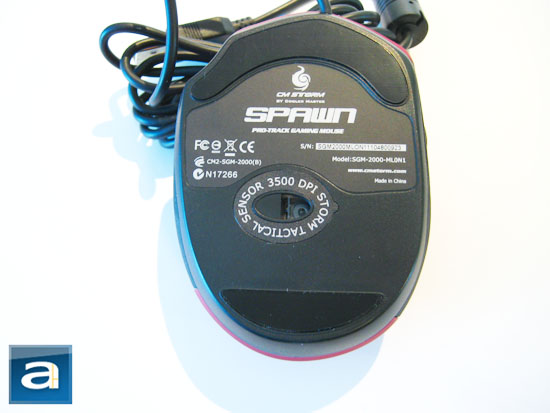 Turning the Cooler Master Storm Spawn around, the backside of the mouse is shown to us clearly. As with the rest of the mouse, this part is also constructed out of plastic. Since this unit is a production model, the usual sticker with the logo, model number, and the usual certifications are all notably there. Two strips of Teflon, which is very common for gaming mice, can be found at the top and bottom of the mouse. Teflon is used for its excellent glide characteristic and overall smoothness for tracking. Based on theoretical calculations and previous experience with Teflon feet used in various mice we have tested or used in the past, it should be safe to assume that the PTFE feet should last for as long as you use your mouse. That is not to mention this will probably be before realistically reaching those five million button presses.
Near the center of the mouse is the LED optical sensor providing up to 3500 dpi sensitivity at 6400 frames per second in image processing power. It is worth noting the DPI rating is more of a marketing term than a true reflection of actual performance in sensor precision -- we will cover that later on in the tests. A high sensitivity sensor provides flexibility in usage, and can easily adapt to different styles of gamers. Using the gold-plated USB 2.0 adapter as aforementioned, the Spawn's LED sensor supports adjustable polling rates up to 1000 Hz with 1 ms response time, meaning that the mouse is capable of sending up to one thousand pieces of tracking data per second for increased tracking precision. In reality, the gold plating on the outside does little than to make it look expensive as aforementioned.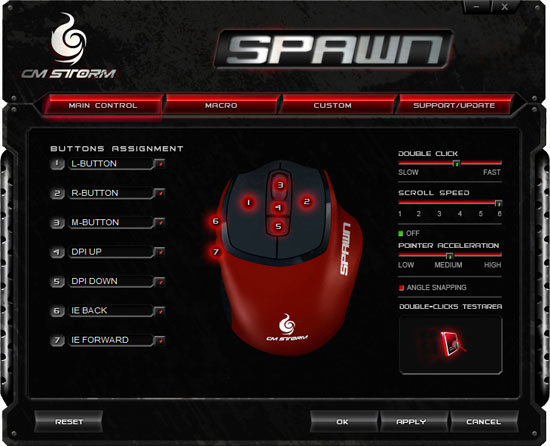 As previously discussed, the driver software for the Spawn can be obtained online from Cooler Master's website. Installation is a breeze, and is very straightforward to make it quick and painless. Software wise, the Cooler Master Storm Spawn has some very standard features for a gaming mouse of this caliber. This includes sensitivity settings, key bindings, to some slightly more advanced features such as macros. As expected, the CM Storm color scheme is found in the software by taking on the black/gray background with red and white text. The main control page also includes a picture of the Cooler Master Storm Spawn with numbers to label the buttons to bind them to different functions. The main screen allows the users to set buttons bindings, change double click speed, modify scroll speed, set pointer acceleration and angle snapping. The Spawn also features an onboard Sentinel-X 32 KB memory that enables users to save macros onto the mouse. Sadly, there is only one profile, but it should be enough for most casual gamers.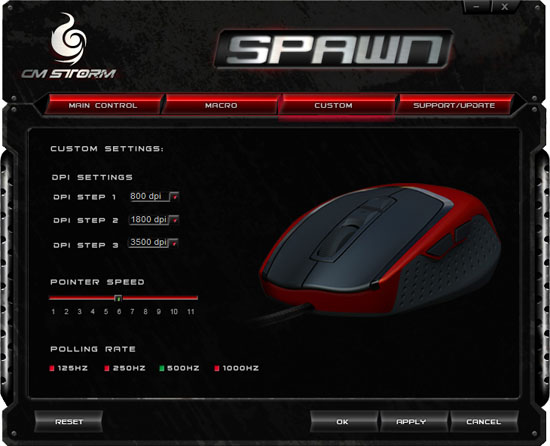 The Custom tab features the DPI stepping settings. Although it appears to have a way to customize them, there are only three options -- and that is 800, 1800, or 3500 dpi. This seems a little counter intuitive to have this as a customization option, but to only leave three real choices to select from with nothing in between. The Custom page also sets pointer speed and polling rate. Back to the topic of macros, the 32KB of onboard memory can be used to store different macros. The creation process is very simple; starting by clicking New Macro and entering a name. Next, the user clicks Start Record, presses the combination of clicks or key presses, and clicks Stop Record when done. This saves the macro to name it is assigned, and then can be bound to a button on the mouse. Unfortunately, the macro setting does have a flaw, as it does not allow a user to edit a macro name without deleting it. In addition, there is no way to edit a macro without rewriting the whole thing. There is also a limit of up to five key presses and five key lifts for each macro. If you need to use more than that, it may be wise to grab another mouse. The Update button allows the user to see a tab where there are two buttons; one for support that leads to the Cooler Master forum, while the other one automatically looks for updates to the firmware, and prompts the user about updating to the latest version.
------------------------------------------
The Tests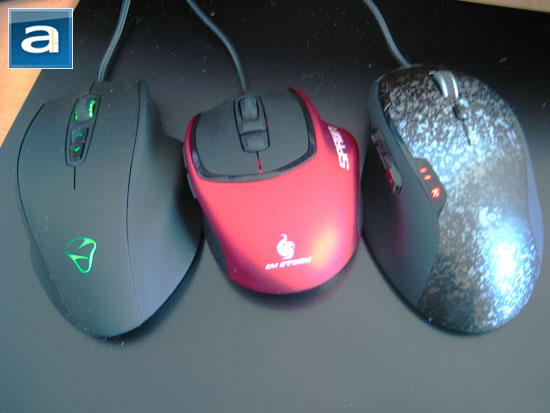 Our tests were carried out on a computer with the following specifications:
CPU: Intel Core 2 Quad Q9550
CPU Cooling: OCZ Gladiator
Motherboard: Asus P5E3-Deluxe
RAM: OCZ Special Ops PC3-10666 2x2GB
Graphics: Palit Radeon HD 4850 Sonic 512MB
Case: NZXT Panzerbox (NZXT 120mm - Back, NZXT 190mm - Top back, NZXT 190mm - Front)
Power: Cooler Master Silent Pro M 1000W
Optical Drive: LG 16X DVD Burner
Hard Drive: Seagate Barracuda 7200.11 640GB
Operating System: Microsoft Windows 7 Professional
I have put the Cooler Master Storm Spawn through our new revamped series of tracking performance tests. Included is regular office usage in productivity programs such as the Microsoft Office suite, Adobe's Photoshop Elements 9 and Premiere Elements 9, as well as gaming tests with various games including Magicka (This is probably the best indie game since Minecraft in my opinion), Minecraft, League of Legends, Garry's Mod, Counter-Strike: Source, Counter-Strike 1.6, Starcraft 2, Just Cause 2, and Company of Heroes. The mousing surfaces used includes the cloth-based Razer Goliathus and Razer Mantis, as well as the aluminum-based SteelSeries SX.
After gaining several weeks of experience using the CM Storm Spawn, I found the mouse was constructed with excellence and well built in general. None of the parts felt flimsy, and it seems that the Japanese made components were well made and delivers as advertised in terms of usability and hopefully longevity. This means that all the buttons including the side buttons were very 'clickable' and refined, while the scroll wheel was easy to press and provided adequate grip, so it did not slip from the finger. All of this combined with the Teflon feet provides an excellent, smooth glide among all of our mousing surfaces. This adds up to a very admirable product in terms of tracking performance.
After years of Logitech's G-series mice, ranging from the original G5 and G7 to the latest G500, and all the Mionix mice I currently own, I am naturally inclined to be classified as palm mouse user. This means that I prefer to rest my entire palm completely over the surface of the mouse, instead of just using my fingers to claw a grip. For the CM Storm Spawn, this is a good thing, as it provided a pretty good fit due to the shape of the mouse, and the comfortable positions around the mouse to rest my fingers and thumb on the coated plastic and rubber grips. This makes this mouse a pretty good fit for me, as it was comfortable, but it did have some problems as well. Although the mouse was an acceptable width, or could even be called 'fat' by some, the length was just inadequate. As with the previous Cooler Master Storm mouse I have reviewed, it just isn't long enough. In comparison to the Mionix Naos 3200 and 5000, it is barely two thirds of the size of it, as shown in our photo above. The same problems from the Inferno still applies, and that happens to be the same size issue; by no means are my hands small, but this mouse is just too small to fit even most standard sized hands. It always leaves the back palm exposed, and adding that onto my aluminum mouse pad is not exactly a good thing.
When it comes to office productivity work, the Cooler Master Storm Spawn does its job quite well. The biggest problem was of course the size of the mouse, as it caused some discomfort while being used. Performance wise, I just set the sensitivity down to 1800, since it was the only one I could pick that was closest to the 2000 setting I use for day to day work. The upside is that the material used on the mouse was well chosen, as it provided some comfort, but the underlying problem detracts from this substantially. When it comes to gaming, the mouse works as advertised, but again the size of it was just a little bit annoying when playing games such as Counter Strike 1.6, where a quick turn meant a quick move of the mouse which involves scraping my hand on my aluminum mousepad near the wrist area. Overall the tracking was good and did a fine job, thanks to its 1000Hz polling rate and 1ms rated response time. The good amount of glide sure came in handy when playing an FPS game. The macro features were also incredibly useful for games that required a combination of button presses to release a spell. Overall, the mouse was very responsive and snappy; displaying notably good tracking consistency on each of our test surfaces we used. As with most optical sensors, the biggest flaw is the inability to track on transparent or reflective surfaces. Realistically this is the nature of all types of optical mice, and most users would not use a completely transparent glass table as a tracking surface directly anyway.
-----------------------------------------
The Cooler Master Storm Spawn is a technically good mouse on paper. And let me tell you what makes and breaks this product. The good part is the shape of the mouse, which is very similar to the Mionix Naos 3200 and 5000, giving good comfort if you don't take its length into account. This goes on top of the coated plastic and rubber side grips, making this enjoyable to use to an extent. In terms of build quality, the mouse is also solid and built well with no flimsy parts. Each part is very 'clickable', and the scroll wheel moved fairly well as it should have. The tracking performance was also decent, and gets the job done for most intents and purposes. Its 32KB of internal memory was also a nice addition for saving macros for use in game that require multiple keystrokes or a combination of key presses. Unfortunately, these features do not save it from some of the bigger flaws, including the size being a considerable problem for anyone with larger hands than a ten year old kid. On top of that, the software is also not very good. What is the point of having sensitivity adjustments when there are only three preset choices with nothing in between? The macro creation is also limited to five key presses and releases, which can be a problem for games that require more than five keys to be pressed. Additionally, it is impossible to change a macro name without deleting it, and it is also not possible to edit a macro without redoing the whole thing. One other issue includes the inability to tell which DPI setting the user is on without moving the mouse around. Some other notable but less severe problems include the non braided cable for a gaming mouse. Overall, the Cooler Master Storm Spawn has some problems that requires some significant change to fix. This mouse may make a good portable or laptop mouse, but it certainly does not feel quite like a true desktop gaming mouse even though it looks like one. Retailing for around $50 at time of publishing, the Cooler Master Storm Spawn does not come cheap, and does not exactly deliver all the features one would expect from a gaming mouse. To be honest with you, I don't have a ten year old brother, so I don't see myself reaching 5 million mouse clicks on this mouse even if it is durable enough to do so.
Editor's Note (December 29, 2011): It is rather surprising how different of a conclusion was reached, compared to Devin's Cooler Master Storm Xornet review in December 2011. The Xornet is very similar to the Spawn in shape; the Spawn just carries a higher profile. Both Kenneth and Devin have relatively large hands, but they have different grip preferences, as clearly noted in both articles. Be sure to go through both reviews, and see which perspective is closer to yours.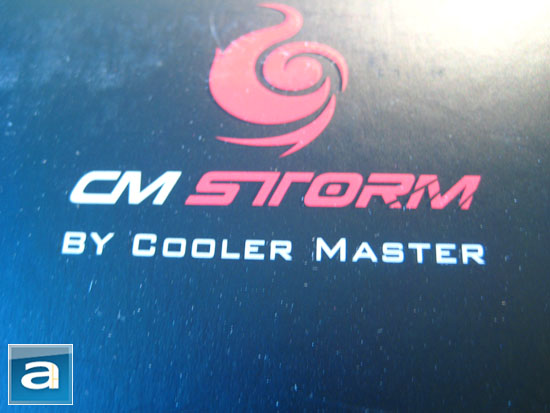 Cooler Master provided this product to APH Networks for the purpose of evaluation.
APH Review Focus Summary:
5/10 means An average product with no real advantage; drawbacks and advantages just seems to cancel each other out.
6/10 means A product with its advantages, but drawbacks should not be ignored before purchasing.
-- Final APH Numeric Rating is 5.8/10
Please note that the APH Numeric Rating system is based off our proprietary guidelines in the Review Focus, and should not be compared to other sites.
The Cooler Master Storm Spawn was along the right track in terms of finding a good gaming mouse formula -- however the mouse literally fell short of reaching this goal.
Do you have any comments or questions about the Cooler Master Storm Spawn? Drop by our Forums. Registration is free, and it only takes a minute!