By: Jonathan Kwan
May 4, 2017
A few months ago, I was talking to someone at a party who specialized in veterinary medicine. Since my background is in electrical engineering, I had absolutely no knowledge of anything in that particular field. Therefore, I had to think fast to relate to the person I was talking to in order to carry on the conversation. "I know how to operate on animals too," I began. "They just happen to be cooked. And they are usually rotisserie chicken from Costco." Here is the thing: No matter how good I may think I am in my field of specialization, the moment I step out of my realm, I am as clueless as anybody else. Interestingly, even within the field of electrical engineering, I only know very specific things about wireless communication systems. If you want to talk to me about anything else like power systems or software design, my discussion with you would probably go as far as my friend in veterinary medicine. That said, while I may be good at very specific things, there are definitely people out there who are good at a few more things than me. And this concept, in some ways, can translate to inanimate items we use every day as well. For example, a computer mouse designed for first person shooters is quite different than something designed for MOBA games... or is it? Corsair Gaming's latest Glaive RGB optical mouse promises to be the ultimate experience for FPS and MOBA titles that can dominate on any battlefield, all day long. This seems to be an ambitious goal, but it does come with three interchangeable thumb grips for different styles of play to prove their point. As such, we took one in to find out if the Corsair Gaming Glaive RGB is like the person who is good at more than just one thing or not.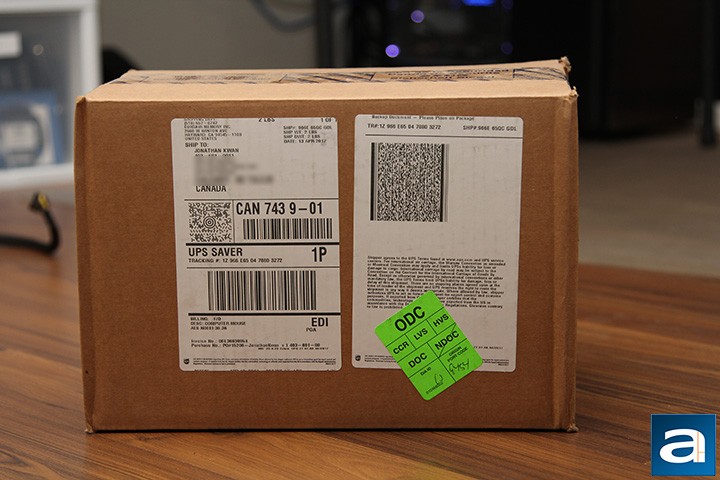 Our review unit of the Corsair Gaming Glaive RGB arrived to us here in Calgary, Alberta, Canada from the company's American headquarters in Hayward, California, USA last month. Using UPS Saver, the medium sized, brown corrugated cardboard box arrived in excellent condition for our review today. You may be wondering why you have not heard about this mouse anywhere on this website beforehand. Since this was an unreleased product, and therefore received on a non-disclosure agreement, we could not talk about it up until this point. It is a rare occasion that our schedule at APH Networks coincides with the manufacturer's embargo lift date, but here we are, so let us get down to business.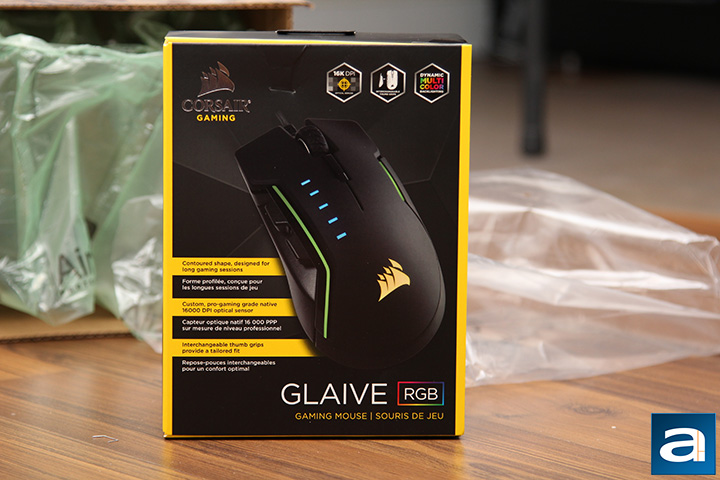 As it was with the Corsair Gaming Harpoon RGB I reviewed last year, the retail box design for Corsair Gaming's Glaive RGB mouse is immediately recognizable to anyone who has seen peripherals from the company at the local computer shop in the last little while. The predominantly black color scheme is accentuated by yellow strips on the side, contrasted by the white text on the darker shades and black text on the lighter shades. The mouse itself at 3/4 angle occupies majority of the real estate in front. At the top, you will find Corsair's logo and an array of three icons depicting its 16,000 dpi sensor, interchangeable thumb grips, and dynamic multi-color backlighting, respectively. The name of the mouse is printed at the bottom. Three short product highlights in English and French is located adjacent to the picture of the Glaive RGB. Further feature highlights and miscellaneous product information such as package contents and system requirements can be found on the remaining sides of the box.
Before we move on, let us take a look at the specifications of the Corsair Gaming Glaive RGB, as obtained from the manufacturer's press material:
Sensor: Custom PMW3367 gaming grade optical sensor, developed for CORSAIR with Pixart
Sensor Resolution: 100 - 16000 DPI, native, customizable at 1 DPI resolution steps
Color: Two variants, with Aluminum and Black finish
Backlight: 3 Zone RGB, plus blue LED DPI indicator
Buttons: 6
Report Rate: Selectable 1000/500/250/125 Hz (USB)
On-Board Profiles: 1
Dimensions: 125.8(L) x 91.5(W) x 44.6(H) mm / 4.95"(L) x 3.60"(W) x 1.75"(H)
Weight (w/o cable and accessories): 122g / 0.27 lbs.
Cable: 1.8m Braided Fiber
Mouse Feet: Extra Large PTFE
CUE: Enabled
Warranty: 2 Years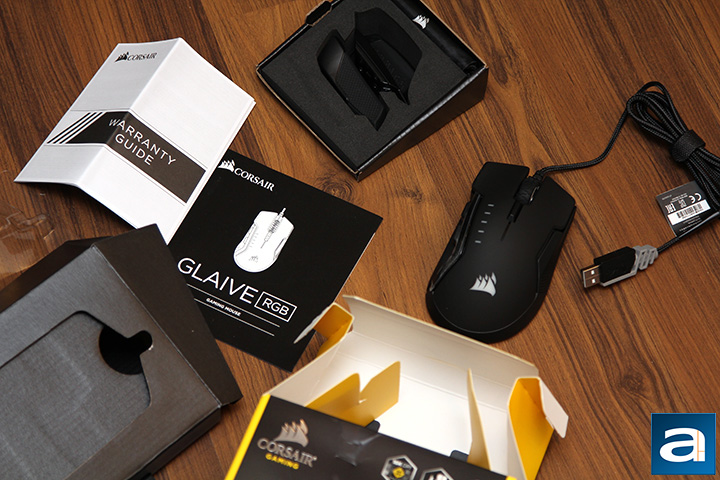 Out of the box, you will receive the Corsair Gaming Glaive RGB mouse placed in a cardboard container, two additional thumb grips in a cardboard tray, along with a quick start guide and a warranty guide. The software can be downloaded from Corsair' website. The file size of the Corsair Utility Engine (CUE) is 154MB, but I am willing to bet a vast majority of the users who are interested in this mouse will have a reasonably fast internet connection at home. It should not take more than a minute or so in download time given it is 2017 after all, and if you already have other peripherals from the company, you do not need to install anything new.
---
Page Index
1. Introduction, Packaging, Specifications
2.
A Closer Look - Hardware and Software
3.
Subjective Performance Tests
4.
Conclusion