By: Jonathan Kwan
October 6, 2017
Lock and load. You strap down with your usual auto buy combination and hit a set of familiar keys to radio your teammates. Go go go! The moment is yours. You and your team rush out of the spawn zone, as if a trained army in one accord, and into the stairway. Before you turn the corner, a teammate throws a flashbang. The flashbang flashes and your group of ten or so players point your AK47s in expectation of your opponents. All clear. Now you are into the building. Suddenly, at the top right corner of your screen, a teammate takes a bullet to the head and dies. You hear gunshots in the background. You turn around, only to spot four guys not on your team with a storm of bullets traveling your way. You turn around to look for a corner to hide, only to see a second group of opponents of equal size are already there. You take aim at them, but it was too late: You are dead. "That is not possible!", you yell at the top of your lungs. "How did they get here so fast?" Just as you wave your hands in the air, a couple of fingers make contact with the Mountain Dew sitting next to your keyboard. It falls over. You died in the game. A drink spills all over your keyboard. Is all lost? Fear not: If your keyboard is the Corsair Gaming K68, its IP32 dust and spill resistant certification will mean a good cleaning with a wet towel will bring you back into the game in no time. Close calls? You are covered.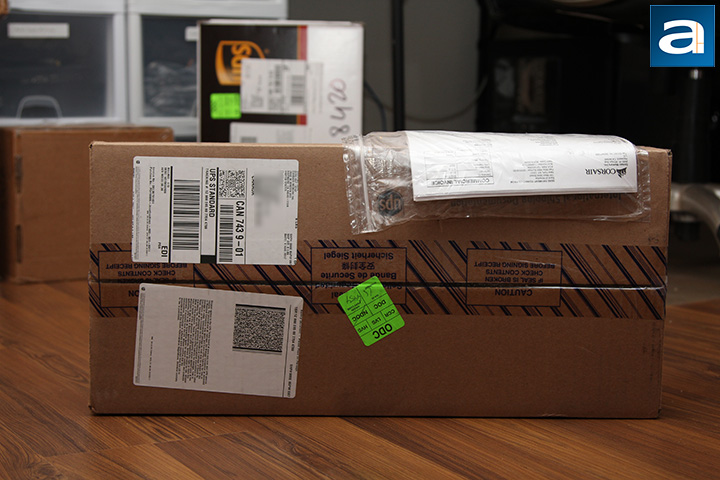 Our review unit of the Corsair Gaming K68 came in an elongated brown corrugated cardboard box from the company's American headquarters in Hayward, California, USA. Using UPS Standard, everything arrived in excellent condition to us here in Calgary, Alberta, Canada for our review today. With some snow and ice out here in Calgary already, it is hard to fathom that it was still the middle of summer when the K68 landed on our doorstep back in August of this year, haha.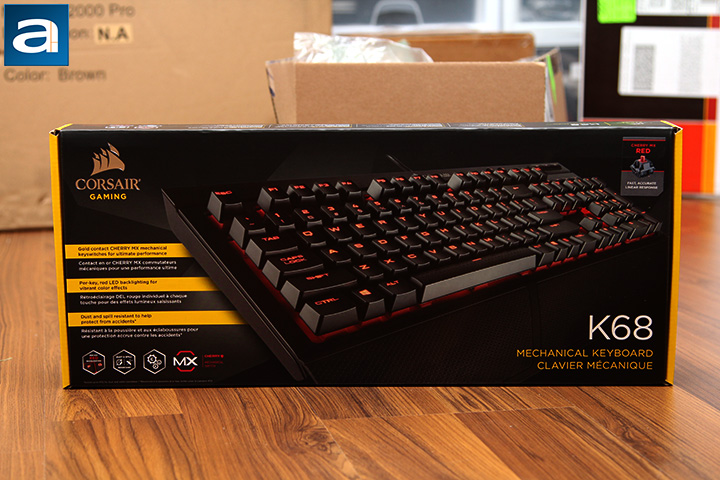 As it was with the Corsair Gaming Glaive RGB I reviewed earlier this year, the retail box design for Corsair Gaming's K68 mechanical keyboard is immediately recognizable to anyone who has seen peripherals from the company at the local computer shop in the last little while. The predominantly black color scheme is accentuated by yellow strips on the side, contrasted by the white text on the darker shades and black text on the lighter shades. The keyboard itself at 3/4 angle occupies majority of the real estate in front. At the top, you will find Corsair's logo. The name of the keyboard is printed at the bottom right corner. Three short product highlights in English and French is located adjacent to the picture of the K68. An array of four icons depicting its red backlighting, dust and spill resistance, CUE software compatibility, and Cherry MX Red switches, respectively. Further feature highlights and miscellaneous product information such as specifications and system requirements can be found on the remaining sides of the box.
Before we move on, let us take a look at the specifications of the Corsair Gaming K68, as obtained from the manufacturer's website:
Warranty: Two years
Weight: 1.12kg
Key Switches: Cherry® MX Red
Keyboard Backlighting: Red LED
Dimensions: 455mm x 170mm x 39mm
Report Rate: Up to 1ms / 1000Hz
Matrix: 100% anti-ghosting with full key rollover
Keyboard Size: Standard
Media Keys: Dedicated (MUTE, VOL DOWN/UP, STOP, PREV, PLAY/PAUSE, NEXT)
Wrist Rest: Yes
CUE Software: Enabled
Cable Type: Tangle-free rubber
WIN Lock: Yes
Keyboard Layout: NA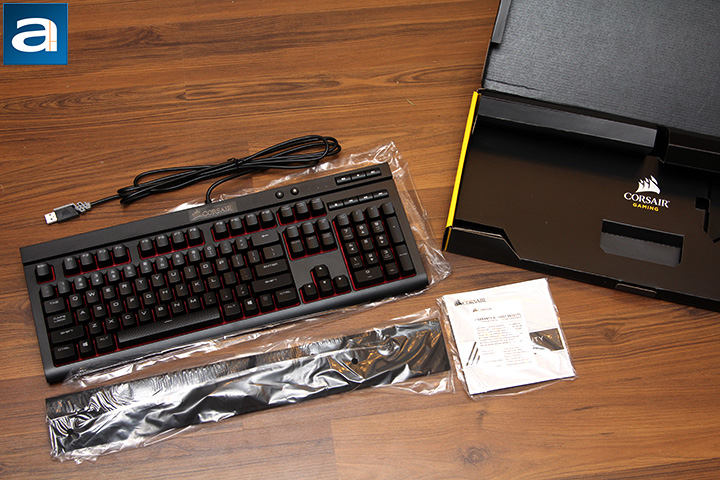 Out of the box, you will receive everything you will need and nothing more. Securely placed inside the box is the Corsair Gaming K68 keyboard itself contained in a clear plastic bag, while its detachable wrist rest is wrapped inside a separate plastic bag. On the product literature side, a quick start guide is included. A driver CD is nowhere to be found, but this is okay. If you do not have internet, as always, please send me an email, and let me know how you came across this review, haha.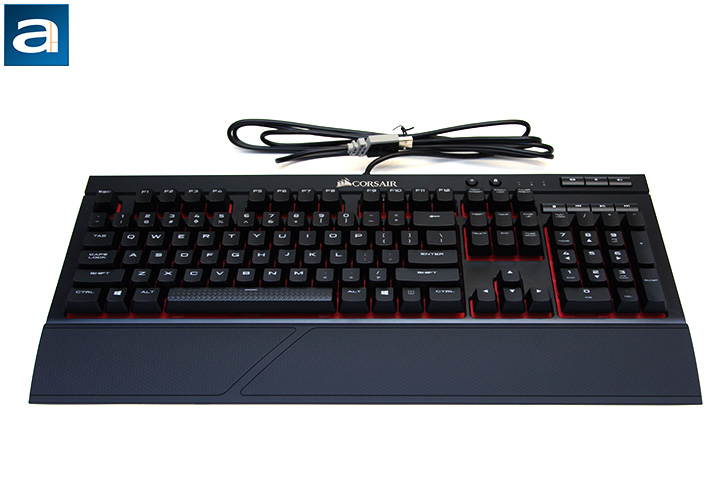 If you are looking for a keyboard that fits the definition of APH Networks' design philosophy, the Corsair Gaming K68 will have to be the one. It carries a clean, practically reference layout -- meaning no crazy designs -- with OEM Cherry MX keyswitches, media buttons on the side, LED backlighting, and an attached wrist rest. Its platform beneath the keys is colored red to give it a little more style, while the entire surface of the keyboard -- sans the keys, of course -- is finished with a fingerprint resistant textured plastic finish. The backplate is semi-exposed. Meanwhile, the detachable wrist rest is covered with a soft rubber coating that is very comfortable and grips well in every day usage.
Speaking of the Corsair Gaming K68's wrist rest, it is fully detachable from the main unit. It is designed to be connected to the keyboard via two plastic clips. The tabs on the plastic clips are a bit flimsy and look like they could break easily, but unless you move your keyboard around every day, it should not be a big problem.
The Corsair Gaming K68 measures in at 455mm width, 170mm depth, and 39mm height. Adding the wrist rest increases the depth to 223mm. This is about as compact as a standard QWERTY keyboard will go. To go along with its medium footprint and medium profile, the keyboard weighs about 1.12 kg according to the manufacturer. This is pretty heavy, but this is expected from a mechanical keyboard.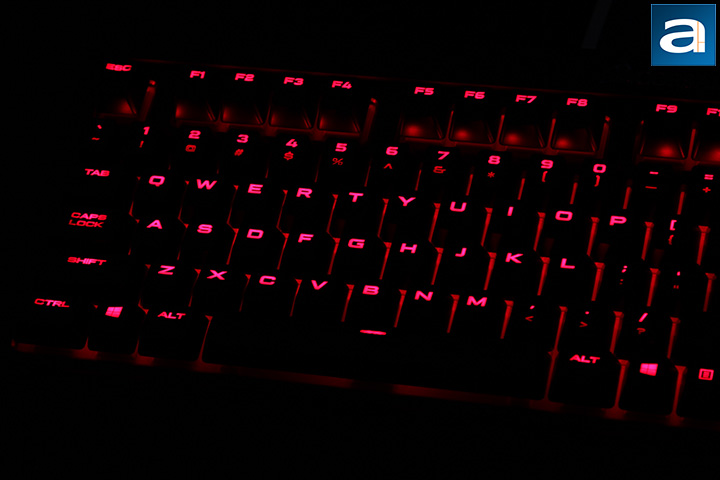 Once you turn off the lights and activate the Corsair Gaming K68's backlit keys, the keyboard really shines -- no pun intended. The font is large and bold. The K68 features full key backlighting, but in only one color, and that is red. Backlight intensity can be adjusted on the fly by a dedicated button to cycle the brightness. The backlight can be turned off completely, or activated in three different brightness levels. I am a big fan of fully backlit keyboards, and I am happy Corsair Gaming designed the K68 with this feature. On the other hand, while I do not expect SteelSeries Apex M800 kind of light show, a few more user configurable color options would be nice. My primary concern is red light is the most attention-grabbing color, so some users may find the K68 particularly distracting at night. Obviously, you can turn off the backlight at night, but what is the point?
The Corsair Gaming K68's key illumination distribution is reasonably even for the most part. The area between the keys are also backlit thanks to the reflection of the LEDs, and I like it. One thing to point out, for keys with more than one line of text label, you will notice the top half is significantly brighter than the bottom half. This is due to physical design limitations of the Cherry MX stems, as you can see in our photo above.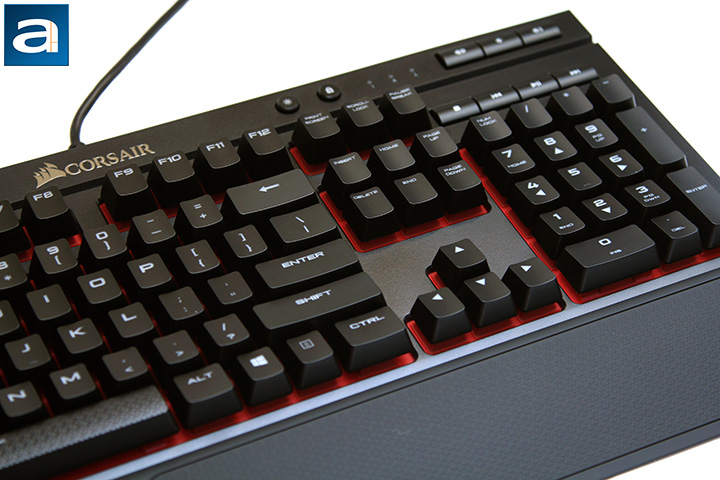 Almost everything here is pretty standard in terms of layout with a few additions. I am a big fan of the single row Enter key layout, as present on our US QWERTY Corsair Gaming K68. Keyboards with a double row Enter key usually means the "\" button is moved to the left side of the right "Shift" key; reducing the size of the latter. I am more used to having a full width Shift on the right, and a half height Enter. Obviously, this is more or less personal preference, but having a half height Enter key makes a lot more sense to me.
Unique to the Corsair Gaming K68 is its diamond plate textured space bar. It feels unique to touch, and you will not mistake it for any other key. Above the number pad are two rows for a total of seven media keys, which includes stop, play/pause, and skip on the bottom row, and mute, volume down, and volume up on the top row. Three standard indicator LEDs corresponding to Num Lock, Caps Lock, and Scroll Lock, respectively, can be found adjacent to the top row media keys. They glow white when activated. On the left of the indicator LEDs is the brightness cycle button mentioned earlier, along with a Windows Lock key. This is an important feature in any gaming keyboard, because let us face it: How many times have you tried to duck in your favorite FPS while engaging an enemy, only to be killed instantly, because you missed the "Ctrl" key and your game was minimized? The button will glow red when activated, just like its backlight color, and turn off when not activated.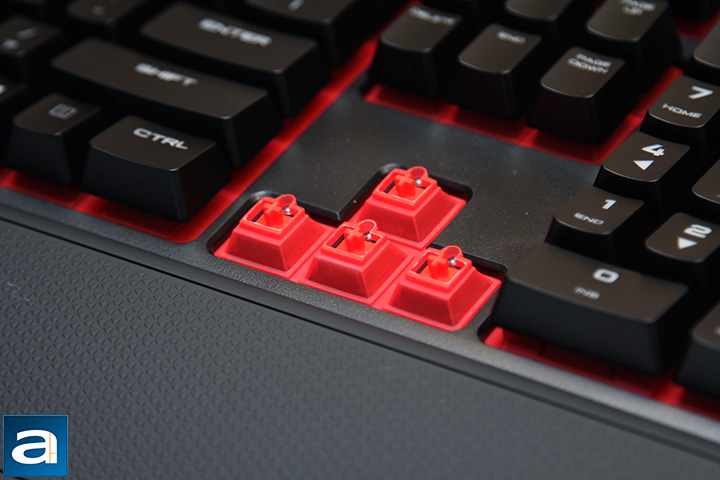 If you do not know what a mechanical keyboard is, there are three main types of keyboards in the market today. The cheapest is the membrane keyboard, which is the easiest to make, but also has poor typing feel and response due to squishy keys. A scissor switch keyboard has its own independent keyswitch mechanism for each key, which delivers improved tactile response and typing experience. Modern scissor switch keyboards can be very good for everyday office use. Mechanical keyboards such as the Corsair Gaming K68 costs the most, because each keyswitch is an independent part.
Surprisingly, the Corsair Gaming K68 with Cherry MX Red mechanical switches is pretty quiet during operation, even though it is not the Silent variant. In fact, it is even quieter than the SteelSeries Apex M500, which produces a slightly higher pitched tone when actuated compared to the K68. Our above photo gives you a glimpse on how the dust and waterproofing design was done. Cherry MX Red, like the MX Black, is marketed as a gaming type switch. The maximum key travel distance is 4mm, with actuation at 2mm. With an actuation force of 45g in a completely linear fashion, it is about 15g lighter than the MX Black; generally speaking, the Corsair Gaming K68 will feel very different than other non-mechanical keyboards. This keyswitch is desirable for gaming, because you will be bottoming out all the keys anyway, but the lack of the "bump" of the Cherry MX Red may not appeal to everyone. It is rated for fifty million operations like other Cherry MX switches. The base is rock solid and among the best I have seen, so you will not get any keyboard flex, which is excellent.
The Corsair Gaming K68 is a full NKRO keyboard. NKRO stands for N-key rollover. If you have used keyboards with limited NKRO capabilities, you may have experienced ghosting issues in the past -- where when too many keys are pressed at the same time, your system unable to register any more strokes. A full NKRO keyboard like the Corsair Gaming K68 overcomes this by independently polling each key, making all inputs detectable by the hardware, regardless of how many other keys are activated at the same time. This mean in the event you have every other key on your keyboard depressed, it will still register the last stroke. While this is a highly unlikely scenario, since you have only ten fingers, this is as good as it will get.
At the back of the Corsair Gaming K68 is the USB cable lead out. It comes out in the center, and is not detachable. This non-braided rubber cable extends 2.0m in length to connect to your computer via a standard, non-gold-plated USB connector. When we bring about the question of whether gold plated connectors are actually useful or not, let us just say if it was the actual pins, then possibly -- since gold offers better conductivity than other metals. This theoretically establishes a better connection with your computer, but on a digital signal level, we must understand it is a discrete one or zero; so if anyone tells you they can tell the difference, you can definitely defeat their theory with a double blinded test. Additionally, if you are referring to the gold part of the connector you see on the plug, I would like to point out it actually does not make any physical contact electrically with your computer. In other words, it is nice to have, and it is pretty to look at, but it is not anything significant on a practical level. The lack of a gold-plated USB connector will not have any performance impact on the Corsair Gaming K68.
At the bottom are four rubber pads to help the K68 stay in place during intense gaming sessions. The two flip-out risers at the front tilts the keyboard up for those who prefer it. Once flipped out, you will lose the rubber contact with your desk, which will make you lose some grip. Thankfully, the Corsair Gaming K68 is a pretty heavy keyboard by itself, which is great to keep it in its place during intense gaming sessions. Although there are no keyboard drain holes, the Corsair Gaming K68 is IP32 certified, which means it is dust and spill resistant.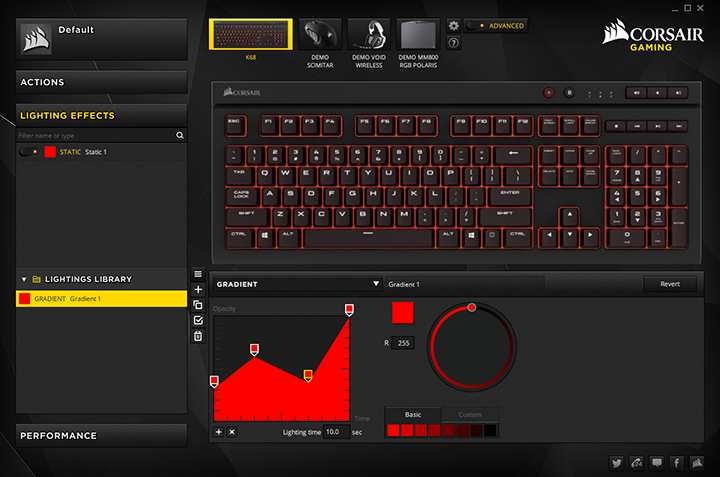 The Corsair Gaming K68 works along with the latest version of the Corsair Utility Engine (CUE), which is a 168MB download from Corsair's website at press time. This program unifies all your Corsair peripherals into one application. After selecting the Corsair Gaming peripheral you want to configure at the top, the graphical user interface is basically separated into two sections; the left side allows you to select the configuration category, while the right side displays all options. Global software settings and the Advanced Mode toggle switch can be found at the top. Activating Advanced Mode enables additional macro configuration options.
The Actions tab is where you can control the function of the buttons on your keyboard. Options include macro, text, remap key, media, launch application, timer, disable, or profile switching for each button on the K68. Key remaps can be set to typing, mouse, or keystroke function, while timer will activate a countdown timer that plays a sound, enable an option, and/or initiate a lighting pattern upon completion. My advice is do not set a four-minute-long song to signify the end of your countdown timer, haha. The macro recording system in Corsair CUE is one of the most comprehensive I have ever seen. There is even a feature called Double Macro, where two macros can be initiated concurrently by clicking a single button.
The Lighting Effects tab is where you can play around with the... well, lighting effects of each of the Corsair Gaming K68's keys, as shown in our screenshot above. Every key can be independently controlled, even though it is not RGB. Corsair's CUE is designed to configure the backlight by layer, where each layer can have a different configuration. With regards to the lighting effects, there are five options. This includes static, gradient, ripple, solid, and wave. Although all of these options should be self-explanatory, the difference between static and solid is that static is just a constant illumination, whereas solid is like gradient without the fading effects. "Performance" is where the Windows Lock options are configured. This includes disable Alt+Tab, Alt+F4, Shift+Tab, and Windows key if the Windows Lock is on.
Overall, I found Corsair Utility Engine to be generally straightforward and easy to use. CUE is very powerful and feature-filled, graphics are quite appealing to look at, and the experience is generally positive.
-----------------------------------------
What is a keyboard designed according to APH Networks specifications? It is actually pretty simple. All I want is a clean looking, down to earth mechanical keyboard with real Cherry MX switches, dedicated media keys on the side, backlit, and a comfortable attached wrist rest. Am I asking for too much? I do not believe so. If someone designed a keyboard by APH Networks specifications, the Corsair Gaming K68 will have to be one that is pretty close. Just look at this thing. The look is clean and modern; there are no crazy lines you can spot anywhere. It comes with dedicated media keys, Windows lock button, and a brightness control button that only marginally increases its overall dimensions. The red backlight, although limited to only one color, has comprehensive user-programmable per-key lighting effects via Corsair's CUE software suite. Its solid backplate with IP32 dust and spill-resistant design is relatively quiet to type on, even though these are just regular Cherry MX Red switches. The diamond plate textured space bar is the icing on the cake. And this is not it: The Corsair Gaming K68 even comes with an attached wrist rest lined with a soft rubber coating. What is there not to like? To be honest, the list is short. Firstly, it does not have a braided cable. Secondly, there is only one backlight color option, and I personally much prefer blue. Thirdly, the option to pick other switch types would be appreciated. I would be all over it if they made the Corsair Gaming K68 with the Cherry MX Red Silent, and considering Corsair themselves developed it with Cherry, I think this is a reasonable request. At the end of the day, for $100 at press time, the Corsair Gaming K68 is hard to beat. There is simply too much to like about it.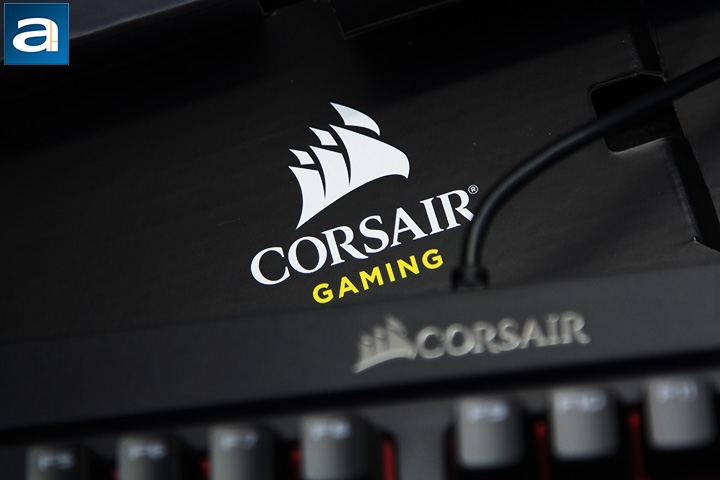 Corsair provided this product to APH Networks for the purpose of evaluation.

APH:Renewal Award | APH Review Focus Summary:
8/10 means Definitely a very good product with drawbacks that are not likely going to matter to the end user.
7/10 means Great product with many advantages and certain insignificant drawbacks; but should be considered before purchasing.
-- Final APH Numeric Rating is 7.9/10
Please note that the APH Numeric Rating system is based off our proprietary guidelines in the Review Focus, and should not be compared to other sites.
The Corsair Gaming K68 is the keyboard to beat for $100, and you will not beat it even if you dumped a whole cup of water on it.
Do you have any comments or questions about the Corsair Gaming K68? Drop by our Forums. Registration is free, and it only takes a minute!