By: Aaron Lai
July 19, 2019
Last month, I had the pleasure of participating in a small-scale Amazing Race around a mall, organized by some of the high school youth counselors. While it has been a while since I was in high school, I was actually helping out by being the "adult supervision" in the group while running around with them. The event was organized quite well, with a mixture of critical thinking, athleticism, and problem solving. Unfortunately, we made several missteps along the way during our journey. As you know from the television show, we ran around completing the task at a certain stop before getting our next clue to the next route marker. While we were quick to solve puzzles or certain tasks at each station, we often had difficulty finding the next station. For example, one of our clues led us to go to a bridge near the mall, but we failed to realize there were two bridges, one on each side of the mall. We ran all the way to the north bridge, only to realize we had gone in the opposite direction and had to go back. This happened several times and we often lost the leads we had gained on other teams. I think a lot of it happened because we were rash in our decision making, often moving faster before thinking about the consequences until it was too late. When Corsair announced their HS35 Stereo, a budget-oriented gaming headset, I did have to question if there were any consequences to making a headset sell for such an affordable mark. Retailing at a cool $40 USD, this undercuts some of the cheaper headphones we have previously looked at, including Corsair's own lineup. Is this the next budget pair of headphones to recommend or are there shortcomings to be found? I guess it is time to find out, so let us proceed.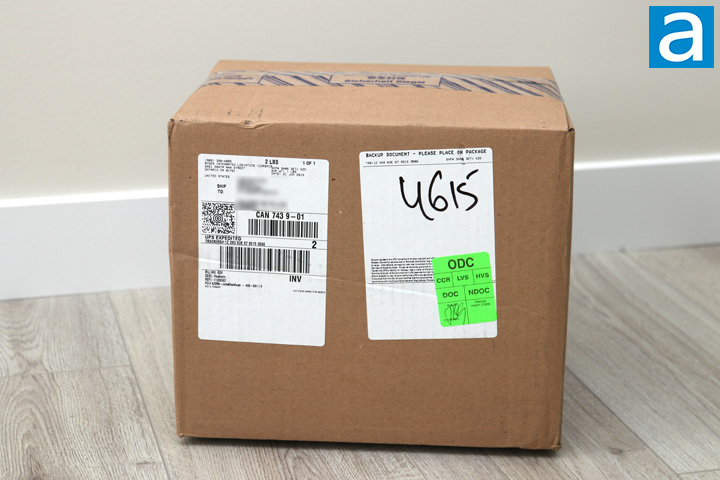 Today's review unit of the Corsair HS35 Stereo traveled from Ontario, California to our APH Networks offices here in Calgary, Alberta. Traveling with UPS and their Expedited service, this box arrived in good condition with no real bumps or bruises to be concerned about. The top and bottom edges were sealed with a security tape. Inside, Corsair ensured their product was protected by packing a lot of air pockets around the box, preventing any damage that could occur during transit.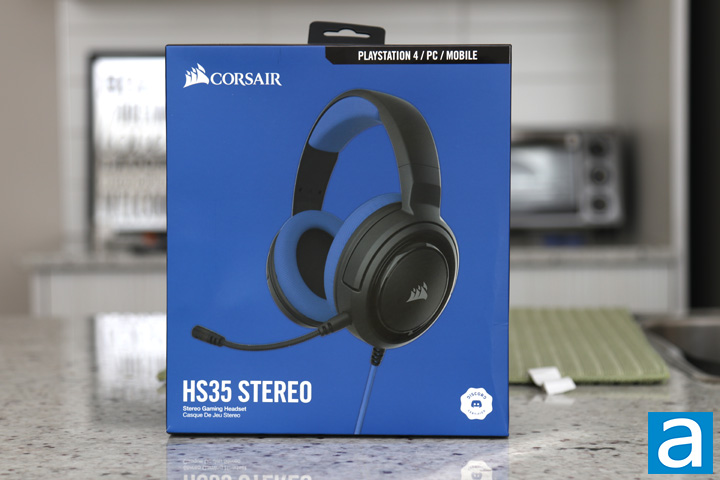 Out of the shipment cardboard box, we have the Corsair HS35 Stereo in its retail container. From this front, you can see the box has a blue and black color scheme with the HS35 Stereo on the front in blue. Just so you know, the HS35 also comes in green, black, and red. These colors are not exactly random, as they are intended for use with consoles from each of the major brands. As such, our blue version we have is highlighted as being compatible for both PlayStation 4, PC, and mobile gaming. It can work with the other consoles like the Xbox One and the Nintendo Switch, but there may be some content differences that will sway what you buy, as you will see later on. Otherwise, Corsair's logo is on the top left and the product name is on the bottom left. A description of "Stereo Gaming Headset" can be found underneath. On the bottom right, we have a Discord certification seal. Around the back, Corsair has highlighted some features and specifications for customers to make an informed decision.
I have grabbed the specifications from the manufacturer's website, for your viewing pleasure:
Compatibility
PC, Xbox One*, PS4, Nintendo Switch and mobile devices. *May require Microsoft adapter sold separately.
Technical Specifications
Headphone Frequency Response: 20Hz - 20 kHz
Headphone Battery Life: N/A
Headphone Sensitivity: 113dB (+/-3dB)
Headphone Wireless Range: N/A
Impedance: 32 Ohms @ 1 kHz
Headphone Type: Wired
Headphone Connector: 3.5mm analog
Headphone Drivers: 50mm
Microphone Impedance: 2.2k Ohms
Microphone Type: Unidirectional noise cancelling
Microphone Frequency Response: 100Hz to 10kHz
Microphone Sensitivity: -40dB (+/-3dB)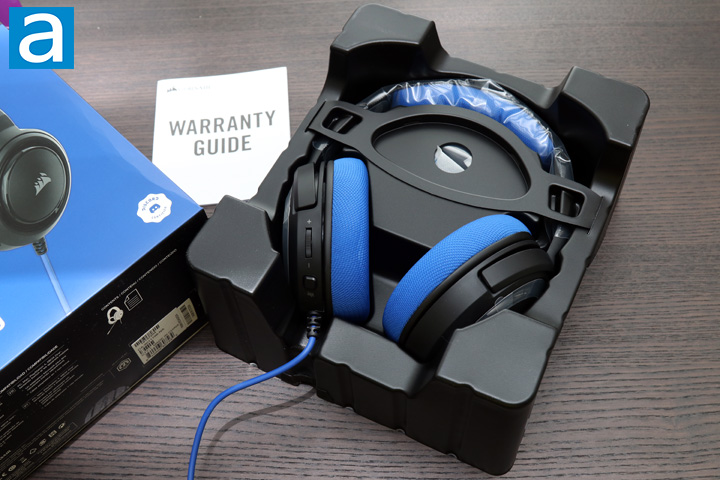 Similar to other Corsair headphones we have reviewed in the past, the HS35 Stereo comes in a plastic tray with a middle pocket to hold any additional accessories. In the case of the PS4 version of this headset, we only have a small plastic pouch holding the detachable microphone. If you do end up getting the HS35 Carbon version made for PC gaming, it will also include a Y-adapter for plugging the headphones into your computer, as you will see soon enough. Otherwise, a small white manual is included out of the box to give users information about warranty. The Corsair HS35 Stereo comes with a warranty coverage of two years, which is pretty standard for gaming peripherals.
---
Page Index
1. Introduction, Packaging, Specifications
2.
Physical Look - Hardware
3.
Subjective Audio Analysis
4.
Conclusion