By: Jonathan Kwan
June 30, 2020
If there is anything uniquely local to Texas that I went to when I visited the Lone Star State in February of this year, it would be going to a Buc-ee's. For those who have never been to Texas, Buc-ee's is a chain of convenience store commonly located on the side of interstates. What is so special about a convenience store, you may ask? Well, if there is anything that is an embodiment of "everything is bigger in Texas", this would be it. For the rest of the world, a convenience store generally conveys an image of a small store that sells chips and soft drinks, plus a gas station with four to eight pumps outside. Buc-ee's, on the other hand, does it the Texas way. They certainly vary in size, but at least for the ones I have been to, they feel like they are as big as an average Walmart in Canada and -- get this -- has gas stations with one hundred and twenty gas pumps. Besides being comically large, there were a few things that, in my opinion, were excessive and wasteful to people outside America. A medium sized fountain drink was 59 cents, probably considered extra large anywhere else in the world, comes in foam cups. I bought one brisket sandwich and they gave me a massive single-use plastic bag to go with it at checkout. Once outside, trash bins were overflowing with many items that are very recyclable. I am no environmentalist and I am nobody to judge what people do in another country, but we are all free to make personal choices to determine what is excessive and what is not. For some, having ARGB LEDs on anything is too much. For others, they just cannot get enough ARGB products. If you are part of the latter group, Corsair is here to make you open up your wallet again. The Corsair iCUE LT100 are freestanding ARGB LED lighting towers that can also hold your headphones. With over a hundred products we review per year here at APH Networks, I will tell you right off the bat these are one of those rare products I actually thought was really cool.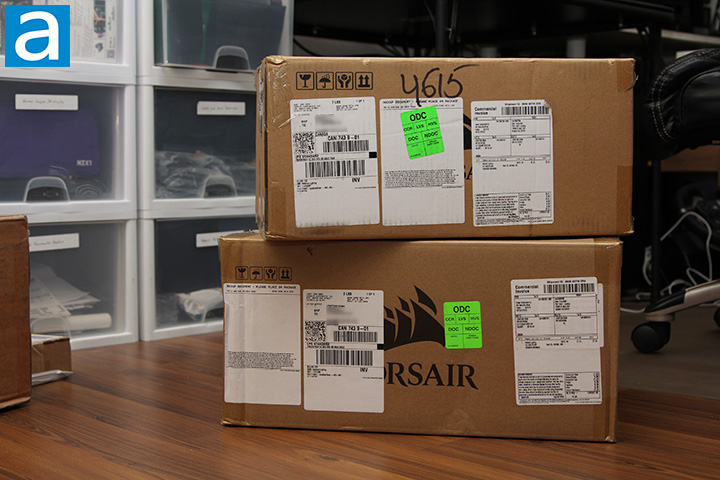 Our review unit of the Corsair iCUE LT100 came in two rather large brown corrugated cardboard box from Ryder Integrated Logistics in Ontario, California, USA. Using UPS Standard, everything arrived in excellent condition to us here in Calgary, Alberta, Canada for our review today. If you are wondering why they needed two large boxes to ship a set of LED lights, you are not alone. Another mystery to solve: The boxes actually arrived two days apart.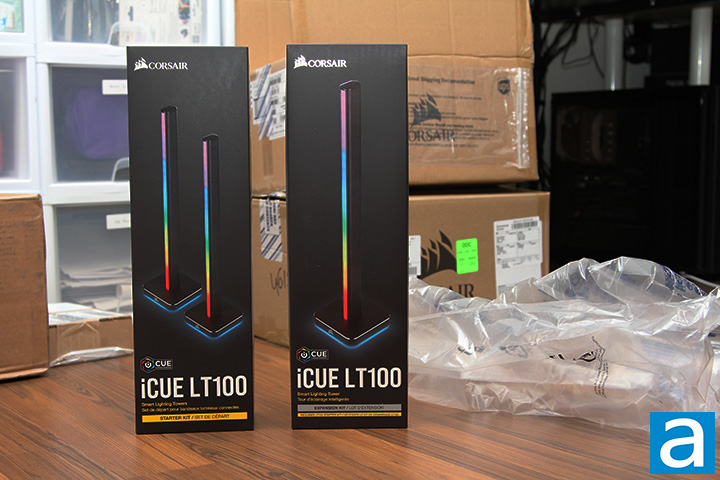 Inside each shipping box was one pack of the Corsair iCUE LT100, which can be purchased as a Starter Kit and Expansion Kit. I am pretty sure both can fit into one much smaller shipping box, but hey -- America! The retail packaging of the Corsair iCUE LT100 is immediately recognizable to anyone who are familiar with products from the company. The telescoping boxes feature a predominantly black color scheme on the lids, complemented by yellow trays inside. Everything is contrasted by white or yellow text on the darker shades and black text on the lighter shades. Photos of the lighting towers in three-quarters view occupy the majority of the real estate in front. At the top left corners, you will find Corsair's logo. The name and description of the product is printed at the bottom, which is "iCUE LT100" and "Smart Lighting Tower". The text inside a yellow box distinguishes between the Starter Kit and Expansion Kit. Further feature highlights and miscellaneous product information such as specifications and system requirements can be found on the remaining sides of the box.
Before we move on, let us take a look at the specifications of the Corsair iCUE LT100, as obtained from the press material:
LT100 Starter Kit
Starter Kit Dimensions (L x W x H): 422mmx95mmx95mm (without the headset holder), 423mmx95mmx106mm (with headset holder)
AC Adapter: 5V, 1800mm
Max. Towers, RGB LEDs: Up to 4 Towers (Total of 184 RGB LEDs)
Micro USB to USB-A Cable: 1500mm
Reversible Tower 1 (with button): With controller, White diffuser silicone, Aluminum post and base, 46 RGB LEDs
Reversible Tower 2 (without button): No controller, White diffuser silicone, Aluminum post and base, 46 RGB LEDs
Preset Lighting Effects: 11 preset lighting effects with push-button control
Straight RGB Cable: 1500mm
Removable Headset Holder: Plastic
Safety and Agency: FCC, IC DOC, CE, RCM, REACH, CP65, ROHS, WEEE, China RoHS
Warranty: 2 years
LT100 Expansion Kit
Requirements: Require iCUE LT100 Smart Lighting Towers Starter Kit, sold separately
Expansion Kit Dimensions (L x W x H): 422mmx95mmx95mm
Reversible Tower (without button): No controller, White diffuser silicone, Aluminum post and base, 46 RGB LEDs
Max.Towers, RGB LEDs: Up to 4 Towers (Total of 184 RGB LEDs), requires iCUE LT100 Starter Kit
Y RGB Cable: 1500mm
Safety and Agency: FCC, IC DOC, CE, RCM, CP65, ROHS, WEEE, RoHS
Warranty: Two years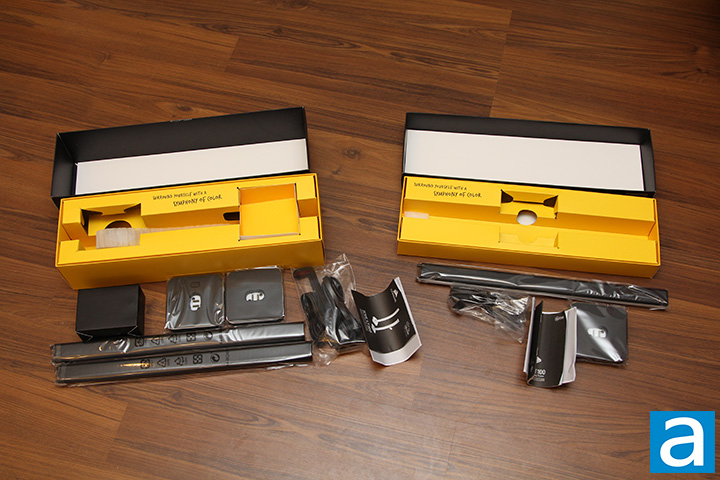 You will be greeted by what is inside once you open the telescoping boxes. Out of the box, for the Starter Kit, you will receive the following:
- Corsair LT100 Smart Lighting Tower - Master Unit
- Corsair LT100 Smart Lighting Tower - Slave Unit
- AC Power Supply
- Micro USB to USB-A Cable
- Straight RGB Cable
- Removable Headset Holder
- Instruction Manual
For the Expansion Kit, you will receive the following:
- Corsair LT100 Smart Lighting Tower - Slave Unit
- Y RGB Cable (1500mm)
- Instruction Manual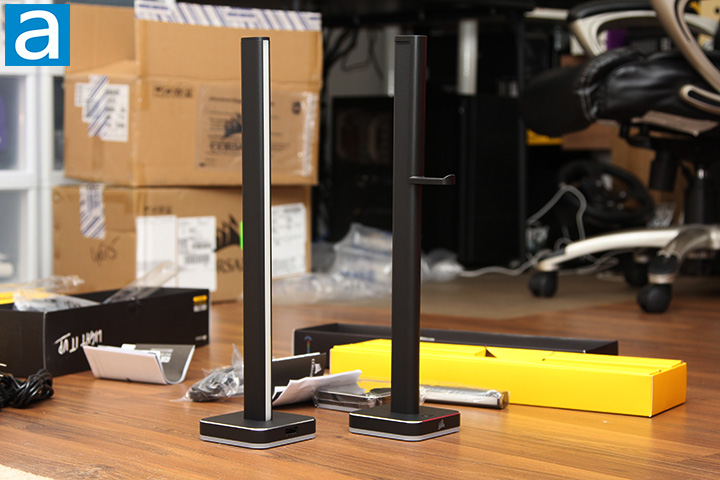 My first impression of the Corsair iCUE LT100 was, "Wow, these are good looking desktop LED lights". These lighting towers are slim and tall at 422mm, keeping a very minimalist profile with a clean design. The straight lines with rounded corners are made to appeal in every 2020 desktop setup. Besides being slim and tall with a clean design, the LT100 smart lighting towers are also of exceptional quality and finish. The entire set -- post and base -- are made out of solid aluminum that are cold to touch. The matte black finish is fingerprint resistant as well. I do not know what else to say about its looks but to let you enjoy my photo above, haha.
Each tower has 46 RGB LEDs for 27 independent illumination zones. The LEDs located at the bottom perimeter of the base and on the posts. A diffuser is present in all locations for a soft light output. Meanwhile, an included accessory can be clipped to the top of any one of the towers to hold your headset. The plastic headset holder accessory has 3M double-sided tape on the inside if you want to permanently affix it on, but I think the LT100 looks better without it. Also, it would have been nice if it was also made out of aluminum.
A master unit is required for all Corsair iCUE LT100 configurations, which is only included in the Starter Kit. The master unit is the only one that features a USB connector and 5V DC power input, while the slave units only have a proprietary connector. Up to two additional towers from the Expansion Kits can be added to the Starter Kit for a total of four towers, where each expansion kit comes with a Y-splitter cable for the proprietary connector.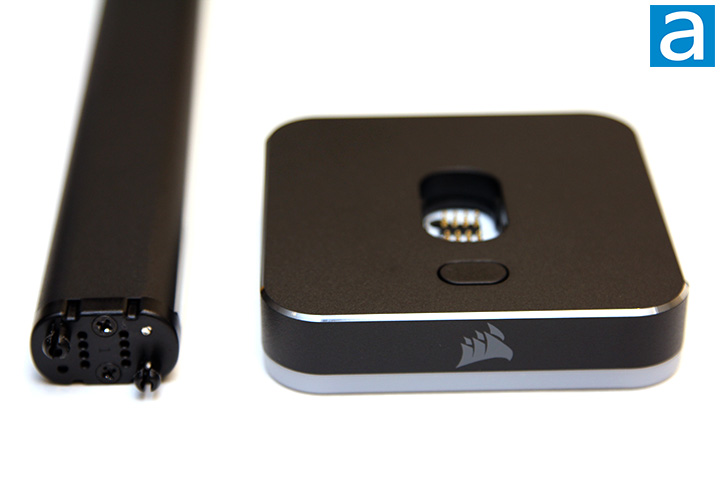 The above photo gives a closer look at the base and connector of the Corsair iCUE LT100. The master base is shown, with the difference being the master has a button on top while the slave does not. The button can be used to turn the LT100 on or off, but it only works when iCUE is not running, such as when your PC is off or locked. I found this kind of strange, and I would prefer the button to work at all times regardless of whether the system software is active or not.
The base is square with the width and depth both at 95mm. Once again, its aluminum construction with the finished edges look classy, while Corsair's logo is cleanly printed in front to let you know who made it without making too big of a deal on who made it. One cool feature about the Corsair iCUE LT100 is the reversible post connector, meaning you can put the post down in one of two directions. The fit is tight and secure, but still easy to remove when you need to. The posts have LEDs with diffuser on one side only, so you can either face the LEDs toward you for more intense lighting or face them away from you for better ambient effects. I personally like them facing the wall, which you will see in my sample shot in just a moment.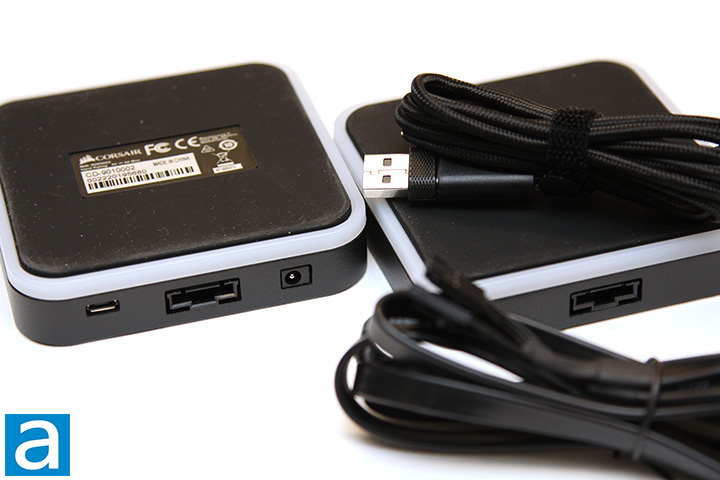 Here is a shot at the bottom of both Corsair iCUE LT100 bases. The master unit, on the left, has a USB Micro B port and DC 5V input in addition to the proprietary connector, while the slave unit only has the proprietary connector as aforementioned. would have much preferred a USB Type-C port instead, given it is 2020. The proprietary cables, whether it is the standard one or the Y-split, are all flat, rubber coated, and 1.5m long, which I find reasonable for a standard desk configuration. A little longer would not hurt though. The power adapter cable is 1.8m long and is neither flat nor braided. The USB cable is braided and 1.5m long with a standard non-gold plated connector. When we bring about the question of whether gold plated connectors are actually useful or not, let us just say if it was the actual pins, then possibly, since gold offers better conductivity than other metals. This theoretically establishes a better connection with your computer, but on a digital signal level, we must understand it is a discrete one or zero; if anyone tells you they can tell the difference, you can defeat their theory with a double blinded test. Additionally, if you are referring to the gold part of the connector you see on the plug, I would like to point out it actually does not make any physical contact electrically with your computer. In other words, it is nice to have, and it is pretty to look at, but it is not anything significant on a practical level. The lack of a gold-plated USB connector will not have any impact on the Corsair iCUE LT100 lighting towers.
Both bases have diffused perimeter lighting and a large rubber pad on the base. The diffused perimeter lighting looks great in real life, but I find the rubber pad to exhibit very little grip in practice. Other than that, I appreciate the fact it has an external power supply to ensure there is sufficient power supplied for up to four LT100 lighting towers. It is too bad there is no built-in USB hub on the lighting towers though.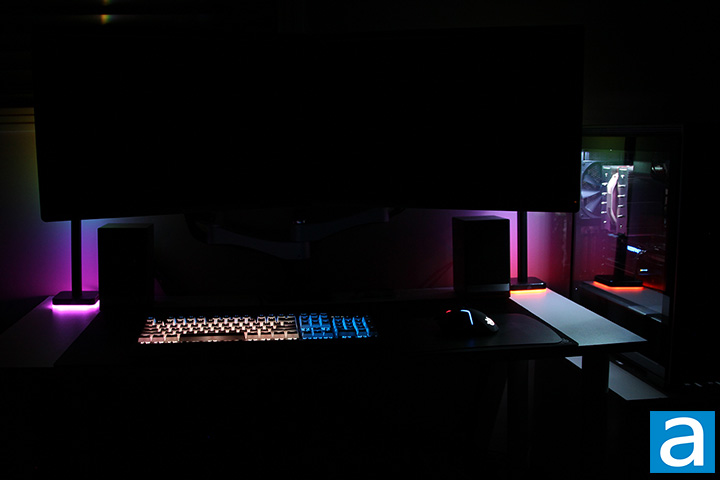 Since my desk is not really big, I only connected two iCUE LT100 lighting towers from the Starter Kit, even though I have a third one from the Expansion Kit. All cables were long enough for clean wiring, even though I did not run them directly across my desk. That said, extending the RGB cable to 2m would not hurt. The sleek, modern, and clean design looks great with my setup in my opinion. I set the diffuser to face the wall for a better ambient look. For a demonstration of the RGB lighting effects, I included an embedded video for your enjoyment.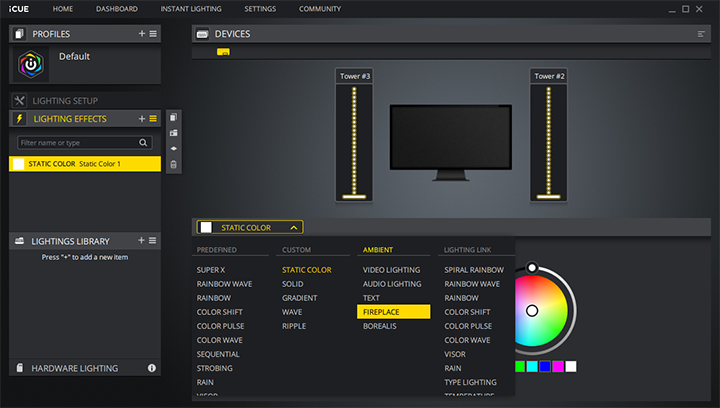 The LT100 works along with the latest version of the Corsair iCUE software, which is a 382MB download from Corsair's website at press time. This program unifies all your Corsair peripherals into one application. After selecting the Corsair peripheral you want to configure at the top, the graphical user interface is basically separated into two sections; the left side allows you to select the configuration category, while the right side displays all options.
The Profiles section allows you to select between profiles, as its name suggests. The Lighting Setup screen is where you can detect connected LT100 towers and configure it so the software knows what the physical placement is on your desk. The Lighting Effects tab is where you can play around with the... well, lighting effects of the Corsair iCUE LT100's 27 independent illumination zones. There are 26 on each post and 1 on each base. Corsair's iCUE is designed to configure the colors by layer, where each layer can only be in one color or effect at a time. To get them to display different colors, you will have to create multiple layers. Lighting effects options are shown in our screenshot above. Lightings Library are user pre-configured effects and Hardware Lighting allows you to set what the LT100 will do when iCUE is not running, such as when your PC is locked or off.
There are tons of lighting effects available, but I have a few suggestions to make it better. In Hardware Mode, you lose the ability to address each illumination zone independently, which I think you should be able to. Synchronization to the time of the day would also be nice, such as glowing bright white in the middle of the day to dimming to a soft yellow output at night. Lastly, it seems the monitor sync mode can only capture one monitor. In multi-monitor configurations such as mine, where each tower is behind a different monitor, the lighting effects will be out of sync. I find this rather strange, because Corsair's own iCUE LS100 supports this feature.
Overall, I found iCUE to be powerful, straightforward, and reasonably easy to use. Significant improvements were made to the usability of this software in the last few years, and the overall experience was very positive to me.
-----------------------------------------
If you are one of those people who cannot get enough ARGB products on your desk, be prepared to open up your wallet for the Corsair iCUE LT100. I have never really bothered with ambient RGB lighting kits in the past, even though my colleague Aaron Lai has covered the NZXT HUE 2 Ambient Lighting Kit v2 and Corsair iCUE LS100, but the LT100 are legitimately cool. Maybe I have a thing for freestanding lighting towers, but its clean, sleek, and modern appearance is hard to turn down -- not to mention its top-notch build quality and aluminum construction. There are tons of lighting effects available for its 27 independent illumination zones on each tower, and even if you just want to run it in solid white for ambient lighting, they will always look great on any modern setup in my opinion. I also like how the posts are reversible with a soft, diffused light output at all times. If all this is not enough, the iCUE LT100 can even hold your headphones with the included accessory. There is a short list of things I would like to see changed on these smart lighting towers though. On the hardware side, change to a USB Type-C port, improve the rubber grip on the bases, and add a built-in USB hub. On the software side, enable the hardware button when iCUE is running, allow configuration of independent illumination zones in Hardware Mode, and improve some of the lighting effects. For an MSRP of $130 for the Starter Kit and $60 for the Expansion Kit, the Corsair iCUE LT100 is no budget lighting setup, but they look amazing and does what is promised. You are sure to find them for a better price at your favorite retailer, too.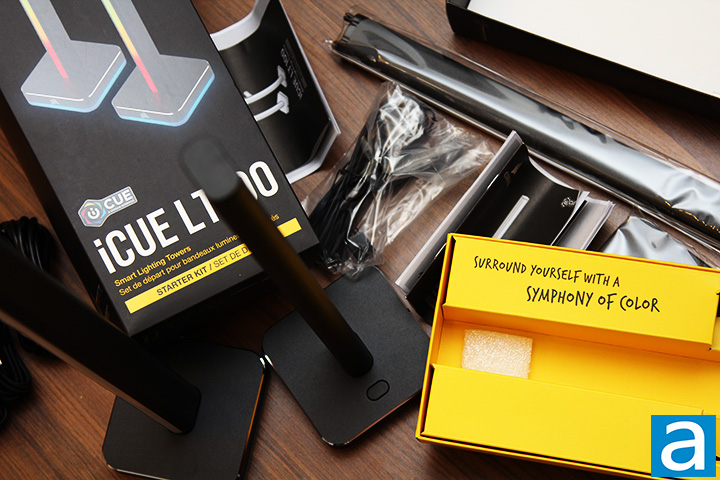 Corsair provided this product to APH Networks for the purpose of evaluation.

APH:Renewal Award | APH Networks Review Focus Summary:
8/10 means Definitely a very good product with drawbacks that are not likely going to matter to the end user.
7/10 means Great product with many advantages and certain insignificant drawbacks, but should be considered before purchasing.
-- Final APH Networks Numeric Rating is 7.2/10
Please note that the APH Networks Numeric Rating system is based off our proprietary guidelines in the Review Focus, and should not be compared to other publications.
The Corsair iCUE LT100 RGB smart lighting towers are legitimately cool freestanding ambient lighting devices for your desk.