By: Aaron Lai
September 17, 2021
I have had some vivid dreams in the past, as documented in some other reviews, but I still do not know what triggers them. Recently, one dream I had started in a hospital lobby, when a girl approached me and asked me to flip her. Dream-Aaron was a bit surprised at this request, but she wanted me to literally flip her to show that she would always land on her feet. Before I knew it, the girl was standing on my hands and I flipped her as high as I could. Like a video filmed on your parent's camcorder, she came crashing to the ground and broke her arm. I felt responsible to help her out, so I piggy backed her around to find a doctor. Looking back, I am not too sure why I had to carry her since she definitely could have still walked. Regardless, as I was trying to navigate the hospital, I walked down a stairwell until I got to the bottom. Instead of the horror vibes you might get from a hospital basement, I was suddenly in the basement of a military bunker. In front of me were military men in their full gear walking around. With the girl still on my back, I realized I needed to get out of there. Whether it was the panic of running back up the stairs with urgency or my laziness and not wanting to carry this person anymore, I awoke with a jolt to end the dream. To this day I still cannot really explain the origin of this dream. Thankfully, origins of products are usually much easier to answer. This is because products often exist to fulfill a demand that already exists, to improve upon the currently implemented solutions or to create new demand by making something more convenient or enjoyable. When Corsair sent us their latest mechanical keyboard, the K70 RGB TKL Champion Series, I had to wonder how this keyboard would compete among the rest. What makes this one special and worth purchasing over others? Let us read on to find out!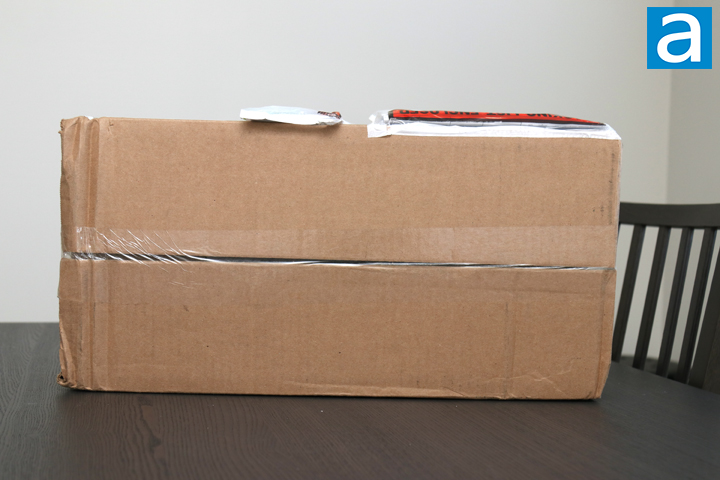 Today's review unit of the Corsair K70 RGB TKL Champion Series arrived from Corsair's offices in Fremont, California, USA. While this box has gone through a bit during the shipping process to our APH Networks offices in Calgary, Alberta, Canada, it arrived in one piece. Furthermore, there are no holes or deep gashes to the corrugated cardboard box. Inside, Corsair added some extra packaging to ensure the keyboard arrived in good condition. This includes some packing paper and a plastic bag to go around the retail container.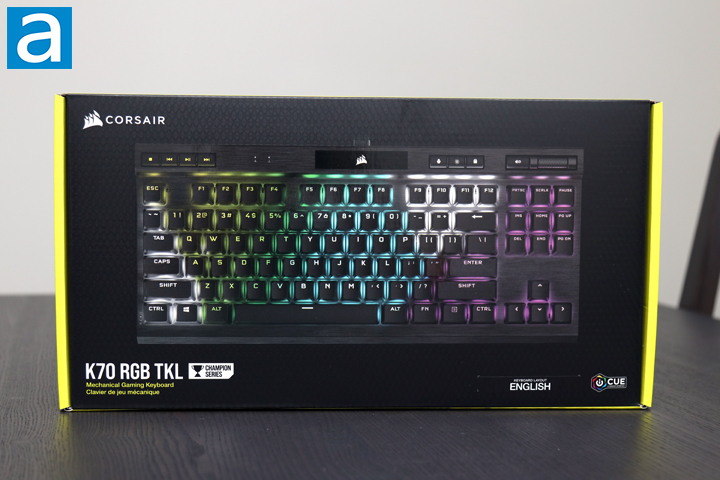 Taking a look at the retail container of the Corsair K70 RGB TKL Champion Series, you can see the standard Corsair yellow and black colors on the outside. The front panel shows off the tenkeyless keyboard in the middle, illuminated in all of its RGB glory. Corsair has textured the box with a neat triangular finish with its image being glossy in finish. Otherwise, the company name and logo can be found the top left corner, while the bottom holds the product name and the description of "Mechanical Gaming Keyboard". Around the box, you can see we have several languages highlighting the product's features and specifications.
If you so inclined, I have grabbed the specifications from the manufacturer's website for your perusal:
Keyboard Warranty: 2 Year
Weight: 0.9
Lighting: RGB
Keyboard Layout: NA
USB Polling Rate: Up to 8,000Hz with AXON
Keyswitches: CHERRY® MX SPEED
Matrix: 87 Keys
Connectivity: Wired
Adjustable Height: Yes
Additional colored and textured keycaps: FPS / MOBA
Media Controls YN: Yes
Keyboard Type Size: K70
Keyboard Product Family: K70
Keyboard Rollover: Full Key (NKRO) with 100% Anti-Ghosting
Form Factor: Tenkeyless
Wired Connectivity: USB 3.0 or 3.1 Type-A
On-Board Memory: 8MB
Number Onboard profiles: Up to 50
WIN Lock: Dedicated Hotkey
Media Control: Dedicated Hotkeys, Volume Roller
Palm Rest: No
Keyboard CUE Software: Supported in iCUE
Cable Type: Detachable
Keyboard Cable Material: Braided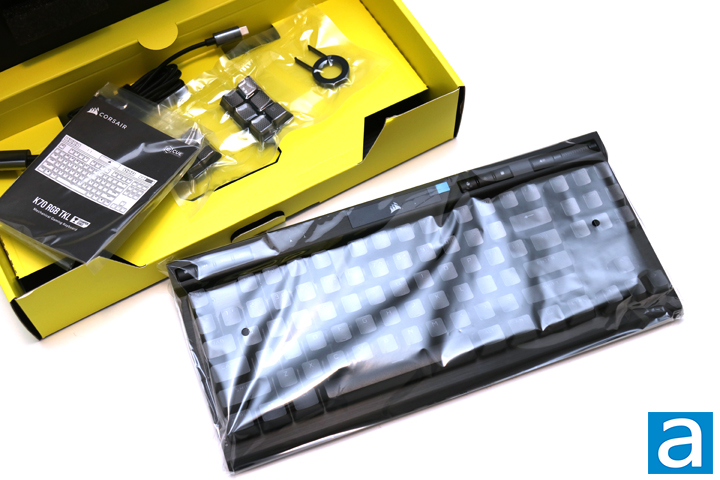 Out of the black and yellow box, you will find the Corsair K70 RGB TKL Champion Series located in the middle and sealed in a plastic cellophane bag. This prevents the keyboard from getting scuffed during transport. Separately, there is a braided USB Type-C to Type-A cable measuring 1.8m in length and a sealed bag containing additional QWERASDF keycaps and a keycap puller. Some pieces of documentation also exist that include a quick start guide, a safety information, and a warranty card. Just for your information, Corsair covers this keyboard for two years, which is typical for gaming peripherals nowadays.
---
Page Index
1. Introduction, Packaging, Specifications
2.
A Closer Look - Hardware and Software
3.
Conclusion