By: Jonathan Kwan
August 12, 2016
As you guys may or may not have noticed, I have not been writing a whole lot of reviews here at APH Networks lately. The reason why I have not been publishing as much is not because I am lazy. In fact, as we approach the beginning of the end of summer, I am busier than ever. A couple of years ago, I entered into the MSc Electrical Engineering program at the University of Calgary. After surviving the few courses I was required to take and engaging in just over a year of research activity, it is now time to put it all together and complete my first post-graduate degree. No one will ever tell you putting 120 pages of research work together to form a thesis is easy -- I will make that statement when I go through my PhD in the next four years -- but hey, at least I already have one academic publication, and another one to come. If you were to ask me how high I want to climb, my response to you will be this: It is not about how far you can climb, but rather, it is how far you can go. I think life is more about making progress than winning, although it does not hurt to be a winner along the way, haha. In 2014, I reviewed the Crucial MX100 256GB, a mainstream drive that delivers decent performance. In 2015, I reviewed the Crucial MX200 500GB, another mainstream drive that delivers decent performance. Today, we will take a look at the latest successor to the series, the MX300. With another 250GB or so increase in capacity thanks to Micron's new 384Gbit 32-layer 3D flash memory, will the MX300 750GB be yet another excellent mainstream drive that delivers decent performance? Read on to see how much progress Crucial has made!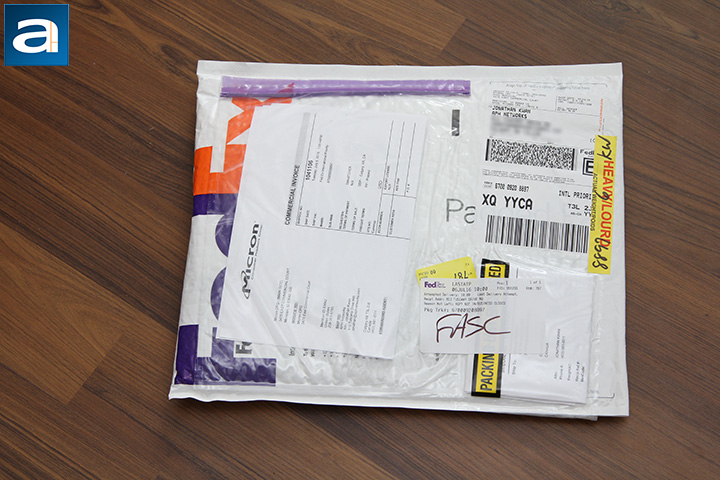 As with the last few times, our review unit of the Crucial MX300 750GB solid state drive arrived in a FedEx branded bubble envelope from the company's American headquarters in Meridian, Idaho, USA. Using the International Priority service, it only took a day to get to us here in Calgary, Alberta, Canada. As always, the company handled what has been entrusted to them well, and everything arrived in excellent condition for our review today. Without spending too much time admiring the envelope, I ripped open the package, and got straight to work.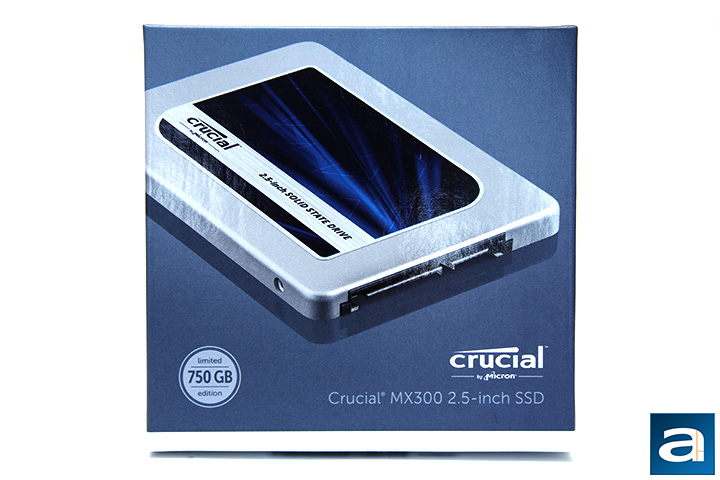 Crucial's retail package designs has always been about business, and the MX300 is no different. In fact, not much has not changed over the past few years, other than a slight cleanup with the retail art in this iteration. The simple, environmentally friendly box is the same shape and size as everything we have seen before. It uses a relatively compact, thin square box to deliver the SSD into the hands of the consumers, with the contents and other miscellaneous information printed on the back. As you can see in our photo above, the box art evokes a strong business feel. The dark blue gradient background is plain for the easily distracted. A 3/4 shot of the solid state drive is shown boldly across the middle. Under it, you will find Crucial's logo and the MX300 model name. Finally, the capacity is listed at the bottom left corner, where our particular review unit is the limited edition 750GB variant. It is a "limited edition" because the MX300 is designed to show off Micron's new 384Gbit 32-layer 3D flash memory, which may suffer from limited supply at press time. Furthermore, the new ultra-high density chips can be used to build very large capacity SSDs at a reasonable cost, so look out for newer models with significant more gigabytes.
Before we move on, let us take a look at the features and specifications of the Crucial M3200 750GB, as obtained from the manufacturer's website:
Brand: Crucial
Form Factor: 2.5-inch internal SSD
Total Capacity: 750GB
Warranty: Limited 3-year
Specs: 750GB 2.5-inch internal SSD • SATA 6.0Gb/s • 530 MB/s Read, 510 MB/s Write
Series: MX300
Product Line: Client SSD
Interface: SATA 6.0Gb/s
Device Type: Internal Solid State Drive
Unit Height: 7.0mm
Form Factor: 2.5-inch (7mm)
Package Content: Crucial MX300 2.5-inch 7mm SSD, 7mm to 9.5mm spacer, Data migration software key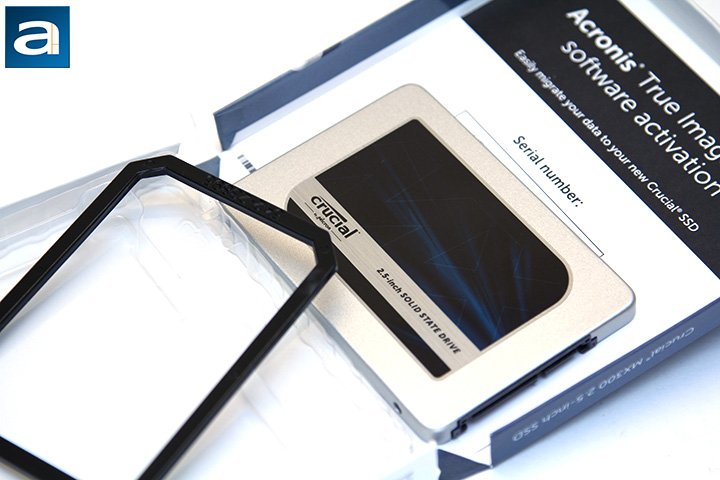 Crucial does not usually included a whole lot of stuff out of the box, and the MX300 750GB carries forward this tradition. This no-frills approach keeps the retail box small and excess waste low, and I am always appreciative of companies who do not throw in extras for the sake of throwing in extras. This is not to mention it is a mainstream drive, so a smaller bundle means more savings. The drive itself is wrapped in an antistatic bag. Other items include rubber spacer, and a piece of paper with an Acronis True Image HD activation key printed on it. The reason why the spacer is necessary is because the drive is only 7 mm thick. Older 2.5" drives are 9.5 mm thick, so if you have a drive bay that requires the extra height for proper installation, Crucial has made sure your bases are covered.
---
Page Index
1. Introduction, Packaging, Specifications
2.
A Closer Look, Test System
3.
Benchmark: AIDA64 Disk Benchmark
4.
Benchmark: ATTO Disk Benchmark
5.
Benchmark: Crystal Disk Mark 3.0
6.
Benchmark: HD Tach 3.0.1.0
7.
Benchmark: HD Tune Pro 4.60
8.
Benchmark: PassMark PerformanceTest 8.0
9.
Benchmark: PCMark Vantage
10.
Benchmark: PCMark 8
11.
Conclusion