By: Jonathan Kwan
May 29, 2015
In May 2013, gas pump price hit the highest in five years at $1.32 CAD/L here in Calgary. The all-time high, of course, was prior to the infamous crash of 2008, which we have seen the posted price of $1.38 CAD/L. While I was forced to pay almost $70 to feed my Honda Civic at the time, I was actually able to completely avoid the $1.32 CAD/L and fill up at a "bargain basement" price of $1.27 CAD/L -- twice -- five years later. This was made possible by refueling a couple of hours before the posted price changed, and buying a new car right before I ran out of gas in my Civic. Since all new cars come with a full tank of gas, and I sold my old car with the fuel gauge creeping close to "E", by the time my new car called for more dino juice, gas stations already receded its numbers back to $1.27 CAD/L. Clearly, this story teaches us in order to avoid gas price spikes, you buy a new car. Of course, for the 99% of us who live in the real world will probably argue while this technically works, it is a serious overkill to a relative non-issue. This may be an extreme example, but in reality, what is defined as an "overkill" can change with time. Back in 2012, I built a desktop computer with no HDDs. A lot of my friends thought it was a serious overkill when I put in an $800 OCZ Octane 512GB as my storage drive, plus a few other higher performance SSDs for OS and programs, and relocating my video archive to my NAS. I think I was just a little bit ahead of my time, because nowadays, although a pure SSD setup is still somewhat of a luxury, it is no longer an exclusive right of the unlimited budget enthusiast. Last month, we have reviewed the Crucial BX100, a 500GB SSD that now retails for only $165 after mail in rebate at press time. Today, we will take a look at its higher end cousin based on a Marvell controller, the MX200 500GB, which supports stuff like Microsoft eDrive and device sleep out of the box. For a little more money than its ultra-budget stablemate at press time, how will Crucial's mainstream drive fare as a hard drive replacement? Read on to find out!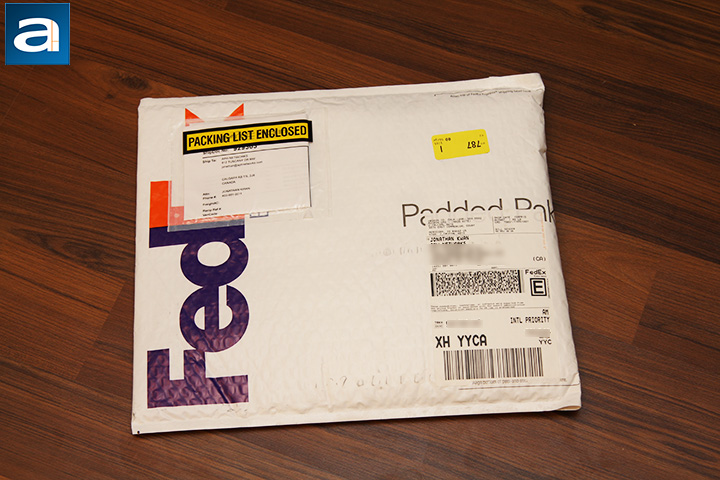 As with the last few times, our review unit of the Crucial MX200 500GB solid state drive arrived in a FedEx branded bubble envelope from the company's American headquarters in Meridian, Idaho, USA. Using the International Priority service, it only took a day to get to us here in Calgary, Alberta, Canada. As always, the company handled what has been entrusted to them well, and everything arrived in excellent condition for our review today. Without spending too much time admiring the envelope, I ripped open the package, and got straight to work.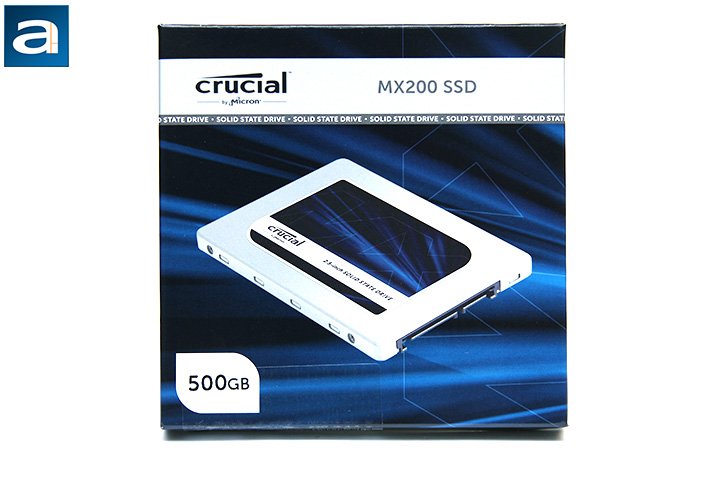 Crucial's retail package designs has always been about business, and the MX200 is no different. In fact, not much has not changed over the past few years. The simple, environmentally friendly box is exactly the same as the MX100 and BX100. It uses a relatively compact, thin square box to deliver the SSD into the hands of the consumers, with the contents and other miscellaneous information printed on the back. As you can see in our photo above, the box art evokes a strong business feel. The black and dark blue gradient background is blended in with wave stream patterns; while the outline of the letters "MX" are vertically oriented on the right to give the overall design a bit of visual style. At the top, a silver band extends across the entire to accommodate Crucial's logo and the MX200 model name. A 3/4 shot of the solid state drive is shown boldly across the middle. Finally, the capacity is listed at the bottom left corner, where our particular review unit is the 500GB variant. The Crucial MX200 is available from capacities as small as 250GB to a whopping 1TB model.
Before we move on, let us take a look at the features and specifications of the Crucial MX200 500GB, as obtained from the manufacturer's website:
Brand: Crucial
Form Factor: 2.5-inch internal SSD
Capacity: 500GB
Warranty: Limited 3-year
Specs: 500GB 2.5-inch internal SSD • SATA 6.0Gb/s • 555 MB/s Read, 500 MB/s Write
Series: MX200
Product Line: Client SSD
Interface: SATA 6.0Gb/s
Device Type: Internal Solid State Drive
Unit Height: 7mm
Form Factor: 2.5-inch (7mm)
Package Content: Crucial Box, 2.5-inch (7mm) SSD, 9.5mm adapter bracket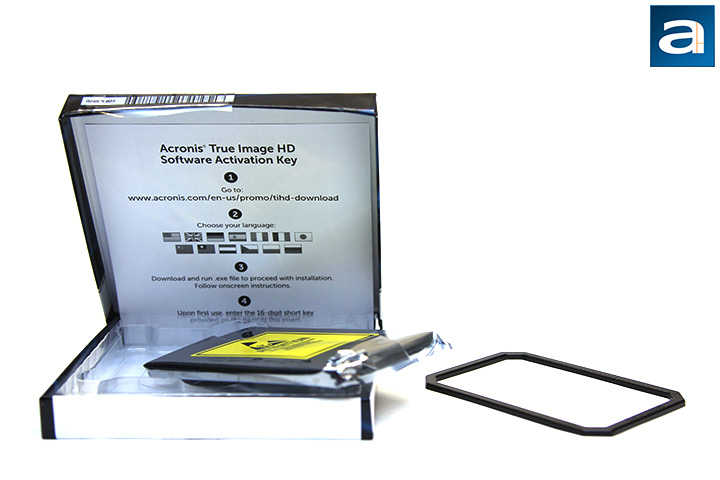 Crucial does not usually included a whole lot of stuff out of the box, and the MX200 500GB carries forward this tradition. This no-frills approach keeps the retail box small and excess waste low, and I am always appreciative of companies who do not throw in extras for the sake of throwing in extras. This is not to mention it is a mainstream drive, so a smaller bundle means more savings. The drive itself is wrapped in an antistatic bag. Other items include rubber spacer, and a piece of paper with an Acronis True Image HD activation key printed on it. The reason why the spacer is necessary is because the drive is only 7 mm thick. Older 2.5" drives are 9.5 mm thick, so if you have a drive bay that requires the extra height for proper installation, Crucial has made sure your bases are covered.
---
Page Index
1. Introduction, Packaging, Specifications
2.
A Closer Look, Test System
3.
Benchmark: AIDA64 Disk Benchmark
4.
Benchmark: ATTO Disk Benchmark
5.
Benchmark: Crystal Disk Mark 3.0
6.
Benchmark: HD Tach 3.0.1.0
7.
Benchmark: HD Tune Pro 4.60
8.
Benchmark: PassMark PerformanceTest 8.0
9.
Benchmark: PCMark Vantage
10.
Conclusion