Page 2 - A Closer Look, Test System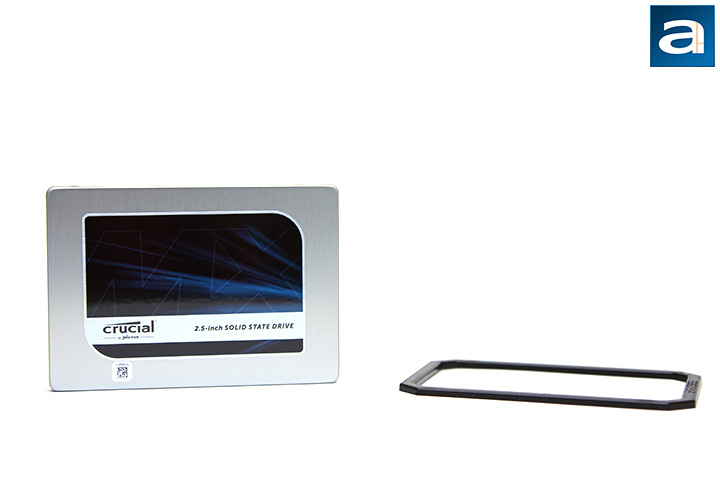 The Crucial MX200 500GB is based on Marvell's 88SS9189 controller with a custom firmware, and uses Micron's 16nm MLC flash memory, just like the MX100 we have reviewed in December 2014. The Marvell 88SS9189 is an updated version of the 88SS9187, which we have seen in products like the SanDisk Extreme II and SanDisk Extreme PRO. While the Crucial MX200 remains to be a mainstream drive, it slots above the BX100, which is now Crucial's main value offering.
Before we dig down into the ever so important technical details, let us briefly discuss the physical attributes of the SSD first. The Crucial MX200 500GB has a very simple appearance -- a plain silver aluminum cover with a sticker in the middle. Unlike its predecessor, this is actually the top of the drive, just like how it should be conventionally. The label on top of the metal enclosure has the same design as the product packaging, which features black and dark blue gradient background is blended in with wave stream pattern. Meanwhile, the outline of the letters "MX" are horizontally oriented in the background to give the overall design a bit of visual style. We can see Crucial's logo and "2.5-inch Solid State Drive" printed on a strip across the design, so one will make no mistake what this device is. Measuring in at about 100 mm x 70 mm x 7.0 mm, its thickness -- or lack thereof -- will ensure wide compatibility. If, for some reason, a full 9.5 mm is needed for installation, a rubber spacer is included out of the box.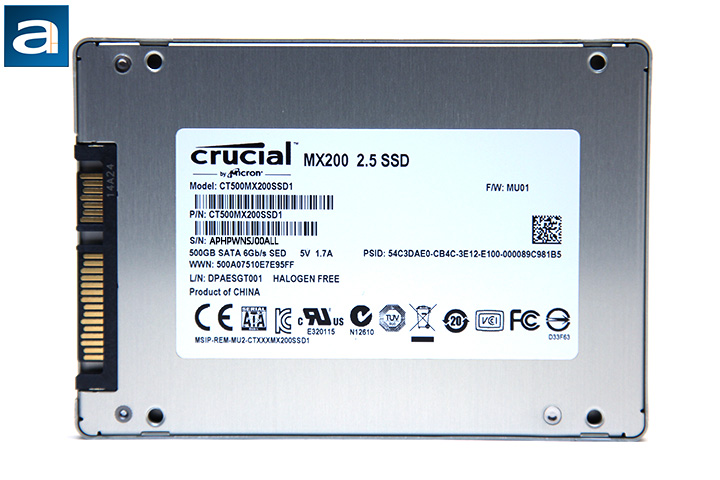 Turning the SSD around reveals a flat metal backplate. This is something users will come to expect from a solid state drive, as there are no exposed printed circuit boards like you would normally see with a traditional hard disk. The only thing that is common between the Crucial MX200 500GB SSD and a traditional hard disk drive is its SATA 6Gb/s and corresponding power connector at the end. As shown in our photo above, there is no warranty seal anywhere. In fact, it is not even held together by any screws. There are no user serviceable parts inside, but if you ever want to take a look inside, all you need to do is to give the edges a quick pry, and you will be on your way in no time.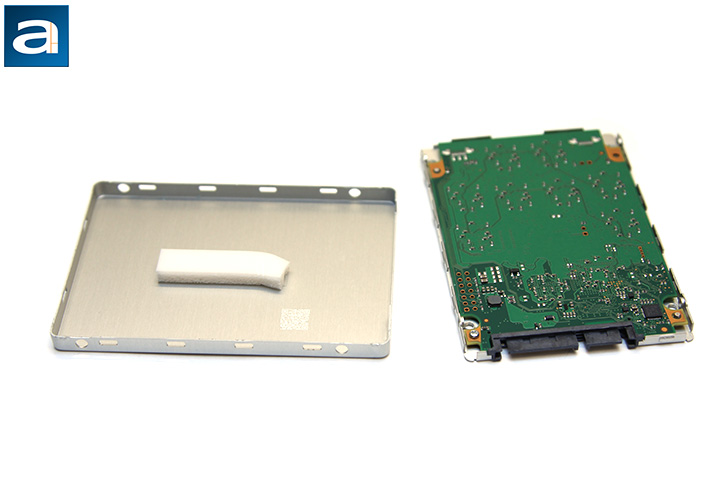 Moving on, the Crucial MX200 500GB's shell is attached to the aluminum backplate by friction clips only. As aforementioned, a quick pry, and you will be well on your way inside. No screws, no warranty seals; nothing. In case you are uncomfortable with taking apart your brand new SSD, to save you some trouble, I cracked mine open to take some photos of its internals for you to see. Judging by dozens of SSDs we have opened up in the past, we have exactly what the doctor ordered once again: A full sized PCB inside. The heart of Crucial's MX200 500GB is the Marvell 88SS9189 controller, with a piece of thermally conductive tape between it and the enclosure. The PCB itself is held secure to the shell by more friction clips. As the drive controller is fundamentally very important to any SSD, let us dig more into the details of its brain.
As I have mentioned in the beginning of this page, the eight channel 88SS9189 is a slightly improved version of the 88SS9187, with better DevSLP support and more available bandwidth. A closer inspection shows the MX200 is pretty much identical in terms of hardware compared to the Micron M600. Furthermore, being the successor to the MX100, not much has changed in hardware since then; temperature monitoring/overheat protection and onboard capacitors to ensure all data finishes writing in case the power goes out is present as always. Power failure protection is a rare feature in the mainstream realm. In fact, it was a much advertised feature with the high end OCZ Vector 180 I reviewed last week. To protect against physical flash failure, an internal redundant parity scheme called RAIN, or redundant array of independent NAND, is implemented. As with many SSDs on the market today, the Crucial MX200 500GB has built in 256-bit hardware encryption that meets IEEE-1667 and TCG Opal 2.0 standards. However, unlike many SSDs being sold right now, the Crucial MX200 is a rare breed that supports Microsoft's eDrive standard. What this does is it allows your system to directly address the hardware encryption scheme already present on the disk if you use BitLocker to encrypt your drive. Personally, I find this especially appealing to mobile users. My last personal laptop was fully encrypted, and because the SATA SSD I used with it did not support Microsoft's eDrive standard, it took a pretty sizable write performance hit with BitLocker enabled, thanks to the lack of hardware acceleration.
What did change with the MX200 series was the capacity range; it now goes from 250GB to 1TB. The rest are firmware-level enhancements, which significantly improved its write endurance. A cool new feature is Drive Write Acceleration, which uses up to 50% of the free space for SLC write caching for the 250GB model (This feature is not needed, therefore not enabled, for 500GB and 1TB drives). Basically, entire blocks of flash can be switched between SLC mode and MLC mode. Due to the simplicity of a pseudo-SLC configuration, write operation performance can be significantly increased. In its downtime, the data 'cached' in SLC mode will be permanently moved to MLC blocks. Obviously, if writing becomes a continuous operation, previously cached data will be moved into SLC blocks at the same time as incoming data.
Rated at 555MB/s read, 500MB/s write, up to 100,000 IOPS read and 87,000 IOPS write over SATA 6Gb/s, these figures have been significantly improved over the MX100. To see how it translates to numbers in our benchmarks, we will pit them against all the drives we have tested in the past to see how this new mainstream drive from Crucial steps up against SandForce, Indilinx, Phison, Silicon Motion, and other Marvell based drives in the next seven pages or so.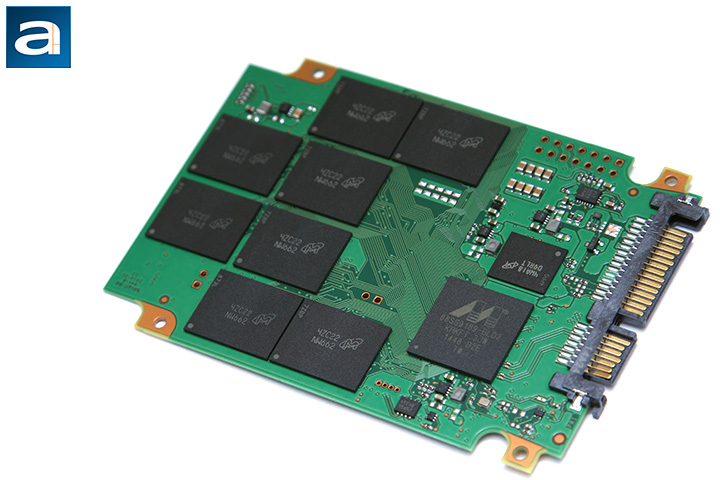 Of course, the part that really stands out about the Crucial MX200 500GB is its low cost flash memory ICs. A total of eight NAND flash chips are found on the Crucial MX200 500GB solid state disk; single sided. The chips used are Micron's own MT29F512G08CKCCBH7 (FBGA code NW662) synchronous NAND flash memory, with a capacity of 32GB per integrated circuit chip. These are multi-level cells manufactured on the 16nm fabrication process. Its rated write endurance is 160TB, which equates to nearly 90GB per day for five years. This is actually really impressive, considering it is more than some high end drives out there. Just for reference, the performance oriented OCZ Vector 180 is rated at 'only' 90TB. 12GB out of the 512GB total capacity (Just under 3%) is provisioned for the drive controller for overhead, so the actual usable space is 500GB, as advertised. You will see 465GB in Windows. One Micron MT42L256M16D1GU-18 (FBGA code D9RLT) 512MB LPDDR2 SDRAM chip is present; it is used by the Marvell 88SS9189 controller for system memory.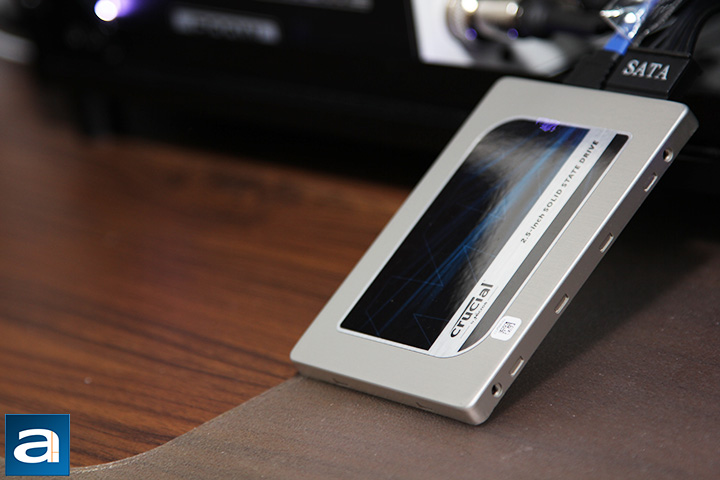 Our test configuration is as follows:
CPU: Intel Core i7-3770K @ 4.6GHz
CPU Cooling: Noctua NH-U14S (2x Noctua NF-A15)
Motherboard: ASUS P8P67 WS Revolution
RAM: Kingston HyperX Savage HX324C11SRK2/16 2x8GB
Graphics: Gigabyte G1 Gaming GeForce GTX 960 4GB
Chassis: SilverStone Temjin TJ04-E (Noctua NF-S12A PWM, Noctua NF-P12 PWM)
Storage: SanDisk Extreme II 240GB; OCZ Vertex 3 Max IOPS 240GB
Power: PC Power & Cooling Silencer Mk III 1200W
Sound: Auzentech X-Fi Bravura
Optical Drive: LiteOn iHAS224-06 24X DVD Writer
Operating System: Microsoft Windows 8.1 Professional
Compared Hardware:
- Crucial MX200 500GB
- Crucial BX100 500GB
- Crucial MX100 256GB
- G.Skill Phoenix EVO 115GB
- Kingston HyperX 3K 240GB
- Kingston HyperX 120GB
- Kingston HyperX Predator PCIe 480GB
- Kingston SSDNow V+200 120GB
- 2x Kingston SSDNow V+200 120GB RAID 0
- OCZ ARC 100 240GB
- OCZ Agility 3 240GB
- OCZ Agility 4 256GB
- OCZ Octane 512GB
- OCZ RevoDrive 350 480GB
- OCZ Vector 150 240GB
- OCZ Vector 180 240GB
- OCZ Vector 256GB
- OCZ Vertex 2 160GB 25nm
- OCZ Vertex 2 60GB 34nm
- OCZ Vertex 3 Max IOPS 240GB
- OCZ Vertex 3.20 240GB
- OCZ Vertex 4 256GB
- OCZ Vertex 450 256GB
- OCZ Vertex 460 240GB
- Patriot Blaze 240GB
- Patriot Ignite 480GB
- Patriot Pyro 120GB
- Patriot Pyro SE 240GB
- SanDisk Extreme II 240GB
- SanDisk Extreme PRO 480GB
- SanDisk Ultra II 240GB
- Silicon Power Slim S80 240GB
---
Page Index
1.
Introduction, Packaging, Specifications
2. A Closer Look, Test System
3.
Benchmark: AIDA64 Disk Benchmark
4.
Benchmark: ATTO Disk Benchmark
5.
Benchmark: Crystal Disk Mark 3.0
6.
Benchmark: HD Tach 3.0.1.0
7.
Benchmark: HD Tune Pro 4.60
8.
Benchmark: PassMark PerformanceTest 8.0
9.
Benchmark: PCMark Vantage
10.
Conclusion