By: Jonathan Kwan
March 14, 2014
Would you rather be the best of the worst, or the worst of the best? For most people, the obvious choice would be the latter. Being the best of the worst means you are still among the best; being the best of the worst means, despite all merits, you are still one of the worst. To put it in perspective, I would like to quote something I wrote in my Gigabyte Fly review last year. "[The Ultimate Bass Experience] claim is no different than someone saying they are the richest person in the country... except they live in Zimbabwe." On the other hand, as logical as this sounds, being the best of the worst is not all roses and flowers all the time. Recently, I was taking a fourth year Electrical Engineering course in Algorithms for Computer Aided Design of Integrated Circuits, and I got 49 out of 50 on the midterm. Pretty good, right? Unquestionably, I am among the best of the class, but two of my buddies got 50 out of 50. The only reason why I lost one mark was because I got Question 1, Part A, Subsection A incorrect. Oh, man. Sometimes, living in the shadow of the very best, but not quite taking top honors, does have its shortcomings. In the technology world, this is no different... or is it? Last week, we have reviewed the Vector 150 240GB, a seriously fast flagship solid state drive from OCZ. Today, we will take a look at the Vertex 460 240GB, a drive that contains almost the same internal hardware as its bigger brother, but at a slightly lower price. Delivering more than 90% of the performance for just about 90% of the price, is this the performance value proposition for the enthusiast? Read on to find out more! (Side note: Happy Pi Day, everyone!)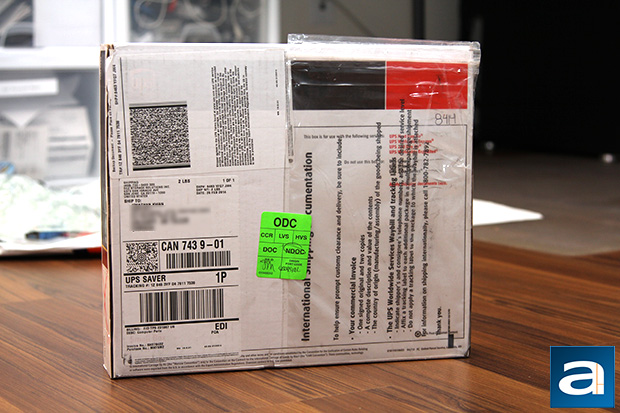 Our review unit of the OCZ Vertex 460 240GB arrived to us here in Calgary, Alberta, Canada from the company's American headquarters in California, USA. Its travel buddy include the OCZ Vector 150 240GB, which we have reviewed not too long ago. If you have been following APH Networks for a while, we have included the results for the Vertex 460 in that review. The package was shipped to us in a very familiar UPS medium sized corrugated cardboard box using the speedy Saver service from the company's American headquarters in warm and sunny California, USA to us here in -30c "freezing cold is a severe understatement" Calgary, Alberta, Canada. Anyway, everything arrived in excellent condition, so we moved the drives right along to our standard photo session.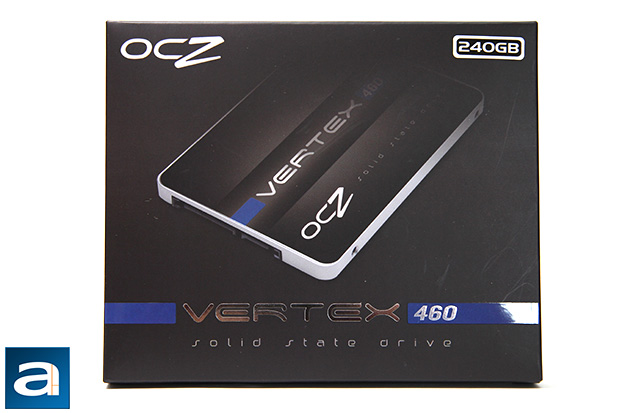 Hollowing up the packing material from inside the shipping package is the retail box of OCZ's Vertex 460 SSD. It comes in a compact and lightweight box, with a design layout that is all new. The black color scheme is carried forward from its predecessor, but that is about it. This solid state drive is OCZ's first product released after Toshiba's recent acquisition, so you will not see the term "OCZ Technology" on it anymore. Instead, you will only find OCZ's three letter stylized logo can be seen at the upper left corner, while the rated capacity is located on the opposite end. Displayed front and center is a faded image of the Vertex 460 at three quarters view. Below it, there is the Vertex 460 branding, and in case you do not know what it is, the words "solid state drive" follows. Overall, the package design is one of the cleanest I have seen for enthusiast computer hardware; I really have to give some props to OCZ for doing such a good job.
Before we move on, let's take a look at the specifications of the Vertex 460 240GB, as obtained from the manufacturer's website:
Sequential Read Speed: 540MB/s
Sequential Write Speed: 525MB/s
Random Read Speed (4K, QD32): 85,000 IOPS
Random Write Speed (4K, QD32): 90,000 IOPS
Steady State Random Write (4K QD32): 21,000 IOPS
NAND Components: 19nm Toshiba Multi-Level Cell (MLC) Flash
NAND Controller: OCZ Barefoot 3 M10
Interface: SATA 3 6Gb/s (Backwards compatible with SATA II 3Gb/s)
Form Factor: 2.5-inch, ultra-slim 7mm
Dimension (L x W x H): 99.7 x 69.75 x 7mm
Weight: 113g
Data Path Protection: BCH ECC corrects up to 44 random bits/1KB
Endurance: Rated for 20GB/day of host writes for 3 years under typical client workloads
Product Health Monitoring: Self-Monitoring, Analysis and Reporting Technology (SMART) Support
Encryption: AES-256
MTBF: 2 million hours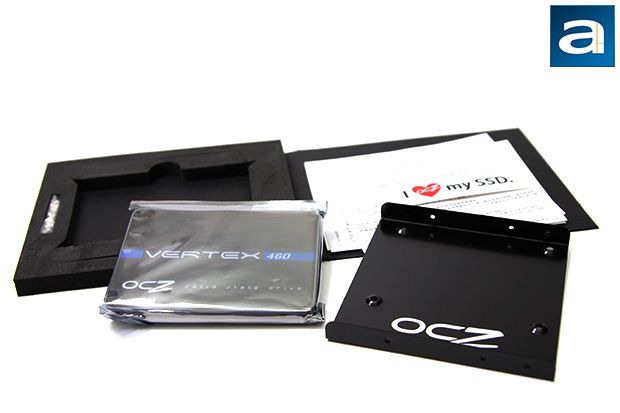 Inside the retail box is familiar black package, consisting of a foam tray enclosed by a cardboard flap to house its internal contents. Despite the natural ability of SSDs to withstand high impact forces, OCZ made sure everything will end up safe and sound for the end user. After all, despite the price drop in recent years, this is still pretty expensive stuff. Out of the box, you will receive an OCZ Vertex 460 240GB SSD inside an anti-static bag, 3.5" adapter bracket, eight screws (Four for attaching your SSD to the adapter bracket, with the remaining four for installing it into your chassis), installation/warranty guide, and a "I <3 my SSD" sticker with OCZ's logo in the heart icon. The company also includes a license key for Acronis' True Image HD software for transferring data from your old drive to this one. No CD is included, so if you are still stuck in the dinosaur age without internet, then you are out of luck. Frankly, I don't know anyone who has an SSD without internet access, so this is really a moot point.
---
Page Index
1. Introduction and Specifications
2.
A Closer Look, Installation, Test System
3.
Benchmark: AIDA64 Disk Benchmark
4.
Benchmark: ATTO Disk Benchmark
5.
Benchmark: Crystal Disk Mark 3.0
6.
Benchmark: HD Tach 3.0.1.0
7.
Benchmark: HD Tune Pro 4.60
8.
Benchmark: PassMark PerformanceTest 8.0
9.
Benchmark: PCMark Vantage
10.
Conclusion