By: Jonathan Kwan
May 31, 2013
What is in a name? When Ferrari announced the LaFerrari earlier this year at the Geneva Auto Show, the car was impressive in almost every way, except for its name. I mean, if I was Lamborghini, I would have announced the Lamborghini McLamborghini the next day. In many ways, the name of a product is very important, because this is how people identify it by. Earlier last month, when Gigabyte sent us their latest headphone, the Fly, it seemed to have gained quite a bit of interest here at APH Networks Calgary. And that was not necessarily because it is the best headphone for the price (We will have to see about that in our review today), but simply because it was called the Fly. Questions like, "But will it fly through our tests?" and replies such as, "I don't know about that, but your fly is down" filled the air before the FedEx package even made an appearance at our doorstep. In reality, Gigabyte probably came up with this name to allude to its 79g weight, but who could resist? At the end of the day, regardless of whether your flies are up or down right now, the only question that needs to be answered is, do you want to be seen in public with a Fly on your head? Read on to find out to see if it will Fly though our tests.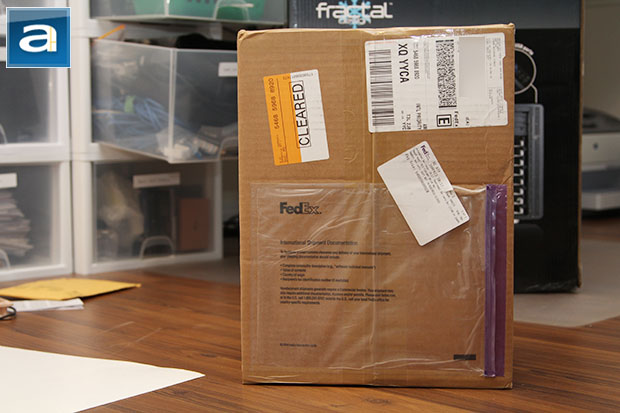 Our review unit of the Gigabyte Fly came in a medium size, brown corrugated cardboard box from Gigabyte's American offices in California, USA. We are always excited to see FedEx at our doorsteps with the latest toys, and this time, it was no exception. Using FedEx International Economy, everything arrived quickly, and was in pristine condition for our review today. We grabbed the box, opened it up, and got straight down to business. After all, it will take at least a few days to break in, right?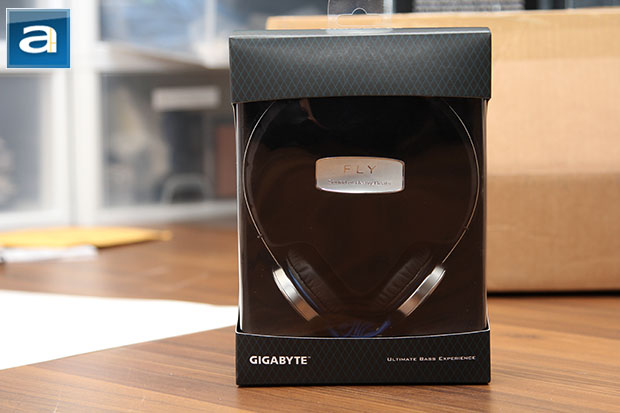 When you want to emit an aura of class and sophistication, it is often hard to get away from using the color black. The retail packaging used on the Gigabyte Fly is an excellent example. Created with a proficient use of black and other primarily monochrome shades, Gigabyte has done a great job at moving away from its computer hardware company roots, and focused on a clean design -- definitely appropriate for a consumer electronics product. The black background is accentuated by a grid of thin blue diamonds for a little more visual excitement; with Gigabyte's logo at the bottom left corner, and a slogan highlighting its "Ultimate Bass Experience" at the opposite side. Shown at center stage behind a plastic window is the Gigabyte Fly headset itself. To ensure the consumer knows the model name of the product, a silver badge with the word "Fly" is smack in the middle. At the back of the box are some feature highlights.
Before we move on, let's take a look at the specifications of these headphones, as obtained from the manufacturer's website:
Driver Diameter: 40mm
Impedance: 16Ω/Ohms
Frequency Response: 15-20,000 Hz
Sensitivity: 122 dB/mW
Maximum Power Input: 40mW
Cable Length: 1.2m
Connector: 3.5mm Jack
Weight: 79g* Not include cable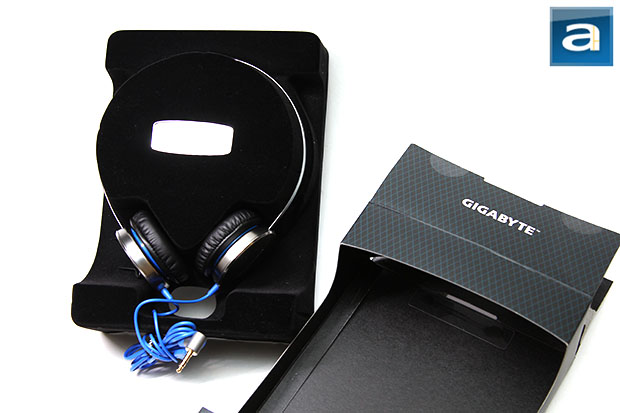 Out of the box, the only thing included is the Gigabyte Fly. It does not come with any accessories; nor will you need any. The Fly headset is mounted on a thin, custom shaped plastic shell with a black microsuede finish on the display end. It looks great at first glance, and feels great, too. Once again, I think Gigabyte has done an excellent job in using packaging to add value to their latest audio product. Of course, spend an extra two seconds, and you will realize this is just a fancy PET shell with some soft touch material added on top, but this is a $50 headphone and not a $10,000 watch, haha. With minimal packaging and good looks, you can still have all the eye candy, without too much candy wrapper in the trash. Good job, marketing team.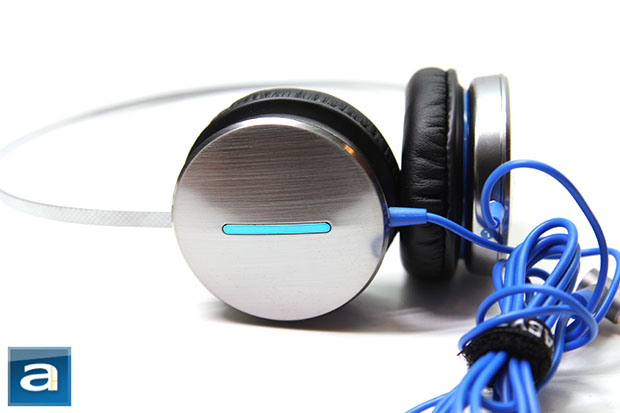 The Gigabyte Fly headphones are available in only one design, as shown in our photo above. The company markets it as having "DJ headset driver units" with a "rhombus pattern headband design"; an interesting description to be used. The "DJ headset driver units" refers to a pair of relatively small cans with 40mm drivers (Not quite DJ style in my opinion, but I digress) created with a brushed metal finish on the outside, and leather cushioning on the inside. The brushed metal finish is pretty sleek looking in conjunction with the teal blue strip in the middle. At first glance, it is easy to be fooled into thinking it is metal. In reality, it is actually plastic. For its cordless weight of only 79g, I am not complaining.
Following up on the inside of the cups, Gigabyte designed the Fly with leather cushioning to enhance comfort, and reduce environmental noise by creating a comfortable seal around your ears. The quality of the leather cushioning is actually pretty decent. It feels soft, and it does not exhibit any cheap foam lining feel found on many lower grade products. Furthermore, the headband's "rhombus pattern design", unlike the cans' exterior, is actually metal. Personally, I would refer to it as a diamond mesh pattern instead, as I don't see any rhombuses. Again, I digress. Mechanically, the headband is thin and light, yet structurally sound. The cans can be slid along the headband for about 3cm on both sides to accommodate people with different head sizes.
At this point, you may be led to believe I am a big fan of the Gigabyte Fly's industrial design. To be honest, I will agree the design is clean, and there are some pretty decent elements relating to its appearance. But the end product just does not fly in my personal opinion -- pun intended. What do I really think about the Gigabyte Fly? Well, if it was still 1980, and you recorded songs off the radio onto a cassette to play on your Sony Walkman, then this would have been brilliant. However, in the days where even its successor -- the CD player -- has long been obsolete, I found myself embarrassed to be seen in public with this product over my ears quite a number of times. And this is coming from a guy who actually wore a "I <3 1D" shirt in public last week. It could have just been me, but I definitely won't be caught being seen with these headphones. That said, beauty is in the eyes of its beholder, because my dad seems to like it. So let us move on.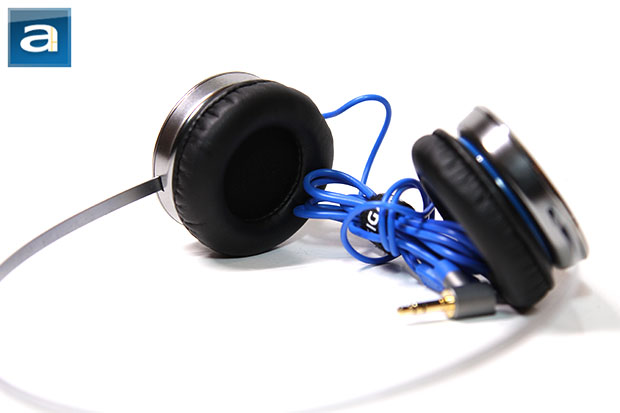 The Gigabyte Fly earphones connect to your audio output device via a 90 degree 3.5mm gold plated connector. I personally prefer angled connectors over straight connectors as offered on the Fly, because they are inherently easier to disconnect from a source as they are easier to grip. I also like the fact that the cable is 120cm long, which should be more than sufficient for most users. Now, as far as cable quality itself is concerned, again, this does not quite fly in my world. For something that commands about $50 at press time, I think it is reasonable to expect a little more, but the blue plastic wrapped cable just screams cheap from the angled connector on one end to the driver input on the other, and this includes everything in between.
In reality, I could have been biased by the blue color; black may give a sense of more sophistication to create an illusion of higher quality -- I don't know. The only thing I know right now is I am not a big fan of the Y split, or the driver inputs, or the 3.5mm connector. The sad thing is, I cannot describe in specific what is wrong about it; the joints are properly reinforced and the connector is not generic, but it does not look nor feel substantial in any way. Maybe, unlike the packaging, fail to break away from its computer hardware roots? Yes, this is probably it. The Velcro strap on it really sealed the deal. On the positive side, the microphonic noise characteristics of its cord are excellent. During usage, over your ear headphones is significantly superior to in ear monitors in this regard, and the Gigabyte Fly is no exception.
------------------------------------------
The Tests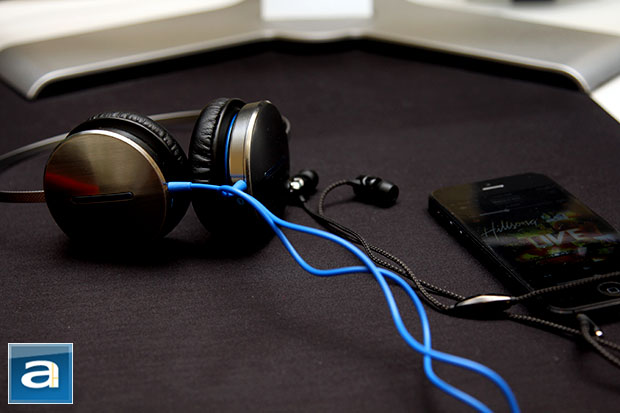 Reviewing audio devices require extensively trained ears and lots of experience. Even for audiophiles, it may prove challenging at times to obtain an accurate evaluation of a product without a thoroughly familiar product to use as a simultaneous reference. While I am not going to even try to claim that I am the only trustworthy or best reviewer for sound, it is fact that most computer review sites have editors that are insufficiently trained in reviewing earphones. Give them practically anything and all you will read about goes along the line of "good bass, nice midrange, awesome treble, really clear sound, 10/10". While there are many knowledgeable audio reviewers at various respected online media outlets, these are by far the minority.
As I have mentioned in my past audio reviews, there are really no true objective measurements for earphone sound quality. As the reviewer, however, I'll put it through a series of subjective tests to try to come up with the most objective rating possible (Yes, it's quite a paradox haha). The tests were conducted primarily with the Auzentech X-Fi HomeTheater HD sound card with the Gigabyte Fly plugged in directly to the dedicated amplified headphone output. (Creative CA20K2 DSP/APU, National Semiconductor LME49720NA OpAmp, JRC NJM4580 signal buffers, Cirrus Logic CS4382A DAC, Nichon MUSE ES capacitors.) This sound card is probably the best consumer/prosumer computer sound cards out there in the market today, and will reduce its potential to be a limiting factor in our benchmarking today, especially with its dedicated amplified headphone output circuitry -- rather than using a traditional line out connection. For mobile testing, I used my Apple iPhone 5 16GB as a reference.
After over 100 hours of break-in time (Well above typically required period), we put the Gigabyte Fly to the tests. All tracks are uncompressed CDs, FLAC, or LAME encoded MP3s at 192kbps or higher.
So, where do I begin? It is quite hard to say, but there are two approaches we can take. One way of describing it is if you want to know how the Gigabyte Fly sounds, take your music collection, and re-encode every song to 32Kbps. Another way of putting is, today is the day where I truly understood what people meant when they say something sounds like empty tin cans. And let me let you know why I would make such a strong statement.
Let's go over the basics with regards to the frequency reproduction alone, before we move on to more technical aspects of audio performance that audiophiles like to discuss. Gigabyte advertises the Fly as the "Ultimate Bass Experience". This claim is no different than someone saying they are the richest person in the country... except they live in Zimbabwe. Yes, it has bass, but relatively speaking in the context that its midrange and treble is terribly off balance and nearly non-existent, respectively. Its midrange suffers from serious oversaturation on the higher 75% portion and a chunk of missing lower 25%; in the 75% portion, it is boosted so much it almost hurts my ears. It gets fuzzy and starts cracking. This in conjunction also creates a virtual environment with extremely hollow voices that are not only thin, but also unnatural. For piano music, the Gigabyte Fly does not sound clean at all. Instruments seem to resonate or echo within itself, especially near the upper portion of the midrange. I have never heard something like this before. The Gigabyte Fly completely lacks detail and precision in reproduction quality, with a level of suppression like listening to a concert outside the doors of a gymnasium. I cringe every time the chorus plays in instrument heavy songs with this headset, because it is so messy. An overboosted midrange will also contribute to accelerated listen fatigue.
As far as the treble is concerned, it is extremely recessed. It is recessed to the point I almost cannot hear it at all. From time to time, the Gigabyte Fly will pick up a few hits on the cymbals, but they are not clean, nor distinct, nor wet. It is the complete opposite of every desirable treble characteristic. Back to the door-outside-gymnasium analogy, you would probably have a hard time picking up anything from the percussion instruments, and listening to it on the Gigabyte Fly is no exception.
This brings us back to the "Ultimate Bass Experience" heavily advertised by the company. For those who know me, I am not the kind of guy who would roll down the street with a triple sub in my trunk, or anything close to that. This is not to say I do not enjoy low frequencies -- I just prefer balanced output. That said, in the past, I have still truly enjoyed products like the Radius Atomic Bass, despite the fact they definitely cannot be considered as 'balanced'. I thought they were amazing, because it was simply mind blowing how much quality bass those little in ear monitors can produce. Those are the true "Ultimate Bass Experience". The Gigabyte Fly, on the other hand, is not. Obviously, you will need a good seal around your ears for bass to be heard. We will talk about that in just a moment. That said, even with a good seal, I found the bass to be considered 'light' at best. The good thing I can say about it is it is not overwhelming and acceptably round, making it pleasant enough to listen to. However, it is pretty thin, making it lack depth and punchiness. The absence of power and strength at lower frequencies definitely cannot be considered the "Ultimate Bass Experience".
Soundstaging is equally as bad. Actually, with the complete lack of detail and cleanness as described earlier, you can probably guess that these characteristics' indirect correlation with soundstaging performances makes this section very unfavorable as well. There is really nothing much to talk about, other than the fact that direction is unknown for all instruments. Soundstaging is overall very narrow, if it exists at all. Heck, I can barely tell left to right. For stereo headphones, it is actually quite an achievement to make something this bad. To sum it all up, even if you don't know much about sound, it is obvious that the listening experience that the Gigabyte Fly provides is very poor, as the sound quality itself is simply unacceptable.
In terms of noise isolation, when it sits snug over your ears, the leather cups will provide a decent seal over your ears. Of course, this varies from person to person, but it works well for me. Over the ear headphones do not provide as much noise isolation as in ear monitors, and we do not and cannot expect the Gigabyte Fly to exceed its physical limitations. The Gigabyte Fly is also very comfortable, thanks to the soft leather lining around the drivers. Its feather light 79g weight without cables makes it even better. To add to the icing on the cake, the cable is very light as well, and thus, less susceptible to lateral acceleration while you're moving around. However, the cable feels very sort of cheap at the same time, as previously discussed in this review.
-----------------------------------------
This is a hard conclusion to write. Where do I begin? I think Gigabyte, in general, is a company that strives to make excellent products. Their motherboards and video cards sweep quite a number of awards here at APH Networks. In the past, they had their share of so-so products. But by listening to their customers, these so-so products evolved from generation to generation into the awesome products we see today. A few months ago, my colleague Kenneth reviewed the Gigabyte GP-H11 earphones. We were all surprised to find these $10 in ear monitors actually delivered surprisingly good performance for the price. When Gigabyte asked me to review their latest headset, the Fly, I was excited to try out what the company could do for five times the money. Unfortunately, excitement turned into disappointment when I tried them on. The Gigabyte Fly's audio performance is simply poor in every meaningful metric. The bass is weak. The midrange is harsh. The treble is non-existent. The list goes on. The only good thing I can say about it is that they are lightweight and comfortable, but what good does that do if they sound like tin cans? After listening to the Gigabyte Fly and putting on my reference V-MODA Vibe II earphones, I felt like someone who just gained my hearing back after being deaf for a long time. The Gigabyte Fly is not meant for anyone who has the gift of hearing -- these are the worst headphones I have used in a long time. I am confident Gigabyte knows how to make good audio products, but this one is not a good example. We look forward to what improved products the company has in store for us in the future!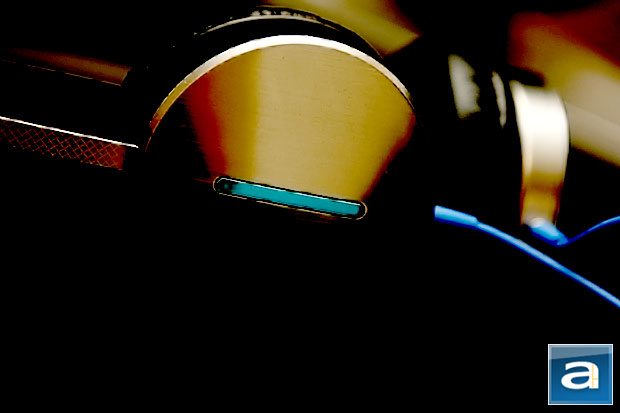 Gigabyte provided this product to APH Networks for the purpose of evaluation.
APH Review Focus Summary:
1/10 or lower means Don't get this product unless it is absolutely essential for a specific purpose. The disadvantages interfere significantly to the product's function. In general, there are better things out there for your money.
-- Final APH Numeric Rating is 1.0/10
Please note that the APH Numeric Rating system is based off our proprietary guidelines in the Review Focus, and should not be compared to other sites.
The Gigabyte Fly's $50 price tag is the equivalent of me giving it a 10/10 in this review -- the decimal point will be one digit too far to the right.
Do you have any comments or questions about the Gigabyte Fly? Drop by our Forums. Registration is free, and it only takes a minute!