By: Jonathan Kwan
September 7, 2012
A while ago, there was a Hong Kong serial drama called "Links to Temptation". Frankly, it has one of the worst storylines I have ever seen. It begins with a barrister who travels to Macau with his family, and encounters a pole dancer of whom he falls madly in love with at first sight. After the barrister returns to Hong Kong and can't get the girl out of his mind, he meets her again, who is now a telecom representative selling high speed internet on the streets. As it turns out, she is controlled by another lady who is using her to plot revenge against her biological father, because he abandoned her and her mom when she was young. After twenty episodes of "what-the-fudge" plot development (Feel free to read the summary on Wikipedia), an appalling amount of things in the story that made absolutely no sense, along with the fact that every character's profession had absolutely no significance in the story, you may be wondering: Why did I even watch this crap in the first place? Well, for me, the answer is simple: Because Fala Chen is the main female character. Clearly, a good plot is not always an essential ingredient in the recipe for success, but a poor cast even with a good plot is pretty much a predestined failure. This is especially true in the SSD market. Slap on a SandForce SF-2281 controller, and awesomeness is just a part of the package. Replace it with something else? Okay, now we got issues, because unless there is something faster, everyone else is going to run circles around you. For this reason, every manufacturer is adamant about using anything other than the SF-2281 in their flagship product... until OCZ came along with the Vertex 4. Powered by the Indilinx Everest 2, is this a bold move for breakthrough success, or a combination for trouble? We got the answers in our review today.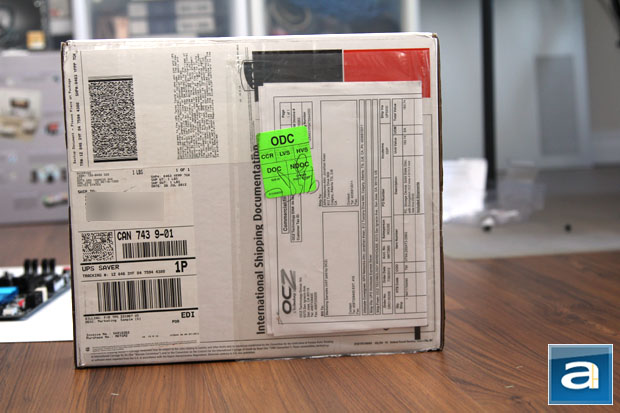 Our review unit of the OCZ Vertex 4 came in a medium sized, UPS-branded corrugated cardboard box from the company's American headquarters in Sunnyvale, California, USA. As always, the Express service carried it with speed across the border from our neighbors down south; arriving at our doorstep in less than twenty four hours after it left theirs. I grabbed a knife from the testing lab, cracked open the package, took out my camera, and got down to business.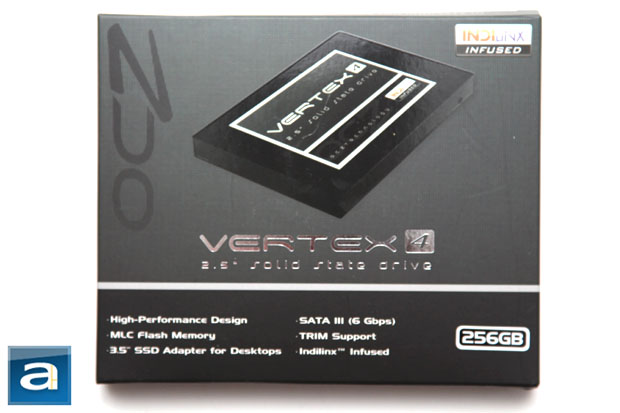 Now if you excuse the slightly blurry photo above, the OCZ Vertex 4's packaging is actually quite similar to the OCZ Vertex 3 Max IOPS 240GB we have reviewed last year. When I say 'similar', it is not necessarily in the organization of the design, but rather, the selection of colors for a strong family resemblance. The black and grey color scheme remains to let the user know, without a doubt, that this is an OCZ Vertex series drive. With a photo of the SSD itself front and center, count how many times the model appears in the packaging -- more than enough to get the point across, haha. A series of bullets at the bottom highlights the features on the Vertex 4, where the lack of "SandForce Driven" now replaced by "Indilinx Infused" should not come at much of a surprise to you at this point. Before we move on, let's take a look at the specifications of this drive, as obtained from the manufacturer's website:
Performance
Sequential Reads: 560 MB/s
Sequential Writes: 510 MB/s
Random 4k Read IOPS: 90,000 IOPS
Random 4k Write IOPS: 85,000 IOPS
Maximum IOPS: 120,000 IOPS
Physical:
Usable Capacity (IDEMA): 256GB
NAND Components: 2Xnm Synchronous Multi-Level Cell (MLC)
Interface: SATA III / 6Gbps (backwards compatible with SATA II / 3Gbps)
Form Factor: 2.5 Inch
NAND Controller: Indilinx Everest 2
DRAM Cache: Up to 1GB
Dimensions (L x W x H): 99.8 x 69.63 x 9.3 mm
Reliability/Protection:
MTBF: 2 million hours
Data Path Protection: ECC corrects up to 128 random bits/1KB
Data Encryption: 256-bit AES-compliant, ATA Security Mode Features
Product Health Monitoring: Self-Monitoring, Analysis and Reporting Technology (SMART) Support
Environmental:
Power Consumption: Idle: 1.3 W Active: 2.5 W
Operating Temperature: 0°C ~ 70°C
Ambient Temperature: 0°C ~ 55°C
Storage Temperature: -45°C ~ 85°C
Shock Resistance: 1500G
Compatibility:
Serial ATA (SATA): Fully compliant with Serial ATA International Organization: Serial ATA Revision 3.0.
Fully compliant with ATA/ATAPI-8 Standard Native Command Queuing (NCQ)
Operating System: Windows XP 32-bit /64-bit; Windows Vista 32-bit / 64-bit; Windows 7 32-bit / 64-bit; Linux; Mac OS X
Additional Features:
Performance Optimization: TRIM (requires OS support), dynamic and static wear-leveling, background garbage collection, Indilinx nDurance 2.0 Technology to extend SSD lifespan
Other Performance Features: Ndurance 2.0 Technology (Reduced Write Amplification without Compression, Advanced Multi-Level ECC, Adaptive NAND Flash Management)
Service & Support: 5-Year Warranty, Toll-Free Tech Support, 24 Hour Forum Support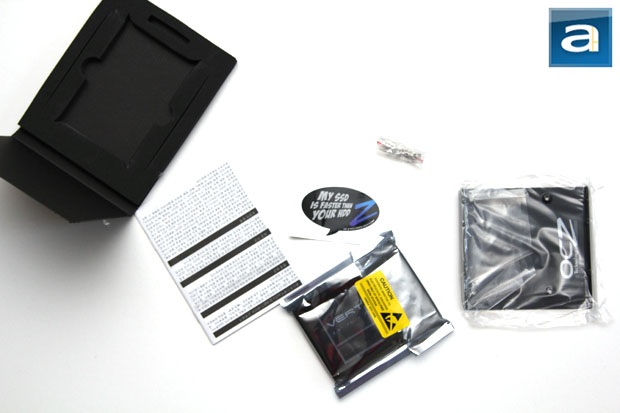 Inside the retail box is familiar black package, consisting of a foam bracket sandwiched between a cardboard flap to house its internal contents. Despite the natural ability of SSDs to withstand high impact forces, OCZ made sure everything will end up safe and sound for the end user. After all, it is pretty expensive stuff. Out of the box, you will receive an OCZ Vertex 4 SSD inside an anti-static bag, 3.5" adapter bracket, eight screws (Four for attaching your SSD to the adapter bracket, with the remaining four for installing it into your chassis), installation/warranty guide, and the classic "My SSD is faster than your HDD" sticker.
---
Page Index
1. Introduction and Specifications
2.
A Closer Look, Installation, Test System
3.
Benchmark: AIDA64 Disk Benchmark
4.
Benchmark: ATTO Disk Benchmark
5.
Benchmark: Crystal Disk Mark 3.0
6.
Benchmark: HD Tach 3.0.1.0
7.
Benchmark: HD Tune Pro 4.60
8.
Benchmark: PassMark PerformanceTest 7.0
9.
Benchmark: PCMark Vantage
10.
Conclusion