By: Jonathan Kwan
May 22, 2015
My dad once told me there are two great tragedies in life. The first great tragedy is you spend all your money before you die. The second great tragedy is you die before spending all your money. Now, exactly why that is a tragedy probably does not require much explanation. Please feel free to take some time to contemplate on these two statements, but when it comes to SSDs, I think we are faced with a similar problem. If you have the fastest SSD ever made, only to have it die within a short period, all the time you have saved initially will probably be offset by the time it takes to replace it and get going again -- assuming you have made backups; not to mention the cost and headaches to boot. If you have a drive that lasts forever, but also takes forever to do anything, nothing will be accomplished in the end. In an ideal world, we would like something that is infinitely fast and infinitely reliable. In the real world, this is not physically realizable. However, it is something we can strive for, and here is where OCZ jumps in. The Vector series, from the original we have reviewed in 2013, to the Vector 150 we have reviewed last year, has always represented a commitment to both performance and dependability. Today, we will take a look at the newest in the series, the Vector 180. With M.2 based SSDs like the Kingston HyperX Predator rolling into the market even as we speak, the SATA 6Gb/s SSD we are reviewing today does not aim to take home any performance crowns (OCZ's own PCI Express based OCZ RevoDrive 350 already did). What the Vector 180 does, however, is long term reliability and real world speed backed by OCZ's 5-year ShieldPlus warranty. Will it be able to differentiate itself as the premium product in the sea of value oriented drives? We took in a 240GB variant to find out.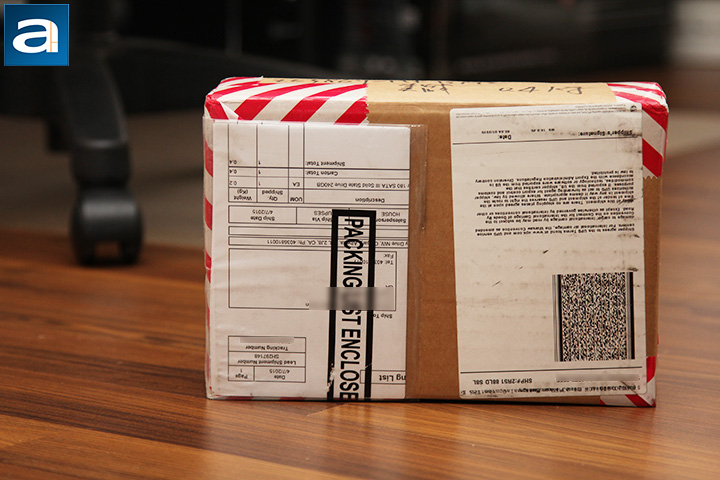 Our review unit of the OCZ Vector 180 240GB came in a compact, brown corrugated cardboard box from the company's Taiwanese headquarters via UPS Saver. As my colleague Aaron Lai puts it, it has traveled OVER 9000 kilometers across the Pacific Ocean, plus over a bit of land to us here at APH Networks in Calgary, Alberta, Canada. The shipping box also came with quite a bit of tamper-proof tape, just so we will not have anyone touching its contents without leaving any evidence behind. Upon arrival, it looks like everything did indeed come untouched; not that I am too worried at this point, haha.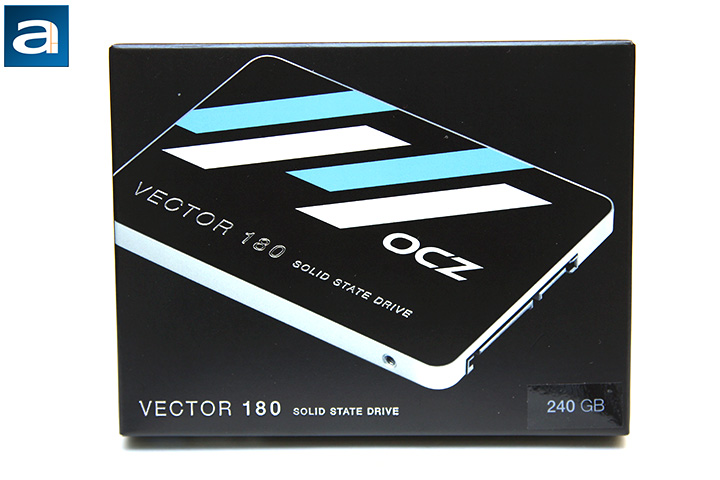 Like many SSDs we have reviewed from OCZ in the past, our review unit of the Vector 180 240GB came in a compact and lightweight box. However, this time around, they have done away with the blue color scheme the Vector line used to carry; this has been relegated to the budget oriented OCZ ARC 100. Instead, the Vector 180's color is now black. In my opinion, the company's marketing team has done a wonderful job at slapping together a package that ensures people know what is inside, while keeping the interface clean and visually appealing. The black, white, and teal color scheme is taken directly from OCZ's rebranding efforts after its purchase by Toshiba. A photo of the SSD itself occupies most of the room on the box. At the bottom, the line "Vector 180 Solid State Drive" in silver text tells you this is a Vector 180 solid state drive, just in case you did not see it in the photo above. Meanwhile, a label on the right indicates its 240GB capacity. Product details and specifications can be found at the back of the package.
Speaking of specifications, before we move on, let us take a look at the specifications of this drive, as obtained from the manufacturer's website:
PERFORMANCE
Sequential Read Speed: 550MB/s
Sequential Write Speed: 530MB/s
Random Read Speed (4K, QD32): 90,000 IOPS
Random Write Speed (4K, QD32): 95,000 IOPS
Steady State Random Write (4K QD32): 20,000 IOPS
PHYSICAL
Usable Capacities (IDEMA): 240GB
NAND Components: 19nm Multi-Level Cell (MLC) Flash
NAND Controller: OCZ Barefoot 3 M00
Interface: Serial ATA (SATA) 6Gb/s (SATA III)
Form Factor: 2.5 inch, 7mm height (fits ultra-thin notebooks)
Dimension (L x W x H): 99.7 x 69.75 x 7mm
Drive Weight: 115g
ENVIRONMENTAL
Power Consumption: Idle: 0.85W, Active: 3.7W
Operating Temperature: 0°C ~ 70°C
Storage Temperature: -45°C ~ 85°C
Shock Resistance: 1000G/0.5ms
Vibration (Operational): 2.17Grms (7-800Hz)
Vibration (Non-operational): 3.13Grms (5-800Hz)
Altitude (Operational): -1,000 ft. to 10,000 ft.
Altitude (Non-operational): -1,000 ft. to 40,000 ft.
Certifications: UL C/US, FCC, CE, C-Tick, KCC, BSMI, VCCI, WEEE
RELIABILITY / SECURITY
MTBF: 2.3 million hours
Data Path Protection: BCH ECC corrects up to 44 random bits/1KB
Encryption: 256-bit AES-compliant
Product Health Monitoring: Self-Monitoring, Analysis and Reporting Technology (SMART) Support
Endurance: Rated for 50GB/day of host writes for 5 years under typical client workloads
Additional Reliability Protection: Power Failure Management Plus (PFM+) helps prevent 'brick drive syndrome' that can occur during sudden power losses
COMPATIBILITY
Serial ATA (SATA): Fully compliant with Serial ATA International Organization: Serial ATA Revision 3.2. Fully compliant with ATA/ATAPI-8 Standard Native Command Queuing (NCQ)
Operating System: Windows / Linux / Mac OSX
Power Requirements: Standard SATA Power Connector
Targeted Applications: Client workstations and laptops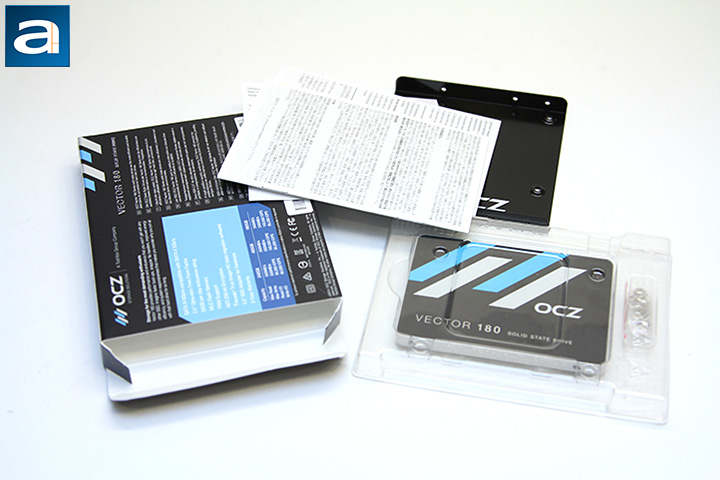 Upon opening the box, I was quite surprised at first to find not a whole lot of stuff is included from the factory. Clipped between two clear plastic tray pieces is the OCZ Vector 180 240GB SSD, with no anti-static bag. Other items include a 3.5" adapter bracket, eight screws (Four for attaching your SSD to the adapter bracket, with the remaining four for installing it into your chassis), installation/warranty guide, and a license key for Acronis' True Image HD software for transferring data from your old drive to this one. No CD is included, but the truth is, you are more likely to encounter a computer without an optical drive than a home without internet nowadays. My latest desktop build has no optical drive, and neither does my laptop.
---
Page Index
1. Introduction, Packaging, Specifications
2.
A Closer Look, Test System
3.
Benchmark: AIDA64 Disk Benchmark
4.
Benchmark: ATTO Disk Benchmark
5.
Benchmark: Crystal Disk Mark 3.0
6.
Benchmark: HD Tach 3.0.1.0
7.
Benchmark: HD Tune Pro 4.60
8.
Benchmark: PassMark PerformanceTest 8.0
9.
Benchmark: PCMark Vantage
10.
Conclusion