By: Jonathan Kwan
October 4, 2013
Back in the days, OCZ had a very consistent and logical naming scheme. Their flagship drive was called the Vertex. Its successor was called the Vertex 2 (The 25nm version was never implemented into the model name), followed by the Vertex 3 (The performance version had a Max IOPS designator affixed to it), and then the Vertex 4. Makes sense, right? Well, that was until the Vertex 3.20 came out. The OCZ Vertex 3.20 got its decimal part of the name from the fact it uses 20nm flash memory chips, which is nice of them, because their silent switch to 25nm flash memory chips in the Vertex 2 created a sizable internet community uproar. Fair enough. So what exactly is the OCZ Vertex 450? Obviously, it is not the 450th generation of the Vertex series. I mean, even if they come out with one new drive a year, count how many years you will have to wait. We can scratch that. So is it kind of like a 4.50, except they missed out on a decimal place? Well, not exactly. We are supposed to get a die size shrink, not a die size increase to 50nm. If it is not this, and it is not that either, to put it in friendlier language, what the fudge is this crap? To find out, we put the fudge back in the fridge, and the crap back... uhh, TMI... let's just say it is time to crack the OCZ Vertex 450 256GB open, check out what is inside, and throw it in for some benchmarking time.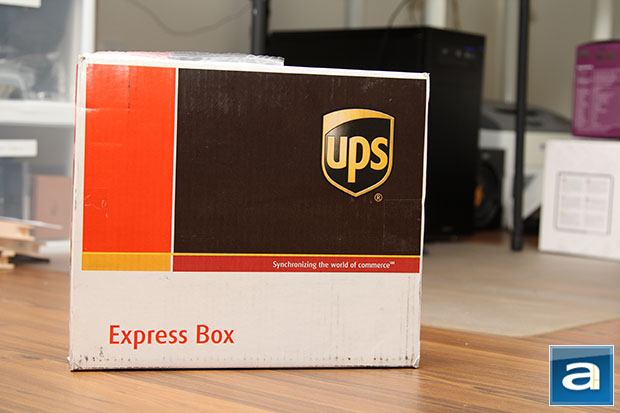 Our review unit of the OCZ Vertex 450 256GB arrived to us here in Calgary, Alberta, Canada from the company's American headquarters in California, USA. The package was shipped to us in a very familiar UPS medium sized corrugated cardboard box. As such, the carrier was obviously UPS -- using their Saver service, the SSD crossed the door and onto our doorstep in less than twenty four hours after departure. To get a crack at the contents inside, we procedurally snapped a photo, then took out a knife to check out what the Vertex 450 was all about.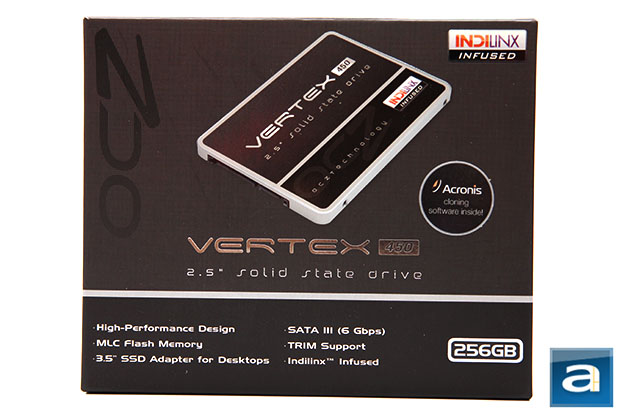 Much to my surprise, the OCZ Vertex 450 256GB's retail packaging is almost identical to the one found on the OCZ Vertex 4 256GB. This makes sense, because the OCZ Vertex 450 is actually the successor to the OCZ Vertex 4. For what it is worth, they could have called it the OCZ Vertex 5, but hey -- I am not OCZ's marketing department, haha. The black and grey color scheme soldiers on to let the user know, without a doubt, that this is an OCZ Vertex series drive. A photo of the SSD itself sits front and center. A series of bullets at the bottom highlights the features on the Vertex 450. An Acronis cloning software key is included out of the box, as indicated by a round sticker on the right. Before we move on, let's take a look at the specifications of this drive, as obtained from the manufacturer's website:
PHYSICAL
Usable Capacities (IDEMA): 256GB
NAND Components: 20nm Multi-Level Cell (MLC) Flash
NAND Controller: Indilinx Barefoot 3 M10
Interface: SATA 3 6Gb/s (Backwards compatible with SATA II 3Gb/s)
Form Factor: 2.5-inch, ultra-slim 7mm
Dimension (L x W x H): 99.7 x 69.75 x 7mm
Weight: 115g
RELIABILITY / PROTECTION
Data Path Protection: BCH ECC corrects up to 44 random bits/1KB
Endurance: Rated for 20GB/day of host writes for 3 years under typical client workloads
Product Health Monitoring: Self-Monitoring, Analysis and Reporting Technology (SMART) Support
ENVIRONMENTAL
Power Consumption: 128GB
Idle: 0.55W, Active: 2.15W 256GB-512GB
Idle: 0.60W, Active: 2.65W
Operating Temperature: 0°C ~ 55°C
Storage Temperature: -45°C ~ 85°C
Shock Resistance: 1500G/0.5ms
Certifications: RoHS, CE, FCC, KCC, C-Tick, BSMI, VCCI, UL
COMPATABILITY
Serial ATA (SATA): Fully compliant with SATA International Organization: Serial ATA Revision 3.0. Fully compliant with ATA/ATAPI-8 Standard Native Command Queuing (NCQ)
Power Requirements: Standard SATA Power Connector
Operating System: Windows / Mac / Linux
ADDITIONAL FEATURES
Performance Optimization: TRIM (requires OS support), Idle Time Garbage Collection
Included Accessories: Acronis True Image HD cloning software registration key; 3.5" desktop adapter
Service & Support: 3-Year Warranty, Toll-Free Tech Support, 24 Hour Forum Support, Firmware Updates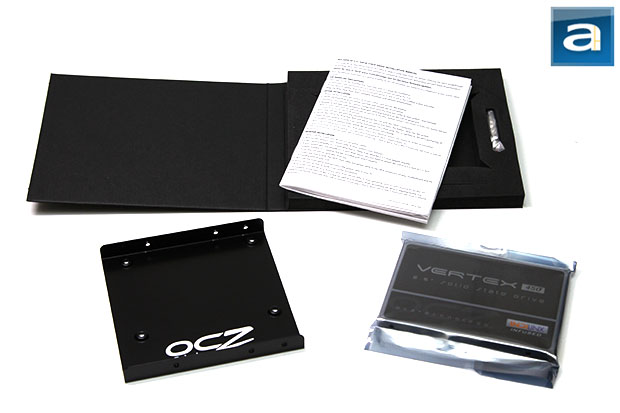 Inside the retail box is familiar black package, consisting of a foam tray enclosed by a cardboard flap to house its internal contents. Despite the natural ability of SSDs to withstand high impact forces, OCZ made sure everything will end up safe and sound for the end user. After all, despite the price drop in recent years, these are still pretty expensive stuff. Out of the box, you will receive an OCZ Vertex 450 256GB SSD inside an anti-static bag, 3.5" adapter bracket, eight screws (Four for attaching your SSD to the adapter bracket, with the remaining four for installing it into your chassis), installation/warranty guide, and a new "I love my SSD" sticker we have first seen with the OCZ Vector 256GB. We used to get stickers that says "My SSD is faster than your HDD", but it seems to me OCZ's shift in focus from just pure speed to overall superiority is in full effect. The company also includes a license key for Acronis' True Image HD software for transferring data from your old drive to this one. No CD is included, so if you are still stuck in the dinosaur age without internet, then you are out of luck.
---
Page Index
1. Introduction and Specifications
2.
A Closer Look, Installation, Test System
3.
Benchmark: AIDA64 Disk Benchmark
4.
Benchmark: ATTO Disk Benchmark
5.
Benchmark: Crystal Disk Mark 3.0
6.
Benchmark: HD Tach 3.0.1.0
7.
Benchmark: HD Tune Pro 4.60
8.
Benchmark: PassMark PerformanceTest 7.0
9.
Benchmark: PCMark Vantage
10.
Conclusion