By: Jonathan Kwan
May 13, 2011
Everyone who are used to using fast computers will know this feeling. You sit down at a system that is not yours. You hit the power button. Five minutes later, the CPU is still at 100%, low memory warnings pop up, and just when you seem life cannot get any worse, seek noise from the hard drive continues rhythmic pattern with no end in sight. At this point, you start to go nuts. First, you scream like a little girl. Then you bang your head on the table repeatedly, and scratch it in such frantic manner until your hair starts to resemble Gary Spivey's. Like the prophets of Baal at Mount Carmel in the Bible, regardless of what you do, your acts of desperation goes unheard. But wouldn't you rather be Elijah instead? Sure, no fire will come down from heaven anytime soon (At least I sure hope not), but G.SKILL has something that will sure breathe some fire into your system -- and at the same time, it does not command a price like money is going to fall from the sky tomorrow. The Phoenix EVO 115GB SSD is the company's latest product in the highly competitive flash storage market for computer enthusiasts. Using the renowned SandForce SF-1222 controller with new 25nm MLC ICs, you are going to take a small performance hit along with less available storage capacity due to higher provisioning compared to SSDs using 34nm chips -- but what you do have to gain is a lower price of entry for a better cost-per-gigabyte ratio. So are you ready to eliminate your bottleneck, assuming you have a decent processor and adequate amounts of RAM? Let's crack it open to take a look at what's under the hood, and put it through out series of standard benchmarks.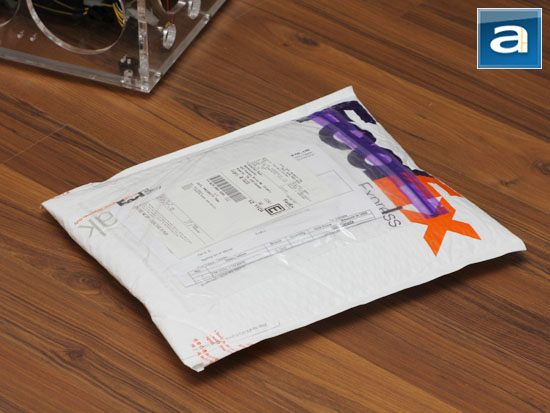 When I turned on my computer one Tuesday morning in mid-April, I received a FedEx shipment notification in my email. The information was clear -- the G.SKILL Phoenix EVO 115GB will arrive no later than 12:00 PM the following Thursday. Cool. This is one of those rare times where, due to complications in scheduling, I actually had to move a review ahead in a super expedited manner for quick completion. Seriously, the G.SKILL Sniper F3-12800CL9D-8GBSR2 2x4GB dual channel kit we received from the company a couple of weeks ago isn't even scheduled for completion until a couple weeks later, haha. Using FedEx International Priority, the package was dropped off at our doorstep here at APH Networks Calgary from G.SKILL's headquarters in Taiwan. We wasted no time, and got straight to work.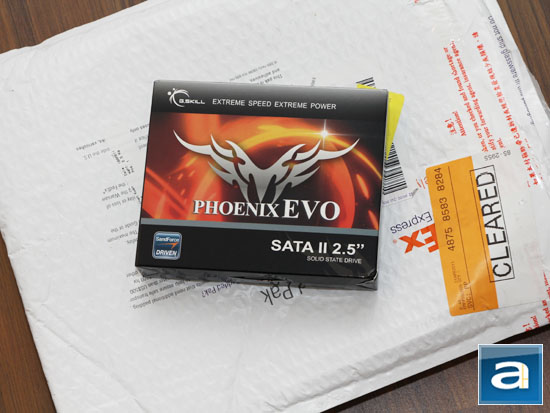 Extreme Speed Extreme Power. That's right. If I designed the G.SKILL Phoenix EVO's packaging, I would have put a little more emphasis on the slogan. Something along the line of, say, "1337 SPEED XTREME POWAAAAAAAAAAAAAA" would do the job. At this point, it is probably does not come as a surprise to you that I am not associated with the marketing department of any company (If I did, the company would probably cease to exist by the time I finish this sentence anyway). With a bright orange glow pattern of G.SKILL's logo at the primary background, a phoenix pattern emerges at the front on top of its model name in white text. A "SandForce Driven" badge can be found at the bottom left corner. With these in mind, the retail box is no larger than what we have seen from OCZ -- albeit being twice as thick than the ones that came with our Vertex 2 SSDs. Flip the little package around, and you will find a little more info on the product. So before we move on, let's take a look at the specifications of the G.SKILL Phoenix EVO 115GB, as obtained from the manufacturer's website:
Model Name: FM-25S2-115GBPE
Controller: SandForce SF-1222 Series
Form Factor: 2.5"
Capacity: 115GB*
DRAM Cache: N/A
Interface Type: SATA II
Read Rate: 280MB/sec(Max)(Tested with ATTO 2.43)
Write Rate: 270MB/sec(Max)(Tested with ATTO 2.43)
IOPS: 4k randon write 35,000
4k random read 25,000
(Tested with IO-Meter)
Access Time: <0.2ms
Shock (operating): 1500G
Vibration (operating): 15G
Altitude (operating): 60000ft
Operating Temp.: 0oC ~ +70oC
MTBF: +1,000,000 Hours
Data Reliability: Built-in EDC/ECC function
Certifications: RoHS FCC and CE Compliant
Warranty: 3 years
Inside the retail box is completely black package, consisting of a foam bracket sandwiched between a cardboard flap to house its internal contents. Despite the natural ability of SSDs to withstand high impact forces, G.SKILL made sure everything will end up safe and sound for the end user. Out of the box, you will receive a Phoenix EVO SSD inside an anti-static bag, 3.5" adapter bracket, eight screws (Four for attaching your SSD to the adapter bracket, with the remaining four for installing it into your chassis), and a installation/warranty guide.
---
Page Index
1. Introduction and Specifications
2.
A Closer Look, Installation, Test System
3.
Benchmark: ATTO Disk Benchmark
4.
Benchmark: Crystal Disk Mark 3.0
5.
Benchmark: AIDA64 Disk Benchmark
6.
Benchmark: HDTach 3.0.1.0
7.
Benchmark: HDTune Pro 4.60
8.
Benchmark: PassMark PerformanceTest 7.0
9.
Benchmark: PCMark Vantage, Conclusion