By: Jonathan Kwan
December 28, 2012
Just because some things are equivalent, does not mean they are the same. In the same way no one refers to "8 Mile Road" as "12.8748 Kilometer Road", or say "Give them 2.54 cm and they will take it 1.609 km" instead of "Give them an inch and they will take it a mile", just because two SSDs have equivalent capacity, does not mean they are the same. A while back, we have reviewed the OCZ Vertex 4 256GB, featuring an Indilinx Everest 2 controller and sixteen NAND flash chips for 256GB of storage capacity. Today, we are going to review the OCZ Agility 4 256GB, featuring an Indilinx Everest 2 controller and sixteen NAND flash chips for 256GB of storage capacity. Wait... what? Well, ask any enthusiast and we can tell you with confidence, the grade of memory ICs used under the hood is absolutely crucial to the numbers it puts out in our benchmarks -- just like how the OCZ Vertex 3 Max IOPS 240GB and OCZ Agility 3 240GB is clearly not the same thing. The former is quite a bit faster than the latter, despite its similarities. Of course, life is not just about speed. Factors such as price and power consumption can also be very important. What merits does the mainstream oriented OCZ Agility 4 256GB SSD put on the table today? Read on to find out!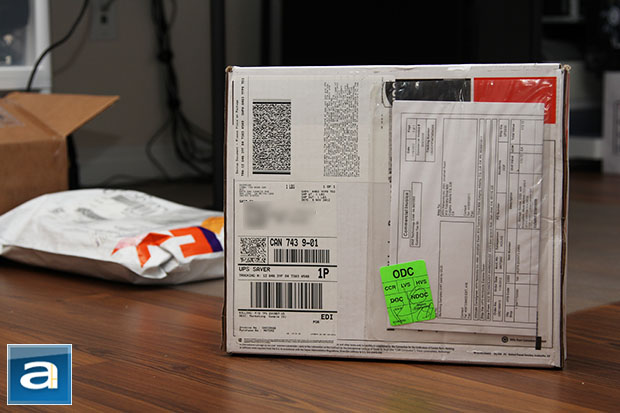 Our review unit of the OCZ Agility 4 256GB came in a medium sized, corrugated cardboard box from the company's American headquarters in Sunnyvale, California. Using UPS Saver, the transfer was quick and painless as always -- traveling two thousand kilometers across the border in less than twenty four hours. As always, UPS did a great job in ensuring everything is handled with care. I know, that sounds kind of funny, but they have been pretty darn good to us, haha. We here in Calgary excitedly opened the package with the camera ready, and got straight to work.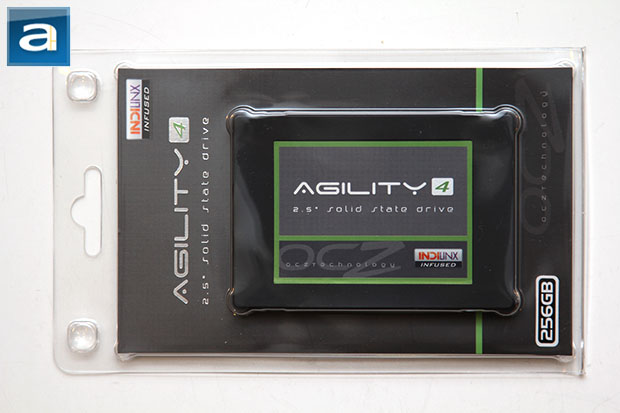 We have seen this type of retail packaging used with OCZ's solid state drives before. No, it is not the standard box used with the company's performance OCZ Vertex 4 line. Instead, it takes on the simplistic rather simplistic approach we have previously seen with the Octane. Enclosed by what that appears to be a blister pack -- thank goodness it is actually plastic shell with two button clips at the top -- this appears to the the standard for OCZ's value and mainstream drives. The clean layout allows you to grab all the information you need at first glance; the OCZ Agility 4 256GB SSD itself is shown prominently in front, capacity at the bottom left, and an "Indilinx Infused" logo in place of the ever-so-popular "SandForce Driven" logo at the upper right corner. Detailed specifications is not found on the outside, but we have them here, as taken from the manufacturer's website:
Physical:
Usable Capacities (IDEMA): 64GB, 128GB, 256GB, 512GB
NAND Components: 2Xnm Asynchronous Multi-Level Cell (MLC)
Interface: SATA III / 6Gbps (backwards compatible with SATA II / 3Gbps)
Form Factor: 2.5 Inch
NAND Controller: Indilinx Everest 2
DRAM Cache: Up to 1GB
Dimensions (L x W x H): 99.8 x 69.63 x 9.3 mm
Reliability/Protection:
MTBF: 2 million hours
Data Path Protection: ECC corrects up to 78 random bits/1KB
Data Encryption: 256-bit AES-compliant, ATA Security Mode Features
Product Health Monitoring: Self-Monitoring, Analysis and Reporting Technology (SMART) Support
Environmental:
Power Consumption: Idle: 1.3 W Active: 2.5 W
Operating Temperature: 0°C ~ 70°C
Ambient Temperature: 0°C ~ 55°C
Storage Temperature: -45°C ~ 85°C
Shock Resistance: 1500G
Compatibility:
Serial ATA (SATA): Fully compliant with Serial ATA International Organization: Serial ATA Revision 3.0.
Fully compliant with ATA/ATAPI-8 Standard Native Command Queuing (NCQ)
Operating System: Windows XP 32-bit /64-bit; Windows Vista 32-bit / 64-bit; Windows 7 32-bit / 64-bit; Linux; Mac OS X
Additional Features:
Performance Optimization: TRIM (requires OS support), dynamic and static wear-leveling, background garbage collection, Indilinx nDurance 2.0 Technology to extend SSD lifespan
Other Performance Features: Ndurance 2.0 Technology (Reduced Write Amplification without Compression, Advanced Multi-Level ECC, Adaptive NAND Flash Management)
Service & Support: 3-Year Warranty, Toll-Free Tech Support, 24 Hour Forum Support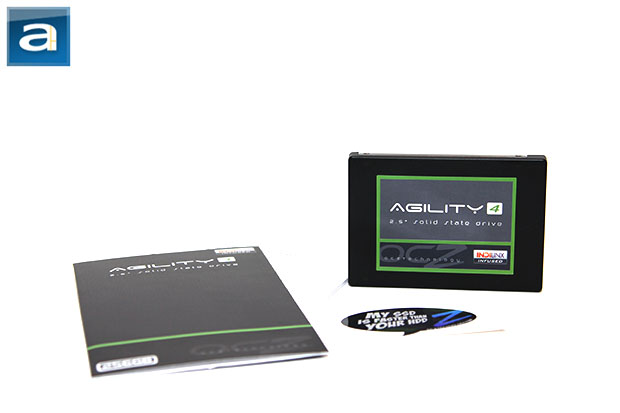 Popping the packaging open, there isn't a whole lot of stuff included. Other than the SSD itself, clipped inside the background insert is an installation/warranty guide, and the smug-as-always "My SSD is faster than your HDD" sticker from OCZ. No cables, no adapter brackets, just pure Agility 4. With that in mind, let's take a closer look at the solid state drive itself.
---
Page Index
1. Introduction and Specifications
2.
A Closer Look, Installation, Test System
3.
Benchmark: AIDA64 Disk Benchmark
4.
Benchmark: ATTO Disk Benchmark
5.
Benchmark: Crystal Disk Mark 3.0
6.
Benchmark: HD Tach 3.0.1.0
7.
Benchmark: HD Tune Pro 4.60
8.
Benchmark: PassMark PerformanceTest 7.0
9.
Benchmark: PCMark Vantage
10.
Conclusion