By: Jonathan Kwan
July 27, 2018
I was driving home one night with my friend when I noticed flashing red and blue in my rear-view mirror. "Crap," I told my friend. "Guess I got caught red handed." A police officer walks up to my car after I pulled over. "Do you know how fast you are going?" Being careful in what I say, I politely asked her to tell me what she got. "I caught you going at least 115 to 120km/h. License and registration please." After handing over my documents, she went back to her police cruiser. A minute or so passed by and she came back with my documents. "I am going to let you off with a warning," she said. "Please slow down and drive safely." Back on the road, my friend was rather surprised at how I just got off with a warning while driving a rather significant amount over the speed limit. "She does not have my speed," I explained. "Her radar is not on and she did not have enough time to pace me. Also, their impression of you will determine whether you get a ticket or not." While I will admit I was incredibly lucky I got off with a warning regardless of the circumstances surrounding it, here is my main takeaway from this story: Numbers tell a part of the story, but real life determines the outcome in rather unpredictable ways. Recently, D-Link send us a new product from their budget line, the DIR-867 AC1750 MU-MIMO wireless router, for review. AC1750 may be the lowest rated 802.11ac specification we have ever looked at here at APH Networks, but how will it perform in real life? Will it give us any surprises, like how I unexpectedly got off speeding with a warning? Read on to find out!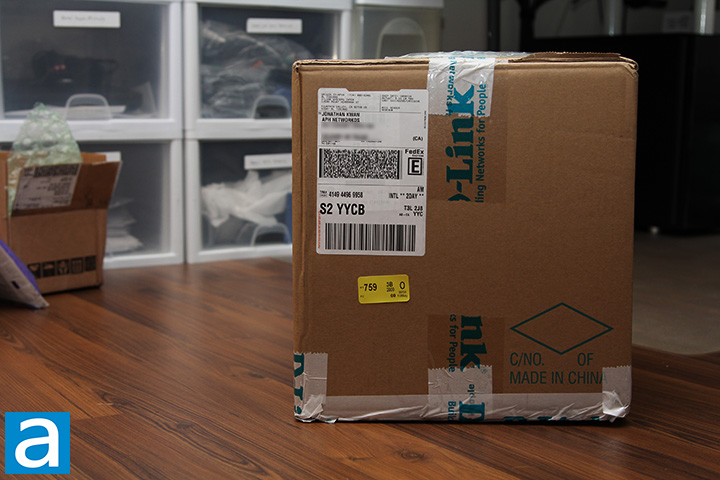 Our review unit of the D-Link DIR-867 AC1750 MU-MIMO Wi-Fi router came in a large brown corrugated cardboard box from the company's American headquarters in Fountain Valley, California, USA. Tagging along the trip was the D-Link DCS-8010LH wireless security camera my colleague Aaron Lai reviewed last month. Everything arrived in excellent condition to us here in Calgary, Alberta, Canada for our review today using FedEx's International 2day service.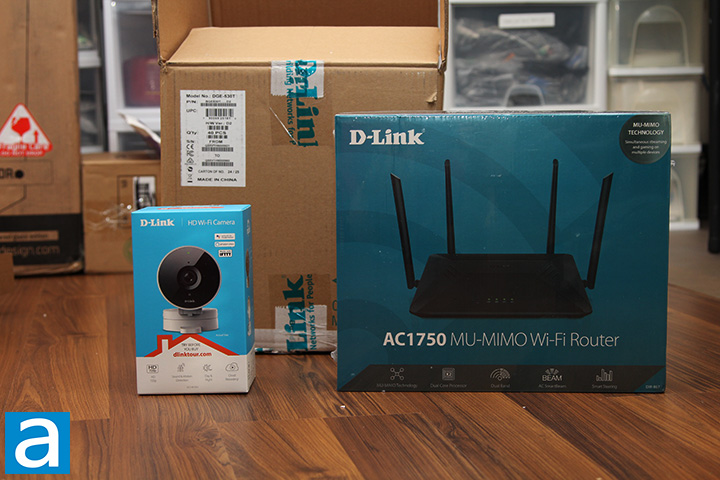 Like the overwhelming majority of products we get here at APH Networks for review, the networking equipment giant sent us their latest budget Wi-Fi router in its retail packaging. The predominantly teal box embodies D-Link's classic colors of teal, grey, white, and black using a wireless wave background, which you can see in our photo above. In the middle, you will find a front view of the D-Link DIR-867 router occupying some prime real estate. The product description, "AC1750 MU_MIMO Wi-Fi Router", is printed boldly beneath. Along the bottom is an array of five icons providing some highlights of this product, which is MU-MIMO technology, dual core processor, dual band, AC SmartBeam, and Smart Steering. D-Link's logo is placed at the top left corner, while another MU-MIMO badge is present at the top right corner in case you did not get the fact that the DIR-867 is a MU-MIMO router. The remaining sides of the box has more feature highlights and specifications.
Before we move on, let us take a look at the specifications of the D-Link DIR-867, as obtained from the manufacturer's website:
Device Interfaces
• 802.11 a/g/n/ac wireless LAN
• Four 10/100/1000 Gigabit LAN Ports
• 10/100/1000 Gigabit WAN Port
Standards
• IEEE 802.11ac
Minimum System Requirements
• Windows® 10, 8.1, Windows® 8, Windows® 7 , or Mac OS® X (v10.7)
• Ethernet Network Interface
• Internet Explorer® 11, Mozilla® Firefox® v28, Google Chrome v33, or Safari v7
• For optimal performance, pair the DIR-867 with an AC adapter (DWA-192/DWA-182)
• Cable, DSL or Fiber Optics
Advanced Features
• Guest Zone
• Multi-language web setup wizard
• Green Ethernet
• Advanced AC SmartBeam
• Dual active firewall(IPv4/IPv6)
• Network Address Translation (NAT)
• Stateful Packet Inspection (SPI)
• Intelligent QoS
• Quick VPN - L2TP over IPsec
Wireless Security
• WPA & WPA2 (Wi-Fi Protected Access)
• Wi-Fi Protected Setup (WPS) PIN/PBC
Physical Dimensions
• 9 x 8 x 1.5 inches
Power
• Input: 100 to 240 V AC, 50/60 Hz • Output: 12 V DC, 1.5A
Temperature
• Operating: 32 to 104 °F
• Storage: -4 to 149 °F
Humidity
• Operating: 0% to 90% non-condensing
• Storage: 5% to 95% non-condensing
Certifications
• FCC Class B
• Wi-Fi Certified
• IPv6 Ready
Warranty
• 1-Year Limited Warranty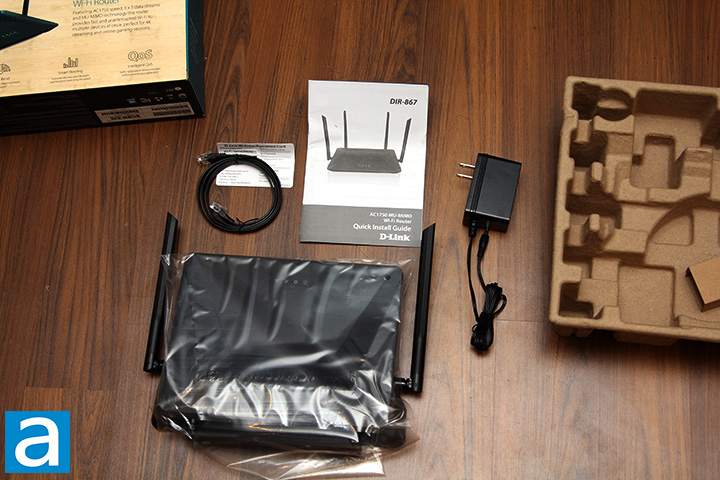 A brown paper pulp tray slides out of the side of the thin cardboard cover of the D-Link DIR-867's retail package. I am a fan of the environmentally friendly packaging, especially considering my disdain for squeaky foam brackets that I have thankfully not seen in a long time, haha. Out of the box, you will receive the following:
- Wireless AC1750 Wi-Fi Router
- Quick Installation Guide
- Power Adapter
- Ethernet Cable
- Wi-Fi Configuration Card
---
Page Index
1. Introduction, Packaging, Specifications
2.
Physical Look - Hardware
3.
Configuration and User Interface
4.
Performance Tests
5.
Conclusion