By: Jonah Chow
August 18, 2023
Continuing on my little fan discussion from my Corsair MP600 Core XT 2TB review introduction, Skrillex surprised me with two new albums earlier this year. His new albums, Quest For Fire and Don't Get Too Close, sound much different than his earlier music for reasons I can understand. Artists typically want to change their sound from time to time to evolve their music, which is exactly what Skrillex did with his new albums. His newer music was much more minimalistic in sound as compared to the booming nature of his earlier works, which is something I can appreciate him doing. While I admittedly enjoy his old music more, his new music has a charm to it that shows improvement in design that you would come to expect from a veteran in the genre, along with a variety of different sounds you can jam to. Speaking of revamping and improving upon old talents, DeepCool has provided us with their new AK400 Digital cooler, which is essentially a remodel of their AK400, which I reviewed last year. The big difference is this time, there is a digital display to show the real-time temperature of your CPU. Does the AK400 Digital prove to be a necessary upgrade to their original AK400? Read on to find out!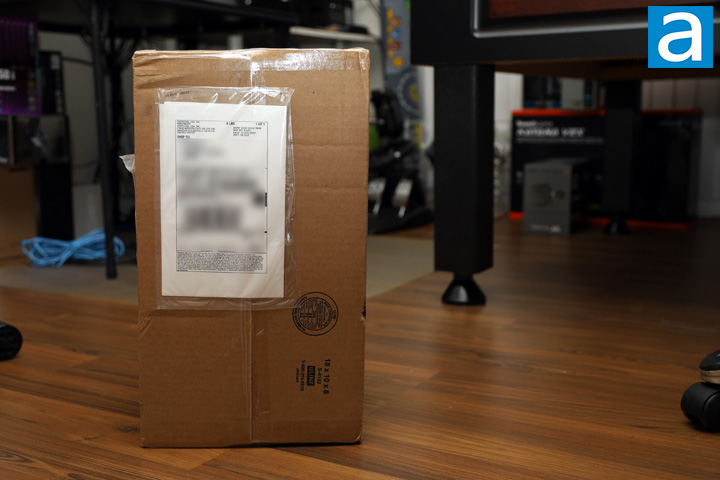 Our review unit of the DeepCool AK400 Digital arrived via UPS Standard from the company's American offices in Rancho Cucamonga, California, USA via UPS Standard. Rancho Cucamonga is in San Bernardino County close to Los Angeles. The shipping package arrived to us here in Calgary, Alberta, Canada. Other than a few minor dents, the medium-sized brown corrugated cardboard box arrived in seemingly good condition. Along with the AK400 Digital we have today, DeepCool also sent us their AK620 Digital, which was reviewed by my colleague Aaron Lai a few weeks back.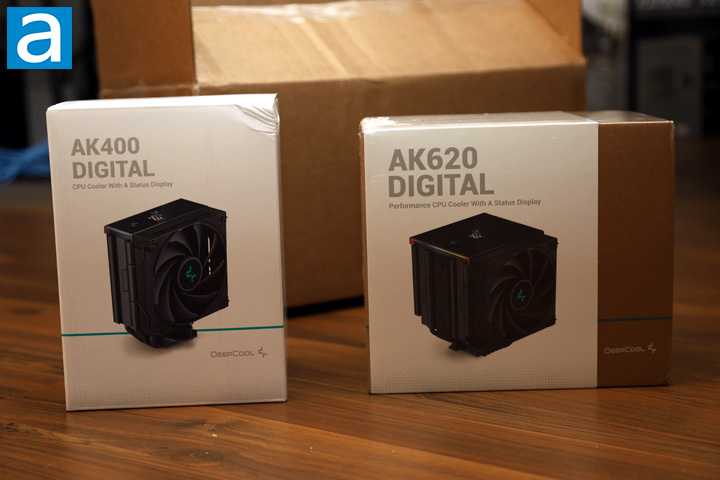 The retail box for the DeepCool AK400 Digital has seen better days, as seen in the photo above. The top right side of it is quite dented. UPS Standard could have done a better job when moving the shipping box around. Moving on, the front-side retail packaging for the DeepCool AK400 Digital is quite bare with very little text. The box is clean and does a good job of displaying the cooler. The box uses a simple white color scheme that does not do much to draw attention to itself with the exception of a single thin green line going across the middle. The AK400 Digital label is seen at the top with the text, "CPU Cooler with a Status Display" below. The DeepCool logo is located towards the bottom right side. An image of the AK400 Digital is displayed front and center, showing off the general design of the cooler. The back and sides of the box contain some of the specifications.
Before we move on, here are the specifications from the manufacturer's website:
Compatibility
Product Dimensions: 126×97×156 mm
Heatsink Dimensions 120×60×152 mm
Net Weight: 695 g
Heatpipe: Ø6 mm×4 pcs
Fan Dimensions: 120×120×25 mm
Fan Speed: 500~1850 RPM±10%
Fan Airflow: 68.99 CFM
Fan Air Pressure: 2.19 mmAq
AqFan Noise: ≤28 dB(A)
Fan Connector: 4-pin PWM
Bearing Type: Fluid Dynamic Bearing
Fan Rated Voltage: 12 VDC
Fan Rated Current: 0.12 A
Fan Power Consumption: 1.44 W
LED Type: Addressable RGB LED
LED Connector: 3-pin(+5V-D-G) and 9-pin USB 2.0
LED Rated Voltage: 5 VDC
LED Power Consumption: 3 W
EAN: 6933412728207
P/N: R-AK400-BKADMN-G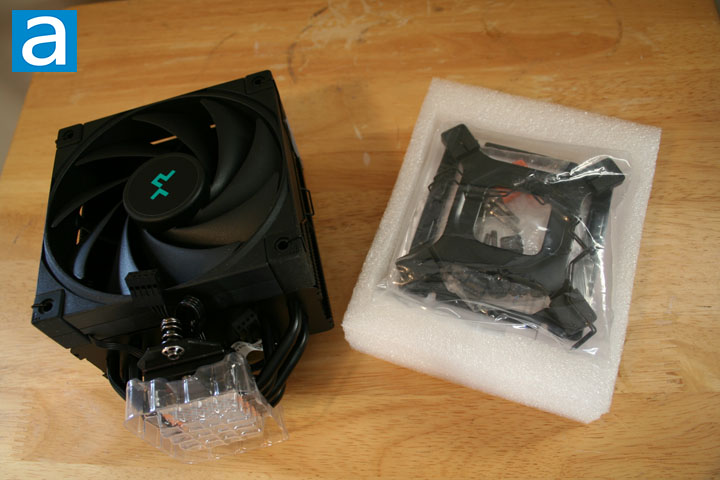 Opening up the retail packaging, we are met with the cooler itself and another box containing the installation accessories. The DeepCool AK400 Digital arrived cased in foam padding with no scratches or scuffs on the cooler itself. The smaller bag contains installation tools to mount onto Intel's LGA1700, 1200, 1151, 1150, and 1155 sockets along with AMD's AM4 socket. The Intel and AMD mounting tools are in separate bags, although there are no labels to clearly distinguish them. There is no included thermal paste, as it is pre-applied on the cooler already. A physical installation manual is included.
---
Page Index
1. Introduction, Packaging, Specifications
2.
Physical Look - Hardware, Installation
3.
Test Results
4.
Conclusion