By: Jonathan Kwan
October 29, 2021
I was hanging out with a group of friends in Banff a few weeks ago. I left at around 5pm with a couple of friends since I needed to be at home for an online event before 7pm. I worked out the math of the time it takes to drop both my friends off, and I should have more than enough time to spare. After dropping my first friend off at 6:20pm, a notification on my phone came on to remind me the event begins at... 6:20pm. That was when I realized I messed up: Although the actual event begins at 7pm, I actually have to be there early since I am one of the leaders. Realizing I am in a bit of a situation, I needed a good solution. I could ask my friend to take the bus, but it is Saturday evening, which is very bad for public transit -- not that it is great during weekdays either, but I digress -- not to mention I did promise to drive her home. I explained to my friend what was going on. "Listen, I am very sorry I could not drive you home since it will take another 30 minutes there and back. Do you mind if I just drop myself off, then you take my car and drive yourself home?" Thankfully, she understood and agreed, and I made it to the event only slightly late. As it can be seen, special situations require special solutions. In today's competitive and intense gaming world, many manufacturers recognize the need for special solutions. The obvious one is your PC, but over the years, we have seen everything from desktop lighting accessories to gaming chairs. There is one thing that I still have not upgraded yet, and that is my desk. The E-WIN 2.0 Edition RGB Gaming Desk promises everything you want and maybe something you did not know you even wanted. It comes with stuff a cup holder and of course, as you would expect from a gaming product, RGB LED lighting. Is this the ultimate solution to a special use case? Read on to find out!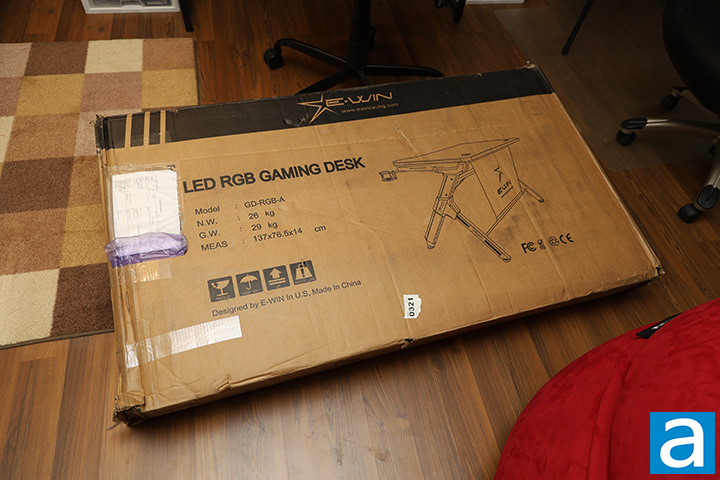 Our review unit of the E-WIN 2.0 Edition RGB Gaming Desk arrived in a very large brown corrugated cardboard box from the company's American distribution center in Dublin, Ohio, USA. Dublin is a suburb in the northwestern part of Columbus. Using FedEx Ground, our gaming desk arrived in a fairly beat up shape to us here in Calgary, Alberta, Canada for our review today.
As you can see in our photo above, E-WIN's shipping box is also the retail box, given the company sells directly to you via their online store. What you get is a brown corrugated cardboard box with classic black ink. On the box, you will find E-WIN's logo at the top, the text "LED RGB gaming desk", basic specifications, regulatory logos, and a drawing of the desk.
Before we move on, let us take a look at the specifications of the E-WIN 2.0 Edition RGB Gaming Desk, as obtained from the manufacturer's website:
Features
E-WIN 2.0 High-Strength Carbon Fiber Desktop
Multi-Function Wireless Charger
5° Ergonomic Incline
E-WIN 2.0 Dazzling Dual-sided RGB Lighting
High-strength Aluminum Material Framed Legs for Maximum Stability
Dimensions
Height: 30"/75cm
Width: 48"/120cm
Depth: 26.8"/68cm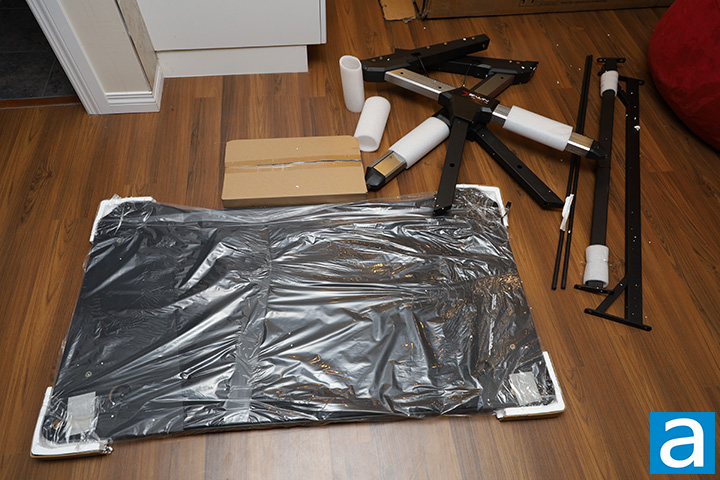 Although the shipping box was fairly beat up at first glance, the contents inside were all very well protected and sustained no physical damage in transit. Everything was either protected in plastic or wrapped in foam. My complaint is the Styrofoam brackets are of very poor quality, so not only do they screech, but once broken, pellets were everywhere, and it was a total mess. I had to vacuum out every component of the desk pre-assembly.
After carefully putting all the foam into the box and cleaning the floor of the room thoroughly, I immediately took the packaging material outside and placed then into my trash or recycle bins. I feel like cardboard brackets are a much better choice than Styrofoam brackets not just because they do not make a mess, but also a much more environmentally friendly choice.
Out of the box, you will receive everything you need to build the desk. These include the tabletop, left and right X-style table legs, two banner poles, E-WIN banner, two horizontal support braces, and all the assembly hardware and accessories inside a smaller cardboard box.
---
Page Index
1. Introduction, Packaging, Specifications
2.
Assembly
3.
Features and Usage Experience
4.
Conclusion