By: Jonathan Kwan
November 10, 2017
Do Asians really not age? A few weeks ago, I was hanging out with a few of my friends who are currently in their first year of university. There were a few new people in our group as well when someone brought up the topic of the age difference between me and one of the girls. "Probably around the same age," he said. "Maybe one or two years of age difference at most." Although this probably was not the first time it happened, we still looked at each other and laughed. "Make it ten years," I said, much to the surprise of my audience. Another time, the same topic came up on the age of me and another guy. "You do not look like you are in first year," said the person we were talking to, referring to my friend. "How old do you think I am?" I asked him. "Twenty-two?" he replied. "Nah, he is eighteen and I am nine years older." Although Asians generally do not age -- we probably look exactly the same from the time we are eighteen to around forty -- there are at least a few things that change as time progresses. I can assure you I have grown quite a bit in maturity since 2008, and at least on the academic end of things, I have received two degrees in the meantime and are currently working on my third one. When I first saw the Edifier S2000 Pro desktop computer speakers, I had a hard time distinguishing between it and the S1000DB, because, as it would be with Asians for a span of two decades in age, look exactly the same. But are they actually the same, or are they really different? Read on to find out!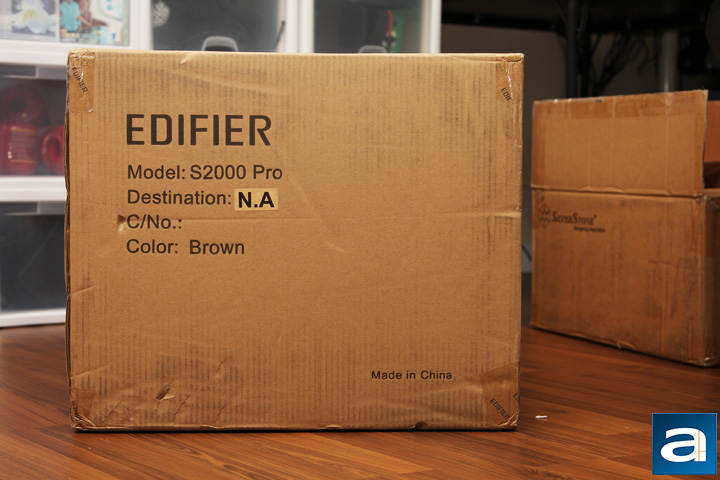 Our review unit of the Edifier S2000 Pro came in a large brown corrugated cardboard box from Edifer's offices in Richmond, British Columbia, Canada. Although there was no "heavy" label affixed to the box as it did with the S1000DB, the S2000 Pro was no less lighter. It definitely took some effort for the FedEx delivery man to carry the package from his vehicle to our location here in Calgary, Alberta, Canada. That said, using UPS Ground, everything arrived in excellent condition for our review today.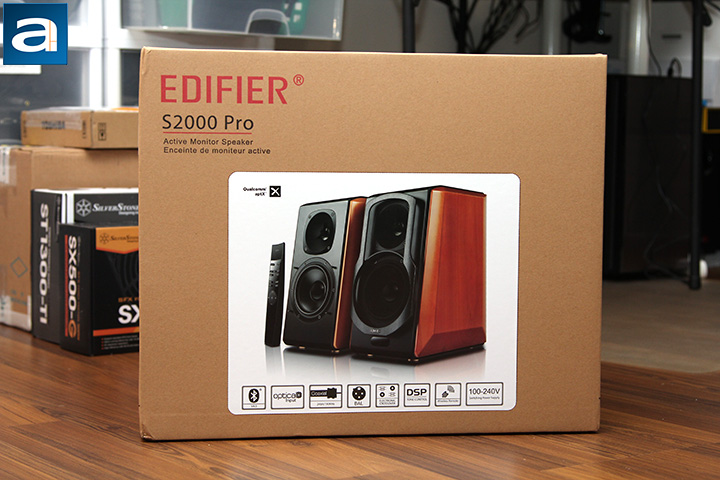 Encased tightly inside the shipping box is the Edifier S2000 Pro's retail box, which is another brown corrugated cardboard box. As you can see in our photo above, occupying the majority of the space in the principle side of the box is a label containing a color photo of the speaker pair and the included remote at 3/4 angle. Edifier's logo can be found at the upper left hand corner in red; situated right below that is the model number and product description in both English and French. An array of icons highlighting its Bluetooth 4.0, optical, coaxial, and balanced line inputs, along with features like its electronic crossover, DSP tone control, remote control, and 100-240V auto switching power supply can be found along the bottom. Specifications, box contents, and even a frequency response chart is printed on various remaining sides of the box.
Speaking of specifications, before we move on, let us take a look at the provided information, as obtained from the manufacturer's website:
Power output:
- L/R (treble): 12W+12W RMS
- L/R (mid-range and bass): 50W + 50W
RMS Signal to noise ratio: ≥94dB(A)
Noise level: ≤25dB(A)
Input sensitivity:
- Balanced input: 700±50mV
- Auxiliary input: 600±50mV
- Bluetooth input: 350±50mFFs
- Optical input: 350±50mFFs
- Coaxial input: 350±50 mFFs
Frequency response: 48Hz~20KHz
Tweeter unit: Planar diaphragm tweeters
Mid-range & bass driver: 5.5 inch (148mm)
Dimensions: 8in x 13.5in x 10.5in (WxHxD)
Connection cable 5M/16.4FT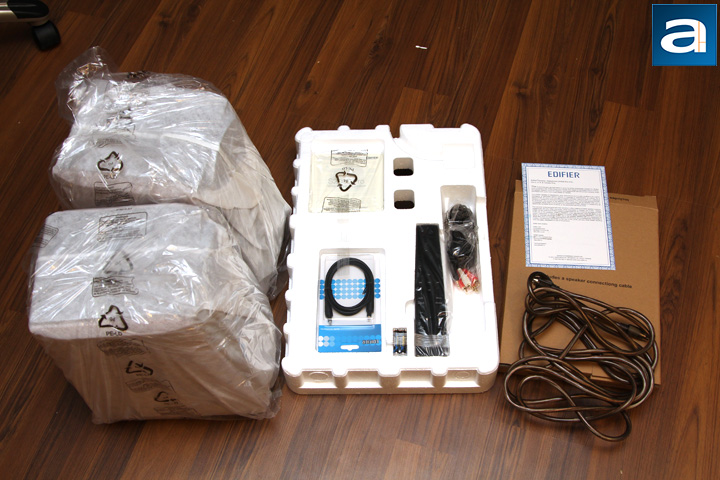 Upon opening the box, you will be greeted by a Styrofoam tray containing all the accessories in its partitions. The Styrofoam tray doubles as a bracket that holds the speakers in place underneath it; where each speaker is neatly wrapped in several layers of foam and plastic to ensure everything arrives to you in pristine condition. A separate slim box labeled "Includes a speaker connectoing cable" -- note the spelling error -- includes a cable that connects the left speaker to the right speaker.
Out of the box, the following items are included:
1x Active speaker
1x Passive speaker
1x Remote control
2x AAA batteries
1x Speaker connecting cable
1x 3.5mm to dual RCA audio cable
1x Optical audio cable
1x User manual
1x Warranty guide
---
Page Index
1. Introduction, Packaging, Specifications
2.
Physical Look - Hardware
3.
Subjective Audio Analysis
4.
Conclusion