By: Anthony Kwan
April 23, 2010
Back in March, I had the pleasure of reviewing the newly released Thermaltake Silent 1156 CPU Cooler. Just to refresh your memory, the Silent 1156 was one of Thermaltake's first ventures into the realm of low noise coolers, giving users an option of not only decent performance heatsinks, but also striking a balance with a very attractive price tag. Today, we will be reviewing the Evercool HPKC-10025EA CPU Cooler. Evercool is once again a new face to the APH Networks review line up (Seems like we've had a lot of these recently haven't we?), and like some of the previous reviews we have done, this is another budget-oriented heatsink. The HPKC-10025EA cooler is designed for AMD sockets K8, AM2, and AM3, as well as Intel's Socket 1156. It features a low profile design using what is referred to as Heatpipe Direct Touch technology, a 100mm fan on top, and four 6mm diameter heatpipes in a more conventional CPU cooler configuration. The HPKC-10025EA is designed for cases with less than adequate clearance room for a large tower-style cooler such as the Thermaltake Frio reviewed last week by Jonathan Kwan. Unlike the standard tower cooler implementation found in the Frio and Silent 1156, the Evercool we are reviewing today takes a totally different approach to the very common tower style heatsink we see so often. Fairly priced at approximately $25 at press time, how will the Evercool HPKC-10025EA step up against budget tower heatsinks such as the Thermaltake Silent 1156? Will the direct touch heatpipe design and use of four 6mm heatpipes enable Evercool provide a nice performance boost to the system? We will be pushing this cooler to its limit with our Intel Core i7-860 processor -- so read on to find out!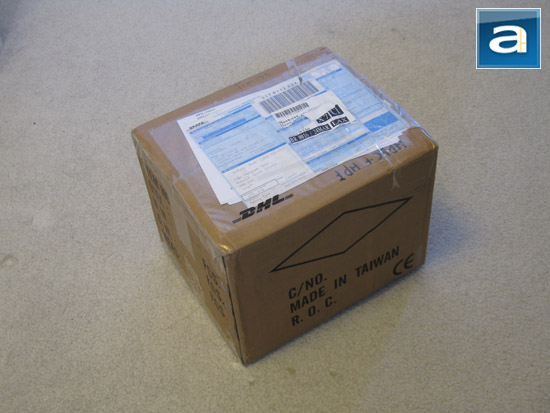 Our review sample came shipped in a medium sized, brown corrugated cardboard box via DHL Express from Evercool's offices in Taipei, Taiwan. The package came in relatively good condition, with only a few dents around the corners of the box. Compared to some previous experiences I've had with DHL, this is quite an improvement with regards to the condition of the package when it arrived at my door haha. Weighing in at only 1.5kg, our package consisted mostly of packing materials. No packing peanuts were used; instead, Evercool chose to line their box with sheets of Styrofoam for protection.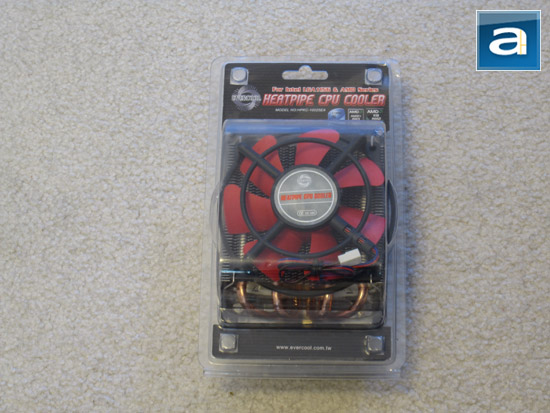 The Evercool HPKC-10025EA comes in a plastic clamshell pack. Along the top of the package, we have the Evercool logo, as well as a list of the supported processor sockets. The HPKC-10025EA heatsink itself can be seen through the clear plastic shell in the middle, followed by Evercool's website URL at the bottom. At the back of the plastic clamshell package, the supported sockets are stated once again, this time in conjunction with the features and specifications of the heatsink.
Before moving on to opening our package, let's take a look at the manufacturer's specifications, as obtained from Evercool's website:
Heatsink Specifications
Compatibility: Socket 1156, AM3, AM2+, AM2, K8
Dimensions: 118mm x 110mm x 67mm
Heatsink Material: 4 Cu heatpipes + Al Fin + H.D.T. Core
Fan Dimension: 100mm x 25mm
Fan Bearing Type: EL long life bearing (Life expectancy @ 25C is 50,000 hours)
Rated Speed: 1800 +/- 15% RPM
Fan Airflow: 62.11CFM
Noise Level: <23 dBA
Rated Voltage: 12V DC
Weight: 320g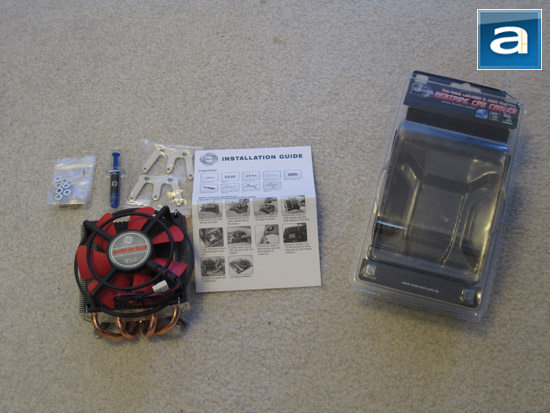 Because of the use of clamshell packaging with two pressure buttons at the top, the Evercool HPKC-10025EA package is very easy to open and very tightly packed. Although often used in RAM packages, clear plastic clamshell packaging is an easy way to reduce cost, while still giving its contents ample protection.
Once opened, we are met with the Evercool HPKC-10025EA heatsink. With the heatsink removed from the package, we are presented with its accessories. Attached with the HPKC-10025EA is the Intel mounting bracket; also provided as part of the accessory package is the mounting bracket for AMD systems, along with a tube of thermal paste and mounting screws. An improvement could have been made here to label the individual plastic bags to ensure that there would be no confusion as to which part corresponds to which. At the very bottom of the package is the installation guide with instructions for both AMD and Intel configurations. Please note that this installation guide is only in English.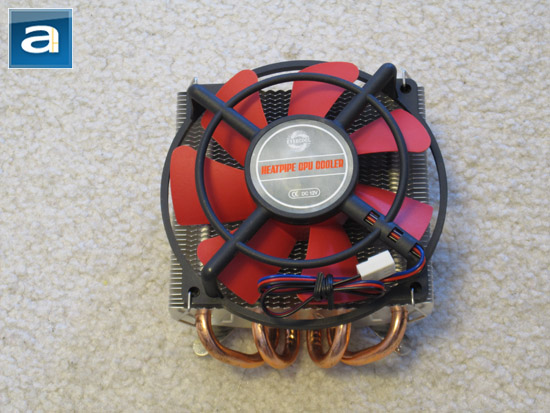 The Evercool HPKC-10025EA features a single 3-pin 100mm fan, meaning that it is not PWM controlled. We will find out later on whether or not this is will be a shortcoming of this fan, as acoustic performance is just as important as thermal performance, especially with a heatsink of this size, which will most likely be used in an HTPC environment. At the bottom of the heatsink are four 6mm heatpipes that start from the base of the heatsink then curve up and around to the fin assembly area. The 100mm fan is mounted by a set of metal mounting clips. It does seem possible for the fan to be changed should the user choose to, but 100mm fans are hard to come by anyway. The fan cables are not sleeved, but they are bonded together so cable management should be decent, although it is lacking a bit in the aesthetic department.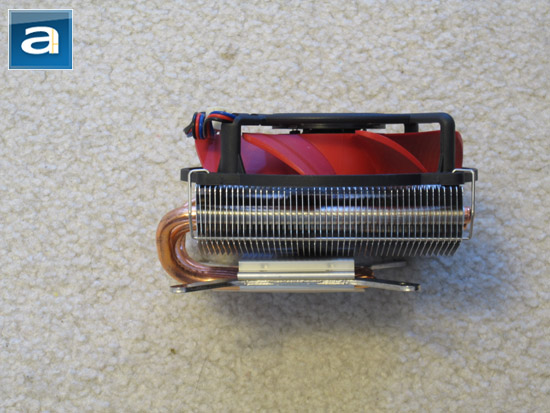 As aforementioned, the HPKC-10025EA has four 6mm heatpipes that protrude from the base of the heatsink, which then curve around and reach up towards the fin assembly. Evercool has added fins to the top of the base of the heatsink base to further improve its heat dissipation capabilities. As it is pretty much the standard now for heatsinks, all the heatpipes are soldered onto the heatsink fins. This means that over time our heatsink performance remains consistent, and there should be no issues of performance degradation in the long run.
The Evercool HPKC-10025EA does not utilize a tower style design, which makes this heatsink the perfect form factor for those with HTPC cases or any environment where there are space or clearance constraints. At only 67mm high, this heatsink will fit any chassis that the stock Intel heatsink will fit in, while providing what we hope (Based on the engineering design of the heatsink itself) is improved performance.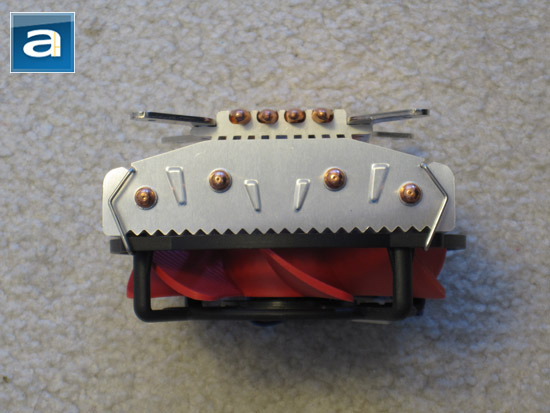 From the front of the Evercool HPKC-10025EA is the profile of each aluminum fin, as well as the end of the four copper heatpipes. The 6mm heatpipes used are fairly standard in the heatsink market today, and in our testing later on in this review we will see whether it is really quality over quantity. The copper heatpipes run through the fin assembly and actually form the base of the heatsink. The reason for this is that it improves the overall efficiency of the heatsink by reducing the number of times heat has to be transferred through a medium, therefore reducing heat loss. Instead of having a copper base for heat for initial contact, and then transfer the heat into the heatpipes where it can be removed from the base -- using a direct touch heatpipe implementation enables the heat to directly enter the heatpipes and drawn away by the fluid, then dissipated into the surrounding environment by the 100mm fan. The H.D.T. base has a fairly decent finish to it for good contact with your processor's integrated heatspreader.
Due to its mostly aluminum construction with copper only used mainly with the heatpipe and base, the HPKC-10025EA weighs in at a measly 320g -- certainly a good thing. Normally this would be more than adequate for push pin installation especially considering its small physical size as well, but Evercool has gone one step further and included a bolt through kit for better heatsink base contact and mounting security. Although this may cost more than the conventional push pin design, I would much rather pay a tiny bit more for a more secure mounting method given this bolt through method is well implemented. We will discuss this in just a moment in the installations section. Little confusion is induced on me thanks to a well written installation manual, and pre-installed mounting brackets simplify the overall process for those that are not tech savvy. Whereas installation is more complex with a bolt through method compared to push pins, the contact between heatsink and CPU heatspreader would benefit significantly since heatpipe direct contact heatsinks are not as flat as standard base designs.
The benefit of having a copper base is that copper has a specific heat capacity of 0.385J/g°c (As you might already know from reading previous APH Networks heatsink reviews), which from a cost-to-heat conductivity standpoint makes copper a highly desirable material for core contact area. Aluminum, although not as good as copper from a thermal conductivity perspective, weighs a lot less than copper; while striking a balance between cost and thermal conductivity -- therefore normally the material of choice for heatsink fin construction.
As far as heatsinks go, the Evercool HPKC-10025EA has a fairly average fin arrangement density. It is not too tight and not too loose. Although the fin density is relatively average, Evercool has included a fan that pushes a rated 62.1CFM at 1800RPM. This number worries me in the sense that a fan pushing so much air at 1800RPM may have some severe acoustic issues (Which we will address in the sections below). The fins are shaped in a way that static pressure is improved when air must be pushed through tightly spaced fins; although with a high CFM fan this should not be too much of an issue. The ribbed pattern to the fans also reduces the dead spot that most fans have right in the middle of the fin assembly and increases airflow through the heatsink faces, therefore increasing the contact between air and heatsink fins to improve cooling performance. Judging by the engineering put into the designing of this heatsink, it sounds like a pretty efficient product on paper!
-----------------------------------------
Installation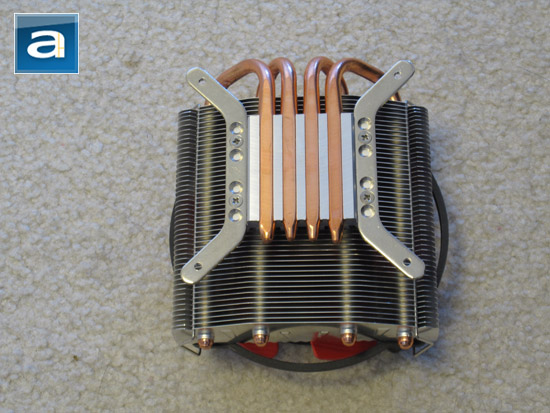 Installation is very easy and straightforward with the Evercool HPKC-10025EA, although not without some major flaws that could use significant improvements. The good thing is that the Socket 1156 backplate came pre-attached with our heatsink, which from a convenience perspective makes it a much easier installation process since we can see how it is done right off the bat. For AMD users, just unscrew the four screws from the bottom of the heatsink base, and attach the provided AMD mounting bracket with the motherboard in between. Socket clearance is more than adequate, however due to the MOSFET heatsink placement on my ASUS P7P55D there were some issues with installing the HPKC-10025EA in certain directions. There were absolutely no problems with the heatsink interfering with the memory DIMM slots, however.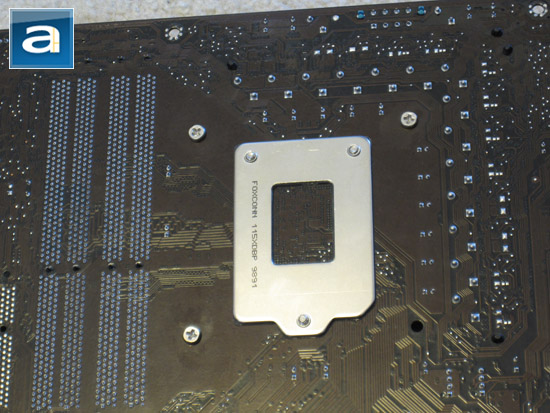 The one major issue I had with installing the Evercool HPKC-10025EA is that it requires removal of the motherboard for installation. Due to the nature of the mounting mechanisms involved, the screws for the heatsink actually screw in from the bottom of the motherboard. For such a small heatsink, this is what I would consider a major flaw, as a bolt through kit that mounts from the top without removal of the motherboard (Backplate aside) could have just as easily been utilized without any penalties in manufacturing costs. This same issue is one that Jonathan encountered with the Thermaltake Frio reviewed last week. Weighing in at only 320g, I would have gladly traded a push pin mounting mechanism over a bolt through kit that requires motherboard removal. With a heatsink of this size where convenience and ease of use is a major selling point, requiring motherboard removal is what I would consider a major oversight, and I would definitely like to see improvements in this area. As I've already said before, I would pay more for a bolt through approach given that it is well implemented, and while it is nice for Evercool to take this step even for a low cost solution, there is always room for improvement!
-----------------------------------------
The Tests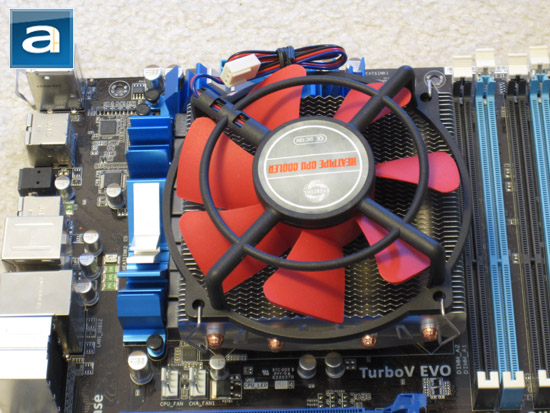 Our HPKC-10025EA installed on the ASUS P7P55D motherboard. Note that the heatsink had to be installed in this configuration due to adjacent MOSFET heatsink interference.
Our test setup is as follows:
CPU: Intel Core i7-860 (Stock settings; Intel SpeedStep and Turbo Mode enabled)
Motherboard: ASUS P7P55D
Graphics: XFX Radeon HD 5870 1GB
Memory: G.SKILL F3-12800CL9D-4GBRL Ripjaws 4GB (2x2GB) @ DDR3-1600 8-8-8-24 1T
Chassis: Cooler Master HAF 922
Power: Corsair HX750 750W
Sound: Integrated (Motherboard)
Optical Drive: LG GH22NS50 Black 22X SATA DVD Writer
Hard Drive: Western Digital Caviar Black 640GB 32MB Cache
Operating System: Microsoft Windows 7 Professional x64
All tests were run using components inside a desktop computer chassis to best emulate real world testing results. During each of my tests, the computer remained in the same room each time with the ambient temperature maintained at around 21c. The stock thermal compounds provided with each cooler were used for their respective tests, and in the case of the Intel stock cooler, the pre-applied thermal paste was used. A curing time of 100 hours was allowed for each of the thermal compounds to reach their optimal operating states. Maximum CPU load testing was done using Prime95 running In-place Large FFTs with eight worker threads for a minimum of thirty minutes. Idle temperatures were acquired by idling computer for a minimum of 1 hour prior to temperature recording.
In these tests, I have used the Evercool HPKC-1025EA against the Intel stock heatsink which comes bundled with all retail packaged Intel processors. References include the Thermaltake Silent 1156 I have reviewed in March, as well as the Thermalright Venomous X. Please note that the latter two are not directly compared as they are fundamentally very different coolers.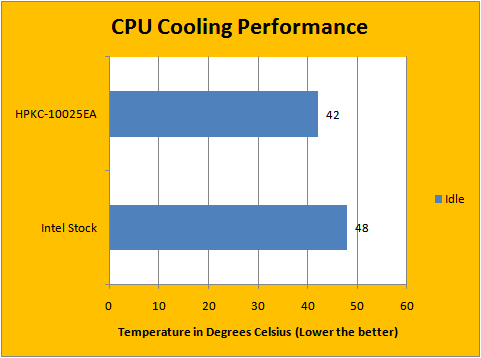 At idle, the HPKC-10025EA outperforms the Intel stock heatsink which is designed in the same format. For reference, it is just behind the comparatively priced Thermaltake Silent 1156 (38c) and Thermalright Venomous X (35c) in the same test, but neither the Venomous X nor Silent 1156 are competitors of the Evercool HPKC-10025EA because they are high profile coolers. When compared against the stock Intel cooler, it is obvious that the HPKC-10025EA has an advantage, despite having similar form factors -- a definite positive. This can be attributed to a higher CFM fan being used, as well as the implementation of heatpipes in particular with the fin design that undoubtedly improves the efficiency of the HPKC-10025EA. These temperature readings were taken using the latest version of Core Temp to obtain core temperature of the processor from its Digital Thermal Sensor, and the temperature of the highest core is recorded after running idle for a minimum of one hour. The results were cross-checked with Real Temp calibrated with correct Tjunction Max values to ensure accuracy. Although unable to outperform the Silent 1156 at idle (Again, different formats to address to different markets), the HPKC-10025EA is off to a decent start with regards to performance relative to the stock Intel cooler.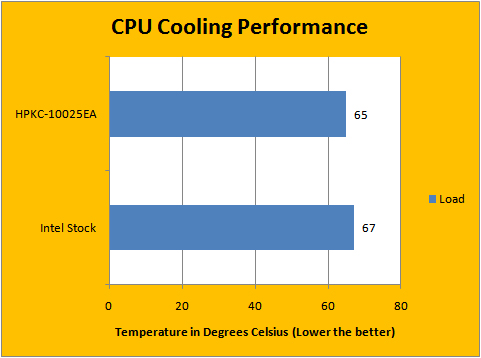 Once put under load, considering the $25 retail price point of this CPU cooler the performance is a bit lacking even for a low profile heatsink. It is still able to outperform the Intel stock cooler, but only by 2c. Realistically, a 2-degree improvement is a 2-degree improvement, but if the consumer was in the hunt for a heatsink that gives better performance over stock in case requiring a low profile heatsink, I still had higher expectations for $25. I had hoped with its directly touching heatpipe design as well as a 62.11CFM 100mm fan, the HPKC-10025EA would be able to outperform the stock Intel cooler by a more significant margin in our real life tests. Unfortunately, as the testing showed, that is not the case here. Quite simply put, if you told me I was going to be paying $25 for a 2c drop under load, I would personally rather stick with the free stock cooling haha. For reference, the high profile performance coolers are listed at 61c for the Silent 1156 and 58c for the Venomous X in same testing conditions.
From a subjective acoustic standpoint, from a scale of 0 to 10 with 0 being silent and 10 being the loudest, the HPKC-10025EA would rate at a scale of 7.5 out of 10. For a heatsink that will most likely be put in an HTPC situation, this fan is almost unbearably loud (And this is coming from a more noise tolerant person compared to our Editor-in-Chief Jonathan Kwan). A PWM fan or a fan speed control knob would be a huge benefit here, as without these our heatsink runs at a constant 1800RPM at idle and load. Turbulence noise here is not even a considerable issue, as the fan motor noise easily overwhelms the noise of the air turbulence. From my subjective listening tests the perceived acoustical noise is much higher than the 23dBA suggested on their website. Putting everything into perspective, for a heatsink designed for low profile situations such as an HTPC case, the HPKC-10025EA falls short in this regard. As for comparison's sake, the stock Intel cooler would have a 5.0 out of 10 on my subjective listening scale, and also consider the fact that the Intel cooler features a PWM fan -- whereas our HPKC-10025EA does not.
-----------------------------------------
At the end of the day, while the Evercool HPKC-10025EA looked excellent on paper, I was somewhat disappointed by the results of our tests. From an engineering standpoint, I had reasonably high expectations from this heatsink when I first received it, but those expectations have not been met. Performance wise, it just doesn't perform that much better than the stock Intel cooler to justify a $25 price tag in my personal opinion. If you ignore the heatsink format for a moment and just look at the cost, put it next to the Thermaltake Silent 1156 and it seems even less justified -- considering the Silent 1156 costs only $30 at press time, and clearly performs better than the Evercool HPKC-10025EA reviewed today. Of course, the Silent 1156 would not fit in a chassis requiring low profile heatsinks, so we certainly cannot directly compare the two. However, Evercool could take a page out of Thermaltake's book and maybe include 8mm copper heatpipes instead of having more 6mm heatpipes to improve overall performance. Additionally, the bolt through installation design was good in idea -- especially considering that it has one on a value oriented product -- but execution has room for improvement; and it wasn't truly necessarily either to be honest. Acoustically, with a 100mm fan I had again expected some good subjective listening results from this fan, but at 1800RPM this fan is just too loud. Maybe if Evercool had included a PWM fan (Or heck, even a resistor like Noctua just to slow it down) with this heatsink it would be more acceptable. The noise level and acoustic profile should definitely be improved. It is not as if this heatsink was designed poorly for the most part, but rather Evercool has not given the attention to detail and implementation of the design for real life performance tests. Really, the Evercool HPKC-10025EA has a lot of potential that has yet to be unleashed in proper execution. Major improvements to all aspects of this heatsink in particular: Installation, acoustics and performance would give this the potential to be a serious contender in the market of low profile heatsinks!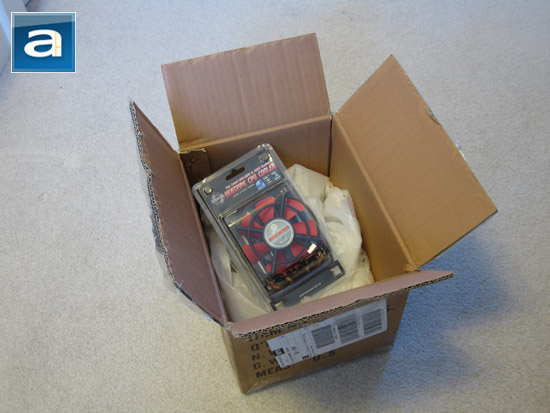 Special thanks to Teresa over at Evercool for making this review possible.
APH Review Focus Summary:
4/10 means With disadvantages that slightly outweigh its advantages, you should not get this product unless there are no product alternatives that does its job.
-- Final APH Numeric Rating is 4.0/10
Please note that the APH Numeric Rating system is based off our proprietary guidelines in the Review Focus, and should not be compared to other sites.
Although first impressions were good, acoustic and thermal performance didn't quite meet expectations that paper specifications would suggest.
Do you have any comments or questions about the Evercool HPKC-10025EA? Drop by our Forums. Registration is free, and it only takes a minute!