By: Anthony Kwan
March 5, 2010
As computers get more and more powerful with each advance in computing technology, it is inevitable that the thermal envelope is continually being pushed to higher levels. For this reason, there will always be a large market for aftermarket CPU cooling. But just when you think only the biggest and loudest coolers can effectively cool the latest and greatest overclocked quad core processors, Thermaltake comes in with the Silent 1156 heatsink (Yes, that's literally the name). As its name suggests, this cooler is designed for Intel's relatively recent LGA1156 socket, and is a claimed to be silent alternative to the stock cooler provided by Intel in a retail packaged CPU. This tower style cooler features two 8mm heatpipes leading away from the base, as well as an included 92mm cooling fan over its array of heatsink fins. It is priced at a mere $29.99 at press time, and targeted at users who are into silent computing -- those who are dissatisfied with the noise generated from the little Intel heatsink -- but do not wish to spend a lot of money for an aftermarket unit. Generally speaking, Thermaltake aims to provide the user with the Silent 1156 as an alternative low noise CPU cooling solution without breaking the bank. We will be testing this product today to see if it is really a viable alternative and holds its own against the competition, and whether it can handle the our Intel Core i7-860 within a reasonable range of temperatures. Are you better off saving your money and sticking with the stock cooler, or should you grab this heatsink as soon as you finish this reading this review? Well... continue reading to find out!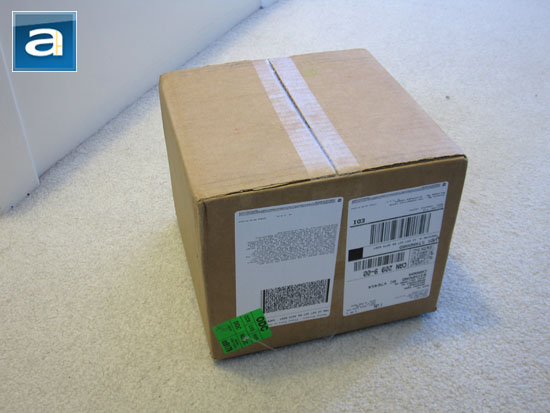 Our Thermaltake Silent 1156 came shipped to us from Thermaltake's American offices in City of Industry, California, contained in a relatively large brown colored corrugated cardboard box. As we've come to expect from Thermaltake, our package came shipped via UPS Standard and arrived in perfect condition. Thermaltake included plenty of packing peanuts inside the box to ensure that our heatsink did not suffer any damage during the shipping process. I was surprised at the small physical size of the Silent 1156 heatsink/fan upon opening the comparatively big shipping box.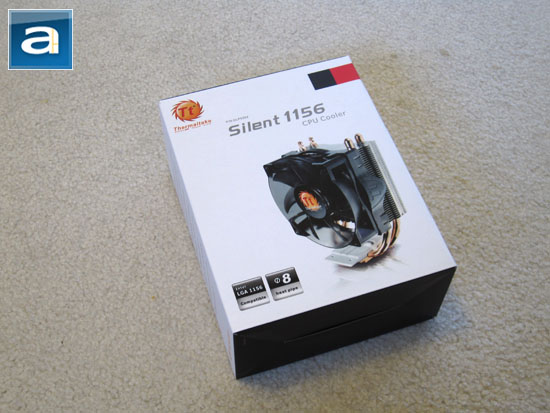 Thermaltake has decided to package the Silent 1156 very nicely, as far as the retail box is concerned. Without looking at the cost as aforementioned, I would be more convinced that it is a higher end cooler, just by the quality of the retail package. The box is mostly white, with a black colored top and bottom flap. At the bottom left corner of the side of the box, Thermaltake has decided to advertise the fact that this cooler supports Intel's LGA 1156 socket (No kidding!) as well as the dual 8mm heatpipes. Situated at the upper left corner is Thermaltake's logo, and majority of the front surface is dominated with a large image of the CPU cooler itself.
Before moving on to opening the packaging, here are the heatsink specifications, as obtained from Thermaltake's website:
Heatsink Specifications
Socket compatibility: Intel LGA 1156
Heatsink Dimensions (L*W*H): 110mm x 72mm x 140mm
Weight:382g
Material: Copper base, aluminum fins
Heatpipe: Φ 8 mm (x2)
Fan Dimension: Ø 92 x 25 mm
Fan Speed: 800 ~ 1,700 RPM
Noise Level: 22 dBA
Max. Air Flow: 36.2 CFM
Max. Air Pressure: 1.22 mmH2O
Power Connector: 4-pin (PWM)
Rated Voltage: 12V
Started Voltage: 7V
Rated Current: 0.12A
Power Input: 1.44W
MTBF: 50,000 Hours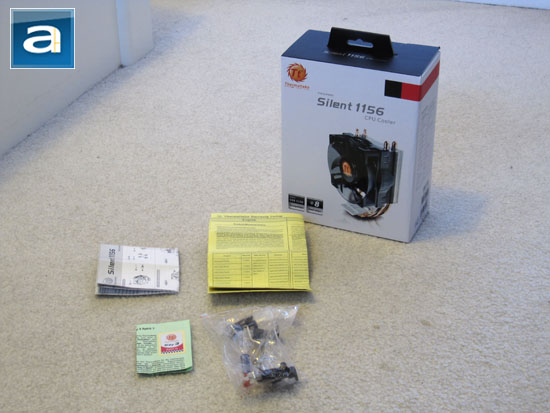 Out of the box, we will find some relatively simple packaging, with the heatsink sandwiched between two cardboard cutouts that mirror the shape of the cooler. In terms of accessories, Thermaltake has included four screws for mounting the push-pin mounting mechanism, a tube of thermal compound, and a warranty information sheet with a Thermaltake case badge, as well as an instruction guide written in multiple languages. The included accessories are minimal; however, this is certainly not out of the ordinary for heatsink packages of this price range. With regards to the instruction manual, I feel it could have been more detailed, and the images could have been printed a bit bigger. But for the most part, for those with experience in handling push pin heatsink mounts, this should almost be second nature anyway. The push pin mechanism is identical to those of the stock Intel cooler, by the way -- the only difference is that you will need to attach the push pin bars to the heatsink separately, which we will talk about later in this review. Consumers purchasing this product will be pleased to find that Thermaltake did not cut costs by excluding stock thermal paste, despite the fact that it is a budget oriented cooler.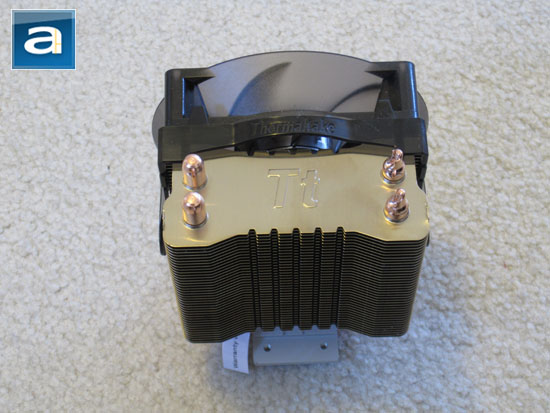 Here is a view of the top of the Thermaltake Silent 1156. We can see that the U-shaped heatpipes are sealed and capped off at the top, as shown in our photo above. The Silent 1156 features two U-shaped heatpipes that lead away from the CPU contact base, and run through the array of aluminum heatsink fins for increased heat transfer rate. The middle of the fin array has a large recessed indent. The reason for this indent is that generally, fans have trouble pushing air through tightly compacted spaces. With the indent that Thermaltake has included right in the middle of the heatsink fins, the company's product engineers hope to improve the heatsink's airflow by increasing the static pressure of air generated by the fan to pass through the heatsink fins. Faster airflow between the heatsink fins, in conjunction with the copper heatpipes, will generally mean better overall heat dissipation performance. The top of the copper heatpipes are very well finished, which is a very welcome sight as it shows Thermaltake has given attention to detail. It would be welcome if the finishing is uniform on both sides, as that would improve its aesthetics.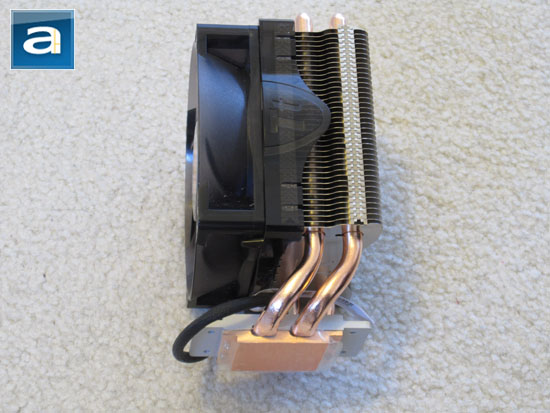 The Silent 1156 features a single 92mm fan held in place by large plastic fan clips. It does not have the option to include another 92mm fan on the other side for a push-pull configuration, because no mounting mechanisms are included -- but this is not expected from a budget oriented cooler, either. My complaint, however, is that Thermaltake did not give us the option of swapping out the stock 92mm fans for an aftermarket unit, as the clips are mounted directly onto the fan itself. A nice addition would have been for them to modify the fan clipping mechanism, so the user can swap for another 92mm fan some time in the future. The acoustic attributes of the fan working with the heatsink will be elaborated on further later in this review. One thing Thermaltake did very well in my opinion is the sleeved fan cable; this gives the heatsink an overall improved aesthetic appeal, and makes good cabling inside the chassis a little easier. Generally speaking, sleeved fan cables are minor details that a lot of heatsink manufacturers ignore for budget coolers, and it is nice to see that Thermaltake again has paid attention to small details on the Silent 1156 to improve the end user's overall experience with their products.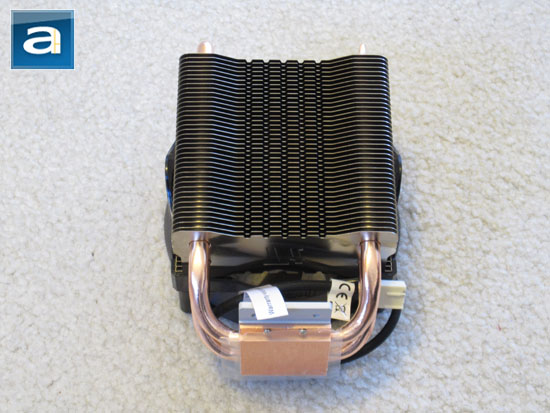 Here is a photo of the rear of the heatsink. The two copper heatpipes shown are 8mm in diameter. Compared to other CPU heatsink/fans, these are one of the largest heatpipes made for consumer processor coolers, and compared to 6mm implementations these have a much higher potential of delivering better performance (More liquid can carry the heat away simultaneously, which improves the heat transfer process). As aforementioned, it is not possible to mount another 92mm fan on the other side, giving the Silent 1156 in a push-pull fan configuration. The copper heatpipes run straight through the fin assembly and crosses the copper base of the heatsink. The base itself is very flat, though it does not have a mirror finish. Although one may think lacking a mirror finish is a significant shortcoming of this heatsink base, it is actually more beneficial to have an ideally perfectly flat heatsink base, rather than one polished to a mirror finish, for optimal heat conductivity. The Thermaltake Silent 1156's heatsink base obviously isn't perfectly flat -- which is quite literally, impossible by today's standards -- but it does get close.
Weight is an issue in many tower style heatsinks, because the assembly itself is usually rather tall, and may cause unnecessary inertia on the motherboard. Fortunately, this is not an issue with the Silent 1156, due to its mostly aluminum construction -- and aluminum is a relatively lightweight metal. The Thermaltake Silent 1156 itself along with the fan weighs in at only 382g. Just for comparison's sake, the Noctua NH-D14 reviewed by Jonathan in January this year comes in at a whopping 900g; and that's without any fans installed! For this reason, Thermaltake has opted for a simple push pin mounting mechanism versus a standard bolt through kit seen on most tower style coolers. Not only does this lower cost, but is also a very simple and easy to method of heatsink mounting for the end user. Instructions are included in the manual should there be any confusion. The downside to this is that weight distribution and mounting security isn't as good as it is with aftermarket backplates, but this becomes less of an issue when the heatsink is only 382g.
The fin assembly itself is an interesting subject to discuss with Thermaltake's Silent 1156. For such a small cooler, the Silent 1156 has an especially tight fin arrangement. Because of this, two factors are needed to take advantage of the increased heat dissipation surface area for the cooler to perform optimally: Firstly, the fan must have generate good static pressure in order to push air effectively through the heatsink fins, or secondly, if the fan does not generate particularly brilliant amounts of static pressure, a fast fan with a high CFM rating will have to be used. In this case, Thermaltake included a 36.2 CFM fan, which by 92mm fan standards is pretty decent. Again, as mentioned before the indent in the middle of the heatsink assembly helps in increasing static pressure for air to flow through the tightly spaced fins. It is important to note that each heatpipe is individually soldered to the heatsink fins, which means there should be low degradation in performance over time. The quality of the soldering could use some improvement as not each joint is as clean as it could be, however there should be very little performance penalties in that regard.
The reason why many heatsinks are constructed out of aluminum and copper is because copper has a specific heat capacity of 0.385J/g°c, which provides very good heat conduction properties for the cost. Aluminum is used for heatsink fins as aforementioned, not necessarily for best heat transfer characteristics, but rather it is lightweight, and an excellent choice for use in a heatsink configuration -- can you imagine how heavy this heatsink would be if it were entirely made of copper?! Additionally, aluminum also strikes a balance with regards to cost. With a specific heat capacity of 0.897J/g°c, aluminum is not the optimal heat transfer medium in this regard, however it is the best material to use in a heatsink because it's light, it's cheap, and still dissipates heat reasonably well.
-----------------------------------------
Installation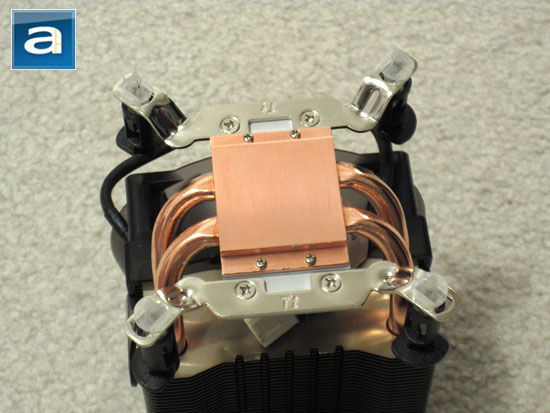 Installation was very straightforward with Thermaltake's Silent 1156. Much like the Intel stock heatsink with regards to the mounting method, a set of push pins were provided in the accessory package along with four screws. These four screws go in from the bottom and tightly secure the push pin mounting mechanism to the heatsink base. Socket clearance was more than adequate and I had no issues installing my G.SKILL Ripjaw memory in their respective RAM slots. Additionally, there were no problems with any of the two surrounding MOSFET heatsinks on my Asus motherboard interfering with the heatsink fins.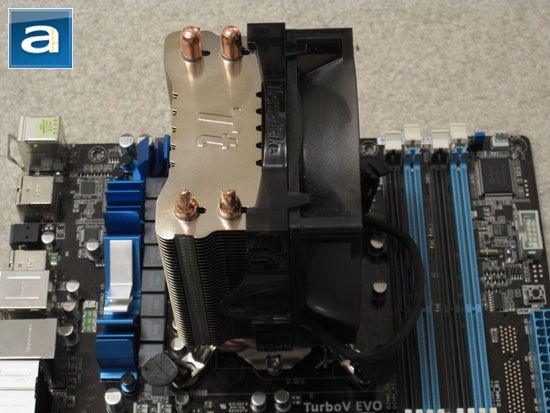 Despite the convenience as aforementioned, in all honestly I am not necessarily a huge fan of using a push pin installation for any tower style heatsinks. In this case, with the Thermaltake Silent 1156 weighing just over 380g, the push pin installation was adequate. There was absolutely no flexing of the motherboard at any time during installation. With the Intel stock heatsink weighing in at around 380g as well, the Thermaltake cooler utilizing a push pin implementation actually makes perfect sense. However, the one downfall is that with push pins, contact with the CPU heatspreader may not be optimal as it inherently exerts lower pressure; this problem could be avoided altogether by using a bolt through kit instead. The one advantage to using a tool-free installation such as this one though is that it does not require motherboard removal to install an aftermarket backplate. All you need to do to install the heatsink is to push on black plastic tabs until they lock into the stock Intel CPU heatsink mounting holes. Make sure two opposite corners are pushed in each time to ensure even contact with the processor.
-----------------------------------------
The Tests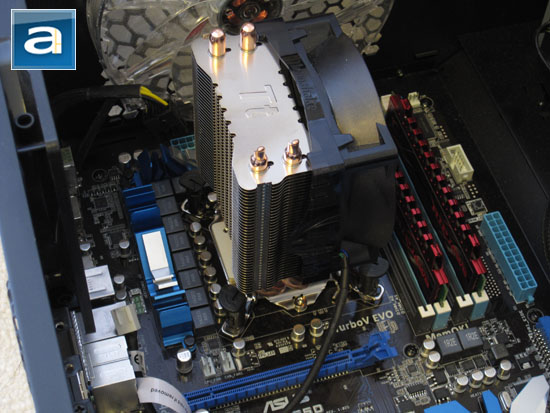 Our test setup is as follows:
CPU: Intel Core i7-860 (Stock settings; Intel SpeedStep and Turbo Mode enabled)
Motherboard: ASUS P7P55D
Graphics: XFX Radeon HD 5870 1GB
Memory: G.SKILL F3-12800CL9D-4GBRL Ripjaws 4GB (2x2GB) @ DDR3-1600 8-8-8-24 1T
Chassis: Thermaltake Element G (1x Tt 140mm intake LED fan, 1x Tt 140mm top exhaust LED fan, 1x Tt 120mm rear exhaust fan
Power: Corsair HX750
Sound: Integrated (Motherboard)
Optical Drive: LG GH22NS50 Black 22X SATA DVD Writer
Hard Drive: Western Digital Caviar Black 640GB 32MB Cache
Operating System: Microsoft Windows 7 Professional x64
All the tests were run using my personal computer running inside a computer chassis to best emulate real world performance scenarios. During testing, the computer remained in the same room each time. Room temperature during testing was approximately 21c. The stock thermal paste for each cooler was used for their respective tests; the pre-applied thermal compound is used in the case of Intel's stock cooler. For the idle tests, the computer was left on for a minimum of one hour. Maximum load CPU testing was done running Prime95 in-place large FFT tests with eight worker threads for at least thirty minutes.
In these tests I compared the Thermaltake Silent 1156 to both the Thermalright Venomous X (Which is a high end CPU cooler) as well as the stock Intel cooler to show relative performance between the three coolers. Each test was done carefully ensuring that as close to the exact same scenario for each heatsink was used to ensure accurate temperature measurements.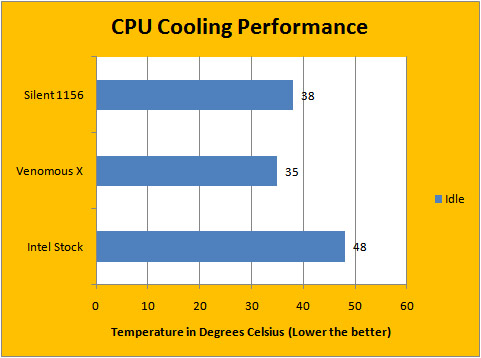 At first glance, idle temperature readings are very impressive relative to the stock Intel cooler. Given the Thermalright Venomous X utilizes a six heatpipe design, as well as a bolt through kit with adjustable pressure settings, it is expected to perform better than the Thermaltake Silent 1156 -- especially considering its price range. When compared against the Intel cooler, the Thermaltake poses a distinct advantage. These temperature readings were taken using the latest version of Core Temp to obtain core temperature of the processor from its Digital Thermal Sensor, and the temperature of the highest core is recorded after running idle for a minimum of one hour. The results were cross-checked with Real Temp calibrated with correct Tjunction Max values to ensure accuracy. The Thermaltake Silent 1156 is definitely off to a good start with regard to idle performance relative to the stock cooler as well as higher end cooling alternatives.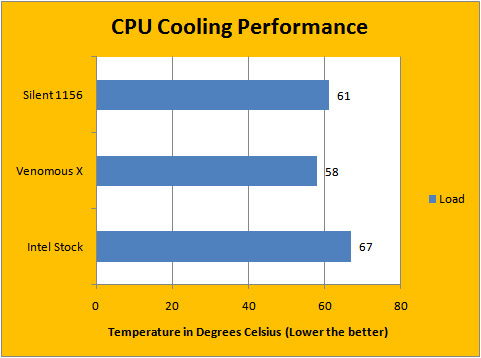 Under full load, these temperature results are just as impressive considering the $29.99 price of this cooler at press time. Clearly, the two 8mm heatpipes that Thermaltake utilizes in the Silent 1156 design is giving it a distinct performance advantage over the stock Intel cooler. Again, the Thermalright Venomous X is outperforming it by a significant margin, but remember to keep pricing into consideration. For just $30, the Thermaltake Silent 1156 has surely surpassed most of my expectations considering the Venomous X at over $60 (Which doesn't even include a fan!) gives just a 3 degree Celsius performance benefit over the Silent 1156.
From an subjective acoustic standpoint, from a scale of 0 to 10 with 10 being the loudest and 0 being silent the Silent 1156 would rate a 2.0 at idle. The fan was very quiet, running at around 800-900 RPM in this state. This is very impressive and up to this point the Silent 1156 definitely lives up to the connotation of its name -- or at least as close to it as $30 would get you! Under full load on the same noise scale where 0 is absolutely silent and 10 is the loudest, I would rate the Thermaltake Silent 1156 to be at 4.0/10. Under this scenario, and with all eight threads running in Prime95, the Thermaltake Silent 1156 fan runs at around 1300-1400 RPM. This is rather impressive considering this is cooling an Intel Core i7-860 CPU with both HyperThreading and TurboBoost enabled. Although not whisper quiet as any CPU tower cooler using a Noctua fan setup, the Silent 1156 was surely not the loudest piece of hardware in my particular computer case. Most of the noise generated was really due to the turbulence noise of the air moving through the heatsink fins. Increasing the spacing between the fins would reduce the amount of turbulence noise emanating from the heatsink, but may come at the cost of decreased performance. Another alternative would be to have a fan with a better static pressure ratio which would be able to push more air through tightly spaced heatsink fins at a lower RPM thus reducing the amount of noise generated. For comparison's sake, the stock Intel cooler would rate a 5.0 out of 10 on noise.
-----------------------------------------
I think that the Thermaltake Silent 1156 has definitely lived up to its name from an acoustic standpoint. Priced at just $29.99, it is definitely something worth considering if you are in the market for a cooler that is quieter and performs better than the Intel stock cooler. Thermaltake has done many of the little things very well to make this a successful cooler, including a sleeved 92mm fan, dual 8mm heatpipes, and good construction quality to give this heatsink a huge advantage over the Intel cooler in the long run. Although not many people like installing heatsinks using a push pin mounting mechanism, the ones used on the Silent 1156 were surprisingly easy to install. The option of having to screw the push pins on manually suggests that it may be possible to include a bolt through kit in the future. In terms of build quality, I found nothing wrong with the build of the Silent 1156, although some of the fins were prone to bending that is to be expected from most aluminum fin implementations anyway. I was very impressed by how quiet the heatsink was during CPU stress testing. As aforementioned, my case fans were easily louder than this, so credit to Thermaltake for being able to keep the noise levels down with only a 92mm fan. The only other severe drawback that I can think of with this product is that it only supports one socket for the time being. Overall, we have a very well rounded product with some minor faults that are probably not a major issue for most users!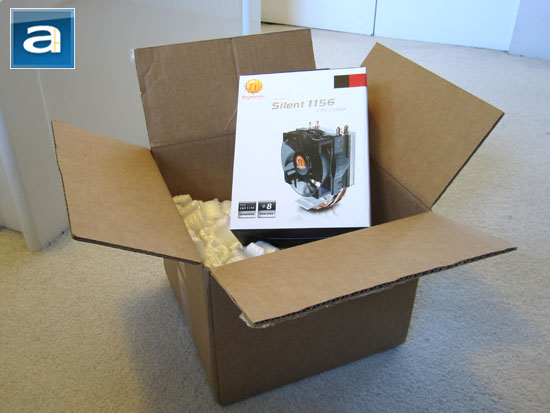 Special thanks to Ramsom over at Thermaltake for making this review possible.
APH Review Focus Summary:
7/10 means Great product with many advantages and certain insignificant drawbacks; but should be considered before purchasing.
8/10 means Definitely a very good product with drawbacks that aren't likely going to matter to the end user.
-- Final APH Numeric Rating is 7.6/10
Please note that the APH Numeric Rating system is based off our proprietary guidelines in the Review Focus, and should not be compared to other sites.
The Thermaltake Silent 1156 is a heatsink/fan that delivers decent performance, good build quality, commendable acoustic attributes for a very reasonable price.
Do you have any comments or questions about the Thermaltake Silent 1156? Drop by our Forums. Registration is free, and it only takes a minute!