By: Jonathan Kwan
July 15, 2011
If you have been paying attention to the computer industry, you will know DRAM pricing goes up and down like... well, DRAM pricing. Okay, a better comparison is probably like gas prices. While I am not any credible oil market expert by a long shot, sometimes you can't just help it to wonder things like, why is the pump price exactly the same when oil is less than $100 a barrel and $150 a barrel? Why does the local gas station's numbers goes up overnight when there is a hurricane off some random place no one has ever heard of, but for some reason it never goes back down when Middle East countries increases oil production the next day? And the list goes on and on. DRAM pricing is pretty much like the same thing, except the good news for us is, it goes down rather than up most of the time. For example, when we reviewed the G.SKILL F3-8500CL7D-8GBSQ 2x4GB SODIMM kit back in December 2009, the price tag hovered around a hefty $400 at most online retailers. A year and a half later, the same kit sells for less than sixty bucks. With that in mind, let's move straight into our review today. What we have here at APH Networks is the G.SKILL F3-10666CL9D-8GBSQ 2x4GB dual channel set, which is pretty much the same thing as the model represented by the long string of digits and letters I have just mentioned, except it operates at DDR3-1333 rather than DDR3-1066. Knowing DDR3-1333 is now the standard memory speed for all second generation Intel Core mobile processors, for an extra five bucks at press time, is this really the kit to get? We installed a set into our brand new, Sandy Bridge based Lenovo ThinkPad T420 laptop to find out.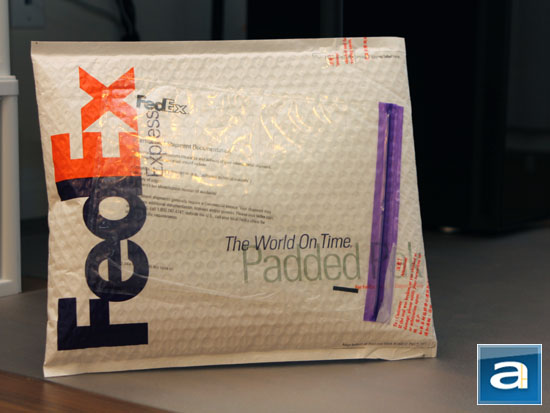 Our review unit of the G.SKILL F3-10666CL9D-8GBSQ 2x4GB DDR3 SODIMM dual channel kit came in a nice bubble envelope from the company's headquarters at Taipei, Taiwan. We are still hoping G.SKILL would come up with a more creative model naming scheme, because even as a seasoned enthusiast like yours truly, I would still have a hard time telling you what RAM I have in my laptop if you ask me right now. That said, using International Economy, we were happy to discover everything arrived in excellent condition. We ripped open the package after taking some photos, and got straight to work.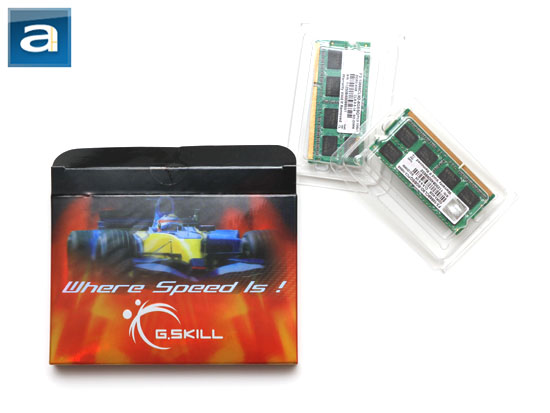 Our review unit of G.SKILL's F3-10666CL9D-8GBSQ 2x4GB notebook memory kit arrived in retail packaging. It is absolutely identical to the F3-8500CL7D-8GBSQ reviewed back in December of 2009, save for the sticker located on the side of the box. It is quite a departure from your run-of-the-mill SODIMM sticks, because they usually arrive in nothing more than OEM packaging. G.SKILL, on the other hand, has this particular product in a nice fire-themed box that packages the two 4GB modules together. Displayed prominently at the front of the box is G.SKILL's logo, along with a bold slogan stating "Where speed is!" across the front. Opening the flap at the top reveals the two modules neatly slotted inside, each having their own individual packaging inside a clear plastic box.
Before we move on, let's take a look at the specifications of the G.SKILL F3-10666CL9D-8GBSQ DDR3 SODIMM memory, as obtained from the manufacturer's website:
System: Notebook Memory
System Type: For Pc
CAS_Latency: 9-9-9-24
Capacity: 8GB (4GB x 2)
Speed: DDR3-1333 (PC3-10666)
Test_Voltage: 1.5 Volts
PCB: 6 Layers
Registered/Unbuffered: Unbuffered
Error_Checking: Non-ECC
Type: 204-pin SO-DIMM
Warranty: Lifetime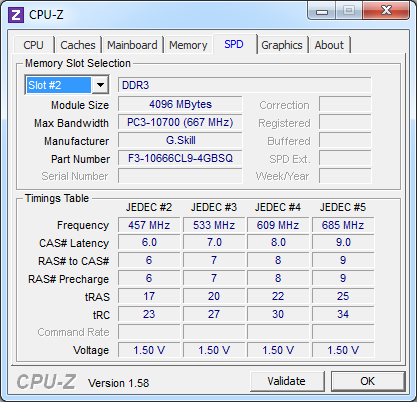 A screenshot of the memory tab in CPU-Z with G.SKILL's F3-10666CL9D-8GBSQ 2x4GB installed. The SPD timings table in CPU-Z reads standard JEDEC specifications programmed into the memory. Using the BIOS revision 1.22, our Lenovo ThinkPad T420 laptop used for testing had no issues detecting and working with the G.SKILL RAM and its intended settings. As you can see in our screenshot provided above, this dual channel kit runs at a frequency of 1333MHz (667MHz actual clock) in conjunction with standard 9-9-9-24 latencies. The G.SKILL F3-10666CL9D-8GBSQ DDR3-1333 2x4GB SODIMM kit retails for approximately $60 at press time.
---
Page Index
1. Introduction, Packaging, Specifications
2.
A Closer Look, Installation, Test System
3.
Benchmark: AIDA64 CPU
4.
Benchmark: AIDA64 FPU
5.
Benchmark: AIDA64 Memory
6.
Benchmark: PCMark 7
7.
Benchmark: 3DMark 11
8.
Benchmark: PassMark PerformanceTest 7.0
9.
Benchmark: SuperPI 1M, Cinebench R11.5
10.
Conclusion