By: Ben Joubert
March 24, 2023
When I was young, I used to try and find every single excuse to watch television. The Disney Channel was my jam, and I could spend literal hours wasting away watching the Fairly Odd Parents, Kim Possible, and the Suite Life of Zack and Cody. Obviously, this was not healthy, but in my attempt to go as far as possible with finding excuses to watch television, I would say the most random things to my parents. At one point in my English class, we were learning about Greek mythology and it was fascinating. I loved it and could not get enough about the lore of these strange and petty gods. As such, when I was supposed to be studying for my test in English class about these gods, I decided it would be a great idea to watch the movie Hercules. On an aside, it is a great movie, so you should take some time and watch it. My mom was not impressed when she saw I was watching a movie instead of studying. But my excuse was that this would help me remember all the different gods and what they did as they showed up on screen. She saw through my deception, which at the time I thought was bulletproof, and told me to turn off the movie. But my obsession with Greek mythology did not stop. I find it especially exciting that GAMDIAS has chosen to name many of their products after Greek gods. Today, we have the GAMDIAS Hermes M4, which is named after the Greek god and divine messenger, which makes sense as a keyboard. But will it hold up under our scrutiny? Read on to find out!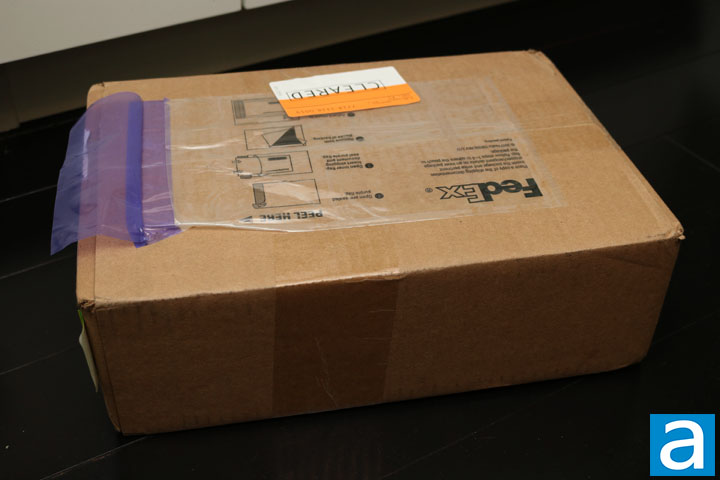 The GAMDIAS Hermes M4 was shipped all the way from Brea, California, as most electronic products are, via FedEx and their International Economy service. The keyboard arrived in a medium sized box in good condition here in Calgary, Alberta. There was no concerning damage to the outside of the box and so its contents should be in great condition.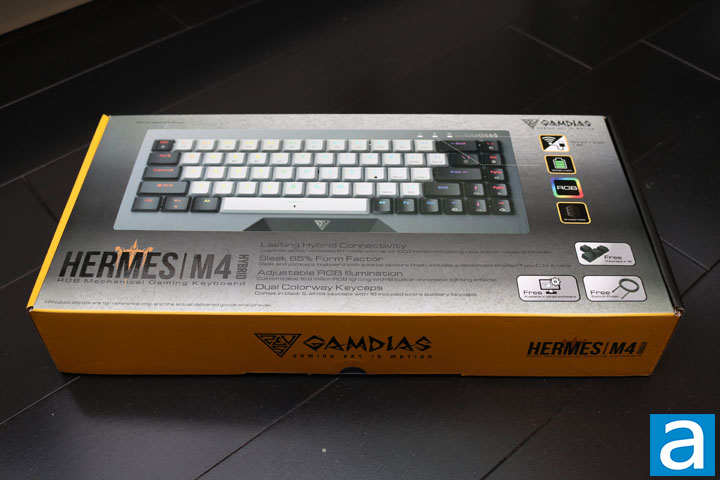 The retail box is fairly typical. An image of the Hermes M4 Hybrid is placed front and center with most of the selling features displayed here too. The front advertises the connectivity options, battery specification, RGB functions, and the braided cable. Some other features are provided under the keyboard, such as the hybrid connectivity, 65% form factor, and dual color keycaps. The Hermes M4 is definitely packed with features and the dual color keycaps create a striking look. Otherwise, there are some extra keycaps included and a keycap puller. Its software utility can be downloaded from the website, so there is no media included for this. On the back of the box, we find some more information, especially regarding the battery life. The 3000mAh battery is substantial, which hopefully will ensure the keyboard lasts a long time between charging.
Before we move on, here are the specifications for the Hermes M4 Hybrid from GAMDIAS' website:
Key Switch: Mechanical switches
Key Switch Type: Red
Switch Lifecycle: 50 Million
Dimension (L x W x H): 323 x 129 x 35mm
Weight: 563g
Built-in Memory: 64KB
Polling Rate: Wired 1000HZ / 2.4G 500HZ / BT 125HZ
N-Key Rollover: N-Key rollover
Windows Key Disable: Yes
All-Keys Lock: Yes
Cable Length: 1.6m Type-C to A cable
Programmable keys: All except FN Key
Backlit: RGB 16.8 million Color
Customizable Lighting Effects: Yes
Software: Yes
Connectivity: Wired / 2.4G / BT
Battery: 3000mAh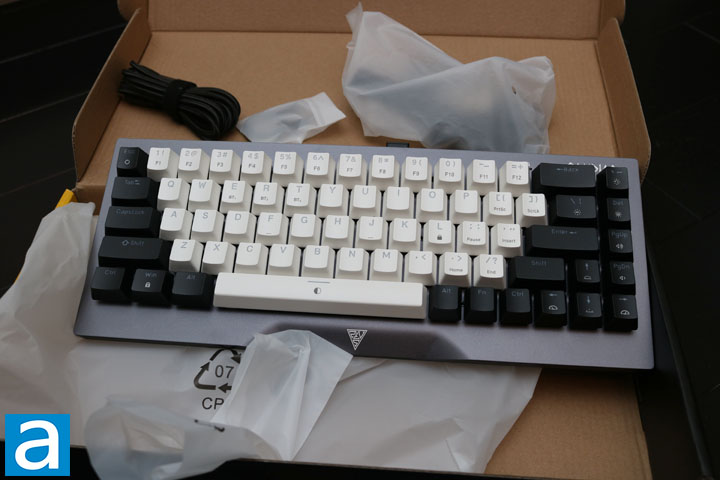 Inside the box, we find the GAMDIAS Hermes M4 Hybrid wrapped in soft plastic. There are also plenty of extra keycaps in the box, all of which are black if you want more of a standard look on the keyboard. Otherwise, GAMDIAS did include a keycap puller, which works well enough, but if you use it on the white keycaps, it leaves a nasty black streak on them. It is fairly noticeable, so I would recommend not using the keycap puller on the white keycaps. A 1.6m USB Type-C to Type-A cable is included in the box. The cable is braided and feels high quality. Overall, the accessories are great and the packaging protected everything necessary.
---
Page Index
1. Introduction, Packaging, Specifications
2.
A Closer Look - Hardware and Software
3.
Conclusion