By: Jonathan Kwan
September 6, 2008
What do you call a company that manufacturers the same car under 50 different nameplates? Answer: General Motors. So, in that sense, what do you call a company that markets the same graphics card under two model numbers that indicate (supposed) separate generation of cards? Answer: NVIDIA. Jokes aside, no one can deny that there are truths to these claims -- with the General Motors one having a bit of exaggeration, of course. The ever-so-popular NVIDIA GeForce 8800GT was ever so popular amongst enthusiasts and general consumers alike for its excellent performance; and even more so considering the retail prices. That was approximately one year ago. Now, tides have changed and ATI/AMD is returning to the game in the graphics front with the performance-to-price leaders such as the 4850 and 4870. How about taking the G92 based 8800GT and calling it a new product? Well, here we are, with a 8800GT called a 9800GT. As most would know how the NVIDIA 9-series are basically are mostly derived off the 8-series and not a completely new generation (They are mostly G92's and G94's) -- the 9800GT made it into the 9-series with a few minor updates. But trust us, it's practically the same thing -- more info on the second page of this review. Therefore, in honor of NVIDIA's excellent branding job, we based this review off the Gigabyte 8800GT TurboForce review with a few minor changes (We made it as similar as possible, haha). Good thing Gigabyte made it a little more unique with a custom built unit and an aftermarket Zalman HS/F. Let's see how the 8800GT, er, 9800GT, performs.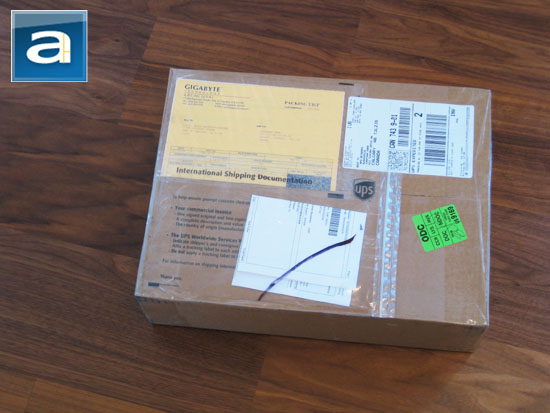 Our review unit of the Gigabyte GeForce 9800GT 512MB came in a large, flat corrugated cardboard box from Gigabyte's American offices at City of Industry, California. Interestingly, they switched to UPS as they used FedEx before. That said, everything arrived quickly and safely using UPS Expedited.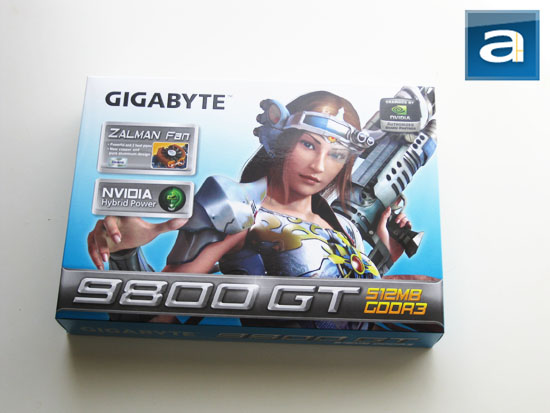 The retail box of the Gigabyte GeForce 9800GT 512MB graphics card is featured in a relatively small package -- it's nothing excessive in terms of size in relation to what's contained inside. The front of the box is designed with a primarily teal and white color scheme and occupied with a 3D rendered female mascot; along with standard information such as Gigabyte's logo at the top left corner, and the GPU model in large bold text across the bottom. Flashes of features such as NVIDIA HybridPower and the Zalman HS/F are placed in islands under the Gigabyte logo. Specifications and elaboration of feature highlights such as Gigabyte's Ultra Durable 2 implementations are printed at the back with pretty icons and pictures.
Before we move on, let's take a look at the brief specifications from Gigabyte's website. We'll go into detail about the GPU on the next page:
Chipset: NVIDIA GeForce 9800GT
Memory: 512MB
Memory Bus: 256 bit
Memory Type: GDDR3
Card dimension: ATX
Bus Type: PCI-E 2.0
Bus Speed: 16
D-SUB: Y (By Adapter)
TV-OUT: Y
DVI Port: Y (DVI-I)
VIVO: N
Multi View: Y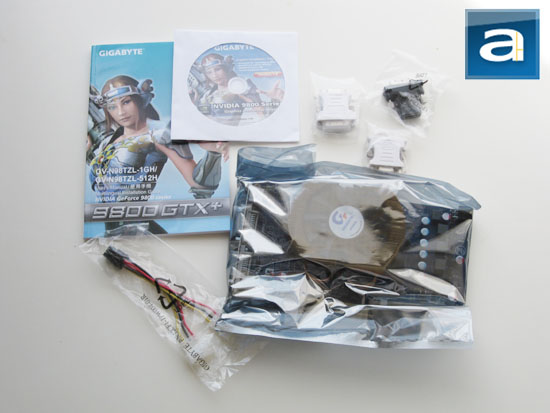 Inside the outer packaging is a thick, white cardboard flap box to protect and accommodate the actual contents. Fitted with a Styrofoam block that has a custom shaped pit to hold the graphics card, along with a compartment on the side that holds the accessories, everything is carefully packaged and ensured to be in the right order when the Gigabyte 9800GT arrives in the hands of the consumer. Out of the box, you will receive the following:
1x Gigabyte GeForce 9800GT 512MB
2x VGA to DVI adapter
1x Molex to 6-pin PCIe adapter
1x User manual (English/Traditional Chinese) - Installation guide in 25 different written languages
1x Driver/Software CD
The bundle is quite simple; there's not even S-Video/Composite adapters included. One interesting thing to note though -- the manual says 9800GTX+?
---
Page Index
1. Introduction, Specifications, Bundle
2.
NVIDIA 9800GT Architecture
3.
A Closer Look, Test System
4.
Benchmark: FEAR
5.
Benchmark: Prey
6.
Benchmark: Half Life 2: Lost Coast
7.
Benchmark: CS:Source HDR
8.
Benchmark: 3DMark06
9.
Power Usage, Overclocking
10.
Noise Factor and Conclusion