Page 2 - Bundle, Chipset, BIOS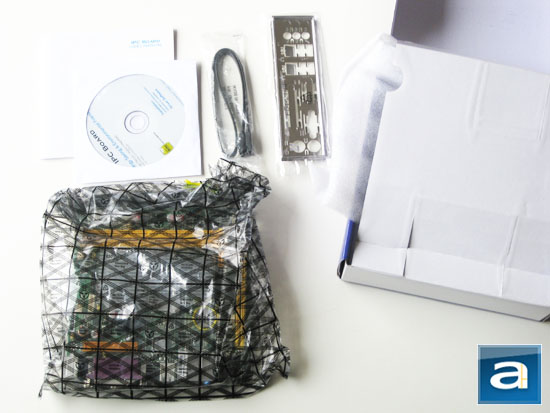 The retail box is enclosed by a flap cover at the top, making the packaging relatively simple and easy to open. The following contents are included out of the box:
- 1x Jetway NC94FL-510-LF mini-ITX motherboard
- 1x Driver CD
- 1x User manual
- 1x I/O shield
- 1x SATA data cable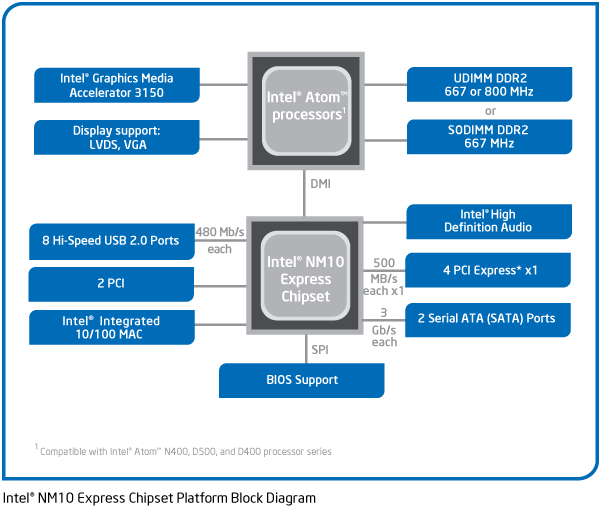 Having reviewed a good amount of Intel processors and high end motherboards in the past, I've found it quite intriguing to go back to something as simple as the Intel NM10 platform in design. One of the biggest design elements when it comes to the third generation Atom platform is power efficiency -- while preceding Intel Atom CPUs themselves offered low power consumption, the chipset that went with them was not originally designed for this purpose, and ironically consumed significantly more power than the CPUs. The end result is a 22.2W 945GC in the first generation, and 9.3W 945GSE with ICH7M in the second generation. Intel does not provide much information on the latest Intel NM10 chipset, but from what we know, it is a 45nm chip in a 17x17cm package. The Intel Atom D510 processor used with Jetway's NC94FL-510-LF motherboard is designed for desktop usage, as the "D" prefix in the name suggests. It is a 45nm dual core processor running at 1.66GHz, with 1MB of L2 cache, and a TDP of 13W. With Hyper-Threading technology, each core is capable of executing two threads simultaneously for a combined total of four physical and logical processors.
In practice, the new processor and chipset are now more tightly knit together, similar to what we have on the budget/mainstream desktop model from Intel. The Intel Atom D510 processor now features an integrated memory controller as well as a built-in graphics solution. The system can accommodate two desktop DDR2 SDRAM or two DDR2 SODIMM modules in single channel configuration; in the case of Jetway's NC94FL-510-LF, it is designed to use desktop memory. The processor also has an on-die Intel GMA 3150 graphics accelerator, which is a DirectX 9 chip with four pixel pipelines running at 400MHz. Pixel Shader 2.0 support is available on the hardware level, but the Vertex Shader 3.0 support is only provided on the software level. MPEG-2 playback is the only hardware accelerated video decoding available. For the most part, the system won't be able to handle 1080p videos, as we have experienced in testing, so it is best to stick with less demanding tasks, haha.
Additionally, you will only get VGA output on the desktop (Notebook digital display on LVDS is not really an option for most implementations) -- otherwise, no other standard external digital interface is provided to motherboard manufacturers. This is why the Jetway NC94FL-510-LF only has a VGA port at the back, and no DVI.
As far as the chipset is concerned, the Intel NM10 provides native support for eight USB 2.0 ports, two PCI slots, 10/100 networking, HD audio, four PCIe x1 lanes, and two Serial ATA ports. The Jetway NC94FL-510-LF has a total of eight USB ports, HD audio via its Realtek ALC662 audio codec, and two Serial ATA ports. Unlike the NC96FL-510-LF, which features two additional SATA ports, one mini-PCIe slot, and Gigabit LAN, the NC94FL-510-LF has all four of its available PCI Express lanes routed to a single PCIe x16 (x4 electrical) expansion slot.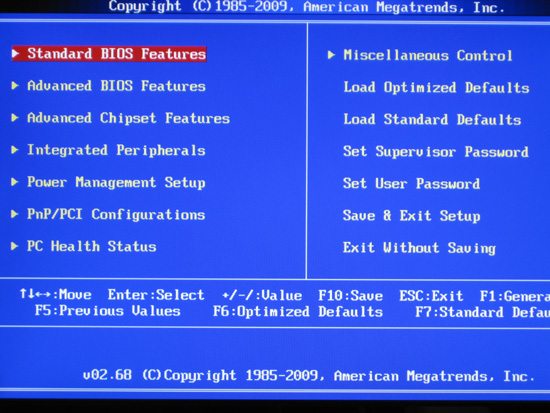 Normally, we go over the BIOS of each motherboard review primarily for its overclocking and tweaking functions. Obviously the Jetway NC94FL-510-LF does not quite fall into this particular category in question, but there are a few things that you might find interesting. As shown in our image above, the NC94FL-510-LF uses an American Megatrends BIOS, and the interface should be fairly familiar to most experienced users.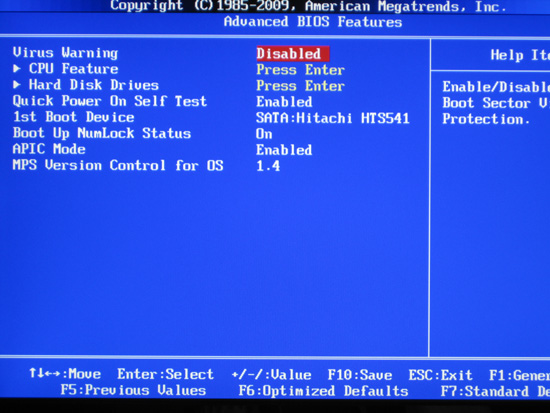 Configuration of CPU features such as enabling/disabling Hyper-Threading can be done under Advanced BIOS Features. The user can also set the first boot device. Okay, I know this isn't very interesting, but I promise it will get better haha.
You can actually manually adjust basic memory timings under Advanced Chipset Features. Allocated integrated graphics memory can also be set to 4MB or 8MB as per user configuration.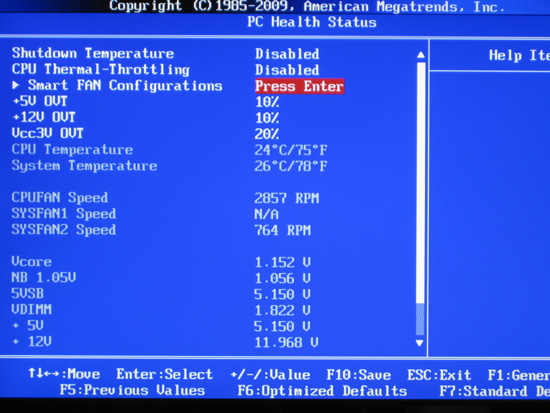 The usual stuff such as temperature and voltage readings is found in PC Health Status. Jetway's Smart Fan Configuration menu allows the user to independently adjust fan speed based on system temperature, which includes the threshold CPU temperature for the fan to engage at full speed, idle temperature and idle fan speed percentage. It works very well, and I found this feature to be extremely useful to slow down the fans when they are not needed.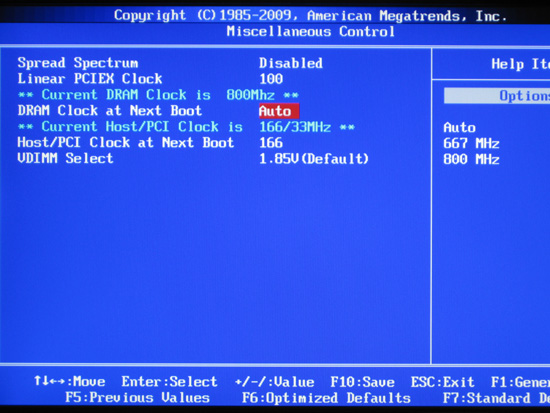 Finally, we have the Miscellaneous Control screen. The options are fairly straightforward -- PCI Express and PCI frequency, RAM frequency, and memory voltage. Again, it is not anything fancy by any means, but at least you have basic control over the components. It is certainly a lot less restrictive than most laptops and retail desktop computers!
---
Page Index
1.
Introduction, Features, and Specifications
2. Bundle, Chipset, BIOS
3.
A Closer Look, Board Layout, Test System
4.
Benchmark: EVEREST CPU
5.
Benchmark: EVEREST FPU
6.
Benchmark: EVEREST Memory
7.
Benchmark: PCMark Vantage
8.
Benchmark: 3DMark06 Professional
9.
Benchmark: PassMark PerformanceTest 7.0
10.
Benchmark: SuperPI 1M, Cinebench R11.5
11.
Onboard Sound Frequency Analysis
12.
Power Consumption and Conclusion