Page 3 - A Closer Look, Board Layout, Test System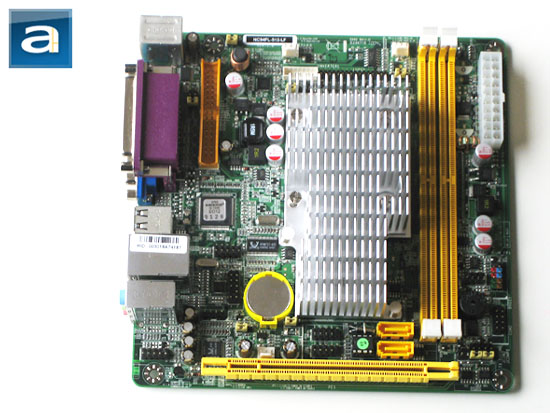 Jetway takes a no-frills approach when designing and executing the NC94FL-510-LF mini-ITX motherboard. Using a traditional green colored printed circuit board measuring in at 17cm by 17cm in standard mITX form, the Jetway NC94FL-510-LF certainly does not have anything fancy in particular. Not that we expect it anyway, haha. Interestingly, the NC94FL-510-LF features a mix of solid state capacitors and electrolytic capacitors, whereas the NC96FL-510-LF uses the latter exclusively. A large aluminum heatsink near the center of the mini-ITX covers a significant portion of the motherboard, providing cooling to the onboard Intel Atom D510 processor and NM10 chipset. No cooling fan is included out of the box.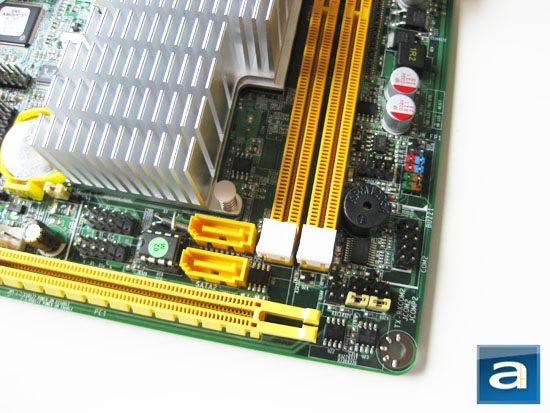 THe majority of the board's internal connectors are located near the bottom right corner. The Intel NM10 chipset provides native support for two Serial ATA ports, which are located between the heatsink and PCIe slot. Two USB 2.0 header blocks are placed adjacent to the Serial ATA ports to accommodate up to four devices. The Intel NM10 chipset itself does not feature Intel's Matrix Storage Technology, so as far as that is concerned, you won't get RAID support of any sort. The front panel headers should be fairly straightforward for most users -- what's interesting to note is that there are two power LED headers for different cases; this includes both a 2-pin and 3-pin configuration. A separate block contains the speaker connector pins, although the Jetway NC94FL-510-LF already has a built in speaker located next to the RAM slot. A COM2 header is placed below the front panel header.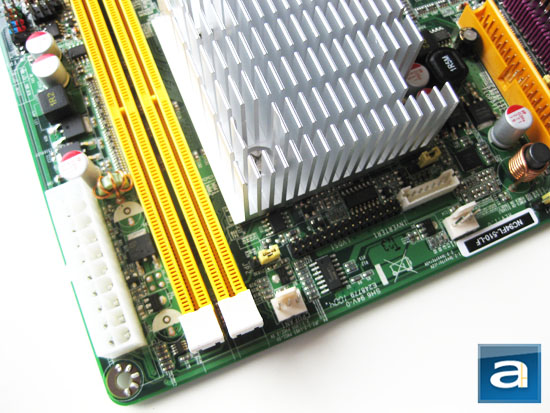 Two desktop DDR2 RAM slots are placed next to the aluminum heatsink. While there are two DIMM sockets, due to chipset limitations you will only be able to run them in single channel mode. Installed memory is designed to run at DDR2-667 to DDR2-800 (PC2-5300 to PC2-6400) with up to 8GB capacity. Two 3-pin fan headers can be found above the heatsink near the edge of the board, as shown in our photo above. Internal 18-bit single channel LVDS connector and its inverter are located above the large aluminum heatsink on the Jetway NC94FL-510-LF mITX motherboard. If you don't know what a LVDS connector is, it is an internal digital interface for laptop LCD screens. An ATX 20-pin power connector is situated on the right side of the RAM sockets, as the NC94 does not have a built in DC to DC converter like the NC96. The good news is that the Jetway NC94FL-510-LF offers maximum compatibility with standard power supply units.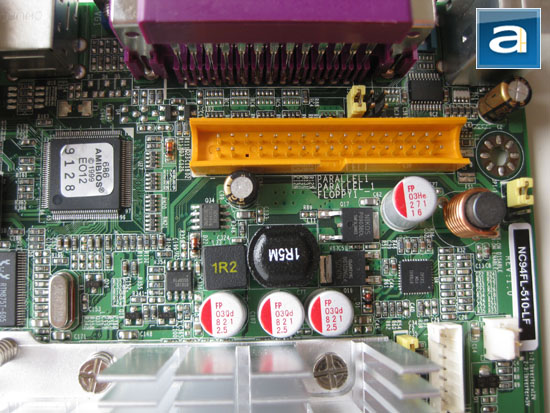 On the left side of the aluminum heatsink is a floppy disk drive connector. Placing the connector in this location on the motherboard is not exactly optimal for most configurations in my opinion. Fortunately, most people won't need use it anyway (After all, it is 2010), so organized chassis cable routing should not be significantly affected. Located within close proximity is Realtek's RTM875T-605 clock generator chip, with the American Megatrends BIOS chip seen soldered onto the motherboard.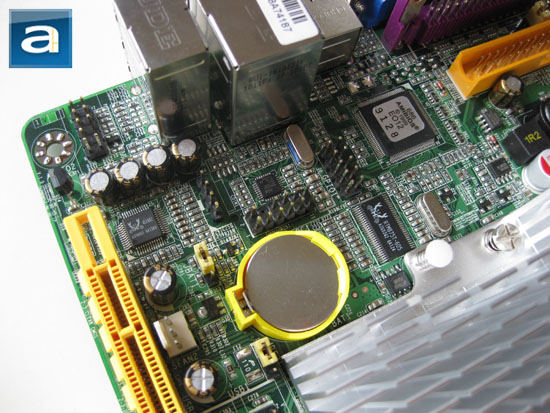 The main expansion slot is a PCIe x16 slot; however, due to chipset limitations, there are only four physical PCI Express lanes hooked up to it. Nevertheless, you will still be able to use the latest sound cards and install low end video cards in your system without significant performance penalties. The board's third 3-pin fan header can be found just above the PCI Express slot; meanwhile Realtek's ALC662 audio codec chip and front panel audio header is located just to the left of it. Unlike the NC96FL-510-LF, the Jetway NC94FL-510-LF mini-ITX motherboard's battery is installed in standard position, rather than being aligned vertically. Overall, the Jetway NC94FL-510-LF is a fairly simple motherboard by today's standards, with a generally straightforward layout. My biggest complaint boils down to the odd placement of the floppy connector, but other than that, move the Serial ATA ports a little closer to the edge, and neat cabling should easily be executed with this mini-ITX motherboard.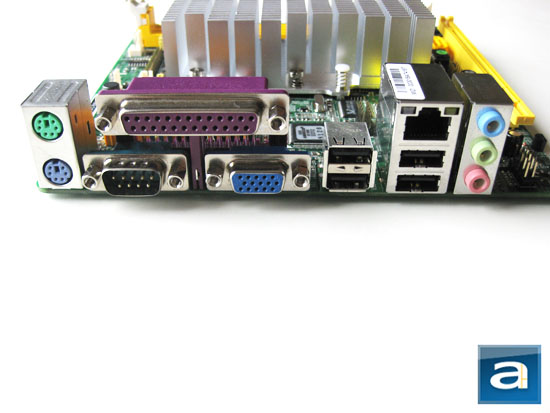 The Jetway NC94FL-510-LF features a pretty standard Intel NM10 chipset based motherboard connector configuration at the back panel. From the top, we have PS/2 ports for both keyboard and mouse, parallel port, serial port, VGA port (No DVI available due to chipset limitations), four USB ports, 10/100 LAN, and three 3.5mm jacks. Video is provided by the Intel Graphics Media Accelerator 3150 on the D510 processor. The Intel NM10 chipset has native support for up to eight USB 2.0 ports, and the Jetway NC94FL-510-LF takes advantage of all of them -- four external as shown, plus four internal headers -- but personally I would prefer at least two more external USB ports in place of mostly unused legacy ports such as the PS/2 connectors (It is important to note that some commercial applications may still have use for the legacy serial and parallel ports). The 3.5mm jacks at the back are powered by Realtek's ALC662 audio codec for up to 6-channel output, where two of these jacks can be configured as multichannel output in addition to default line-in and microphone inputs. It probably won't be a big issue even when configured for multichannel output, since most chassis has front panel input jacks anyway.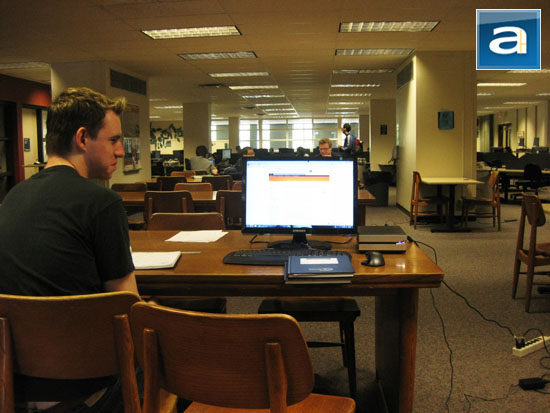 This is the day I brought my mini-ITX build along with a 20" Samsung monitor and Logitech's MX5500 Revolution cordless laser set to the University of Calgary's MacKimmie Library and sat down to do work for three hours, just to prove a point. My friend Devin, in the photo above, is probably wondering what the heck is wrong with me, haha.
We benchmarked the Jetway NC94FL-510-LF motherboard with the following system configuration. Since the NC94FL-510-LF is benchmarked to be the same as the NC96FL-510-LF, the following section will be nearly identical to our NC96FL-510-LF review.
CPU: Intel Atom D510 (Embedded - 10*166, 1.66GHz, 1MB L2, 45nm Pineview, Hyper-Threading enabled)
CPU Cooling Integrated (Motherboard)
Graphics: Intel Graphics Media Accelerator 3150 (Integrated)
Memory: OCZ Reaper HPC PC2-8500 2x1GB @ DDR2-800 5-5-5-15 2T
Chassis: Apex MW-107
Power: 60W DC (Chassis DC-DC converter)
Sound: Realtek ALC662 (Integrated)
Optical Drive: None
Hard Drive: Hitachi 160GB 5400RPM SATA
Operating System: Microsoft Windows 7 Professional x64
---
Page Index
1.
Introduction, Features, and Specifications
2.
Bundle, Chipset, BIOS
3. A Closer Look, Board Layout, Test System
4.
Benchmark: EVEREST CPU
5.
Benchmark: EVEREST FPU
6.
Benchmark: EVEREST Memory
7.
Benchmark: PCMark Vantage
8.
Benchmark: 3DMark06 Professional
9.
Benchmark: PassMark PerformanceTest 7.0
10.
Benchmark: SuperPI 1M, Cinebench R11.5
11.
Onboard Sound Frequency Analysis
12.
Power Consumption and Conclusion