By: Aaron Lai
January 5, 2018
Happy 2018 and welcome to a new year! If you read my updated bio or have talked to me recently, you would know I have always been a bit of a Nintendo fan, though I have only had their products recently. I have a 3DS for about two years now, and I just purchased a Switch a few months ago. Some may roll their eyes when you tell them you are a Nintendo gamer, especially since they can be seen as more casual or fanboy-ism gaming. While this may be true, I do not really care, as what I like is Nintendo's deep content of franchises, whether it is Legend of Zelda, Mario, Metroid, Kirby, and more. The first franchise I was exposed to was from the developer Game Freak and their Pokémon franchise. When I was in Kindergarten, I rode the bus with one friend who had a Gameboy Color and the first generation Pokémon games. We would spend all of the bus ride navigating the Kanto region while fighting random people and wild Pokémon. Even though I enjoy exploring the kingdom of Hyrule with Link more, I think the Pokémon franchise has a place in my gaming heart as well. Today, we have the Kanto YU6 and to be honest, the first thought I had about these speakers was related to the Kanto region in Pokémon. While they are not related, one could say the YU lineup of speakers are like three Pokémon that evolve from one to another. Based on this analogy, the YU2 would evolve into the YU4, which would evolve into the YU6 we have today. As the last evolution of YU speakers, the YU6 should be the best. Is this really the case and does it fight with similarly sized products? Read on to find out today!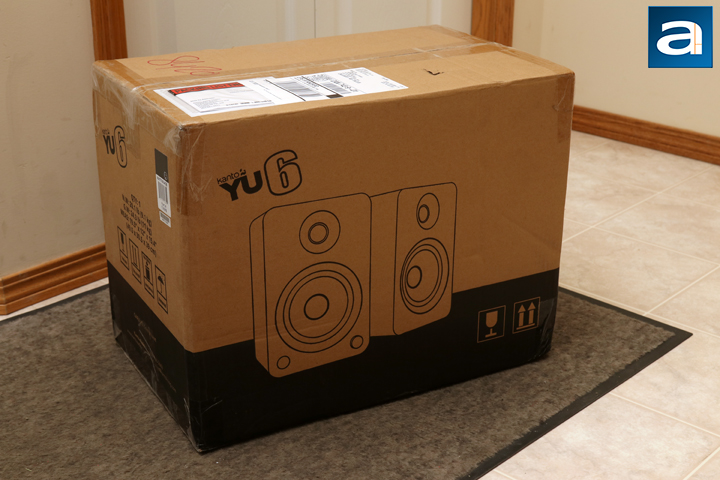 Today's review unit of the Kanto YU6 was shipped to us from Kanto's distribution center in Coquitlam, British Columbia, Canada. Just for your information, Coquitlam is a city in the east part of the Metro Vancouver area. Traveling with the people in brown suits, the UPS people brought the package in average condition. There were several large bruises in the bottom corners of the box and a medium-sized hole on top. This shipment container is marked by the Kanto YU6 already, but this is just the shipping container. Thankfully, this means the retail container was protected through this outer shell, as you will see soon enough.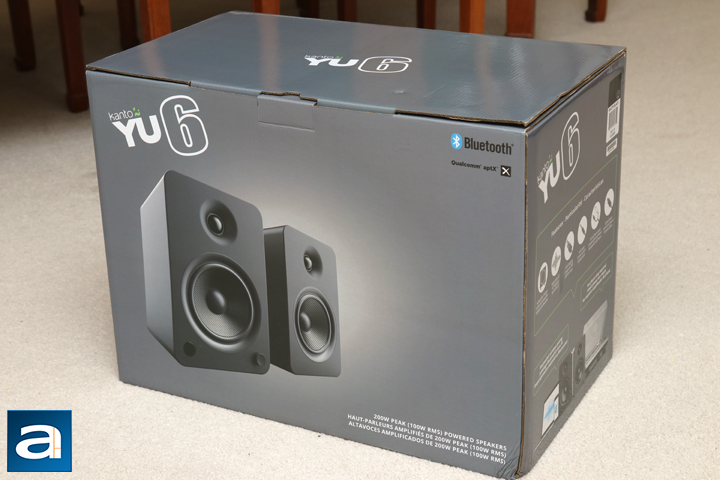 Inside the box, there is another Kanto box, but this one is the retail package for the YU6. As we saw with the YU4, the Kanto YU6 comes in a very similar, albeit larger, box. The gray box is marked with the company and product name in the top left corner, while the middle of the box shows off a scaled image of the YU6. The top right corner has Bluetooth and Qualcomm aptX certifications, while the bottom has a product line with a "200W (100W RMS) Powered Speakers" description. The other sides of the box shows off the features and contents of the box, but otherwise the retail container looks pretty simple and straightforward.
As such, if you are interested in the specifications, we have obtained them from the manufacturer's website for your perusal:
General
Tweeters: 1 inch Silk Dome
Woofers: 5.25 inch Kevlar®
Remote: Included
Audio
Amplifier Type: Class D
Nominal Impedance: 6 Ohm
Frequency Response: 50 Hz – 20 kHz
Total Harmonic Distortion: < 0.3%
Crossover System: 2-way
Crossover Frequency: 2.0 kHz
Inputs and Outputs
Inputs: 1 x 3.5mm mini-jack AUX | 1 x RCA with Phono Switch | 2 x Optical (TOSLINK) | 1 x Bluetooth™ with Qualcomm® aptX™
Outputs: 1 x Subwoofer | 1 x USB Charge 5V 1A
Speaker Terminals: Left and Right Binding Posts
Input Voltage / Frequency: 100V 60 Hz /240V 50 Hz (auto switching)
Input Sensitivity: 560 mV
Power
Power Output: 200W Peak Power (100 Watts Total RMS)
Standby Power Consumption: < 0.5 W
Weights and Measurements
Dimensions (each speaker): 6.9" W x 8.1" D x 10.7" H (17.5 x 20.5 x 27.2 cm)
Net Weight (active): 9.4 lb (4.3 kg)
Net Weight (passive): 7.8 lb (3.5 kg)
Gross Weight: 22.5 lb (10.2 kg) (boxed pair)
Shipping Box Dimensions: 19.3″ x 14″ x 12.1″ (49 x 35.5 x 30.8 cm)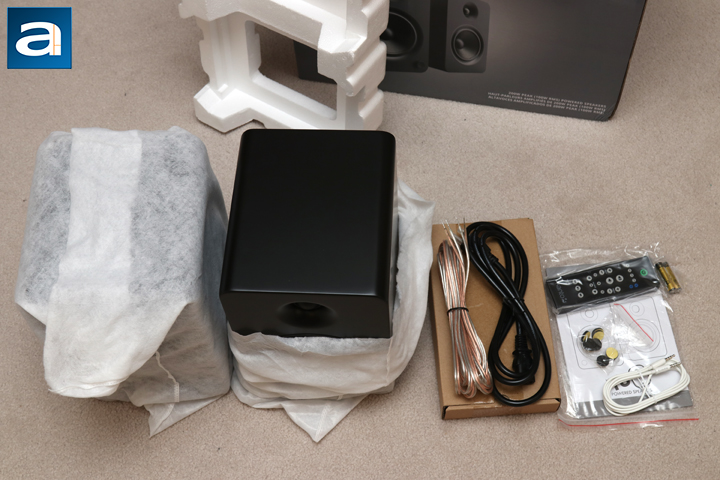 Despite the outer damage to the box, the inside is kept in pristine condition due to precautions Kanto has taken in packaging this box. For one, the speakers are held between two large foam brackets to prevent any bumps or bruises while the box is in transit. Each speaker is individually wrapped in a cloth bag to protect the two speakers from any surface damage like scratches or nicks. Inside the box is also a cardboard box holding some accessories, as well as an additional plastic bag holding some more items. As you can see, Kanto sent us the speakers in matte black, but other colors and finishes are available. Just to note, a two year warranty is provided from Kanto with the YU6.
Here is a list of the contents inside the retail box in addition to the speakers themselves:
1x Remote with batteries
1x Power cord
1x Speaker interconnect wire
1x 3.5mm auxiliary cable
8x Rubber feet
1x User manual
---
Page Index
1. Introduction, Packaging, Specifications
2.
Physical Look - Hardware
3.
Subjective Audio Analysis
4.
Conclusion