By: Jonathan Kwan
September 2, 2016
After six months of preparation, the United Way of Cleveland was about to embark on their most ambitious publicity stunt yet. Coordinated by Los Angeles based company Balloonart by Treb, the plan was to release two million balloons into the skies of Northern Ohio in September of 1986. And what could match the sheer ingenuity of breaking the world record for simultaneous release of balloons for a charity fundraiser? It is unique and interesting; not to mention the marvelous sight of seeing so many balloons in the air at once -- in real life -- twenty-three years before Up even hit the silver screens. Unfortunately, the outcome was not quite as expected. It wreaked havoc for traffic all around the city, Burke Lakefront Airport had to shut down a runway for half an hour, and two missing boaters were found drowned because the US Coast Guard could not find them in the midst of all the balloons. As a result, the organizers and the city ended up facing multi-million dollar lawsuits, and the United Way actually lost money because of this stunt. Clearly, as much as releasing 1.4 million balloons (They came short of their two million balloon target) simultaneously sounded like a good idea at first, in reality, it was quite the opposite. Today, we will take a look at the Kingston SSDNow UV400 solid state drive. Using the same Marvell controller as the Crucial MX300 and the same TLC NAND flash chips as the OCZ Trion 150, this SSD promises to be significantly faster than hard drives for a relatively competitive price. This combination sounds like a winner to me. However, will it be a genuinely good idea in reality, or will it be an idea that seemed good at first, but fails to deliver in the end like Cleveland Balloonfest '86? We took one in to find out.
Our review unit of the Kingston SSDNow UV400 480GB came in a small brown corrugated cardboard box from the company's American headquarters in Fountain Valley, California, USA. If you have been following Kingston's review here at APH Networks for a while, you will realize the shipping box is very similar to most products we have received from the company. Using the FedEx International 2-day service, everything arrived in excellent condition to us here in Calgary, Alberta, Canada for our review today. With all chit-chat aside, let us crack open the box, and check out the product itself.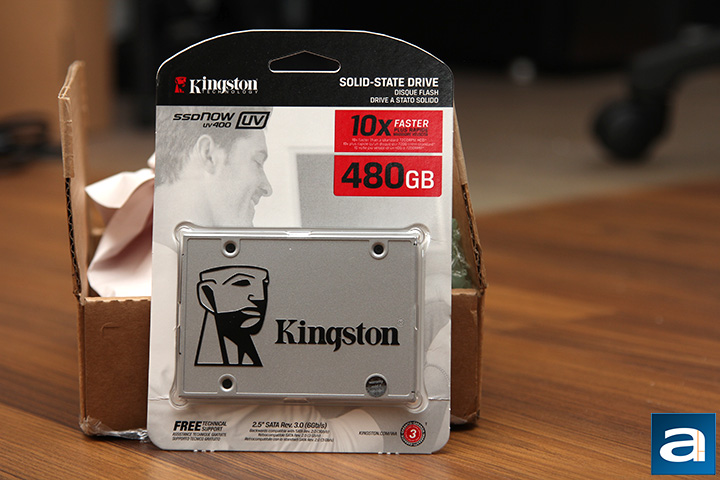 If you are unfamiliar with Kingston's marketing efforts, the packaging for the SSDNow UV400 480GB will tell you all you need to know. While the HyperX brand is aimed at enthusiasts, any products sold with the Kingston name is all about business. As you can see in our photo above, the UV400's retail packaging is quite serious, and should I say, professional and business-like. Its predominantly white background is composed of a faded image of a man in front of a computer, while the model name, performance highlight, and storage capacity is shown in the foreground under the black strip containing Kingston's logo and the words "Solid State Drive". The UV400 itself is placed behind a beveled plastic shell doubling as a window showing off the SSD. At the bottom, you will find a series of texts telling you it comes with free technical support, the fact this is a 2.5" SATA device, and its three-year warranty. This is the same kind of packaging where you can hang it on a store shelf rail, but chances are that it will be locked up in the glass cabinet behind a counter, since they are quite easy to steal, haha.
Before we move on, let us take a look at the specifications of the Kingston SSDNow UV400 480GB, as obtained from the manufacturer's website:
Form factor: 2.5"
Interface: SATA Rev. 3.0 (6Gb/s) – with backwards compatibility to SATA Rev. 2.0 (3Gb/s)
Controller: Marvell 88SS1074
NAND: TLC
Baseline Performance:
- Data Transfer (ATTO): up to 550MB/s Read and 500MB/s Write
- Maximum Random 4k Read/Write (IOMETER): up to 90,000 IOPS and 35,000 IOPS
Power Consumption: 0.672W Idle / 0.693W Avg / 0.59W (MAX) Read / 2.515W (MAX) Write
Storage temperature: -40°C~85°C
Operating temperature: 0°C~70°C
Dimensions: 100.0mm x 69.9mm x 7.0mm
Weight: 57g
Vibration operating: 2.17G Peak (7–800Hz)
Vibration non-operating: 20G Peak (10–2000Hz)
Life expectancy: 1 million hours MTBF
Warranty/support: Limited 3-year warranty with free technical support
Total Bytes Written (TBW): 200TB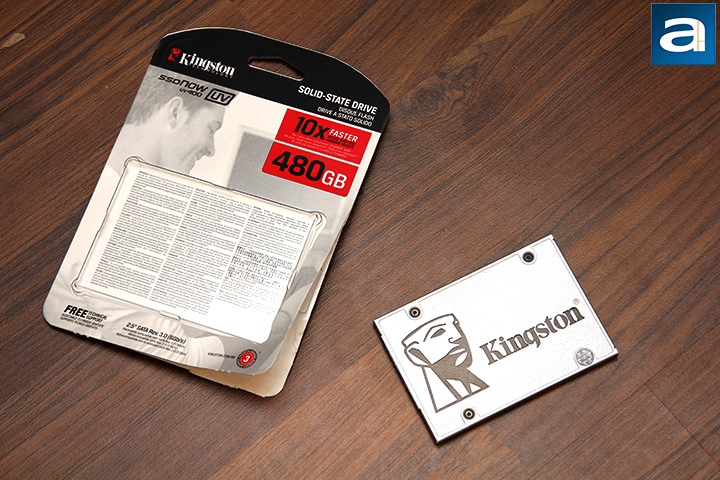 Peeling apart the thin cardboard, you will find almost nothing included from the factory. This is expected, considering this is a budget drive. Clipped between two clear plastic tray pieces is the Kingston SSDNow UV400 480GB. This is it -- there is quite literally nothing else from the manufacturer. At this point, there should be absolutely no doubt whether SSDs are now a mainstream commodity, haha.
---
Page Index
1. Introduction, Packaging, Specifications
2.
A Closer Look, Test System
3.
Benchmark: AIDA64 Disk Benchmark
4.
Benchmark: ATTO Disk Benchmark
5.
Benchmark: Crystal Disk Mark 3.0
6.
Benchmark: HD Tach 3.0.1.0
7.
Benchmark: HD Tune Pro 4.60
8.
Benchmark: PassMark PerformanceTest 8.0
9.
Benchmark: PCMark Vantage
10.
Benchmark: PCMark 8
11.
Conclusion