By: Jonathan Kwan
April 8, 2016
Whenever I go to university, I park my car at a location about eight minutes' walk away from the engineering building. Now, eight minutes of walking is not too far away, but if you ask me what the best way to get from the engineering building to my car is, I would have to say it is to take the bus. Why? Because if I take the bus, I am statistically going to be faster most of the time, or at least tie the normal walking pace at worst. Although it takes two minutes to talk to the bus stop, a bus comes every two minutes on average (Any bus from that stop will work), with a maximum wait time of four minutes. It takes the bus about two minutes to get to the parking lot. This makes the average traveling time using the bus six minutes, including the wait time, with a maximum of eight minutes and minimum of four minutes. In other words, even if maximum wait time occurs, I have lost nothing -- yet any time a bus comes before the four minute mark, I have gained everything. As you can see here, an understanding of parameters and sufficient real life statistics allow us to apply elements of optimization theory to make our lives better with better decisions. In September last year, I reviewed the OCZ Trion 100 480GB, a value oriented SSD that was not bad in read performance, but definitely suffered when it came to write speed. Fast forward half a year or so, OCZ shook up a few things, and came up with the Trion 150. The updated model features new 15nm TLC NAND flash memory as well as firmware updates to give it a boost in performance, while keeping things chugging along at a rather competitive $140 at press time. The Trion 150 does not promise to break any speed records, but it does promise to be a venerable alternative to a moderately sized hard drive. Will these changes in parameters impress us with its statistics to make a purchase decision? We benchmarked one to find out.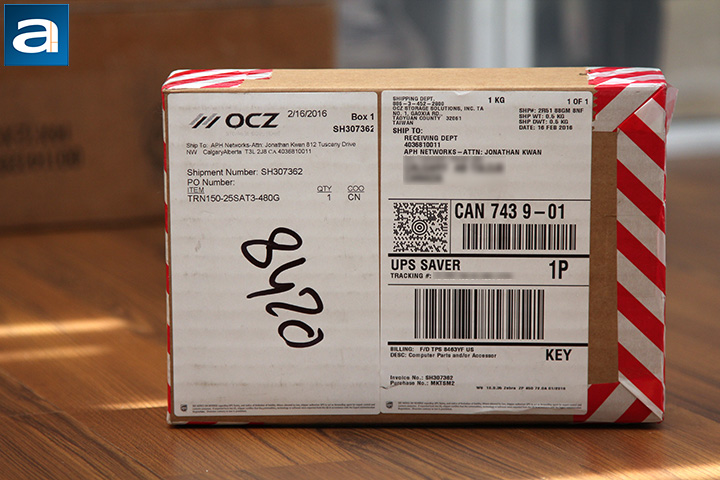 Our review unit of the OCZ Trion 150 480GB came in a small brown corrugated cardboard box from OCZ's Taiwanese headquarters in Taoyuan. Taoyuan is home to many technology companies such as Quanta, Nanya, HTC, and AUO, with many electronics manufacturing facilities in this area. Using UPS Saver, it took less than two days to cross the ocean -- plus a bit of land -- to us here in Calgary, Alberta, Canada. The package remained sealed when it arrived on our doorstep; unlike last time we got something from OCZ, the customs did not dig in to see what is inside.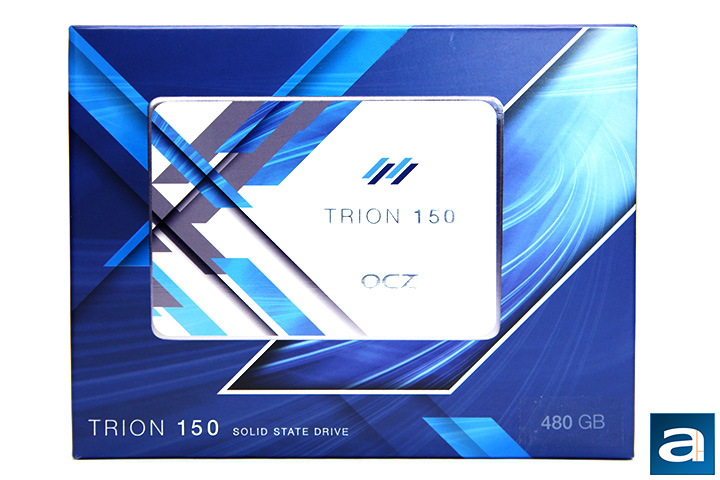 Our review unit of the OCZ Trion 150 480GB came in a compact and lightweight box, and its design is consistent with the company's latest lineup, with a bit of a facelift to give it a little more visual flare. The dominant color for OCZ's ultra-budget SSD is white, but they resorted to using a predominantly blue pattern in the background for the retail box art. In my opinion, the company's marketing team has always done a wonderful job at slapping together a package that ensures people know what is inside, while keeping the interface clean and visually appealing, and this is no exception. The white, blue, and silver color scheme is taken directly from OCZ's rebranding efforts after its purchase by Toshiba. A photo of the SSD itself occupies most of the room on the box. At the bottom, the line "Trion 150 Solid State Drive" in silver text tells you this is a Trion 150 solid state drive, just in case you did not see it in the photo above. Meanwhile, a label on the right indicates its 480GB capacity. Product details and specifications can be found at the back of the package.
Speaking of specifications, before we move on, let us take a look at the specifications of this drive, as obtained from the manufacturer's website:
PERFORMANCE
Max Read: 550 MB/s
Max Write: 530 MB/s
Max Random Read (4KB, QD32): 90,000 IOPS
Max Random Write (4KB, QD32): 54,000 IOPS
Steady-State Random Write (4KB, QD32): 3,200 IOPS
ENDURANCE
TBW (Total Bytes Written): 120 TB
Daily Usage Guidelines: 110 GB/day
PHYSICAL
Usable Capacities (IDEMA): 120GB, 240GB, 480GB, 960GB
NAND Components: Toshiba 15nm Triple-Level Cell (TLC)
Interface: Serial ATA (SATA) 6Gb/s (SATA III)
NAND Controller: Toshiba
Form Factor: 2.5-inch, 7mm height
Dimension (L x W x H): 100.00 x 69.85 x 7.00 mm
Weight: 48g
RELIABILITY / COMPATIBILITY
MTBF: 1.5 million hours
Product Health Monitoring: Self-Monitoring, Analysis and Reporting Technology (SMART) Support
Serial ATA (SATA): Fully compliant with Serial ATA International Organization: Serial ATA Revision 3.1. Fully compliant with ATA/ATAPI-8 Standard Native Command Queuing (NCQ)
Operating System: Windows / Linux / Mac OSX
Power Requirements: Standard SATA Power Connector
Targeted Applications: Client desktops and laptops
ENVIRONMENTAL
DevSlp Power: 6mW
Power Consumption: Idle: 830mW, Active: 4.8W
Operating Temperature: 0°C ~ 65°C
Storage Temperature: -45°C ~ 85°C
Shock Resistance: 1500G/0.5ms
Vibration (Operational & Non-operational): 20G (10-2000Hz)
Certifications: UL C/US, FCC, CE, C-Tick, KCC, BSMI, VCCI, WEEE, CSA
ADDITIONAL FEATURES
Performance Optimization: TRIM (requires OS support), Idle Time Garbage Collection
Service & Support: 3-Year ShieldPlus Warranty, Toll-Free Tech Support, 24 Hour Forum Support, SSD Management Software (SSD Guru)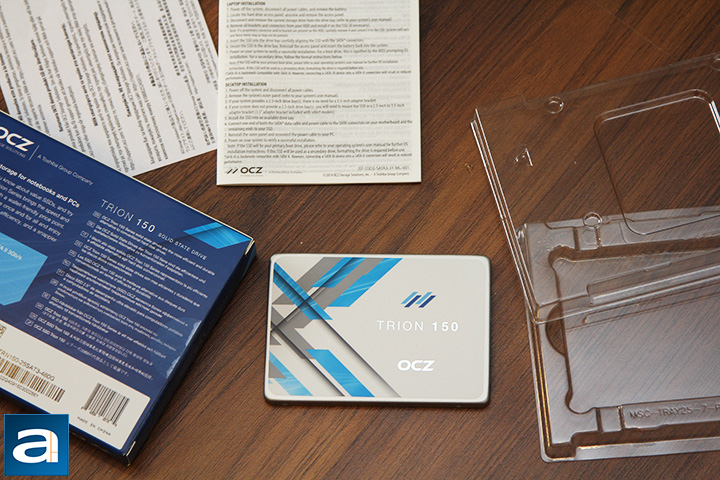 Upon opening the box, you will find almost nothing included from the factory. This is expected, considering this is a budget drive. Clipped between two clear plastic tray pieces is the OCZ Trion 150 480GB. Unless you count an installation guide and warranty information card as accessories, there is quite literally nothing else from the manufacturer.
---
Page Index
1. Introduction, Packaging, Specifications
2.
A Closer Look, Test System
3.
Benchmark: AIDA64 Disk Benchmark
4.
Benchmark: ATTO Disk Benchmark
5.
Benchmark: Crystal Disk Mark 3.0
6.
Benchmark: HD Tach 3.0.1.0
7.
Benchmark: HD Tune Pro 4.60
8.
Benchmark: PassMark PerformanceTest 8.0
9.
Benchmark: PCMark Vantage
10.
Benchmark: PCMark 8
11.
Conclusion