By: Jonathan Kwan
March 1, 2013
"You can't lift me up," this girl once said to me, making implications about by perceived lack of strength. "Why, because you are ninety percent my weight?" I quickly shot back, not exactly adhering to the two rules of life I always advise people; the first being to never call a girl fat, and the second to never call a guy short. (Just if you are wondering, an untrained person can lift about 70% of their body weight, while a trained individual can bench press about 90% -- I am right on the mark.) Actually, this is a biased statement. While the ninety-percent-of-my-weight thing is entirely true, I am your stereotypical, nerdy looking, scrawny Asian kid in Electrical Engineering. In other words, you can be five inches shorter than me, be within 90% of my weight, and still be classified as skinny. Heck, make it featherweight by American standards. What I am trying to get at today is the concept of biased figures. The Kingston SSDNow V300 is a value oriented, SandForce SF-2281 powered solid state drive rated at 'only' 450MB/s read, 450MB/s write, and 85,000 IOPS by the manufacturer. Wow, it must be a curse to own such a low performance storage medium -- you got to be one poor man to use something as terribly slow as this! By the way, in case you are not getting this, people would kill for this kind of performance as recent as a couple of years ago. To see how much bang for the buck the Kingston SSDNow V300 brings to the table, we put a 120GB version to the tests.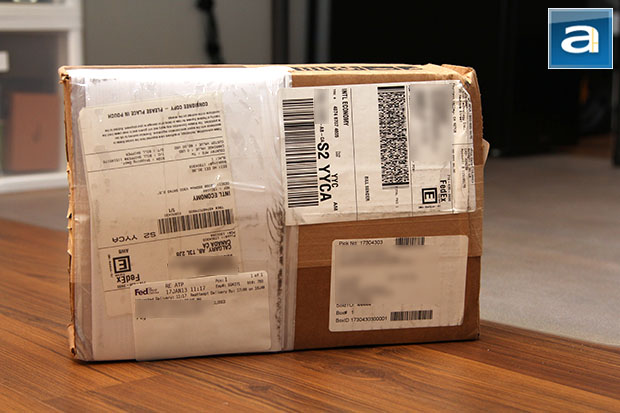 Our review unit of the Kingston SSDNow V300 came in a relatively small, brown corrugated cardboard box from Kingston's American offices in California, USA. Using FedEx International Economy, everything arrived in excellent condition for our review today. The bulging package as shown in our photo above is filled with packing material to ensure our solid state drive does not arrive bruised and injured. Now if you remember the photo above from our SanDisk Ultra Plus 256GB review from last week, they did not come together -- I actually made the mistake of associated the wrong packaging photo with the wrong review, haha. It has then since been corrected.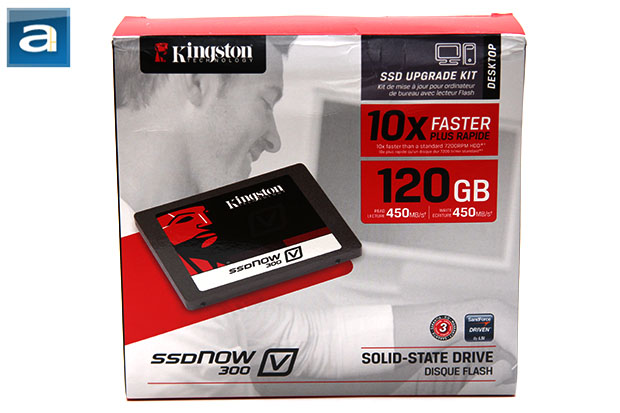 Looking at the retail packaging of the Kingston SSDNow V300 120GB, its design just screams "Let's get down to business, yo!" repeatedly at me. Well, except without the "yo", since this is about getting down to business, rather than getting down on Friday. Everything is quite straight to the point. At first glance, you will have no problems obtaining everything you need to know about the drive. With the model name indicated at the bottom left hand corner and on the picture of the drive, as well as the capacity printed prominently in size 100 font on the right, it is pretty hard to not see what you are getting. Unlike other drives we have received from Kingston in the past, this is the Desktop Upgrade Kit. This means extra accessories are included, such as a set of 2.5" to 3.5" adapter, Acronis cloning software, and some extra cables. However, other bundles are available as well, such as the Notebook Upgrade Kit, which comes with a 2.5mm spacer. The Desktop/Notebook Upgrade Kit is the one that comes with a 'free' 2.5" enclosure. I do not believe that multiple versions were available in the past; it used to be the Desktop/Notebook Upgrade Kit is the only bundle available to go with the bare drive.
Before we move on, let's take a look at the specifications of the Kingston SSDNow V300 120GB, as obtained from the manufacturer's website:
- Form factor 2.5"
- Interface SATA Rev. 3.0 (6Gb/s) – with backwards compatibility to SATA Rev. 2.0
- Capacity: 120GB
- Sequential Reads SATA Rev. 3.0 up to: 450MB/s
- Sequential Writes SATA Rev. 3.0 up to: 450MB/s
- Maximum Random 4k Read/Write: Up to 85,000/ up to 55,000 IOPS
- PCMARK® Vantage HDD Suite Score: 49,000
- Power Consumption: 0.640 W Idle / 1.423 W Read / 2.052 W Write
- Storage temperatures -40°C~85°C
- Operating temperatures 0°C~70°C
- Dimensions 69.8mm x 100.1mm x 7mm
- Weight 86g
- Vibration operating 2.17G Peak (7–800Hz)
- Vibration non-operating 20G Peak (10–2000Hz)
- Life expectancy 1 million hours MTBF
- Warranty/support three-year warranty with free technical support
- Total Bytes Written (TBW): 64TB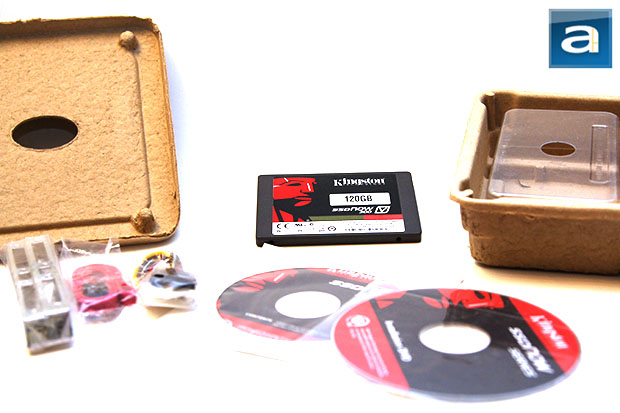 Now I wouldn't consider myself an environmentalist by a long shot, but I am all for doing our part in reducing waste that ends up in the landfill. In this particular context, I definitely appreciate Kingston's efforts in making the SSDNow V300's packaging very environmentally friendly, as we have seen from other products in the company's SSDNow line. This compromise-free solution uses a paper pulp based tray for easy recycling, with the rest sufficient for good protection without excess. Now I can finally throw things out (Into the recycle bin, no less) with no feeling of guilt in doing so. Nice.
Our particular package contains the Desktop Upgrade Kit. You can also buy a stand-alone drive, Notebook Upgrade Kit, or Desktop/Notebook Upgrade Kit, which mainly differs in bundle. In this case, you will receive the following items out of the box:
- Kingston SSDNow V300 120GB SSD
- 3.5" rails and mounting screws
- SATA cable
- Molex to SATA cable
- Acronis cloning software/installation guide CD
---
Page Index
1. Introduction and Specifications
2.
A Closer Look, Installation, Test System
3.
Benchmark: AIDA64 Disk Benchmark
4.
Benchmark: ATTO Disk Benchmark
5.
Benchmark: Crystal Disk Mark 3.0
6.
Benchmark: HD Tach 3.0.1.0
7.
Benchmark: HD Tune Pro 4.60
8.
Benchmark: PassMark PerformanceTest 7.0
9.
Benchmark: PCMark Vantage
10.
Conclusion