By: Jonathan Kwan
February 22, 2013
If Xerox is to photocopying and Kleenex is to boxed tissue, then SanDisk has got to be associated with flash memory. Sure, there are many brands out there today, but if you remember what was going on in the technology world when Avril Lavigne was still making hits after hits, then you will know what I am talking about. SanDisk flash memory cards and SanDisk USB flash drives were the craze. I still remember my SanDisk Cruzer Mini 512MB -- if you look around the APH Networks forums, the thread I made when I first got the drive is actually still around. Of course, capacity was not the only aspects manufacturers competed on; the Cruzer Mini's liberal use of plastic is not exactly the most robust drive ever built. In July 2006, we reviewed the SanDisk Cruzer Titanium U3 2GB, which is a brilliant fusion of matchless durability and countless design improvements. Seriously, surviving a double rollover by a minivan in our tests is nothing short of impressive. Afterwards, for some reason, we both went our ways, and never covered another SanDisk product. But this is no more. After a six and a half year hiatus, we are now back with the company's latest foray into the solid state drive market. Does the Ultra Plus 256GB still have the technology and innovation to bring SanDisk back to the top? Well, we took what we got and turned it into honesty... because there is no need to make things so complicated.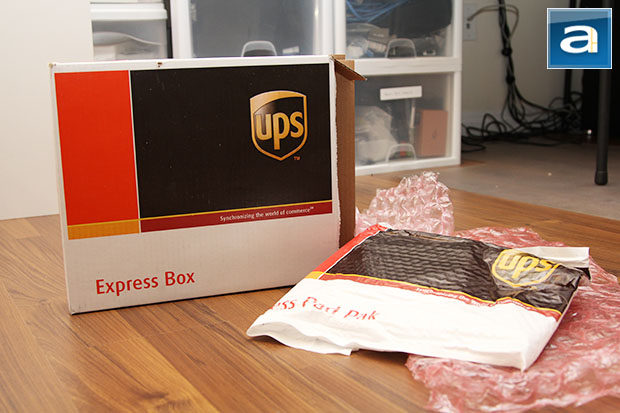 Our review unit of the SanDisk Ultra Plus 256GB came in a medium sized, UPS branded cardboard box from SanDisk's American offices in California, USA. Using UPS Saver, it was double packed with another branded envelope inside. The package appeared to have been handled very well for its trip to the land of polar bears and igloos, as we have always expected from the company. Like a little child on Christmas day, I excitedly opened the package to see what we have inside. Not that I don't already know before it got here, but still, haha.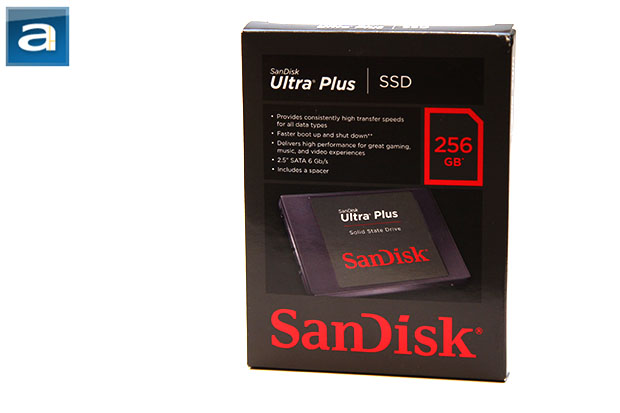 Ahh, SanDisk -- what are we going to do with you. The packaging design brings back all my memories of the good old Junior High days. I am not exactly sure why; it is probably because I used to love to go to Staples (A large office supply chain store in North America for those outside the continent) all the time, and Staples carries a lot of SanDisk products. The Ultra Plus SSD retail box's down-to-business approach is made possible by a background composed of fifty several different shades of grey, an all-serious font highlight its model name at the top, and a bullet list of feature highlights right under. An image of the SSD itself can be found boldly across the middle. Occupying a big part of the bottom is SanDisk's logo that you simply cannot miss. The drive capacity is located near the upper right hand corner. In our particular case, we have the 256GB version, but the Ultra Plus is also available in 64GB and 128GB variants. Generally speaking, its retail box design is not groundbreaking, but it certainly carries a lot of brand image consistency.
Before we move on, let's take a look at the specifications of the SanDisk Ultra Plus 256GB, as obtained from the manufacturer's website:
Available capacities: 64GB, 128GB, and 256GB
Dimensions: 028 in. x 2.75 in. x 3.95 in. (7.0 mm x 69.85 mm x 100.5 mm)
Operating temperature: -32ºF to 158ºF (0ºC to 70 ºC)
Storage temperature: -67ºF to 203ºF (-55ºC to 85ºC)
Interface: SATA Revision 3.0 (6 Gbit/s)
Shock: Resistant up to 1500 G @ 0.5 m/sec
Vibration (Operating/Non-operating) : 5 gRMS, 10-2000 Hz / 4.9 gRMS, 7-800Hz
Power Consumption (active): 0.12w
Support: Three-year limited warranty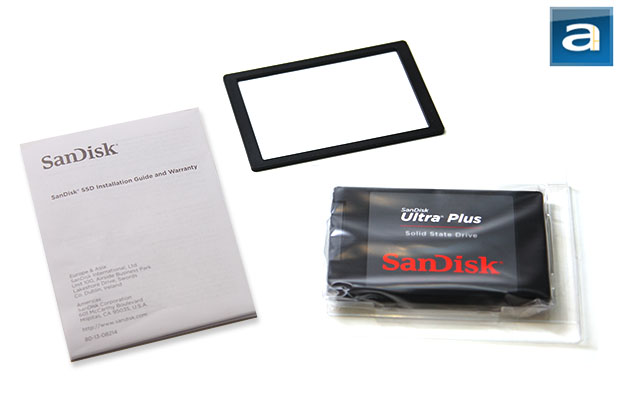 Whether you would like to call it an "environmentally friendly" or a "no-frills" approach, the SanDisk Ultra Plus 256GB does not included a whole lot of stuff out of the box. The drive itself is wrapped in an antistatic bag in a clear plastic shell along with a rubber spacer and a simple manual in poster form. The reason why the spacer is necessary is because the drive is only 7 mm thick. Usually, 2.5" drives are 9.5 mm thick, so if you have a drive bay that requires the extra height for proper installation, SanDisk has made sure your bases are covered. That is nice of them in my opinion. Other than that, this is one of the simplest bundles I have seen in quite a while -- practically a polar opposite compared to Kingston upgrade kits, haha.
---
Page Index
1. Introduction and Specifications
2.
A Closer Look, Installation, Test System
3.
Benchmark: AIDA64 Disk Benchmark
4.
Benchmark: ATTO Disk Benchmark
5.
Benchmark: Crystal Disk Mark 3.0
6.
Benchmark: HD Tach 3.0.1.0
7.
Benchmark: HD Tune Pro 4.60
8.
Benchmark: PassMark PerformanceTest 7.0
9.
Benchmark: PCMark Vantage
10.
Conclusion