By: Jadon Lee
April 2, 2021
At the bubble tea place where I work, I am notoriously known as the "sink guy". This is because I am the one and the only person who actually takes care of and maintains the sink. I have recently gone on hiatus from work just to work on some schoolwork and I had come back to a true catastrophe. The sink was so gross I feel like we could get shut down for lack of cleanliness (For many reasons, this is a joke). The sink was rusty and had no visual appeal. As the one and only sink guy, I had dedicated some time to getting some steel wool and scraping off the dirt. I do not know if it is just me, but watching something incredibly dirty get cleaned is kind of therapeutic. Just seeing all of the dirty stuff get scraped is just so satisfying, but it is still disgusting. The difference created was day and night after about an hour of scrubbing. The sink had an actual shine to it. Now, what did I learn in this whole experience? My coworkers who I have trained to clean the sink do not clean the sink, and people should clean their sinks more. Personally, I have found this to not be the most fun experience, but I digress, Philips has sent over their Wireless Neckband ANC PN505. These earbuds claim to have active noise canceling, detailed sound, and a long lasting battery life. Hopefully, these earbuds will be a better experience than cleaning the sink. Will the Philips Wireless Neckband ANC PN505 provide me with a positive experience? Keep on reading to find out!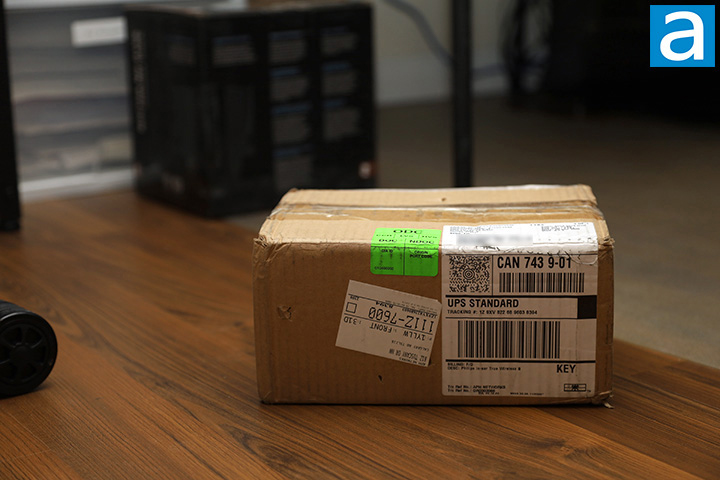 Our review unit of the Philips Wireless Neckband ANC PN505 arrived in a brown medium-sized corrugated cardboard box from the company's American headquarters in Buena Park, California, USA to us here in Calgary, Alberta, Canada. The package was shipped here using UPS Standard and arrived in great condition for our review today. Alongside the PN505, we have the Philips True Wireless ANC T8505, which was reviewed by my colleague Jonathan Kwan.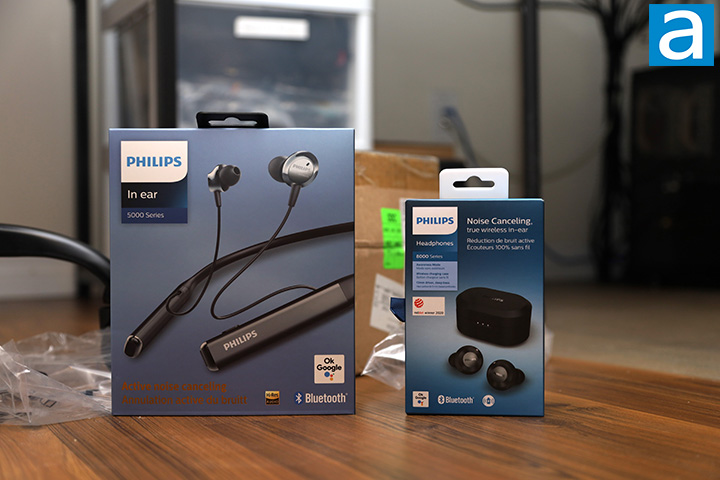 The box design uses four primary shades of blue with some white and gold accents. In my personal opinion, Philips could have done a lot better of a job with the retail box design as it looks seemingly outdated. Aside from the general box theme, we have Philips' logo in the top left, alongside some text saying, "In ear" and "5000 Series". As Jonathan has touched on in the Philips True Wireless ANC T8505 review, Philips proceeds to fall short at naming their products with any sort of consistency. When you search up "Philips 5000 Series" on Google, the search results actually bring up one of their many electric shavers. The actual name of the Philips Wireless Neckband ANC PN505 is missing unless you go to the back of the box where it is labeled the "TAPN505", which is close to the actual name, but nonetheless still confusing. An image of the PN505 is displayed prominently on the front with some icons indicating Ok Google, Bluetooth, and Hi-Res Audio. Next to these icons, you will find "active noise canceling" written in gold, as well as the French translation. Feature highlights can be found on the right and back side of the box, while some minor specifications can be found on the left.
Before we continue, here are some specifications of the Philips Wireless Neckband ANC PN505, as obtained from the manufacturer's website:
Connectivity
Bluetooth profiles: A2DP, AVRCP, HFP, HSP
Bluetooth version: 5.0
Maximum range: Up to 10 m
Accessories
USB cable: Yes
Travel case: Yes
3.5mm audio cable: Yes
Quick start guide: Yes
Ear caps: 3 sizes
Power
Battery type: Li-Polymer
Rechargeable: Yes
Standby time: 160* hr
Talk time: 14 hr
Music play time: 14 hr
Sound
Acoustic system: Closed
Diaphragm: PET
Frequency range: 7 – 40 000 Hz* 20 – 20 000 Hz (Bluetooth)
Impedance: 16 Ohm
Magnet type: Neodymium
Maximum power input: 10 mW
Sensitivity: 93 dB
Speaker diameter: 13 mm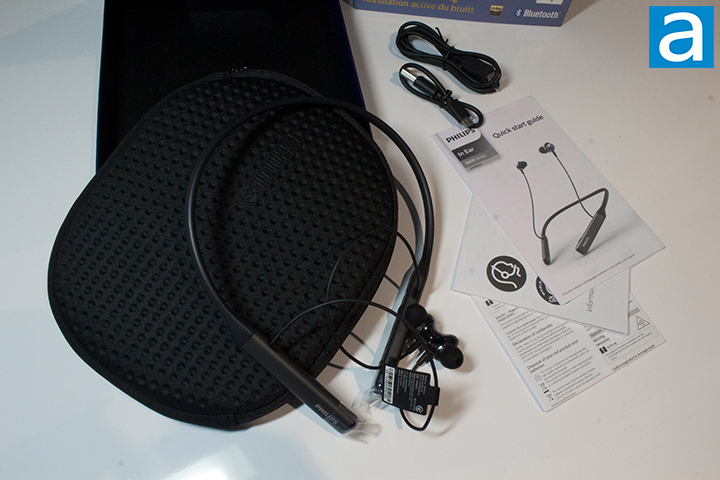 After opening the box, you will find the Philips Wireless Neckband PN505 itself alongside a case, cords for charging and listening, and extra earsleeves. The product literature included are a quick start guide, product information poster, and a regulatory warning sheet.
---
Page Index
1. Introduction, Packaging, Specifications
2.
Physical Look - Hardware
3.
Subjective Audio Analysis
4.
Conclusion