By: Jonathan Kwan
February 12, 2021
Back in April 2019, I was hanging out in a common area at the University of Calgary with a few of my friends discussing the Alberta provincial election at the time when someone nearby who was eavesdropping on our conversation decided to interrupt. "As someone who is a democratic socialist, do you really believe lowering the corporate tax rate will improve the economy?" A few of us looked at each other, wondering who this guy was, and I tried to be polite and gave him an exit by making a non-contentious statement. Unfortunately, he insisted on picking a fight, so I questioned him where his ideas has worked in history (nowhere) and which so-called socialist country he preferred (none). To add to the fun, I even proved to him Scandinavian states are not socialist as evidenced by the fact they have the lowest corporate taxes and government regulations among all OECD countries. Eventually, he ran out of arguments just like how socialism ran out of other people's money, so he decided to make his final point. "The only reason why socialism does not work is because we are not on an island. Let us say we are on an island and there are ten people. People need to work to help each other out to survive. Clearly, we need socialism!" I was not sure what his point was, so I asked him, "What about the guy who does not want to work?" And he said, "Then he deserves nothing!" I laughed and replied, "My friend, welcome to the real world." Realizing what just happened, he suddenly looked at his watch and tried to sound surprised. "Oh crap! It is 3pm! Sorry, I really got to go." As I later found out, our democratic socialist friend was a 4th year sociology student, which is ironic considering I had the upper hand for the entire debate despite the fact I had no formal training in this area. A lot of times, it is not about what credentials you have, but rather what you actually know. Similarly, a few months ago, I reviewed the 1MORE True Wireless ANC, which seemingly had all the credentials including THX certification and active noise canceling. Unfortunately, the headphones were simply no good. Today, we will take a look at another set of true wireless earbuds that shares in similar credentials like active noise canceling. But is the Philips True Wireless ANC T8505 any good in real life? Read on to find out!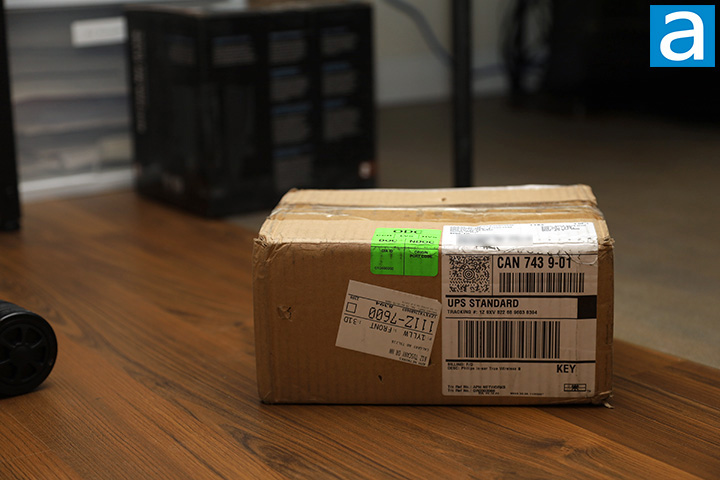 Our review unit of the Philips True Wireless ANC T8505 came in a medium sized brown corrugated cardboard box from the company's American headquarters in Buena Park, California, USA to us here in Calgary, Alberta, Canada. Using UPS Standard, everything arrived to us here in Calgary, Alberta, Canada in great condition for our review today. Also in the box was the Philips Wireless Neckband ANC PN505 to be reviewed by my colleague Jadon Lee.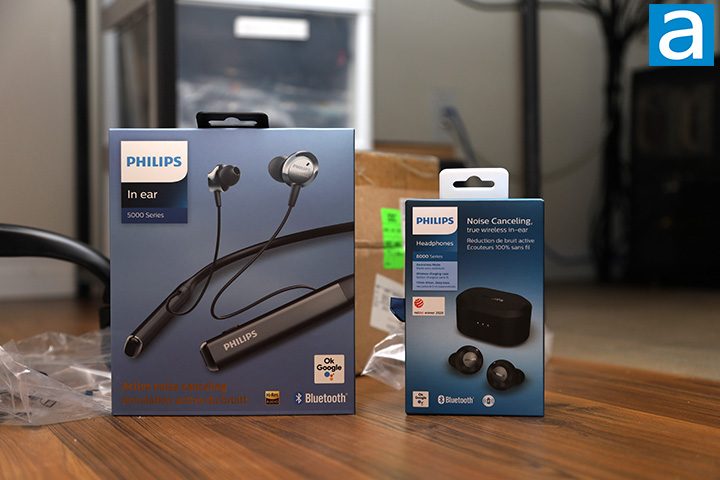 I am going to start off with the biggest complaint about this product: There is absolutely no consistency in what the name is from the company's marketing material. It is officially advertised as TAT8505BK, but for something that sounds more like a password than an actual marketing name, I think there is quite a bit of room for improvement here. The strangest thing is some Philips products have actual names, like the Fidelio X3, which makes it all the more confusing. For the purpose of this review, I will refer to it as the Philips True Wireless ANC T8505 to be consistent with the Upbeat True Wireless SHB2505 I reviewed in November 2019.
Also, I know I have said this in every Philips audio review in the last year or so, but my impression of Philips, at least in the consumer electronics realm, has always been a legacy manufacturer that makes value products for the general consumer. The Philips True Wireless ANC T8505's retail package design maintains that impression, even though these earbuds are far from being a budget product. The box with the blue gradient background and white text will not look out of place in the electronics section of your local Walmart in 2005. In the top left corner, you will find Philips' logo on a white island with a drop shadow. Under it are text that indicates its product line and model as well as a section for feature highlights. A Red Dot Winner 2020 award is also here; obviously referring to its headphone design and certainly not the retail box design, haha. A large photo of the headphones themselves occupy most of the space. An array of icons indicating its Ok Google, Bluetooth, and wireless charging support is placed at the bottom. Feature highlights can be found on the remaining sides of the box. All in all, I think Philips can do a bit to improve their brand profile by making their box art more modern and attractive.
Before we move on, let us take a look at the specifications of the Philips True Wireless ANC T8505, as obtained from various sources like the manufacturer's website and retail box:
Connectivity
Microphone: Built-in microphone
Bluetooth profiles: AVRCP, A2DP, Handsfree, HFP, HSP
Bluetooth version: 5.0
Maximum range: Up to 10m
Product dimensions
Height: 4.4 cm
Width: 7.2 cm
Weight: 0.073 kg
Depth: 3.6 cm
Accessories
Quick start guide: Yes
USB cable: USB-C cable
Ear caps: 3 sizes
Convenience
Call Management: Answer/End Call, Call on Hold, Microphone mute, Reject Call, Switch between 2 calls
Power
Battery type: Lithium-Ion
Talk time: 5 hr
Charging time: 1.5 hr
Music play time: 5+18 hr
Sound
Acoustic system: Closed
Diaphragm: PET
Frequency response: 20-20 000 Hz
Magnet type: NdFeB
Sensitivity: 108dB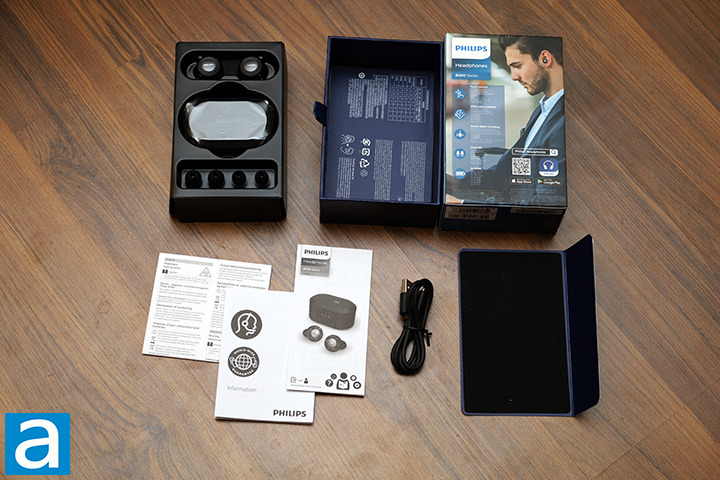 Upon opening the telescoping box, you will find everything on a black plastic tray. The bundle is quite straightforward as well; what you will get are the earbuds themselves, charging case, two additional earsleeve sizes in addition to the ones already installed, and a USB Type-C cable for charging. Product literature included are a quick start guide, product information poster, and a regulatory warning sheet.
---
Page Index
1. Introduction, Packaging, Specifications
2.
Physical Look - Hardware
3.
Subjective Audio Analysis
4.
Conclusion