By: Jonathan Kwan
December 7, 2018
In the past six months or so, I have been monitoring the local classified ads intensely in my search for a third generation Acura TL. In my quest to search for this rather affectionately nicknamed "Japanese E39", my search criteria is easier described than achieved: The deal must be so good that I would regret not buying it. Finally, one fateful Sunday afternoon after church, I found what I have been looking for: A blue 2008 Acura TL with just under 182,000 km on the odometer owned by an older gentlemen, clean CarFax, and has literally all maintenance records from the dealership for a listed price of $6000. After owning the car for about a month now, it was interesting to compare it against my 2013 Honda Accord Touring sedan that I have owned since new. You can certainly see some of the Acura TL's entry level luxury car features being propagated to my Honda Accord's rather humble economy origins years later. In September 2017, I looked at the QNAP TS-253B, an SMB NAS that features a slick OLED display, capacitive touch buttons, and a PCI Express expansion slot. Today, we will take a look at the QNAP TS-251B, a home/SOHO device that borrows some features from the company's higher end devices like a PCI Express expansion slot. According to QNAP, this is the first time a PCI Express expansion slot is available in a device of this class from the company. For a fraction of the price as its SMB counterpart, how many other features trickled down like it did from my Acura TL to my Honda Accord, and how do they compare? Read on to find out!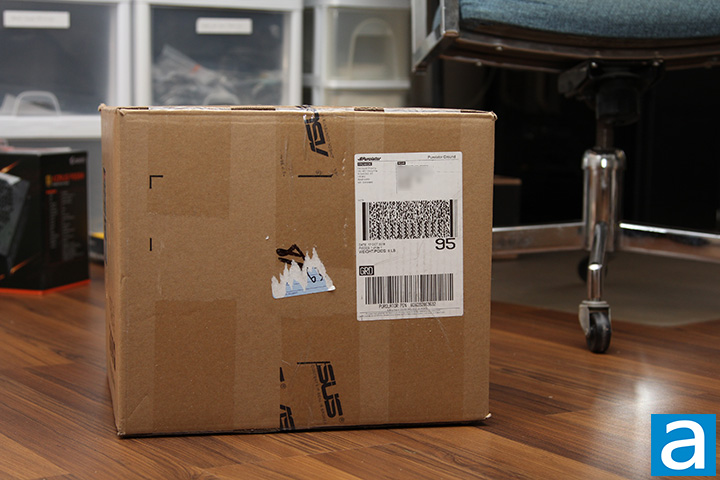 After picking up my new-old Acura TL from its previous owner the following Tuesday, I had one more item to pick up before heading home: The QNAP TS-251B we are reviewing today from the local Purolator outlet. Our review unit of the QNAP TS-251B network attached storage system arrived in a relatively large, brown corrugated cardboard box from the company's Canadian distribution company in Richmond, British Columbia, Canada. Using Purolator Ground, everything arrived one province east in excellent condition to us here in Calgary, Alberta for our review today.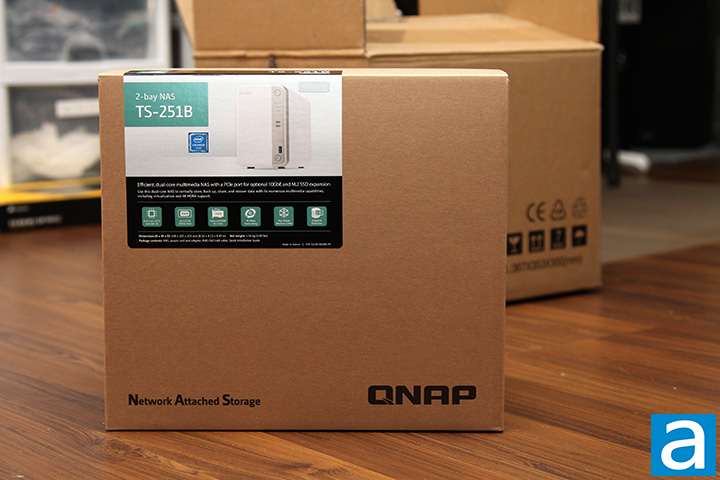 The latest iteration of QNAP's retail package design is similar to the one used in the QNAP TS-253B and TVS-473 I previously reviewed. Like the systems we got from QNAP in the last little while, it is in a high quality corrugated cardboard box enclosed by a series of flaps for future reusability. That said, what we have here is an extremely simple package with no fancy images -- just a QNAP logo and "Secure Data Storage and Backup" slogan printed in black at the top. A mid-sized sticker hangs over the side signifying its QNAP TS-251B model name along with a small image of the system, product description, and an array of icons highlighting its features. You will also find its UPC code, EAN code, serial number, and MAC address stickers at the top, but there is not much beyond that. Since I doubt anyone purchasing a product of this nature would really go over everything in detail on the box instead of reading this review beforehand, less information is more information -- not to mention keeping the box clean is a great cost savings measure. Upon opening the box, the user will find a welcome message on the inside flap.
Before we move on, let us take a look at the features and specifications of the QNAP TS-251B, as obtained from the manufacturer's website:
CPU: Intel® Celeron® J3355 dual-core 2.0 GHz processor (burst up to 2.5 GHz)
Architecture: 64-bit x86
Graphics: Intel® HD Graphics 500
Encryption Acceleration: (AES-NI)
System Memory: 4 GB DDR3L (1 x 4 GB)
Maximum Memory: 8 GB (2 x 4 GB)
Memory Slot: 2 x SODIMM DDR3L up to 1866, with dual-channel support
Flash Memory: 4GB eMMC
Drive Bay: 2 x 3.5" SATA 6 Gbps HDD
Drive Compatibility:
• 3.5" SATA 6Gb/s HDD
• 2.5" SATA 6Gb/s HDD
• 2.5" SATA 6Gb/s SSD
SSD Cache Acceleration Support: 3.5" drive bay:1 to 2
Gigabit Ethernet Port: 1 x RJ45
USB Port: 2 x USB 3.0, 3 x USB 2.0
USB One Touch Copy: Front: USB 3.0 Type-A
PCIe Slot: 1 PCIe 2.0 x2 slot
HDMI Output: 1 x HDMI v1.4b (up to 3840 x 2160 resolution at 30 Hz)
IR sensor: Yes, supporting QNAP RM-IR004 remote control (optional purchase)
Audio: 1 x speaker, 2 x MIC Input, 1 x 3.5 mm line-out jack, Alarm buzzer
• Note: You cannot use the speakers and the line-out jack simultaneously.
LED Indicators: Status/power, LAN, USB, HDD 1 - 2
Buttons: Power, Reset, USB One-touch-copy
System Warning: Alarm buzzer and voice prompts
Form Factor: Tower
Dimensions (H x W x D): 168 x 105 x 226 mm (6.61 x 4.13 x 8.90 inch)
Net Weight: 1.53 kg (3.37 lbs)
• Power Consumption (W):
• HDD standby: 8.08 W
• In operation: 15.25 W with 2 x 1TB HDDs installed
Sound Level: Sound pressure (LpAm): 17.3 dB(A)
Power Supply Unit: 65W AC adapter, 100-240V
Fan: 1 x 7 cm
Operating Temperature & Relative Humidity: 0 ~ 40˚C (32˚F ~ 104˚F), 5 ~ 95% RH non-condensing, wet bulb: 27˚C (80.6˚F)
Other Interfaces: Kensington security slot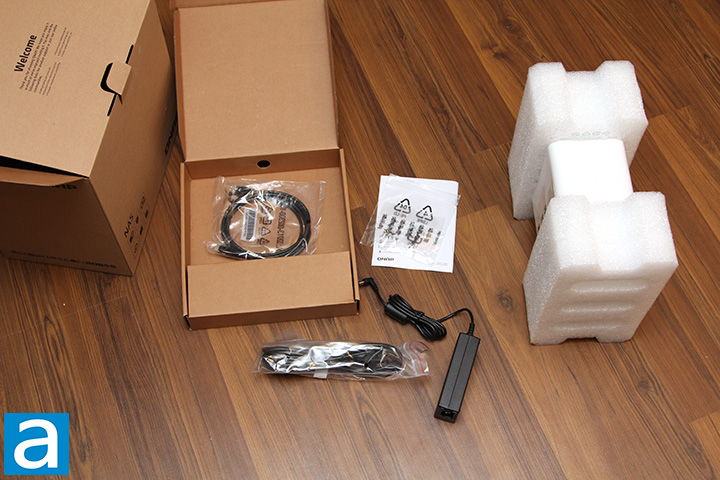 Opening the retail box reveals the QNAP TS-251B clipped between two large Styrofoam brackets and wrapped in a large plastic bag to ensure no bumps and scratches occur during transport. A separate accessory box holds all your accessories in place, making it organized and easy to find. Overall, I found the packaging to be simple and effective, and I have never had any problems finding what I need out of the box.
The following items are included for the end user:
1x QNAP TS-251B
1x Ethernet cables
6x Screws for 2.5" HDDs
8x Screws for 3.5" HDDs
1x AC adapter
1x Power cable
1x Quick installation guide
---
Page Index
1. Introduction, Packaging, Specifications
2.
A Closer Look - Hardware (External)
3.
A Closer Look - Hardware (Internal)
4.
Configuration and User Interface, Part I
5.
Configuration and User Interface, Part II
6.
Configuration and User Interface, Part III
7.
Performance and Power Consumption
8.
Conclusion