By: Jonathan Kwan
September 1, 2017
"I am getting too old for this," I told my friends as I stayed up until 3 am for the third night in a row at our church's annual conference. "But I cannot help it!" More often than not, humans are creatures of habits. We tend to do the same thing over and over again, simply because we have done the same thing over and over again in the past. And why not? When you and your group of friends are together for a whole weekend, the last thing you want to do is to go to sleep. Midnight is when you take out the instant noodles, eat for a bit, and play ping pong until you get tired. 2 am is when you start serious conversations about the meaning of life. I noticed we go through a very similar pattern, being a creature of habit, when I write reviews here at APH Networks as well. At some point, people on the forums began to question whether we are becoming a storage review website. While we cover a whole lot of other things, the point is I like my NAS, SSD, and HDD reviews, because I have done so many in the past. In light of that, today, we will take a look at yet another network attached storage system. Although we are all creatures of habits, QNAP has not stopped innovating to rinse and repeat the same product lineup year after year. The TS-253B, in addition to the usual CPU upgrades and iterative changes to the company's excellent QTS 4.3 operating system, the exterior has also been overhauled with a new look with an OLED display and some capacitive touch buttons as well. We may get old, but think about it -- OLED displays and capacitive touch buttons never do.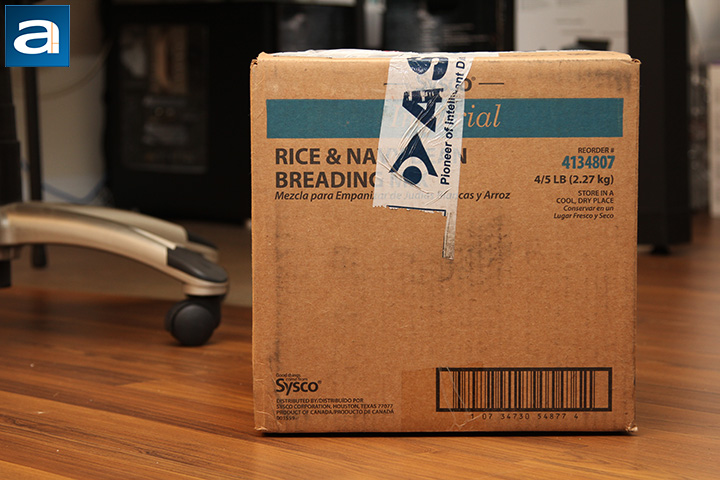 Our review unit of the Sysco rice and navy bean breading mix -- I mean, mezcla para empanizar de judias blancas y arroz -- err, what? Let me start again. Our review unit of the QNAP TS-253B network attached storage system arrived in a relatively large, brown corrugated cardboard box from the company's Canadian distribution company in Markham, Ontario, Canada. Using UPS Standard, everything arrived a few provinces west in excellent condition to us here in Calgary, Alberta for our review today. I was a little bit disappointed I did not get the rice and navy bean breading mix the box suggested, but at least I got a NAS.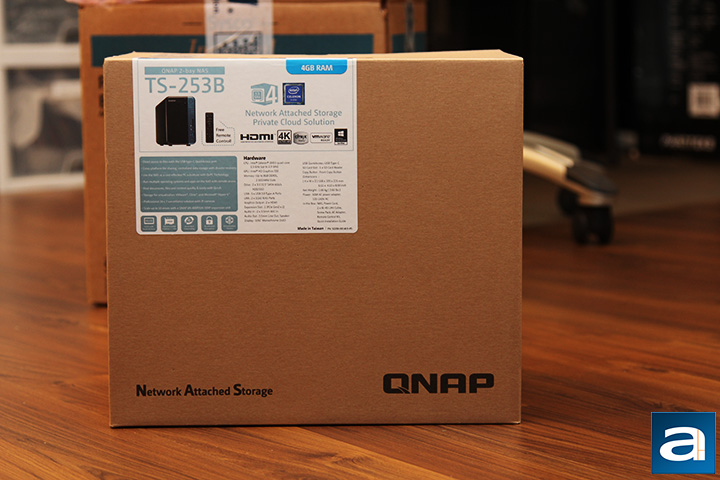 The latest iteration of QNAP's retail package design is similar to the one used in the TVS-473 I previously reviewed. Like the system we got from QNAP a few months back, it is in a high quality corrugated cardboard box enclosed by a series of flaps for future reusability. That said, what we have here is an extremely simple package with no fancy images -- just a QNAP logo and "Network Attached Storage Private Cloud Solution" slogan printed in black at the top. A mid-sized sticker hangs over the side signifying its QNAP TS-253B model name along with a small image of the system, amount of RAM it comes with (Our particular model is the 8GB version), bullet list of feature highlights, as well as the hardware specifications. You will also find its UPC code, EAN code, serial number, and MAC address stickers at the top, but there is not much beyond that. Since I doubt anyone purchasing a SOHO/business NAS would really go over everything in detail on the box instead of reading this review beforehand, less information is more information -- not to mention single color printing is a great cost savings measure. Upon opening the box, the user will find a welcome message on the inside flap.
Before we move on, let us take a look at the features and specifications of the QNAP TS-253B, as obtained from the manufacturer's website:
CPU: Intel® Celeron® J3455 quad-core 1.5 GHz, up to 2.3 GHz
Encryption Acceleration: ✔ (AES-NI)
Graphics: Intel® HD Graphics 500
System memory: 4GB DDR3L (2 x 2GB)
Maximum Memory: 8GB
Total Memory Slots: 2 x DDR3L SODIMM slots (For dual-DIMM configuration, you must use a pair of identical DDR3L modules.)
Drive: Hot-swappable 2 x 3.5"/2.5" SATA 6Gb/s HDD/SSD
GbE LAN Port: 2 x RJ45 Gigabit LAN port
10GbE LAN Port: Optional 10 Gigabit LAN port via a PCIe expansion card
USB 3.0 Port: 5 x USB 3.0 Type-A ports
USB QuickAccess: USB Type-C
PCIe Slot: 1 PCIe 2.0 x2 slot
HDMI Port: 2 x HDMI v1.4b, up to 3840 x 2160, 30 Hz
Audio Input: 2 x 3.5mm dynamic microphone input jacks
Audio Output: speaker, 3.5mm line out jack
Display: 0.96" monochrome OLED
LED Indicators: Status/Power, LAN, USB, Drives, SD card, USB QuickAccess
Buttons: Power, USB copy, Reset, Capacitive touch buttons (select, enter)
Infrared Receiver: ✔ supplied with a QNAP RM-IR004 remote control (compatible with RM-IR002 remote control)
SDXC Card Reader: ✔
Other Interfaces: Kensington security slot
Dimension (HxWxD): 168 x 105 x 226 mm; 6.61 x 4.13 x 8.90 inch
Weight: 1.66 kg ( 3.66 lbs )
Sound Level: Operating low speed: 16.7 dB(A)
Operating Temperature: 0 ~ 40˚C (32˚F ~ 104˚F)
Relative Humidity: 5~95% RH non-condensing, wet bulb: 27˚C (80.6˚F)
Power Consumption: HDD sleep: 13.07W
Typical Operation: 20.42W
Power Supply: 65W AC adapter, 100-240V
Fan: 1 x 7 cm
Package Contents: NAS, QIG, 2 x RJ45 ethernet cables, AC adapter, power cord, 2.5" drive screw kit, RM-IR004 remote control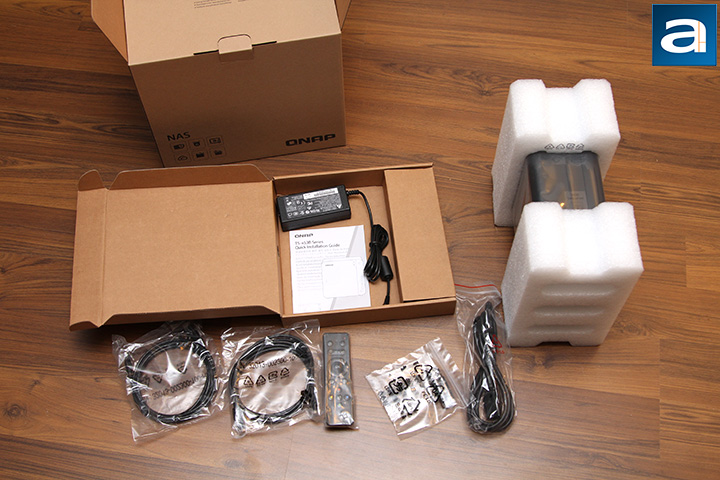 Opening the retail box reveals the QNAP TS-253B clipped between two large Styrofoam brackets and wrapped in a large plastic bag to ensure no bumps and scratches occur during transport. A separate accessory box holds all your accessories in place, making it organized and easy to find. Overall, I found the packaging to be simple and effective, and I have never had any problems finding what I need out of the box.
The following items are included for the end user:
1x QNAP TS-253B
1x RM-IR004 remote control
2x AAA batteries
2x Ethernet cables
6x Screws for 2.5" HDDs
8x Screws for 3.5" HDDs
1x Power cable
1x Quick installation guide
---
Page Index
1. Introduction, Packaging, Specifications
2.
A Closer Look - Hardware (External)
3.
A Closer Look - Hardware (Internal)
4.
Configuration and User Interface, Part I
5.
Configuration and User Interface, Part II
6.
Configuration and User Interface, Part III
7.
Performance and Power Consumption
8.
Conclusion