Page 5 - Configuration and User Interface, Part II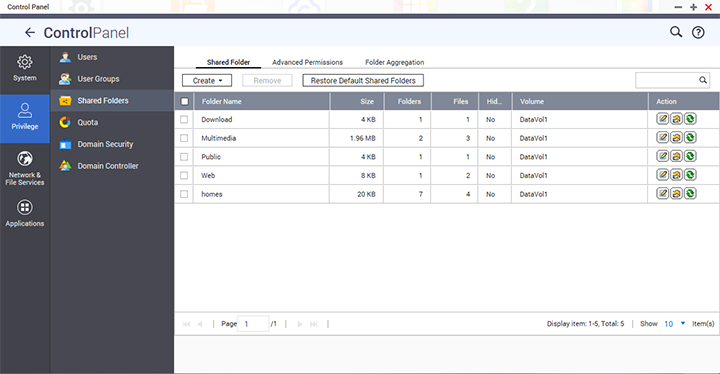 Continuing in the Control Panel, under the Privilege folder tree are six options: Users, User Groups, Share Folders, Quota, Domain Security, and Domain Controller. The Domain Security section provides different authentication options, including local user, active directory, and LDAP authentication. Domain Controller allows you to enable or disable this feature, as well as change its domain name, domain username, and password. In the Users screen, a table lists all users in the system, as well as their respective independent disk quota and account options. You will also have the option to search, create, multiple create, import, and delete accounts here. Five icons represent five different account functions; of which they are Change Password, Edit Account Profile, Edit User Groups, Edit Shared Folder Permission, and Edit Application Privilege. In the Shared Folders screen, it lists an array of folders on the system, similar to the table displayed for the Users screen as shown above. It also shows each folder's size, folders within, number of files, and if it is hidden in their respective column. Again, there are three management options for each folder: Edit Properties, Edit Shared Folder Permissions, and Refresh. Pulling up the Properties menu gives you the option to set the folder's path (If you have multiple single disks installed, you can also set which drive it belongs to), hide or show the folder, as well as locking the file. You can also do stuff enable write-only accesses over FTP and enable sync. The Quota screen allows you to configure universal disk quotas. Individual disk quotas can be set in the Users section.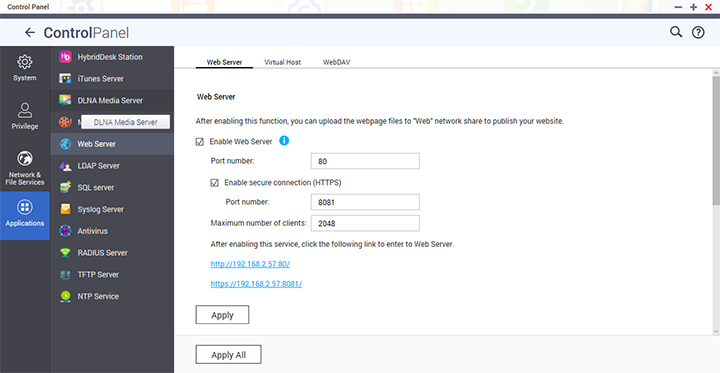 Lastly, the Applications submenu shown above is quite straightforward as well. Most of the listed sections, as you can see in our image above, are simply used to enable or disable their respective services. In the Web Server screen shown above, you can enable or disable its HTTP server, set its default public port, enable/disable WebDAV, and upload, edit, or restore the php.ini maintenance file. One to note in particular is the SQL server -- the QNAP TS-253B has built in MariaDB support, as well as an option to install phpMyAdmin using the App Center, in which we will talk about later.
Other applications of interest include Syslog, RADIUS, and TFTP servers; along with a built-in antivirus for an extra touch on security. The RADIUS server is an integrated version of the open source FreeRADIUS software; while its antivirus feature runs off ClamAV. HybridDesk Station is a portal that includes a large package of applications required to use the TS-253B with your TV. I will touch on that on the next page of this review.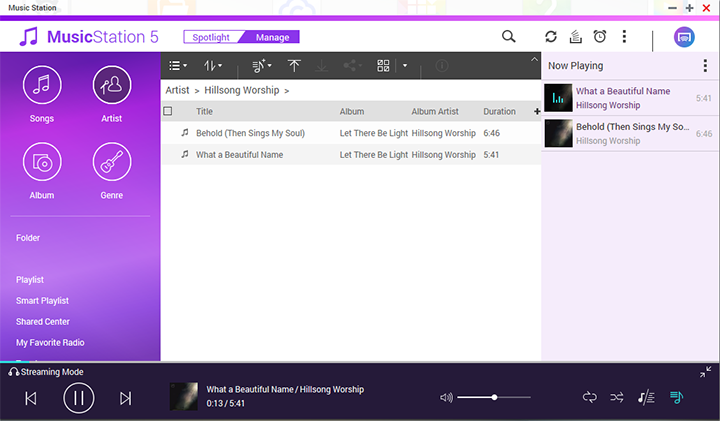 Earlier on in this review, I have conveniently skipped over the classic applications like Music Station. With Web Server and application stream enabled under the Bonjour tab in Network Service Discovery on your NAS, you can stream media directly from your file server to your Apple iOS based device through QNAP's Qmusic app (Available for free in the App Store). The app is available for Android as well in Google Play. Qmusic works over WiFi and data, so as long as your network attached storage is web accessible, you can access your music from anywhere with internet access. Where data coverage may be unavailable, you may also cache songs onto your mobile device ahead of time. Other available applications include Qfile, Qmanager, Qphoto, Qvideo, Qsync, Qsirch, Qnotes, Qget, QmailClient, Qcontactz, Vmobile, Qremote, Vcam, and OceanKTV Client. Using the right program, you can do stuff like upload images, manage files, monitor your system, share notes, and view surveillance footage using your favorite mobile device.
The Music Station is a built-in music player with full-fledged library functions and a clean user interface. Our screenshot above demonstrates this functionality; it is almost like running a desktop media player straight from your computer. Music Station supports streaming from other UPnP devices on your network as well as internet radio support. You can even use it to share some music with your friends; just watch out for the copyright police.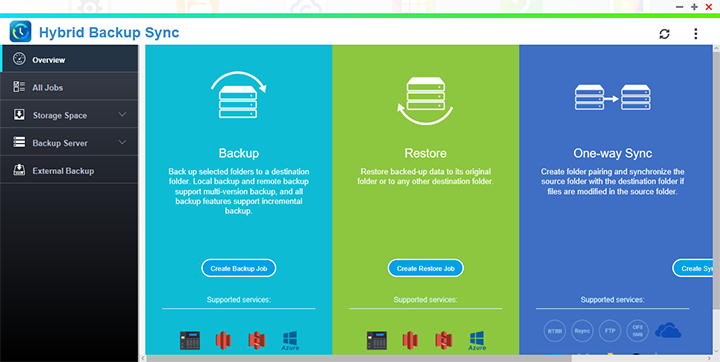 The Hybrid Backup Sync window has four subsections. These include All Jobs, Storage Space, Backup Server, and External Backup. Here, you can configure stuff like having your QNAP TS-253B to copy data to a remote server of the same NAS series, and backup from remote server to the local server as well. You can also set its port number and allow/disallow remote Rsync server to back up data to the local system. RTRR can be enabled, as its name suggests, for Real Time Remote Replication. Cloud Backup provides support for Amazon S3, where you can upload data from your NAS to the Amazon S3 and vice versa.
The TS-253B has Apple Time Machine with Mac OS X support. Once enabled, you can use the NAS as one of the Mac OS X Time Machine backup destinations. In the External Drive screen, you can back up select data on your NAS to an external drive connected via USB. Last, but not least, is USB One Touch Copy, which configures the function of the front one touch copy button. You can use it to copy data from an external drive to a specific directory on the NAS, or copy data from a specific directory on your NAS to the external drive. Other options include Smart Import, which only copies items changed since the last operation, as well as an external storage device, which treats the front connection as an external storage drive like it is connected to the back.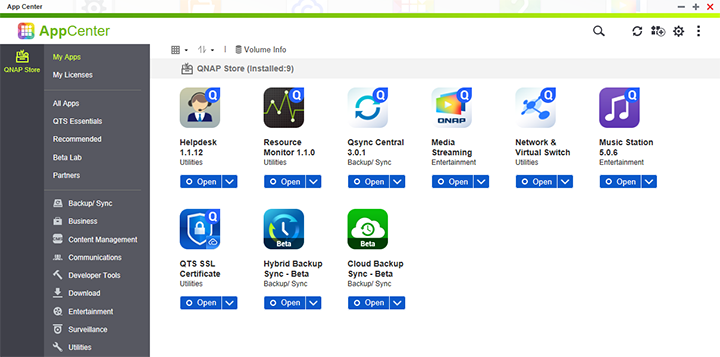 The App Center allows you to install applications pre-modified by QNAP or designed to be installed on your NAS. The concept is exactly the same as any app store for your favorite smartphone and tablet. Simply select a program you want, hit install, and the rest is history. There are tons of applications available for almost every need; to see if what you want is available, you can simply go through the list of QNAP's website. It was possible to install custom applications on your QNAP NAS since the early days, but having a full-on app store really makes life easy. Props to QNAP for making everything simple for the end user.
---
Page Index
1.
Introduction, Packaging, Specifications
2.
A Closer Look - Hardware (External)
3.
A Closer Look - Hardware (Internal)
4.
Configuration and User Interface, Part I
5. Configuration and User Interface, Part II
6.
Configuration and User Interface, Part III
7.
Performance and Power Consumption
8.
Conclusion