Page 8 - Conclusion
With a completely overhauled look, QNAP's latest TS-253B network attached storage system can now comfortably sit under my TV without looking out of place. The sleek exterior sacrifices nothing in practicality either. Although competitor products like the ASUSTOR AS3202T also offer a sleek look as part of the package, the fancy face forces you to give up removable hard drive trays, whereas QNAP allows you to have the best of both worlds. The TS-253B's capacitive touch buttons and OLED display are the icing on the cake. Combined with a remote control and the company's class-leading QTS 4.3 operating system, whether you are looking for something that serves as a media hub or a feature-filled network appliance that does way more than just storage, the TS-253B ticks a lot of those boxes. That said, there are still some boxes QNAP has not ticked off with their latest creation. To start off, while the looks are great, the plastic front panel is extremely fingerprint and scratch happy. I would choose a different material choice. Next, the OLED screen shows a funny looking variant of Times New Roman, making it look like a cheap Chinese knockoff. When it comes to hardware, having HDMI 2.0 and an optical audio out is preferred to having only HDMI 1.4b as it currently is. Power consumption is also slightly higher than ASUSTOR boxes with comparable specifications. $550 will allow you to step into a model with 4GB of RAM at press time, but you will need to throw in a whopping $200 extra to get to the 8GB model. After all these years, I still do not understand why QNAP has two variants, since anyone can spend five minutes and $50 and upgrade their 4GB model to 8GB. That aside, even for an entry price of $550, I find the price to be a bit high. The ASUSTOR AS3202T, although it lacks a front panel display, has no removable hard drive trays, and only comes with 2GB of RAM, it is nearly half the price. On the other hand, for an extra $150 over the TS-253B, you can step into the quad bay AS6404T, which features an identical CPU with twice the RAM and stuff like HDMI 2.0 and optical audio output. At the end of the day, the TS-253B is no doubt a solid entry into the NAS market in classic QNAP fashion with the looks to boot. But being solid with good looks is not enough. If it wants to be a winner, it needs more punch in hardware features for a lower price.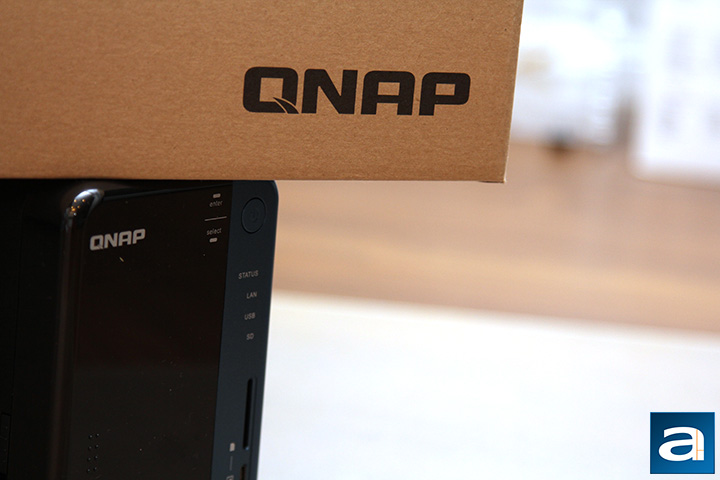 QNAP provided this product to APH Networks for the purpose of evaluation.
APH Review Focus Summary:
8/10 means Definitely a very good product with drawbacks that are not likely going to matter to the end user.
7/10 means Great product with many advantages and certain insignificant drawbacks; but should be considered before purchasing.
-- Final APH Numeric Rating is 7.2/10
Please note that the APH Numeric Rating system is based off our proprietary guidelines in the Review Focus, and should not be compared to other sites.
The QNAP TS-253B ticks off many boxes in the company's traditional recipe for success, but they need to beef up the hardware specifications and lower the price to make it a winner.
Do you have any comments or questions about the QNAP TS-253B? Drop by our Forums. Registration is free, and it only takes a minute!
---
Page Index
1.
Introduction, Packaging, Specifications
2.
A Closer Look - Hardware (External)
3.
A Closer Look - Hardware (Internal)
4.
Configuration and User Interface, Part I
5.
Configuration and User Interface, Part II
6.
Configuration and User Interface, Part III
7.
Performance and Power Consumption
8. Conclusion