By: Jonathan Kwan (Hardware/Software) and Kenneth Kwok (Software)
May 27, 2016
A few years ago, I was walking in a mall parking lot in Markham, Ontario. As I passed by rows on rows of Mercedes-Benz, BMW, and Audi vehicles -- many with license plates ending in '888' -- one particular car caught my eye. On the trunk, it said "C250". However, something did not really add up for me. Not only did it have unusually wide rear tires and particularly beefy brakes with cross-drilled rotors, it also had quad exhausts at the back, and featured a rear diffuser. As I moved along to the front, I spotted a bulging hood. Since the car was parked, I decided to take a look inside. Although the windows were tinted dark enough it took some effort to inspect the interior, once I got close enough, it confirmed my suspicions: If the bucket seats did not give it away, the "AMG" marking at the bottom of the speedometer and "6.3-V8" label at the back of the tachometer did. Clearly, this "C250" was not your pedestrian 201hp Mercedes-Benz C-class. Instead, it was the obscenely lunatic C63 AMG, equipped with a massive 6.2L V8 engine that produces at least 451hp -- and if the guy bought the Performance Package, make it 481. Imagine the surprise when this "C250" pulls away from you at the lights and hits 60mph in less than four seconds! You know, sometimes, certain things may look pedestrian to us. However, what is under the hood could be something you have completely not been expecting. In November last year, I reviewed the ASUSTOR AS1002T, which featured a relatively pedestrian Marvell ARMADA-385 1GHz CPU with 512MB RAM. Two months ago, I covered the AS3102T, a system that looked almost exactly the same on the outside, but featured a beefier Intel Celeron N3050 CPU with 2GB of RAM. Well, today, we are going to take a look at yet another NAS from ASUSTOR. The AS3202T literally looks identical to the AS3102T both on the outside and the inside, but it comes with one fundamental change: A quad core Intel Celeron N3160 CPU. I would not call this the AMG of NAS boxes unless they shove a Core i7 into something of this size, but until that day arrives, will we still see a performance boost over its dual core brethren? We took one in to find out.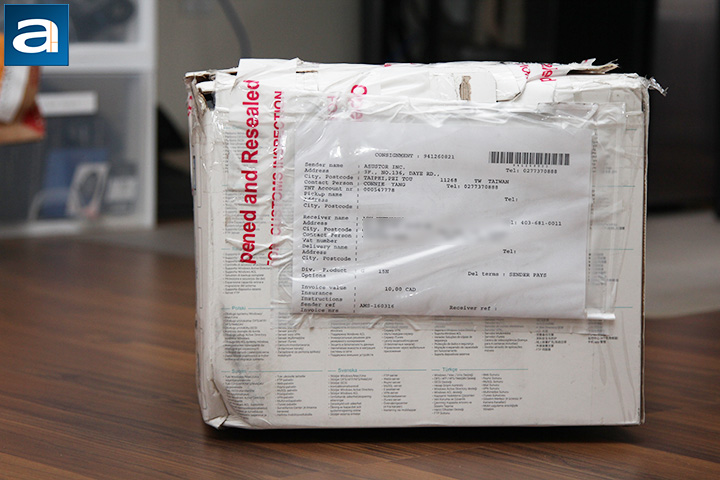 Our review unit of the ASUSTOR AS3202T came in a really beat up corrugated cardboard box, courtesy of some old packaging donated by another ASUSTOR network attached storage model as always. Despite what I saw, I was not particularly worried when I saw something that looked like this arrived at my doorstep, considering everything we got from ASUSTOR has always looked beat up upon arrival. Beginning its trip in Taiwan with TNT Express, and transferred to Purolator Air after making its way across the Pacific Ocean, the contents inside turned out to be safe and sound for our review today here in Calgary, Alberta, Canada.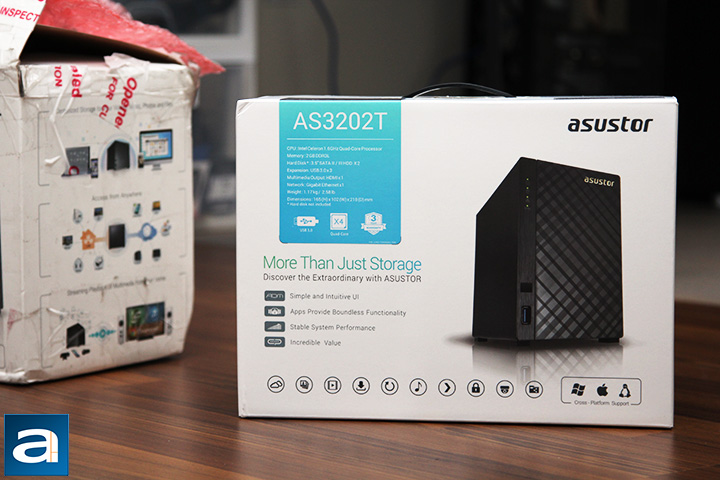 Our review unit of the ASUSTOR AS3202T came in retail packaging. The shape and physical features of the box should be nothing new to people who have purchased network attached storage systems before; it is a familiar mid-sized corrugated cardboard box with a plastic handle on top, so you can carry it around without too much hassle. It is pretty much the same as the last couple of products I got from the company, which means it is also of striking resemblance to the QNAP TS-470. As you can see in our photo above, the front face features a photos of the NAS on a plain white background. You will find ASUSTOR's logo and the NAS model, AS3202T, at the top. Along the bottom, the company proudly proclaims it as "more than just storage" -- and indeed, it is -- four points and an array of icons provide a conceptual preview of some of the things this product is capable of doing. Features highlights and specifications can be found on the remaining sides of the box.
Before we move on, let us take a look at the hardware specifications of the ASUSTOR AS3202T, as obtained from the manufacturer's website:
CPU: Intel Celeron 1.6GHz Quad Core (burst up to 2.24 GHz) Processor
Memory: 2GB DDR3L (not expandable)​
HDD: 3.5" SATA II/ III x 2 Compatibility
Maximum Internal Raw Capacity: 16 TB (8 TB HDD X 2, Capacity may vary by RAID types)
Expansion: USB 3.0 x 3
Network: Gigabit Ethernet x 1
Output: HDMI 1.4b x 1
System Fan: 70mm x 1
Infrared Receiver
Input Power Voltage: 100V to 240V AC
Certification: FCC, CE, VCCI, BSMI, C-TICK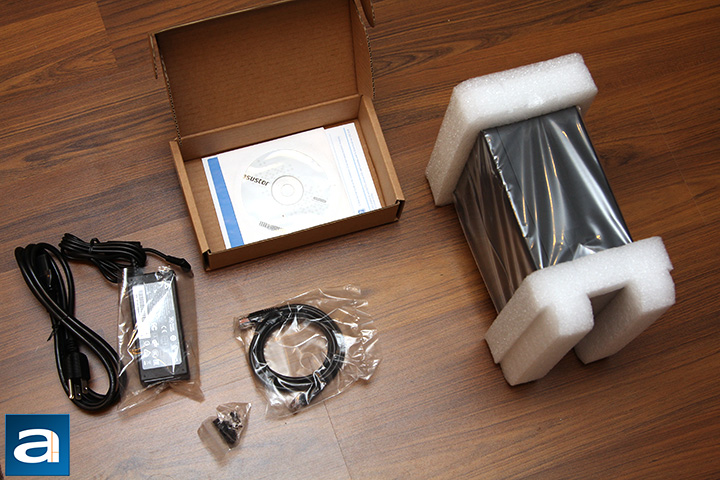 Opening the retail box reveals the ASUSTOR AS3202T clipped between two large Styrofoam brackets, and wrapped in a large plastic bag to ensure no bumps and scratches occurs during transport. A separate accessory box holds all your accessories in place, making it organized and easy to find. Overall, I found the packaging to be simple and effective, and I have never had any problems finding what I need from the factory.
The following items are included for the end user:
1x ASUSTOR AS3202T
1x Power adapter
1x Ethernet cable
8x Thumbscrews for 3.5" HDDs
1x Quick installation guide
1x Setup CD-ROM
An optional AS-RC10 remote control can be purchased separately, which we will take a look in more detail shortly as well.
---
Page Index
1. Introduction, Packaging, Specifications
2.
A Closer Look - Hardware (External)
3.
A Closer Look - Hardware (Internal)
4.
Configuration and User Interface, Part I
5.
Configuration and User Interface, Part II
6.
Configuration and User Interface, Part III
7.
Performance and Power Consumption
8.
Conclusion