Page 2 - A Closer Look - Hardware (External)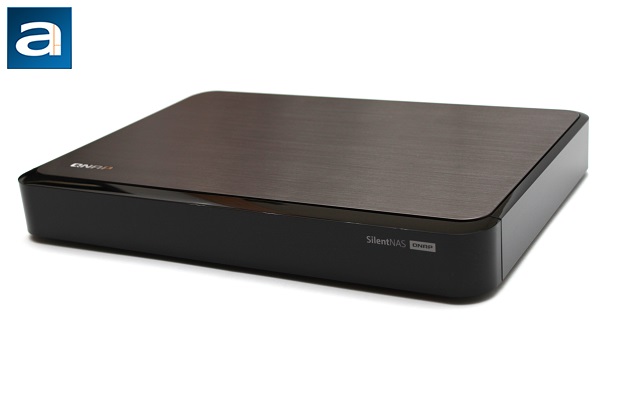 The QNAP HS-210's external design is very clean and simple, which fits into most environments nicely, especially in a living room area. Measuring in at 41.3 x 302 x 220 mm, it certainly has a footprint, but it is quite slim and sleek looking as well. Its top surface is made of a solid piece of aluminum. If you open this up, you will see that this serves as a giant piece of cooling for the processor inside. The rest is composed of plastic, which also serves as a fingerprint magnet. If you intend on keeping it clean, it would be advisable to keep a cloth close by, and little kids far away. Two LED lights are features to show the status and LAN. All other functionality will be found on the back of the box, as you will see in just a moment. This is to keep the front looking clean and slick. You will be able to pop the front bezel off to access the two drive bays. Simply scroll down the page slightly, and you will find out how easy it is to access them.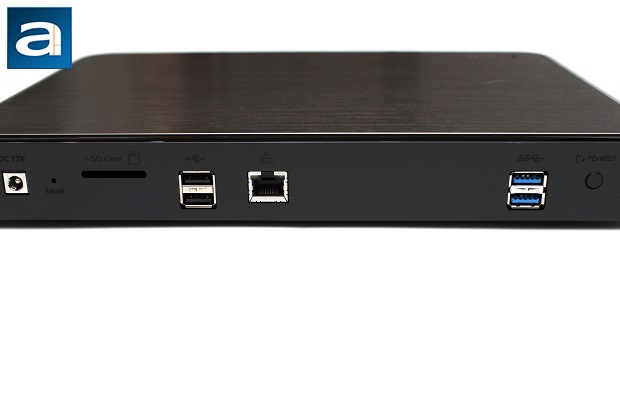 On the back, you will have access to the 12V power input, reset switch, SD card slot, two USB 2.0 ports, LAN port, two USB 3.0 ports, and a power button, respectively. Power is supplied by a Delta Electronics 60W external brick. Of course, being a "SilentNAS" as advertised by QNAP, there is no fan for cooling. Hence, this network attached storage system is very good for those who wish to not have roaring noises while keep it close by. This is also probably why QNAP designed the HS-210 to have a large, yet light piece of aluminum on the top to dissipate heat. Unfortunately, as living room-esque as the HS-210 looks, it is not a media streaming device by any shot. It lacks HDMI out and audio out. If you are looking to use it as a media device, QNAP sells the HS-251 for this purpose.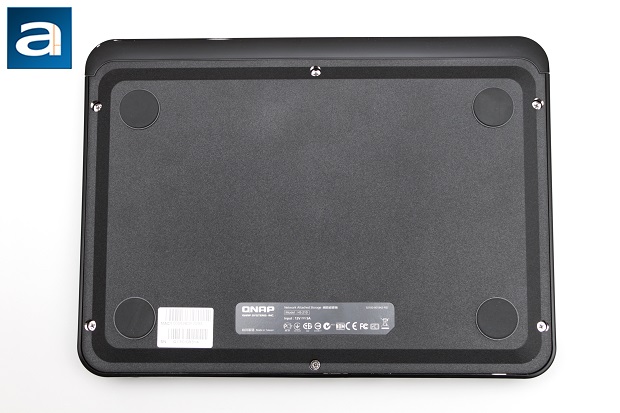 The bottom features nothing special, other than the fact that it is made of plastic, and has four rubberized feet to reduce vibration noise, increase grip, and reduce surface scratches. Oooh, exciting. If you desire to open up the NAS for any reason, six Philip-head screws are placed around the edges and can be accessed on this side. Two labels at the bottom shows the QNAP HS-210's MAC address, serial number, plus other miscellaneous information like the power input rating, and the fact it is made in Taiwan.
As aforementioned, you can simply pull off the front bezel to access the hard drive trays Of course, it will attract fingerprints, so keep that cloth handy, unless you don't mind fingerprints all over your device. The bezel is held in place by magnets. To install a 2.5" or 3.5" disk, simply release the plastic latch, and pull out the tray. Attach the corresponding screws, and slide it back into place until it clicks. That is it. With all this in mind, the QNAP HS-210's external hardware is fundamentally very simple, so to not waste any more of your time, we cracked open the cover to see what hardware resides under the hood.
---
Page Index
1.
Introduction, Packaging, Specifications
2. A Closer Look - Hardware (External)
3.
A Closer Look - Hardware (Internal)
4.
Configuration and User Interface, Part I
5.
Configuration and User Interface, Part II
6.
Configuration and User Interface, Part III
7.
Performance and Power Consumption
8.
Conclusion