By: Preston Yuen (Hardware) and Jonathan Kwan (Software/Testing)
August 22, 2014
Hello guys, Jonathan Kwan here. In this multi-author review, I would just like to start off with a little story before passing the time on to my colleague Preston Yuen for the next few pages. Earlier last week, I received a text message in the morning from a friend, asking if I was interested in seeing "Guardians of the Galaxy". Because I have spent pretty much the entire first week of August hanging out every night -- with pretty much the exactly the same group of people, no joke -- I decided it was probably a wise choice to catch up on some work instead. As such, I politely declined, and asked her to let me know how the movie went. The next day, I saw her, and asked her how it turned out. As the story unfolded, after spending all this effort in coordinating an event to watch "Guardians of the Galaxy" as a group, she actually did not show up herself. If this story sounds familiar to you, yes, this is the same story from a different perspective told by my colleague Aaron Lai in his XTracGear Carbonic review a few days ago. Now, why would anyone invite people out to a movie and ditch out the last minute is absolutely beyond me, but there is something to be learned that is completely relevant to our product review today. The question to ask is, will the group have gotten together on that day, in that time, at that place, if my friend did not coordinate the event? Just by pure statistics, I highly doubt it. As you can see here, even if someone does not appear in the foreground, by working silently in the background, and quite literally out of sight, you can definitely still get something going. The same philosophy is what QNAP presents to us in the HS-210 network attached storage system. Designed to be fanless, compact, and working silently in the background, will the HS-210 deliver on all the features and services you need? We have one here at APH Networks to find out.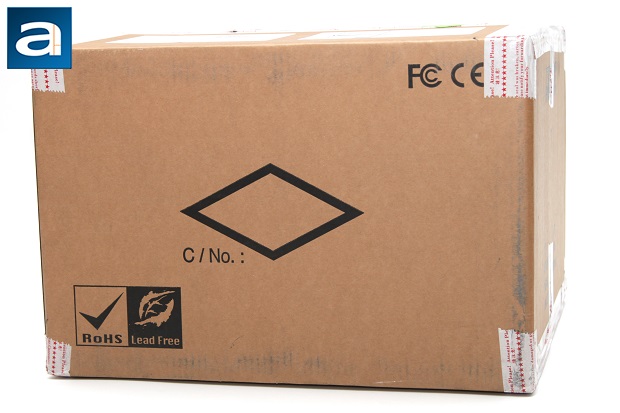 Much like any other time we receive review units from QNAP, the black print on the brown corrugated cardboard box is pretty much the same. Our review unit came from the American offices in California, USA, via UPS Standard. This was the only thing that came from QNAP, so there was quite a bit of packing paper inside the decently sized box. After it was dropped off at our doorstep in Calgary, Alberta, Canada, we were able to open it and get down to business.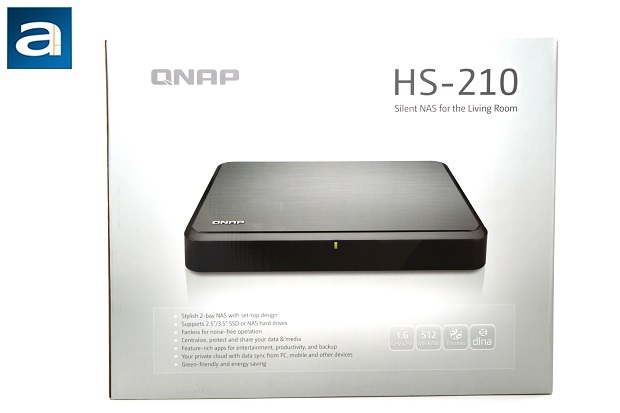 With our hands on one of QNAP's latest NASs, we can see that the company has continued to use very clean, simplistic, and straightforward designs for their product packaging, and the HS-210 is no exception. The gradient grey background blends in nicely with the product itself printed boldly in the front with it's model cleanly printed at the top right. The features are printed just below with prominent icons to display some of its features. I'm sure QNAP has made it quite easy for users to pick up the box and read what features are available, so I will leave that in your own hands. But before we get into the meat of things, let us take a look at the specifications of the QNAP HS-210, as obtained from the manufacturer's website:
CPU: Marvell 1.6GHz Processor
DRAM: 512MB RAM
Flash Memory: 16MB
Hard Disk Drive: 2 x 3.5" or 2.5" SSD or NAS Hard Drives
Hard Disk Tray: 2 x Hot-swappable tray with lock
LAN Port: 1 x Gigabit RJ-45 Ethernet port
LED Indicators: Status, LAN
USB: 2 x USB 3.0 port; 2 x USB 2.0 port
SD Card Slot: 1
Buttons: Power, Reset
Alarm Buzzer: System warning
Form Factor: Set-top design
Dimensions (HxWxD): 41.3 x 302 x 220 mm
Weight: Net weight: 1.56 kg
Gross weight: 2.62 kg
Power Consumption (W): Sleep mode: 7.39W; In Operation: 13.71W (with 2 x WD RED HDD installed)
Temperature: 0-40˚C
Humidity: 5~95% RH non-condensing, wet bulb: 27˚C
Power Adaptor: External Power Adaptor, 60W, 100-240V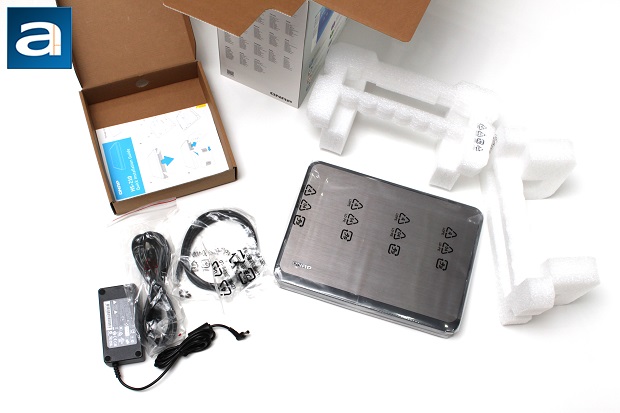 Pulling everything out of the box, you will be greeted by a smaller box of accessories and manual. The HS-210 itself is sandwiched between two foam brackets and wrapped in a plastic bag for safe travels. Everything is organized neatly and is easy to find. Overall, I have no problems finding what I need to have it ready to roll.
The following items are included for the end user:
- 1x QNAP TS-210
- 1x Ethernet cable
- 1x Quick installation guide
- 8x Screws for 2.5" HDDs
- 8x Screws for 3.5" HDDs
- 1x Power cable and adapter
---
Page Index
1. Introduction, Packaging, Specifications
2.
A Closer Look - Hardware (External)
3.
A Closer Look - Hardware (Internal)
4.
Configuration and User Interface, Part I
5.
Configuration and User Interface, Part II
6.
Configuration and User Interface, Part III
7.
Performance and Power Consumption
8.
Conclusion