Page 4 - Conclusion
While this summer has been filled with different memories, mostly about socially distant hang out time with friends and a greater use of the cell phone minutes, the lacking of our summer camp is still a hit to my morale. However, when we turn to the ROCCAT Kain 120 AIMO, I am not sure if it necessarily created memorable moments in its use, but this is said in the most positive light. My impression of the Kain 120 AIMO is that it is a dependable mouse from a reliable brand. From the beginning, the Kain 120 AIMO is packaged in a soft-touch plastic shell and built sturdily with no rattling in the body. All of the buttons are nice to press, from the primary Titan Click and Omron switches to the secondary buttons and scroll wheel. The wired cable does not get in the way in terms of flexibility either. Its shape and weight of the Kain 120 AIMO makes the body generally easy to hold for most medium-sized hands. From the bottom, we have a great set of skates with the excellent ROCCAT Owl Eye 16K sensor, which is a modified PixArt PMW 3389. In gaming and day-to-day usage, the ROCCAT Kain 120 AIMO performs admirably. With its high-end sensor, tracking was not an issue and I did not see any issues in other aspects like spinning out, jitter, or smoothing. Movement was tracked precisely and predictably, which is great in both gaming and in daily use. As such, practically everything here is refined and the end result is pretty good. If there were things to potentially look for in the coming iterations, it would be to make the surface of the mouse a bit easier to grip. I also would have liked to see a bit of a user interface update to the ROCCAT Swarm software, but it is quite usable and provides a good amount of customization as is. At press time, the ROCCAT Kain 120 AIMO can often be found on sale for $50. As such, this competitively priced ROCCAT Kain 120 AIMO performs well and is a great option for a gaming mouse.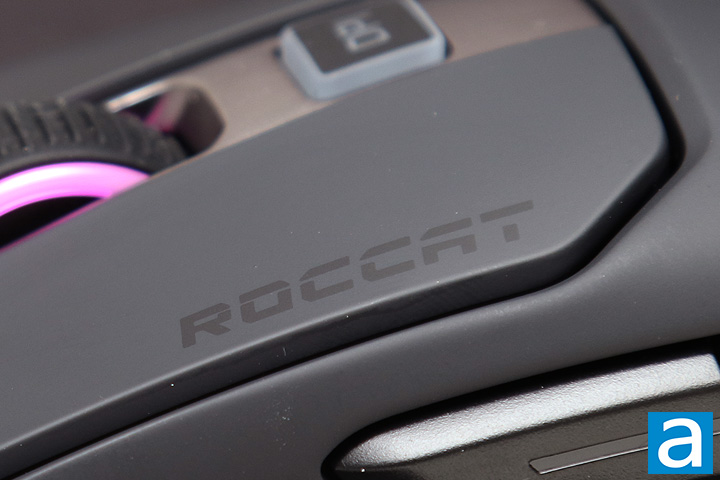 ROCCAT provided this product to APH Networks for the purpose of evaluation.
APH Networks Review Focus Summary:
8/10 means Definitely a very good product with drawbacks that are not likely going to matter to the end user.
7/10 means Great product with many advantages and certain insignificant drawbacks, but should be considered before purchasing.
-- Final APH Networks Numeric Rating is 7.6/10
Please note that the APH Networks Numeric Rating system is based off our proprietary guidelines in the Review Focus, and should not be compared to other publications.
The ROCCAT Kain 120 AIMO is a gaming mouse that impresses silently in its build and performance.
---
Page Index
1.
Introduction, Packaging, Specifications
2.
A Closer Look - Hardware and Software
3.
Subjective Performance Tests
4. Conclusion