By: Hai Wang
April 8, 2022
I remember when I was doing research at the University of Calgary, I had to do a lot of simulation work with different software. For example, I might get started by using MATLAB for some wireless communication physical layer simulation on Windows. Once I have figured out the optimal network configurations such as modulation schemes, transmit power, and coding schemes, I could move on to system-level simulations using a Linux-based open-source simulator to figure out how reliable the network would be when there is a large number of users. Finally, I need to get back to Windows to log all the results into a spreadsheet to generate some charts. In other words, my research work made me change between Windows and Linux on a regular basis. Things would be much easier if I had one Windows computer and one Linux computer. However, the problem was I only had one desktop computer with sufficient performance. Yes, I knew it was possible to use a virtual machine to work efficiently between two different operating systems or dual boot. However, I was not satisfied with the relatively slower virtual machine solution or issues associated with dual booting. Therefore, my solution was to use two separate storage drives; one had Windows and one for Linux. The result was I could use both operating systems to their full performance, while the downside was I had to open my case each time I needed to swap operating systems. This problem can be solved by using today's review unit, the SilverStone EXB02, which utilizes an expansion card slot to add a removable 2.5" SAS/SATA drive bay. This product allows you to easily add or remove an SSD or HDD from your computer without needing to open the case. Is it a good product worth recommending? Let us read on and find out!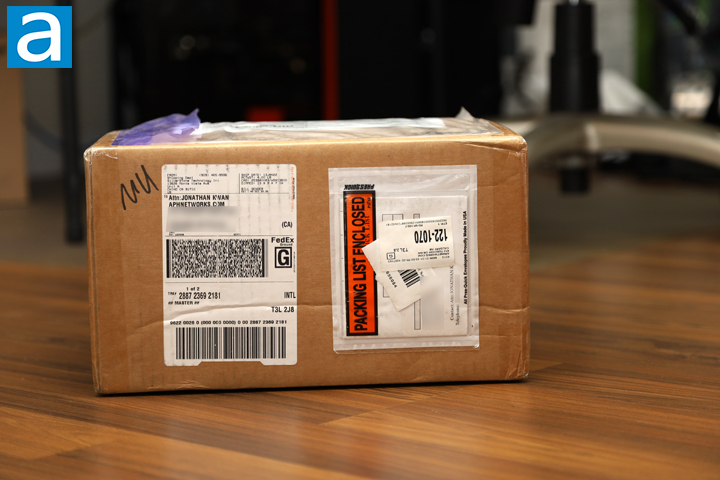 The SilverStone EXB02 was shipped from Chino, California, USA via FedEx Ground to us here in Calgary, Alberta, Canada. From the above photo, you can see the shipping box itself was in good shape. There was no need to worry about the items inside the box. Aside from the EXB02, this shipment also contained two more storage-related products that I have reviewed in the previous weeks, the RVS03 and TP05, as well as the AR12-TUF reviewed by my colleague Aaron Lai.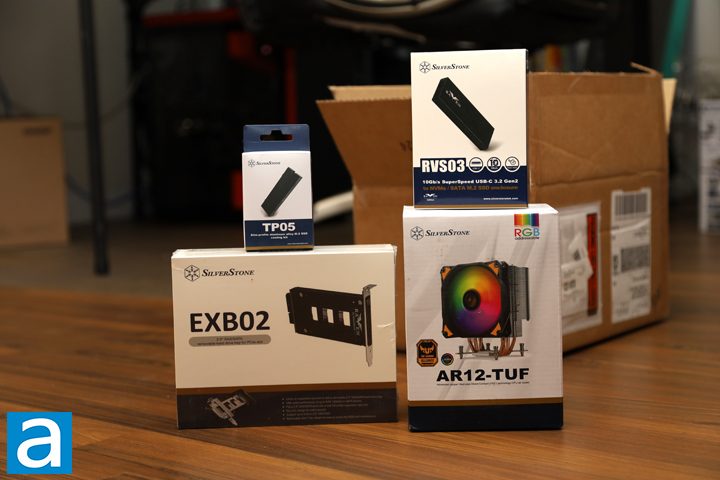 For today's review unit of the SilverStone EXB02, the actual product's photo is nicely located on the front of the retail box, leaving no doubt what the EXB02 will look like. The description under the product name clearly shows this adapter can hold a 2.5" SAS/SATA drive in a standard expansion slot. We can also find a brief product description printed in white at the front bottom, which indicates this adapter can be used for both SAS 12Gbps and SATA 6Gbps products, and it also has a key lock design for extra security. Overall, the retail box design of EXB02 is good, and it is consistent in style with other SilverStone storage-related products.
Before we move on to see the details of the SilverStone EXB02, let us take a look at the specifications from the company's website:
Model No.: SST-EXB02
Color: Black
Material: Metal
HDD Drive Support: SATA 6 Gbit/s, SATA 3 Gbit/s, SATA 1.5 Gbit/s; SAS 12 Gbit/s, SAS 6 Gbit/s, SAS 3 Gbit/s
Drive support: 2.5" SAS*/SATA HDD/SSD up to 9.5mm
Transfer rate: Up to 12 Gbit/s** or 6 Gbit/s (dependent on drive and host speed)
Host interface: 7 Pin SATA connector x 1
Power connector: SATA 15 Pin x 1
Drive door security: Triangle key lock design
LED indicator: Power On: Green; HDD Access: Orange blinking
Number of key: 2
Environment: Operating temperature: 0℃~65℃ (32℉~149℉); Storage temperature: -10℃~70℃ (14℉~158℉); Operating humidity: 10%~90% non-condensing; Storage humidity: 5%~90% non-condensing
Net weight: 200g
Dimension: 120.5mm (W) x 21.5mm (H) x 137.3mm (D); 4.74" (W) x 0.85" (H) x 5.41" (D)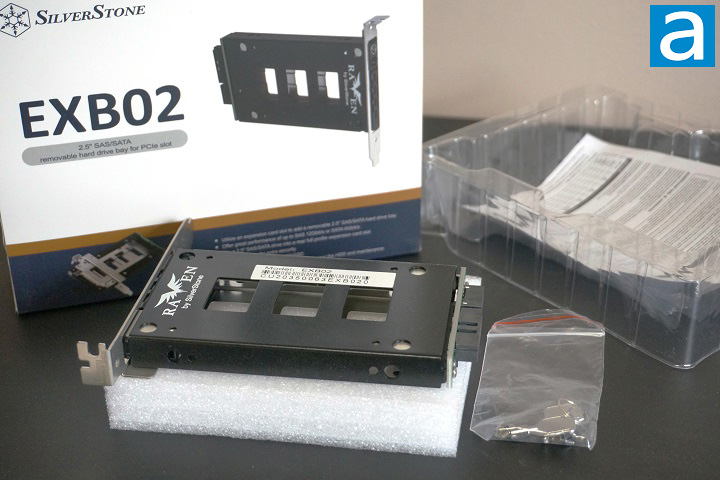 After opening the box of the SilverStone EXB02, I could see there were not a lot of things in the little box. The adapter itself was placed in a transparent plastic tray, and it was protected by a piece of white foam. The enclosure looks really well-protected from any impacts or scratches during transportation. There was also a pair of keys provided, so I could lock the installed 2.5" HDD/SSD in the computer when in use. As for accessories, there is a bag of screws included in the package. Note that to use this product, we need to prepare for a screwdriver to install the drive, as this tool was not included in the package.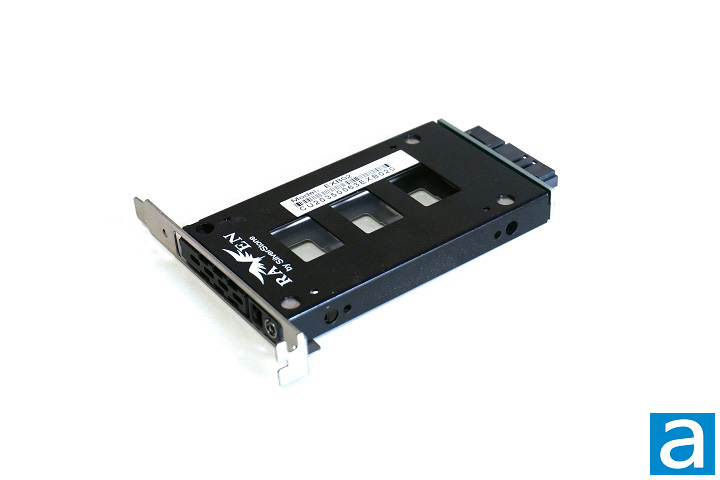 When it comes to the design of the EXB02, as you can see from the photo above, the whole product is simple and sleek in terms of style. SilverStone has put a printed Raven logo on the top side of the adapter, such that it can have a little bit more things to look at than just a plain surface. The adapter itself is made out of steel and plastic, which gives it plenty of strength and structural integrity. It also has a matte black finish, so you do not need to worry about leaving fingerprints on it.
Now, let us get a closer look at the SilverStone EXB02. It measures in at 120.5mm in depth, 21.5mm in thickness, and 137.3mm in length. If you just look at this adapter at first glance, you will probably think it is a capture card. The thing is, as a removable hard drive bay for a standard expansion card slot, it makes sense this product shares some similarities to other PCIe expansion cards, as they all have the same brackets. The EXB02 is designed to hold a 2.5" drive with a maximum thickness of 9.5mm, thus it only takes the place of a single expansion card slot. This should accommodate pretty much any 2.5" drive.
The 120.5mm depth makes the SilverStone EXB02 possible to fit in almost any computer case in the market today, as long as it has a full-height expansion slot. This product will not fit in a chassis that only has low-profile expansion slots.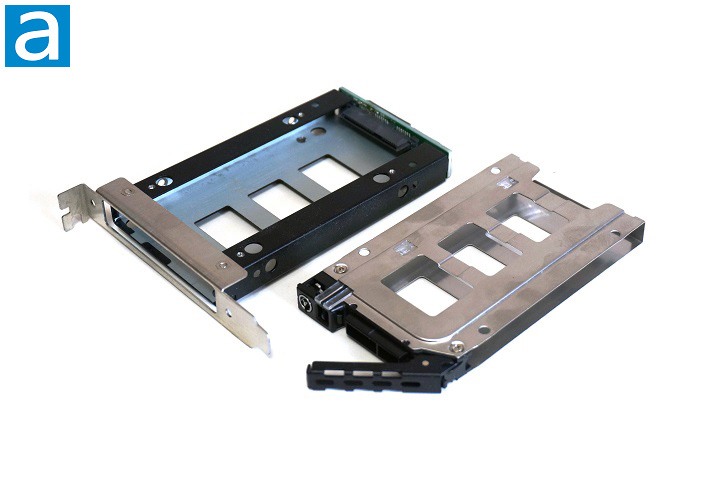 To remove the drive tray of EXB02, there is no need to use any tool. This does not mean you can freely take the tray out. You need to have the key to unlock the tray first. After it is unlocked, you can just press on the little switch and pull out the tray using the popped-out lever. Note there is a hook on one end of the lever to grab on the enclosure, such that the tray can be pressed all the way into its position when you need to put the tray back. To properly put the tray back and have the drive plugged into the slot, you need to push the lever until you hear a clicking sound. After the tray is in position, the last step to secure your drive is to lock the lever with the key. Of course, the last step is optional. As you can see from the above photo, the drive tray is made out of steel and plastic.
There is a PCB with connectors to adapt the SAS/SATA interface on your drive to the SAS/SATA and power interfaces on your computer. There are no controllers on the PCB, so basically all the signals and power can directly pass through the adapter. If you have a SAS drive, you will need to make sure your motherboard has a SAS controller.
One of the key selling points of this product is physical security against opportunistic thefts. I would like to say the EXB02 can provide fairly good protection to your 2.5" drive. Firstly, the adapter enclosure is made out of thick sheet metal, and the structure is extremely strong thanks to the C-shaped structure. Secondly, the tray has a good amount of metal as well. The drive can only be installed into the tray by sliding from the side opening, while both sides of the tray are well-protected by the adapter's metal structure. Thirdly, the screws for installing the drive on the tray are also covered by the adapter case's metal structure. Consequently, with the above three security features, your drive is safe in the EXB02. Of course, anyone who wants to steal your 2.5" SSD can still open up your case and take the entire thing, but the point is to prevent quick, easy removal.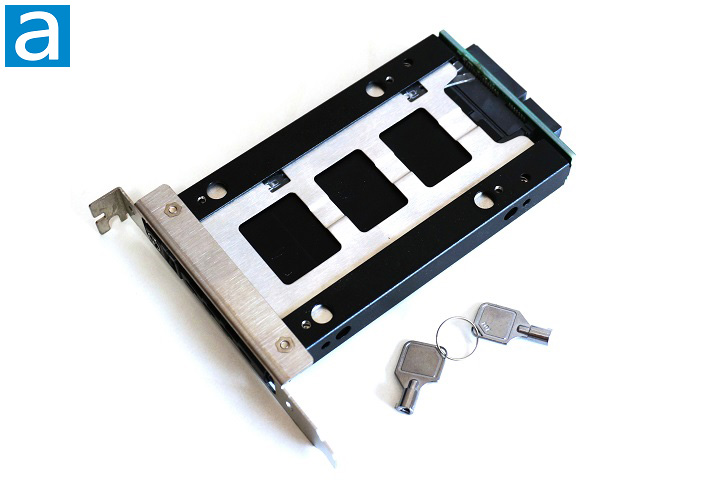 Now it comes to the exciting part. The adapter assembly can then be screwed on one of your empty expansion slots. With all the cables connected, the installation is complete. I think it would be nice if SilverStone can also provide additional reinforcements. Having only one screw to attach the entire enclosure to your chassis results in uneven weight and force distribution in my opinion.
Next, I installed my Western Digital Blue 500GB SATA SSD onto the tray. The only tool requirement is a screwdriver, and other than that, the SSD installation is simple and straightforward. The drive can be inserted into the tray from either side. After the drive is in place and the four screw holes are lined up with the ones on the tray, we can start to put the screws in and tighten them up. After that, the tray can be slid into the case. You just need to make sure the tray is pushed all the way into the EXB02 as much as you can, and then to push the lever until you hear a clicking sound. To properly secure the tray, the key needs to be used to lock the tray.
I found my installation was really easy, that was because I quickly scanned through the installation guide. It was worth the time to do some quick research to avoid any mistakes. Next time, if you need to change to a different drive, you can just get access to the drive bay from the back of your computer instead of opening your case. It is not entirely hot-swap though, since you still need to install the drive to a tray using a screwdriver. A tool-free SSD to tray installation would have been preferred.
-----------------------------------------
If you are one of those people who need to swap drives in your computer on regular basis, I think it is really a good idea to have an easy-to-access drive bay that also provides some physical security features to prevent opportunistic thefts. The SilverStone EXB02's main frame is made out of thick metal to provide a lot of strength. All the screw holes are well-covered by the enclosure to achieve the tamper resistant goal. The drive tray can be locked to the main unit such that the drive will not be accessible without opening the computer case. The SilverStone EXB02 is a great product that allows users to access the drive without opening your computer case and messing with cables. The user can easily slide the 2.5" drive on the tray in and out of the bay, although the user still needs to use a screwdriver if you need to perform a drive swap. I think having a tool-free SSD to tray installation procedure will make this hot swap bay better with no compromises in physical security. Furthermore, being secured to your computer chassis with only one screw and no reinforcement results in weight and force distribution that has room for improvement. In terms of pricing, $40 USD is not cheap, but you can be sure you are picking up a well-built product.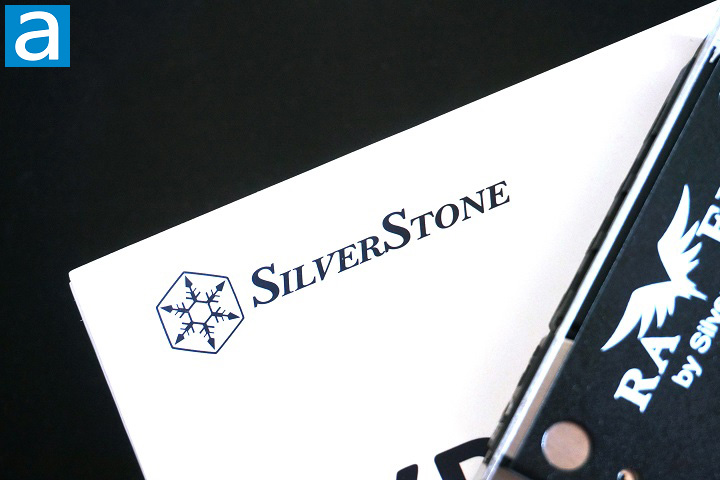 SilverStone provided this product to APH Networks for the purpose of evaluation.
APH Networks Review Focus Summary:
7/10 means Great product with many advantages and certain insignificant drawbacks, but should be considered before purchasing.
-- Final APH Networks Numeric Rating is 7.0/10
Please note that the APH Networks Numeric Rating system is based off our proprietary guidelines in the Review Focus, and should not be compared to other publications.
The SilverStone EXB02 hot swap drive bay allows you to easily gain access to your 2.5" drive without opening your computer case with no compromises in physical security.