By: Hai Wang
March 11, 2022
The recent snowfall in Calgary made me thinking about snow shoveling very seriously. It may be March, but in Canada, we still need to take care of a few inches of snow from time to time. In terms of snow removal on my driveway and sidewalk, there are main two methods to work with for a normal household: One is a shovel and the other is a snow blower. Most of my neighbors use a shovel, as it is lightweight, easy to use, and most importantly, cheap. The downside is that it operates solely on muscle power. For heavy amounts of snowfall, the depth of snow could easily reach one foot, making it quite difficult to clean up with just your physical strength. If you are tired of lifting snow with your upper body, an electric snow blower can be a logical option. One problem I can think about a snow blower is its size. In my garage, there are two cars, two additional sets of tires, and a bunch of useless stuff I cannot let go of. I cannot imagine where I would squeeze a snow blower into my garage without my wife complaining every time she needs to drive her car. If a decent cordless snow blower that is as compact as a shovel existed, I would buy one immediately, even if it costs a fortune. Having a shovel-size snow blower may not be realistic, but one thing that might require cooling down is your M.2 NVMe SSD, especially since it probably will not be in contact with all the snow we have. Today's review unit, the SilverStone TP05, is a slim-profile aluminum alloy M.2 SSD cooling kit. Is it an effective cooling solution worth recommending? Let us read on and find out!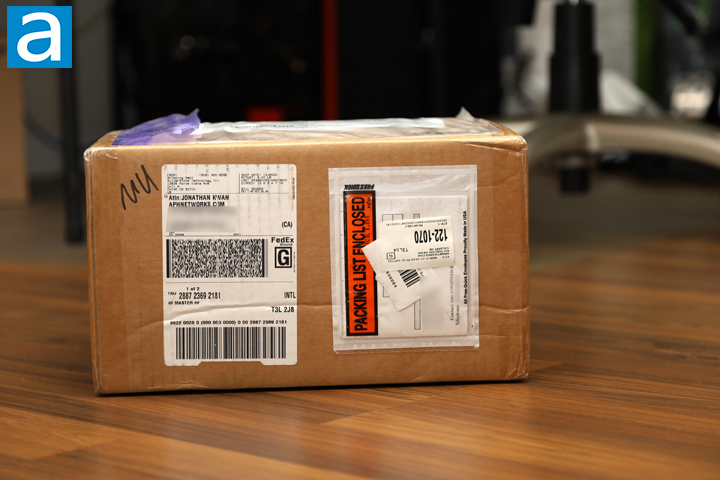 The SilverStone TP05 was shipped from Chino, California, USA via FedEx Ground to us here in Calgary, Alberta, Canada. From the above photo, you can see the shipping box itself was in good shape. Aside from the TP05, this shipment also contained two more storage-related products for me to review. The SilverStone RVS03 was reviewed by Yours Truly, while the review of the SilverStone EXB02 will be released shortly. As for the SilverStone AR12-TUF, it was reviewed by my colleague Aaron Lai.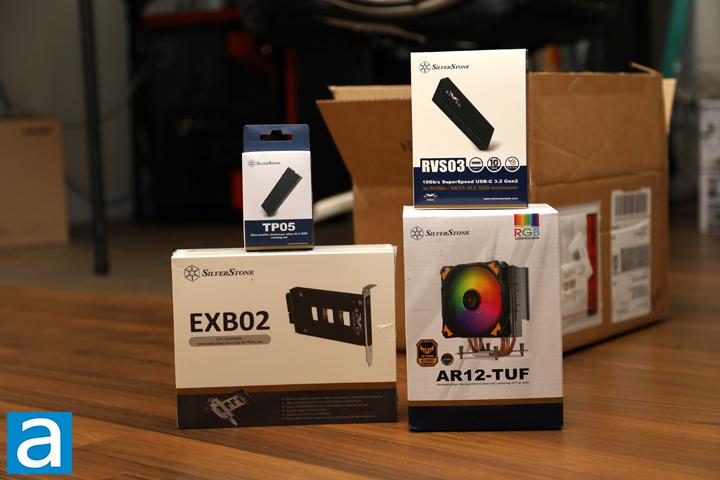 I always believe a good retail box design is essential to allow the product to be commercially successful. This is especially true for computer accessories displayed on a shelf. A good retail box design should convey the information of the design language, or the uniqueness, of the actual product, to capture the customer's attention. For the SilverStone TP05, I think the retail package is very clean looking. First of all, you can have a clear look of the product photo that is printed on the front of the package. Moving down a little bit, we can see the TP05 product name. If the photo of the TP05 is not self-explanatory enough, then the white words on the dark blue background clearly show this is a slim-profile aluminum alloy M.2 SSD cooling kit.
For you to know the SilverStone TP05 a little bit more, the specifications of the cooler from the official website are listed below:
Model No.: SST-TP05B
Color: Black
Material: Aluminum
Thermal pad thickness: 0.5mm x 2, 1.75mm x 1
Thermal conductivity: 0.5mm = 1.8W/m.k, 1.75mm = 1.5W/m.k
Net Weight and dimension:
-Gross weight: 76.4mm (W) x 24.8mm (H) x 10.3mm (D), 23.5g
-Thermal pad 1: 70mm (W) x 0.5mm (H) x 20mm (D), 1.5g
-Thermal pad 2: 70mm (W) X 1.75mm (H) X 20mm (D), 5.25g
Support Length of M.2 SSD: 2280 (22mm x 80mm)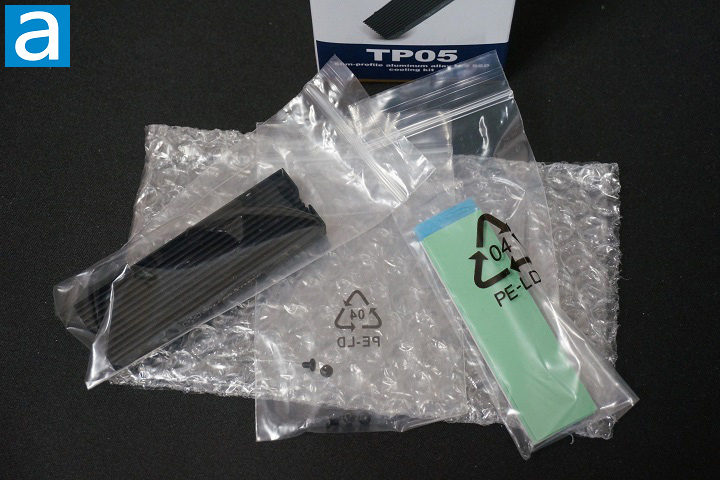 After opening the retail box from the top, you can take out the product. The SilverStone TP05 heatsink is held inside a plastic bag. There are also two more bags you can find in the package. One bag is for the thermal pads and the other one contains four screws. This time we will need a screwdriver to install the heatsink, which is not included. All three bags are protected by bubble wrap. As expected, there are not a lot of things inside of the package. Surprisingly, there is no paper based installation manual provided in the package. It is understandable since this is the more environmentally-friendly approach. Now with everything unpackaged, let us dig into the details of this product.
---
Page Index
1. Introduction, Packaging, Specifications
2.
Physical Look - Hardware; Installation
3.
Test Results
4.
Conclusion