By: Aaron Lai
December 18, 2020
Last week, I finished another Korean drama from 2016 called Signal. The plot surrounds a police profiler in the cold case division that works with three others to solve cold cases or reopen cases that were closed incorrectly. However, in the first episode, he finds a radio that connects him to another detective that was on the police force several years before. As they continue to communicate, the profiler ends up investigating the past cases that the past detective had worked on in order to find the solution. Overall, I have to say the episodes kept me on the edge of my seat the whole time, while the last episode confused me in an Inception-like fashion. However, the other surprise to me was the fact this drama was from 2016. This came out the same year Descendants of the Sun came out, which both my colleague Jonathan Kwan and I both watched back when it launched (Just to clarify: Not together, just at the same time, haha. - Editor). I was surprised with how old Signal is, but I also think it has aged well. Four years later, I would definitely recommend this drama to my friends. From what I hear, the second season to Signal should be coming soon, so I do await this drama. On the other hand, the SilverStone Grandia GD09-C is a case that dates back even further than Signal, with the original revision going back as early as 2014. Now that we are six years later, we have the updated revision with a Type-C input. How does this case fare in 2020 and what are some updates we have here? Let us read on to find out!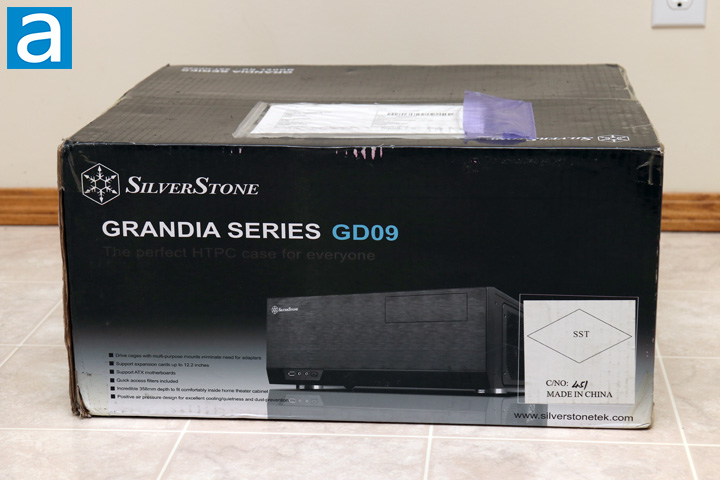 Today's review unit of the SilverStone Grandia GD09-C arrived from SilverStone's offices in Chino, California. Traveling with UPS and their Standard ground service, this box arrived in generally good condition. As you can tell from the photo, the retail container doubled as the shipping container. The retail container is a bit fancier than what I am accustomed to with colored printing and many images for a fancy look.
Before we continue on, I have grabbed the specifications from the manufacturer's website for your perusal:
Specifications
Model No.: Type-C version SST-GD09B-C (black, Type-C port)
Material: Plastic front panel with faux aluminum finish, 0.8mm steel body
Motherboard: SSI-CEB, ATX, Micro-ATX
Drive bay: External - 5.25" x 1 (compatible with 3.5" x 1 or 2.5" x 2); Internal - 3.5" x 2 (one compatible with 2.5"), 2.5" x1
Cooling system: Rear - 80mm x 2; Side - Right:120mm x 2 (120mm x 1 fan included), Left:120mm x 1 or 80mm x 1; Top - Expansion card vent
Expansion slot: 7+1
Front I/O port: SST-GD09B-C: USB Type-C x 1, USB 3.0 x 1, Audio x 1, MIC x 1
Power supply: Standard PS2(ATX)
Expansion card: Compatible up to 12.2" (309mm) long, width restriction-5.25" (133mm)
Limitation of CPU cooler: 138mm*
Limitation of PSU: 170mm
Net weight: 4.2kg
Dimension: 440mm (W) x 170mm (H) x 358mm (D), 26.8 liters, 17.32" (W) x 6.69" (H) x 14.09" (D), 26.8 liters
Extra: Support Kensington lock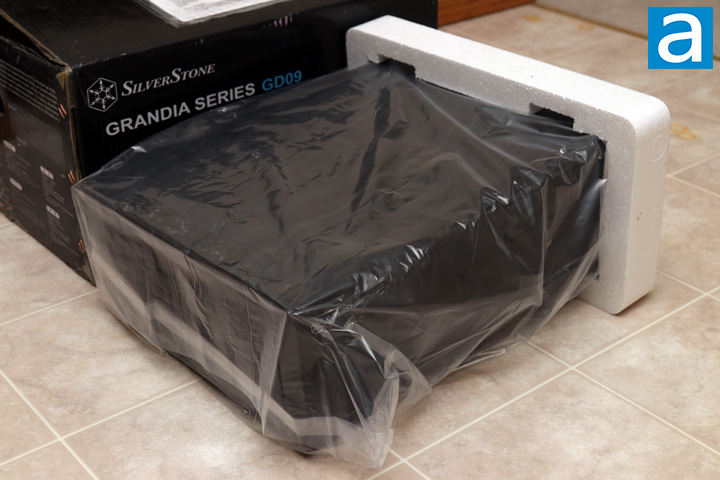 As with most cases, the SilverStone Grandia GD09-C is packaged in a clear plastic bag to prevent surface marks and scratches on the panels. The whole enclosure is held in two white Styrofoam brackets to prevent impact damage from appearing on the physical case itself, although this is pretty standard foam used here. Otherwise, a small bag with some documentation is included inside the Grandia GD09-C. There is not much else to speak of, so let us move on to the physical look of the case.
---
Page Index
1. Introduction, Packaging, Specifications
2.
Physical Look - Outside
3.
Physical Look - Inside
4.
Installation and Conclusion