Page 4 - Installation and Conclusion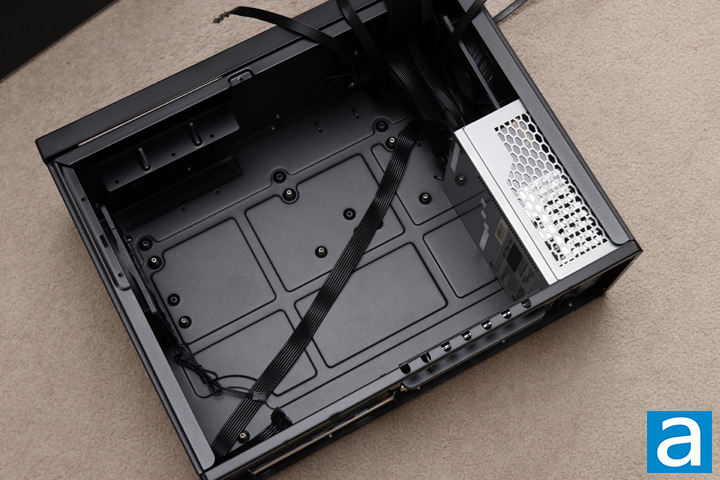 If you have been reading my past computer case reviews, you probably will recognize some of these upcoming parts. It has probably been a while since you have seen them, as I actually gave the system to my parents last year. However, it is now making a reappearance with some minor updates to ensure the system stays cooler in a more cramped area like a closed TV stand. As we are working in a relatively small enclosure, these are the steps I would recommend. First of all, I installed my power supply in place. This is the fanless SilverStone Nightjar NJ600 600W, which is quite reasonable at 15cm in length. SilverStone recommends keeping the PSU under 16cm in length, unless you do not plan to install a fan or 2.5" drive near the power supply. As you can see, I immediately plugged in and routed my CPU power cable, placing it between the standoffs on the bottom of the Grandia GD09-C. As there is no cabling room behind this mounting area, I had to make my own space for the CPU cable. Otherwise, I also routed the motherboard and peripheral power cables into place.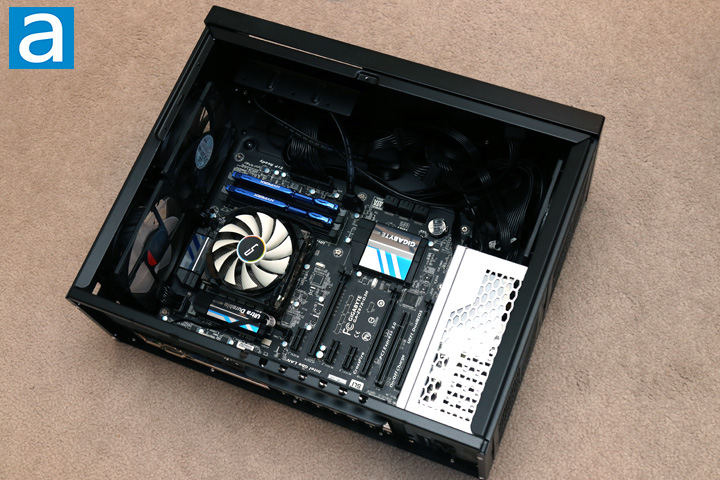 With the power supply installed, I placed the Gigabyte GA-Z87X-D3H motherboard on top with an Intel Core i5-4670k installed. A short CRYORIG C7 CPU cooler sits on top of the CPU. SilverStone recommends keeping the CPU cooler height below 138mm, but wider heatsinks may interfere with an installed optical drive. The clearance below the bay is 88mm. As such, I played it safe with the short C7 here. I also had two sticks of Kingston HyperX Fury HX318C10FK2/16 2x8GB memory installed, which generally has a short height. To add some more air circulation to the case, I installed two Cooler Master SickleFlow 120 fans, with one on each side. As for the cabling mess, you can see I have tucked the cables near the sides. I also have a Patriot Ignite 480GB SSD installed on the bottom of the Grandia GD09-C. If you want to install a graphics card, now is the time. Once again, SilverStone states a maximum length of 309mm for a graphics card with a maximum width of 133mm.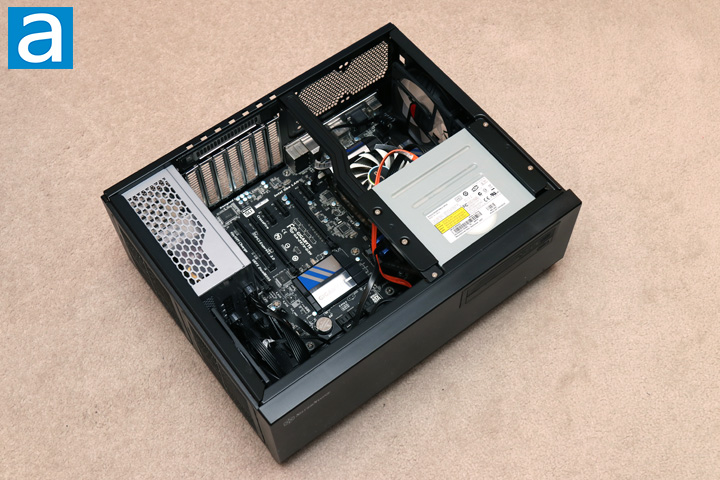 Now that my system was installed in place, I added the final touch by installing a DVD reader I had taken out from an older PC. While my parents do usually stream from Netflix and other services, they also do have some DVDs to watch, so it made sense to transfer this part over. You will first need to remove the plastic cover from the front before sliding the optical drive into place. Finally, I plugged all the necessary cables in place. Overall, building in the SilverStone Grandia GD09-C felt quite similar to other more compact builds I have done. It is not necessarily the easiest thing to work with, especially if you are trying to keep everything neat and tidy, but it is a rewarding process. While it may have been nice to get some cabling space or extra basement to route cables through, I was generally quite pleased with the layout with respect to the constraints of the enclosure.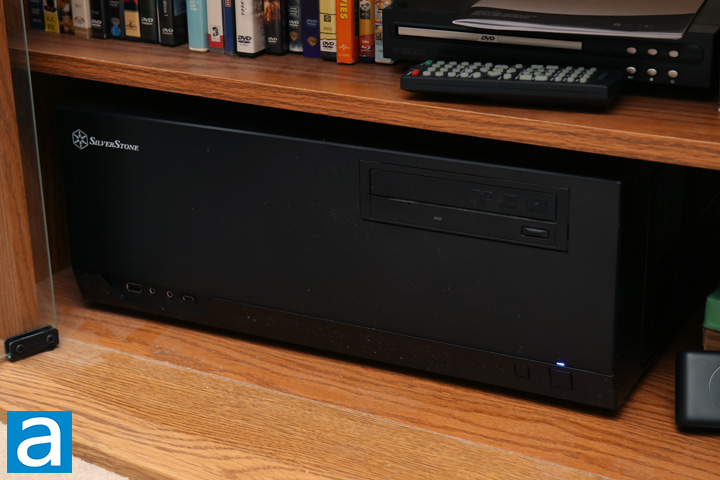 With everything plugged in and turned on, the SilverStone Grandia GD09-C whirred to life and booted into Windows 10. As you can see, the case fits almost perfectly in the bottom shelf of my parents' television stand, which is pretty tight in general. With the extra fans installed, the overall system was audible when close beside it, but generally quiet when you are sitting back and watching the screen. As I added two fans to the build, I did end up testing the case for subjective noise without the extra fans running. According to the standard APH Networks sounds scale, where 0 is silent and 10 is loud, the SilverStone Grandia GD09-C is a very quiet 2.0/10. This is probably a combination of the slower speed of the single fan plus the fact I did not have much plugged into the system. Aside from the plastic fan filter design, the case does not have anything else in terms of noise dampening, but it stays quiet in a generally stock configuration. With the two more Cooler Master fans added, the noise levels are a bit louder, but everything is still very reasonable.
-----------------------------------------
After taking a look at the SilverStone Grandia GD09-C, there were a few signs of 2014 still in this case. From the start, it does not seem like SilverStone has done too much different since launching the original Grandia GD09. We have an all-black finish with typical case material choices for 2014. Furthermore, we still have a similar design and appearance, as the Grandia GD09-C fits perfectly into a television entertainment station. We may be missing some fancier materials like tempered glass, but this is not too surprising for an HTPC. Internally, we can see SilverStone has made one change with the inclusion of a USB Type-C front connector, which is a bit of a contrast with the old but very appropriate 5.25" optical drive bay. The layout is straightforward with a decent amount of clearance space for parts like a video card, power supply, CPU cooling, and storage options. It may not offer the greatest compatibility, but the offerings here are reasonable considering the size constraints. The installation process was probably the only thing that felt a bit more aged, especially when it comes to the amount of planning required. Unfortunately, at this slimmer size, we do not have features like cabling behind the motherboard tray or any sort of opening to the back of the motherboard. Other things I would have liked updating include using magnets to attach the side filters and smoothing out the edges for a better finish. At press time, the SilverStone Grandia GD09-C retails online for $100 USD. At this price point, for the features you are getting, it is a bit on the higher side, but this niche product is expected to end up having a higher price. All in all, SilverStone did not make the Grandia GD09-C for everyone by intention. Most media PCs are built on a smaller platform and therefore can use smaller cases. However, if you really need a case with support for a larger motherboard and ATX power supply, then the SilverStone Grandia GD09-C is a formidable option.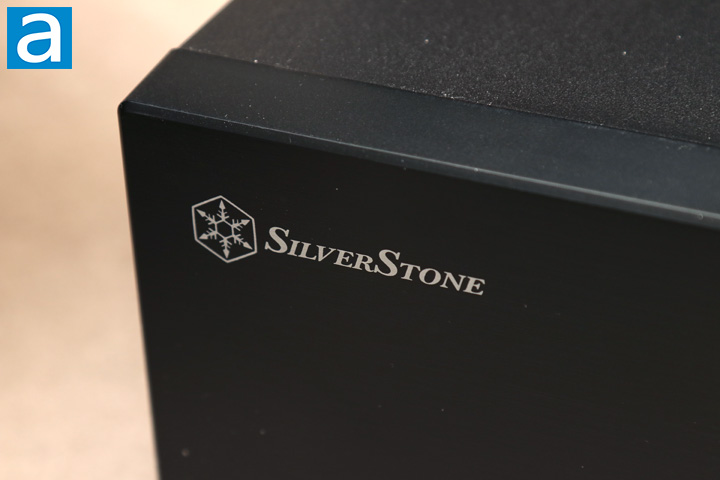 SilverStone provided this product to APH Networks for the purpose of evaluation.
APH Networks Review Focus Summary:
7/10 means Great product with many advantages and certain insignificant drawbacks, but should be considered before purchasing.
6/10 means A product with its advantages, but drawbacks should not be ignored before purchasing.
-- Final APH Networks Numeric Rating is 6.8/10
Please note that the APH Networks Numeric Rating system is based off our proprietary guidelines in the Review Focus, and should not be compared to other publications.
The SilverStone Grandia GD09-C is a classic looking case for home theater computing with full-size ATX motherboard and PSU compatibility.
---
Page Index
1.
Introduction, Packaging, Specifications
2.
Physical Look - Outside
3.
Physical Look - Inside
4. Installation and Conclusion