By: Jonah Chow
August 27, 2021
I would like to take some time to talk about the importance of hiking poles when it comes to hiking. Having done many hikes this year, some being the most grueling and demanding hikes of my life, I can affirm how useful they are. With some hikes being incredibly steep, the poles made the descent so much easier. I was able to get a stable footing on the ground using the poles as a balance and was ultimately able to make it down faster than I normally would have without them. I know hiking poles do not seem like a huge deal for some, as some would prefer to just use their hands and just go the whole hike without them. While this is perfectly fair, I found for myself that poles helped a ton with keeping myself stable on steep terrain when going down the mountain. Similarly, it is easy to just live with your stock CPU cooler without ever changing it. However, an actual CPU cooler with a large heatsink to keep your CPU cool can make the biggest difference when putting your system through lots of pressure, bringing us to today's review of the SilverStone Hydrogon D120 ARGB. We actually have not covered a SilverStone CPU air cooler here at APH Networks before, so like hiking with poles for the first time, this could be very interesting. Does the Hydrogon D120 ARGB prove to be substantial when it comes to CPU cooling? Let us read on to find out!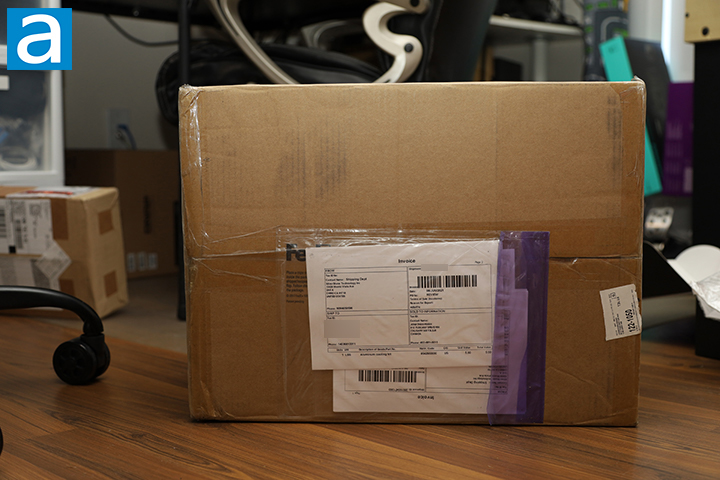 Our review unit of the SilverStone Hydrogon D120 ARGB arrived via FedEx Ground from their offices in Chino, California, USA. The shipping package arrived here in Calgary, Alberta, Canada. Other than a few minor dents, the medium-sized brown corrugated cardboard box arrived in good condition. Along with the Decathlon DA850 Gold 850W I reviewed, SilverStone also sent us a multitude of other products, including the IceGem 280 and TP04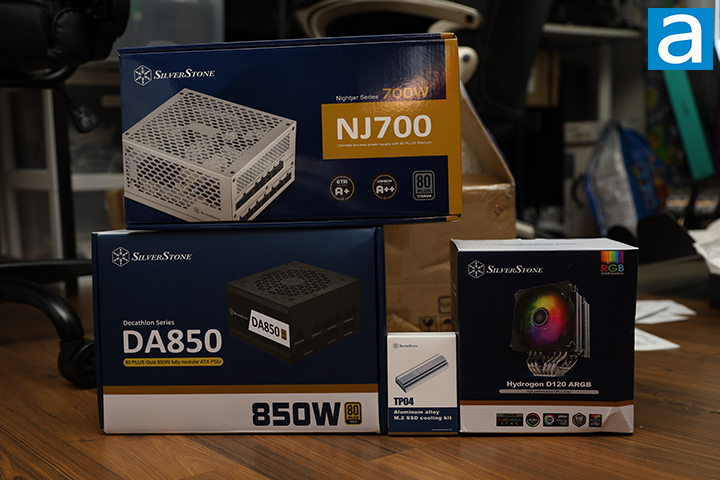 SilverStone does not usually follow much of a trend for how they design their power supply retail containers. The Hydrogon D120 ARGB comes in a blue and white box that resembles more recent SilverStone products in the last year. On the front, you will see a scaled-down image of the cooler front and center. The name and product description of "high performance CPU cooler" can be seen below the image of the cooler. The SilverStone logo and text are shown on the top left of the box with text indicating RGB on the right. The compatible motherboard lighting software is shown at the very bottom. Other details and specifications can be found around the box.
Before we move on, here are the specifications from the manufacturer's website:
Model No. - SST-HYD120-ARGB
Application - Intel LGA 2066/2011/1200/115x/1366/775, AMD Socket AM4/AM3/AM2/FM2/FM1*
Material - Copper heat pipes with aluminum fins
Fan dimension - 120mm (W) x 25mm (H) x 120mm (D)
4.72" (W) x 0.98" (H) x 4.72" (D)
Speed (R.P.M.) - 0 ~ 1850 RPM**
Air Flow (CFM) - 56.23 CFM
Air pressure - 1.98 mmH2O
Noise - 0~30.5 dBA
Rated Voltage - 12V
Rated Current - 0.21A
Bearing - Hydraulic bearing
Fan MTTF - 35,000 hours
Connectors - 4 Pin PWM & 4-1 Pin ARGB (5V LED)
Net weight - 885g
Dimension - 125mm (W) x 153mm (H) x 112mm (D), 4.92" (W) x 6.02" (H) x 4.41" (D)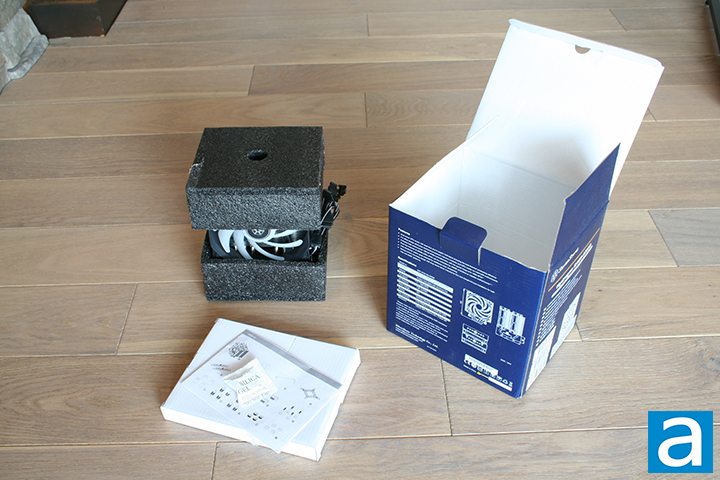 Opening up the retail packaging, we are met with the cooler itself and another box containing the installation tools. The Hydrogon D120 ARGB is cased in foam for an additional layer of protection. The smaller box contains installation tools to mount onto Intel's LGA 1200 and LGA115x sockets along with AMD's AM2, AM2+, AM3, AM3+, FM1, FM2, FM2+, and AM4 sockets. The Intel and AMD mounting tools are in separate bags with labels clearly distinguishing them. Additional tools include an L-shaped screwdriver or Allen wrench, thermal paste, and an installation manual.
---
Page Index
1. Introduction, Packaging, Specifications
2.
Physical Look - Hardware, Installation
3.
Test Results
4.
Conclusion